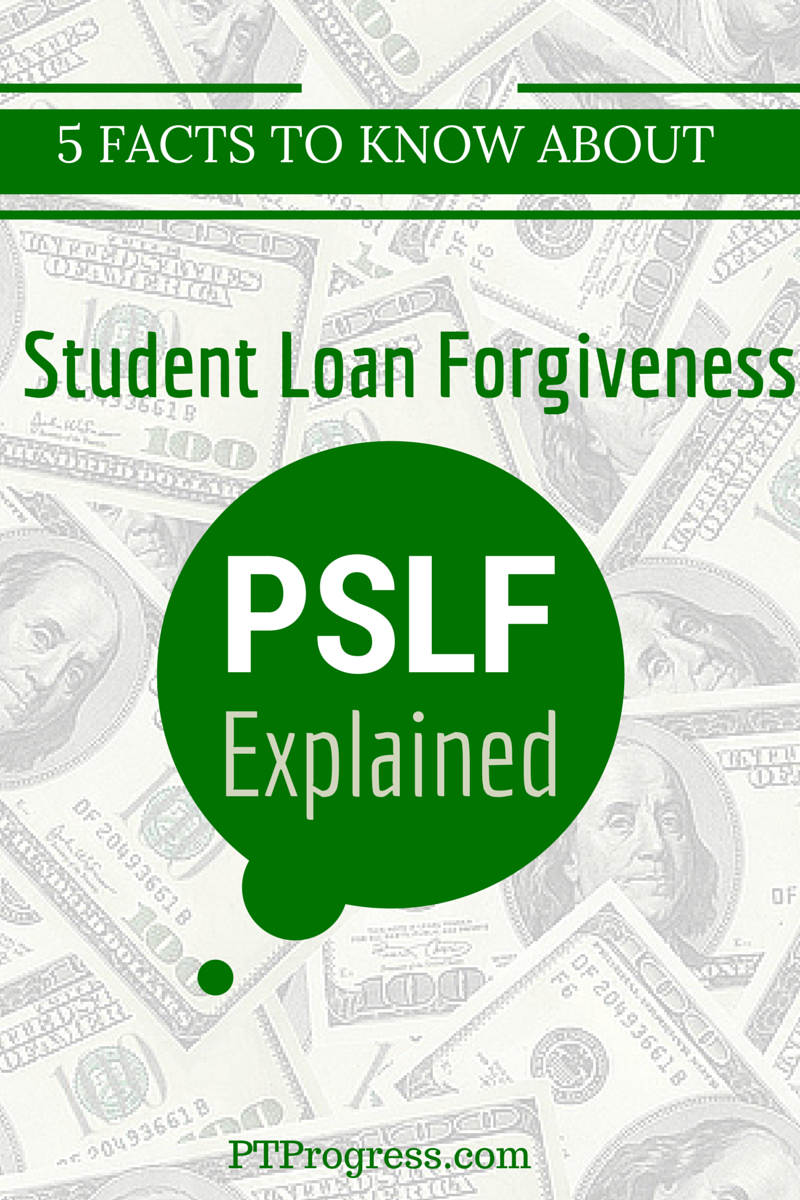 One of the biggest questions about student loans today is this: How does the student loan forgiveness work?
First, let's answer the question: What is the Public Service Loan Forgiveness program (PSLF)?
According to the Studentaid.ed.gov website, the PSLF program encourages individuals to find work in full time public service jobs. Under the PSLF program, borrowers may qualify for forgiveness of the remaining balance of their Direct Loans after they have made 120 qualifying payments on those loans while employed full time by certain public service employers.
There are a few caveats to this in order to qualify for the PSLF program:
Forgiveness of Direct Loans only (no private student loans) See Below
120 Qualified Payments made after October 1, 2007
You must not be in default on the loan
You must be employed by a public service organization during payments, when you apply for forgiveness, and at the time the loan balance is forgiven.
The 120 Qualified Payments

do not

need to be made consecutively
The 120 Qualified Payments must be made under a Direct Loan Repayment Plan (see Q&A #3 below)
You must be employed full time (>30 hours per week)
PSLF Questions and Answers
1.) What Specific Loans Qualify for Student Loan Forgiveness?
Federal Direct Stafford/Ford Loans (Direct Subsidized Loans)
Federal Direct Unsubsidized Stafford/Ford Loans (Direct Unsubsidized Loans)
Federal Direct PLUS Loans (Direct PLUS Loans)—for parents and graduate or professional students
Federal Direct Consolidation Loans (Direct Consolidation Loans)
Parent Direct PLUS Loan – If the parent (not the student) is employed by a public service organization.
2.) Can Other Consolidated Loans Qualify for Forgiveness?
Yes, but only the payments you have made on the Direct Consolidation Loan will be considered a 'Qualified Payment."
These loans may be consolidated into a Direct Consolidation Loan through the U.S. Department of Education:
Federal Family Education Loan (FFEL) Program loans, which include

Subsidized Federal Stafford Loans
Unsubsidized Federal Stafford Loans
Federal PLUS Loans—for parents and graduate or professional students
FFEL Consolidation Loans (excluding joint spousal consolidation loans)

Federal Perkins Loans
Certain Health Professions and Nursing Loans
3.) What are Qualified Payments under PSLF?
Qualified Payments under the PSLF program must come from a Direct Loan repayment option. The following Direct Loan repayment options qualify for the public service loan forgiveness program:
Income-Based Repayment (IBR) Plan
Pay As You Earn Plan
Income Contingent Repayment
10-Year Standard Repayment Plan
Any other Direct Loan Program repayment plan; but only payments that are at least equal to the monthly payment amount that would have been required under the 10-Year Standard Repayment Plan may be counted toward the required 120 payments
*THE KEY TO UNDERSTANDING LOAN FORGIVENESS*
This is a direct quote from the Federal Student Aid website:
"In general, only borrowers who are making reduced monthly payments through the IBR, Pay As You Earn, or ICR repayment plans will have a remaining balance after making 120 payments on a loan."
Explanation Please…
Really, the only way that you'll have a forgivable balance is to do the following:
Make 120 Payments Through IBR (Income Based Repayment)
Make 120 Payments Through PAYE (Pay As You Earn)
Make 120 Payments Through ICR (Income Contingent Repayment)
4.) What Types of Jobs Qualify as Public Service Jobs for the PSLF Program?
A government organization (including a federal, state, local, or tribal organization, agency, or entity; a public child or family service agency; or a tribal college or university).
A not-for-profit, tax-exempt organization under section 501(c)(3) of the Internal Revenue Code.
A private, not-for-profit organization (that is not a labor union or a partisan political organization) that provides one or more of the following public services:
Emergency management
Military service
Public safety
Law enforcement
Public interest law services
Early childhood education (including licensed or regulated health care, Head Start, and state-funded pre-kindergarten)
Public service for individuals with disabilities and the elderly
Public health (including nurses, nurse practitioners, nurses in a clinical setting, and full-time professionals engaged in health care practitioner occupations and health care support occupations)
Public education
Public library services
School library or other school-based services
5.) Are forgiven student loans taxable under the PSLF program?
No, the IRS does not consider student loan amounts forgiven under the PSLF program as taxable income. However, you should always consult with the IRS or tax advisor for specific tax advice.
How to Apply for Public Service Loan Forgiveness
The PSLF program is a long process that will require your attention for the next 10 years. The U.S. Department of Education will keep track of qualified payments for the PSLF, BUT you must submit the Employment Certification for Public Service Loan Forgiveness Form.
The form is available at www.studentaid.ed.gov/publicservice. It's encouraged that you submit this form to ED's PSLF servicer, FedLoan Servicing (PHEAA), every year. The PSLF servicer will review your forms, confirm your employment, and verify your qualified payments. Then you'll be notified of how many qualifying payments you have made towards the 120 required qualified payments.
The Simplified Steps:
Complete the Employment Certification for PSLF form
Apply for IBR, ICR, or PAYE
Make 120 Payments!
The PSLF program will begin forgiving loans in October 2017 – that's simply earliest that someone would qualify since payments after October 1, 2007 are considered in the 120 payment qualifications.
Keep in Mind…There's no guarantee that the PSLF will continue to be around in the future since Congress established the program (what Congress starts, it can also end!). The chances of it disappearing is slim, but they can certainly make changes in the future.
Are you currently using the PSLF program? Share your advice to students in the comments.