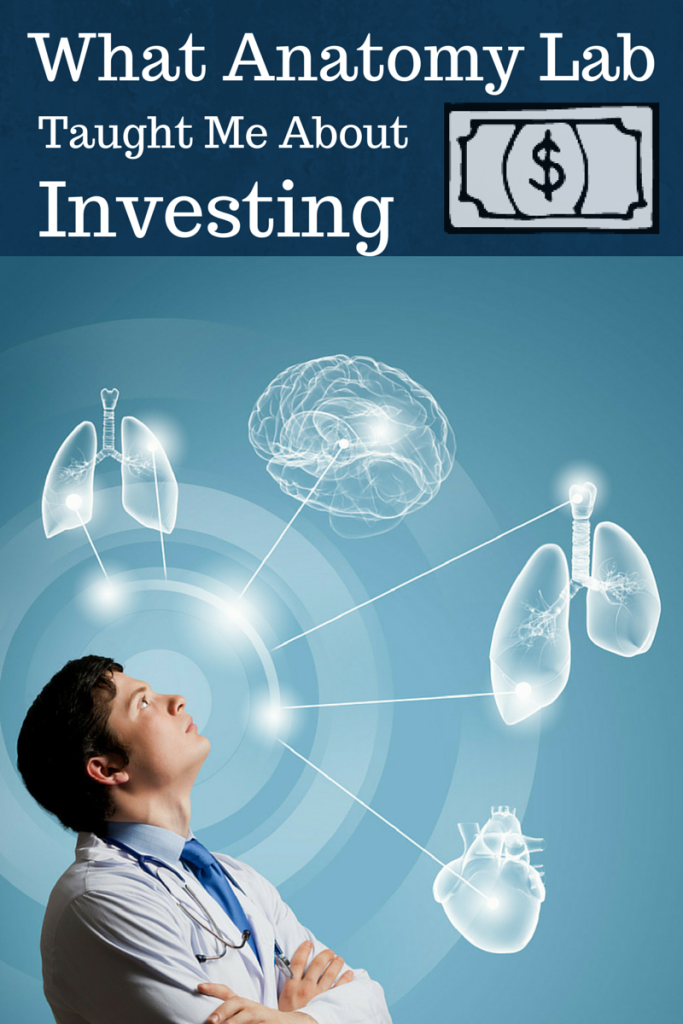 Every medical student and physical therapy student is required to take Anatomy, which almost always included a human cadaver lab dissection. Aah, yes, the anatomy lab. I remember it well. The long nights, early mornings, and never ending practicals that made you question your very existence.
Somehow, I managed to pass despite the feeling that I was drinking through a firehose. It felt like there was just so much information, that I could hardly remember the big picture items let alone the small details.
Anatomy lab taught me that there were two ways to approach learning a new area of the body:
The: unknown, afraid, or ignore it approach – and-
The: understand, curious, and willing to learn approach.
You don't have to be an specialized physician to understand anatomy and physiology. You just have to be willing to learn, organize your findings in a way that you understand, and approach new things with a curious interest to find the answer.
You don't have to be an expert in financial analysis to be good with money, investing, and business. You just have to be willing to learn, organize your findings in a way that you understand, and approach new things with a curious interest to find the answer.
You see what I did there? I thought so.
When it comes to investing, you have the same options for approaching the subject as you do with anatomy.
Sure enough, most medical students and professionals that I talk to are a part of the unknown, afraid, and ignore it camp. I get it – I was a finance guy turned physical therapy student so that's kind of how I approached the anatomy lab at first.
But I'll be the first to admit: there's no way you'll be successful in anatomy or finance if you approach it this way.
As a medical professional, there's no way around learning anatomy. You need it to be a good practitioner.
As a person who gets a paycheck, there's all sorts of ways to ignore good financial habits, so today we're addressing the habit of saving and investing.
The Anatomy of Investing
You could spend hours reading financial textbooks and articles about investing, but until you know the basics, don't bother with the rest. It'd be like trying to memorize all the distal branches of an artery without even looking at the parent artery first. You'll eventually get it, but it's not the smartest approach.
Let's dive right in and look at a few key concepts that set the foundation of investing.
Stocks – companies offer stock for purchase, giving you the chance to own a part of the company. Stocks make money for investors in two basic ways:
Dividends: a payment to the shareholder
Reinvesting earnings to the company to increase the company's value and stock price.
Bonds – loans from an investor to entities such as companies or governments. If you own bonds, you are lending money to a company and they're paying interest to you.
Mutual Funds – A collection of investments that usually include stocks and bonds selected by a fund manager. Most mutual fund managers aim to provide higher returns than the market by actively looking for investments that hopefully outperform the average investment.
Index Funds – Like a mutual fund, an index fund is a collection of stocks, bonds, and other investments that aim to meet the average return of an index. An index is a category of funds that represent a certain industry, group, or combination of companies. The S&P 500 is an index of the 500 largest companies in the US. If you have an S&P 500 Index Fund, you basically have a mutual fund that tries to imitate the performance of the S&P 500 (it's like you have an investment in each of the 500 companies).
Don't worry, we'll discuss other aspects of investing later including investment accounts, some tax issues, diversification and asset allocation, retirement accounts, fees and more.
That's it for now – that's today's lab.
The goal is to keep it simple and to give you the building blocks of what you need to know when you decide to start. Understanding these four basic terms will be key to understanding other investing concepts. You've got to start somewhere! For more info on investments, read….What is an IRA?
Speaking of Starting…
Please understand this: the sooner you start saving money and investing, the better. (I feel a soapbox coming…)
The secret to investing is this: discipline. Disciplined savings no matter your income.
I know some, most readers who have a professional degree, especially in the medical field, will have debt.
It's really tempting to say I'll start investing when I'm debt free. We can spend an entire article talking about that…
My Final Thoughts: Start the savings habit early. If you don't now, you won't later.
I get it. My wife and I both have debt up to our eyeballs from medical school. But we also have a retirement account that we've been funding for the last 7 years. It's about discipline and starting now and I hope you join me in taking charge of your money and learning the basics of investing.
One More Parallel to Anatomy
Ok this one might be a stretch, but I'll make it anyway. Usually the best tables in anatomy lab were made of the students who had a system of doing things and made it a habit to review the previous lab each day. If you want to be successful with your personal finances and investing goals, you need to adopt a system of learning and automation that will make savings easier. We'll talk about those strategies in the next article.
What are your thoughts about money, savings, debt, and investing? Which approach have you taken?