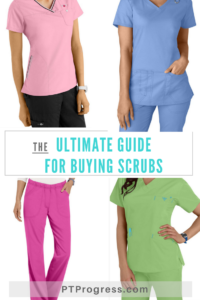 If you're a nurse or work in medicine, you understand the love hate relationship that comes with finding a good pair of medical scrubs.
My wife and I work in healthcare and have worn everything from raggedy hospital scrubs to the fancy, form fitting and flattering scrubs.
We have tried cheap scrubs and more expensive scrubs in our search for the best medical scrubs.
I can't tell you how many reviews we've read, telling us to "buy up a size" or "these scrubs run large." FRUSTRATING!
So, I bottled that frustration and did what any blogger would do. I created an article with insider tips on scrubs and discounts to buy scrubs online.
The point of this article is two fold:
Present the top medical scrub reviews from actual purchasers
Provide you with some discounts to buy scrubs online.
Most of the forums on scrubs are old and outdated, so I'm restarting the conversation! I'd love for you to leave a comment below with your favorite or least favorite scrubs.
Scrubs and Beyond Coupons
This store is our jam. We absolutely love Scrubs and Beyond for a few reasons:
– They offer a 110% price match. Yes, they match and beat online prices by 10%
– They offer free shipping and free returns (hello!!!!)
– Easy to use website. Simple. Clean. Easy to find items.
– They have all the top brands
– They provided us with coupons for our readers!!
Best Scrubs and Beyond Discounts:
What are the Best Scrubs for Nurses and Health Professionals?
One of the top searches we've noticed has been the question: what are the best scrubs? Whether you're looking for the best nursing scrubs or simply want medical scrubs that do the job, you'll probably agree with these must have features:
Must Have Features:
Breathable
Consistent fit
Comfortable material
Reasonably stylish (as stylish as scrubs can get..)
Is that too much to ask for!
Walking around in wrinkly, uncomfortable, poor fitting scrubs all day just doesn't feel great.
I also don't want to transfer a patient and rip my scrubs or show the world more than they need to see if you catch my drift.
Sure, some people will say, "it doesn't matter, I just want the cheapest nursing scrubs possible."
I feel ya on the price – but here's the thing: you are wearing these everyday. Every. Day. You should feel good about what you're wearing and comfortable in your scrubs. No, you don't have to buy the most expensive scrubs around. But if you do your homework, you can find coupons for discounted scrubs that are a better quality overall.
If you wear scrubs everyday, you can probably relate with us here…
Top Complaints With Scrubs:
The Scrubs don't fit correctly (Too tight or too baggy!)
Inconsistent quality and sizes (Even with the same brand!)
Fraying edges (Poor quality of materials make you look like a bum in clinic!)
Pants that fit funny (You know what I'm talking about saggy bottoms!)
Tops that are too tight (The worst! Can't. Breathe.)
Super wrinkly after washing (Nope, no thank you)
Uncomfortable material (Scratchy and thick material. Like wearing cardboard.)
Are Cheap Scrubs Worth It?
Here's the deal – you don't need to spend a ton on medical scrubs to find a brand that fits you the best.
However, I think it's really easy to get caught up in only looking for cheap nursing scrubs and ignore the fact that you are wearing these every day. If you're miserable in a pair of scrubs that saved you $5, it's not worth the savings! Spend the extra $5-10 and get the scrubs that fit you best and that are comfortable to wear!
Best Brand of Medical Scrubs
I've scoured the Internet, braved the forums, and ravished through countless Amazon reviews, searching to answer the question: what is the best brand of scrubs?
I've done my best to share the good and bad points for each. Under each of the top scrub brands, I've included the 'good' and 'bad' summaries based on reviews. For some, I've pasted snippets of helpful reviews that showed up consistently.
I personally have not owned all these brands but after hours and hours of research, you start to see consistent comments about scrub brands.
Keep in mind that one person's experience with a brand doesn't mean it will be the same for you.
Here are the top 7 brands for medical scrubs, in no particular order:
– The Good:
"Good variety of colors/styles"
"great fit"
"the softest, most comfortable scrub pants I've ever worn"
"cotton blend resists wrinkles"
"very breathable"

"Tops are a bit short"
"smaller pockets"
"fabric is a little stiff/thick"
"sizes run large"
"a little baggy, does not shrink"
Find Urbane Scrubs and reviews on ScrubsandBeyond.com
– The Good:
"Nice fitting scrubs"
"Good quality material. Feels durable"
"keeps color and doesn't wrinkle easily"
"a little tighter, but love the additional pockets"
– The Bad:
"these scrubs don't breathe as much"
"runs a little small" (some say runs large, but more say small..)
"certain varieties wrinkle too easily"
"material scratchy even with washing"
– The Good:
"great color options"
"comfortable cotton material"
"Love the way they fit"
"material doesn't shrink like other brands"
"fabric moves well with your body"
– The Bad:

"OK fit"
"more of a boxy fit than I'm used to"
"Tend to wrinkle"
"Runs larger than other scrubs"
– The Good:
"Koi scrub pants are soft and comfortable!"
"figure flattering"
"pockets are big and functional"
"colors are durable, don't fade in wash"
– The Bad:
"really low waist" (this can be good or bad)
"more expensive compared to other scrubs"
"don't put in the dryer"
"inconsistent fit between styles"
– The Good:
"comfortable and soft"
"figure flattering"
"colors don't fade!"
"perfect fit and very professional"
"very breathable scrubs"
– The Bad:

"fit is a little small" (not common review)
"More expensive than other options"
"material feels thin for the price"
"pockets show through on light colors"
"needs more pockets"
Find Grey's Anatomy Scrubs and reviews on ScrubsandBeyond.com
– The Good:
"Practical pockets"
"cheaper, but still quality"
"very comfortable material"
"love the fabric"
– The Bad:
"limited in colors:
"OK fit" (some report small/large)
"inconsistent fabric and quality"
– The Good
"material isn't soft, but it's still comfortable"
"comfortable to work in"
"pants available in tall, which is great"
– The Bad:
"legs are a little baggy"
"runs a little large"
"loose around bottom/butt"
Find Cherokee Scrubs and reviews on ScrubsandBeyond.com
Beware of Imitation Scrubs!!!
Ok, so imitation scrubs are out there! Even on the big named sites like Amazon.
If you really like a scrub brand and want to stock up on that exact brand and style, I really recommend that you go through a reputable seller. You've heard me talk about ScrubsandBeyond.com, so check out the coupons and check them out.
Amazon is great and all to read the reviews, but I have been a fan of ScrubsandBeyond.com for a long time. There is no question that you're buying genuine brands with them, and they have a lot of great deals as well.
What are your favorite scrubs? Share your favorite scrubs in the comments below. Be sure to add the "good" and "bad" things you like about the brands you have experience with.