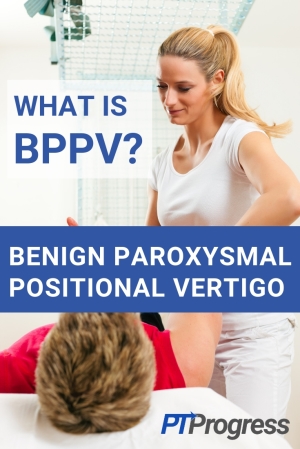 "I've been diagnosed with BPPV. Now what?"
What is BPPV?
BPPV is short for benign paroxysmal positional vertigo.
The good news is that the disorder is benign and not going to cause you serious harm! The bad news is that it can make you VERY dizzy for periods of time.
What Causes BPPV?
BPPV occurs when little calcium crystals (otoconia) become dislodged within your inner ear, and are now moving around in an area where they shouldn't be.
When you move your head into a certain position, these moving ear crystals make your brain think your head is spinning around, when your head is actually still.
This mismatch in what your brain is perceiving and what you are actually doing causes rapid eye movements caused "nystagmus" and gives you the sensation called "vertigo" where the world is spinning around you.
Is BPPV the same as Vertigo?
Vertigo is the most extreme form of dizziness, and people are often frozen in the provoking position when it occurs. Most people with BPPV experience vertigo with rolling over in bed, getting up from lying in bed, and with extreme bending of the head/neck.
BPPV is diagnosed by observing symptoms and eye movements during the "Dix-Hallpike" test, is which the patient's head is positioned back and at an angle (shown below).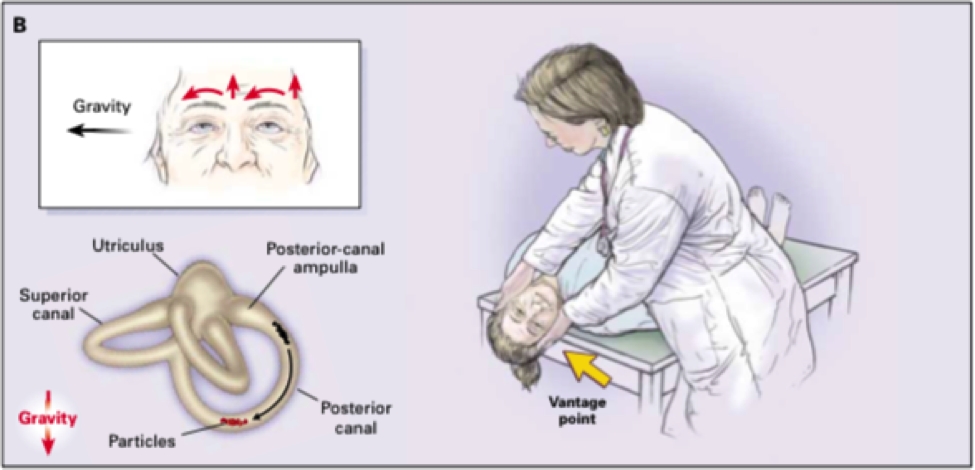 (Furman et al., 1999)
How Long Does BPPV last?
In the most common form of BPPV (over 80-90% of cases), extreme vertigo will only occur when your head is in the symptom provoking position and last for 10-60 seconds.
You may feel slightly off or dizzy in general for some time after this occurs when you are up and moving around. Some people who have atypical forms of BPPV may have vertigo that lasts longer than than 60 seconds, and occurs in various head positions, but these are extremely rare.
Will BPPV Symptoms Go Away?
Yes! About 33% of cases resolve on their own without medical intervention. We hypothesize that the crystals dissolve on their own in these cases. For cases that do not resolve on their own, prognosis is excellent for complete recovery when treated by a trained professional
BPPV Treatment Options: Who Should I see?
A physician (usually a neurologist or ENT), physical therapist, or audiologist trained in "vestibular disorders" or "vestibular therapy".
Here is a link to a map of vestibular trained physical therapists in your state.
What is the Treatment for BPPV?
You trained medical provider will perform a head moving maneuver to clear the calcium crystals from the problem area called "The Epley Manuever" or "The Canalith Repositioning Maneuver". The treatment may give you vertigo for short time periods during the treatment and some people may become nauseous.
The procedure, if done correctly, should completely resolve symptoms but may need to be performed multiple times. Your health care provider may ask you to return to his or her clinic in approximately one week to see if the problem is completely resolved.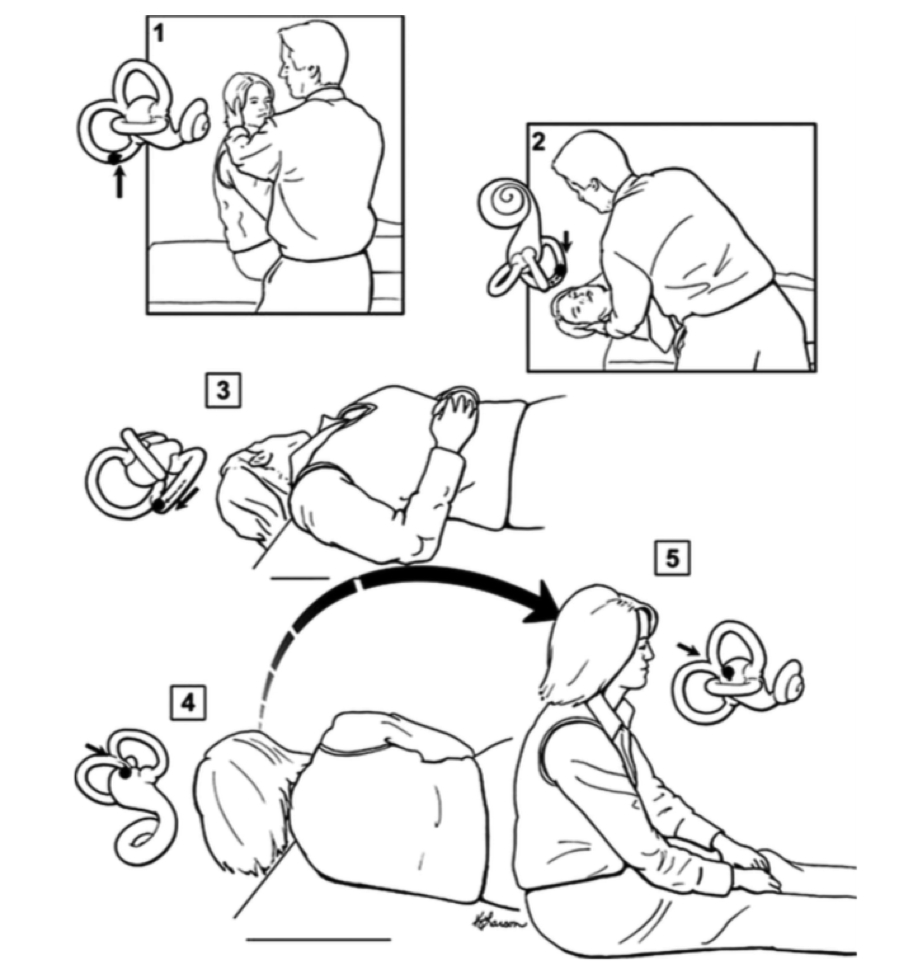 (Bhattacharyya et al., 2017)
Should I try the treatments on my own if I find them online?
NO! These procedures may seem simple (found easily on Youtube), but should only be performed on you by a trained medical professional like a Physical Therapist. The procedures are very symptom provoking, may need to be performed multiple times, and run the risk of making the problem worse if performed incorrectly.
Will My Symptoms Come Back?
It depends. Between 67-94% of patient will have complete remission with one treatment session. We do not fully understand why the calcium crystals become loose, and in 29.2-50% of patients, the problem will reoccur when more calcium crystals are dislodged. This typical occurs with older patients and patients with a history of damage to the inner ear
What If It's Not BPPV?
BPPV is a very specific type of vestibular disorder, and easily diagnosed by a trained vestibular healthcare provider. However, many untrained practitioners will label any dizziness that they are unsure of as "BPPV" since it is a relatively common disorder. This is why it is important to see a vestibular specialist as they will be able to determine if the dizziness may be coming from BPPV or a more serious disorder.
About the Author
Cameron Jadali is a NCS Physical Therapist who completed a neurologic residency at Emory University after obtaining his DPT from Washington University in St. Louis. He currently teaches the vestibular curriculum at Washington University in St. Louis. In addition to vestibular lecturing, he provides a Q and A style lecture for Washington University's DPT regarding specialization/residencies.
References:
Bhattacharyya N, Baugh RF, Orvidas L, et al. Clinical practice guideline: benign paroxysmal positional vertigo. Otolaryngol Head Neck Surg. 2008;139(5 Suppl 4):S47-81.
Bhattacharyya N, Gubbels SP, Schwartz SR, et al. Clinical Practice Guideline: Benign Paroxysmal Positional Vertigo (Update) Executive Summary. Otolaryngol Head Neck Surg. 2017;156(3):403-416.
Furman JM, Whitney SL. Central causes of dizziness. Physical Therapy. 2000; 80(2): 179-87.
Furman JM, Cass SP. Benign paroxysmal positional vertigo. N Engl J Med. 1999;341(21):1590-1596.
Hain TC. Neurophysiology of vestibular rehabilitation. NeuroRehabilitation. 2011;29(2):127-141.
Hall CD, Cox LC. The role of vestibular rehabilitation in the balance disorder patient. Oto- laryngol Clin North Am. 2009; 42:161-169.
Helminski JO, Zee DS, Janssen I, Hain TC. Effectiveness of particle repositioning maneuvers in the treatment of benign paroxysmal positional vertigo: a systematic review. Phys Ther. 2010;90(5):663-678.
Herdman SJ. Benign Paroxysmal Positional Vertigo (BPPV). PTNow. https://www.ptnow.org/clinical-summaries-detail/benign-paroxysmal-positional-vertigo-bppv. Published October 11, 2011. Accessed February 27, 2018.
Herdman SJ. Vestibular Rehabilitation. 3rd ed. Philadelphia: F.A. Davis Company; 2007.
Hillier SL, Holohan V . V estibular rehabilitation for unilateral peripheral vestibular dysfunc- tion. Cochrane Database of Systematic Reviews 2007, Issue 4. Art. No.: CD005397. DOI:10.1002/14651858.CD005397.pub2.