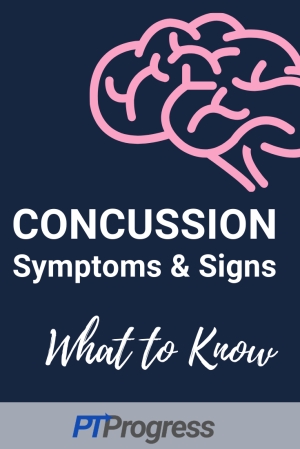 Concussion management is one of the hottest topics in the medical field and in the news. From professional athletes to the big screen, to current research on the long-lasting effects of concussions, concussions are everywhere we look.
There is a ton we don't know about concussive injuries to the brain, but there is also a lot of good (and bad) information out there. We are going to answer a few common questions you might have if you or a loved one suspects or is diagnosed with a concussion.
What is a Concussion?
In 2013 some of the top minds in neurology met in Switzerland to redefine what we consider a concussion. At this meeting called the "Zurich Consensus" they came up with 4 defining features of a concussion:
Concussion Definition
Concussion may be caused either by a direct blow to the head, face, neck or elsewhere on the body with an ''impulsive" force transmitted to the head.

There is a tiny (a few millimeters at the most) gap between the brain and your skull. This gap allows the brain to move within the skull, even if you aren't hit directly in the head.
Example: Think a whiplash injury from a car accident where the body is rapidly decelerated (brain bouncing back and forth inside the skull).
Concussion typically results in the rapid onset of short-lived impairment of neurological function that resolves spontaneously. However, in some cases, symptoms and signs may evolve over a number of minutes to hours.

This is why people advocate monitoring someone with a suspected concussion overnight, to see if symptoms evolve.
Concussion may result in neuropathological changes, but the acute clinical symptoms largely reflect a functional disturbance rather than a structural injury and, as such, no abnormality is seen on standard structural neuroimaging studies.

This means that they will often order a CT scan of the brain to rule out a more serious brain bleed
Concussion results in a graded set of clinical symptoms that may or may not involve loss of consciousness. Resolution of the clinical and cognitive symptoms typically follows a sequential course. However, it is important to note that in some cases symptoms may be prolonged.

You heard it. You do not need to be knocked out cold to suffer a concussion. Some of the worst cases I have seen have resulted from fairly mild hits to the head with no memory loss, fuzziness, or loss of consciousness
How to Tell If You Have a Concussion
The best way to diagnose a concussion is to find a healthcare provider who has experience in concussion care. This is usually a neurologist, orthopedist, or pediatrician.
They will take a thorough subjective history of the injury, run you through a battery of visual and movement tests, and determine whether or not you have post-concussive symptoms. Remember, you won't see anything on imaging (X-Ray, MRI, CT), this is a clinical diagnosis based on clinical findings and expert judgment.
Concussion Symptoms and Signs of a Concussion
What are some of the most common initial signs of a concussion?
Getting to a qualified medical professional is important, but how do I know if I should seek help or medical assessment. Concussion symptoms usually fall into 4 categories. Look for these signs of a concussion:
Somatic (Physical):

Nausea and vomiting
Headache/neck pain
Visual disturbances
Dizziness/motion sensitivity
Phonophobia or photophobia
Impaired balance
Abnormal levels of fatigue

Cognitive:

Not thinking clearly/mental fog
Slowed processing
Not being able to concentrate/impaired attention span
Not being able to remember new information
Cognitive fatigue

Emotional

Easily upset or angered
Sad
Nervous or anxious
Emotional lability/mood swings

Sleep

Sleeping more than usual
Sleeping less than usual
Having a hard time falling asleep
You want to make sure that these symptoms demonstrate a significant difference from the person's baseline. If someone usually has wild mood swings and difficulty sleeping, and motion sickness, it may be hard to differentiate post-concussive symptoms from their baseline.
The bottom line is if you suspect a concussion after a blow to the head, get checked out!!!
Post Concussion Syndrome
What is post concussion syndrome? Post-concussion syndrome is the continuation of concussion symptoms that extend beyond the typical recovery period. Usually, concussion symptoms resolve with 7-10 days with proper concussion treatment (see below).
However, if symptoms persist beyond this typical time frame, a physician may diagnose the patient as having Post-Concussion Syndrome or PCS. Patients who are diagnosed with PCS may experience concussion symptoms when they're resting or engaging in physical activity.
Types of Concussions: Mild, Moderate, or Severe
Are there different severities/classifications for concussions? No. We no longer classify concussions by mild, moderate, to severe. However, there are varying levels or how post-concussions symptoms may affect you.
Many personal, genetic, hormonal, and anatomical differences between people ensures that no two concussions are the same. Anyone who suffers a concussion or concussive type blow to the head should undergo the same level of thorough assessment and care, regardless of how hard the hit was.
Concussion Recovery Time
How long does it take to recover from a concussion? The typical adult recovers spontaneously from a concussion in 7-10 days. However, in 10-30% of cases, symptoms persist >3 weeks.
Preinjury risk factors for prolonged recovery include:
Younger age (<18)
History of anxiety or depression
History of learning disorder or ADHD
History of migraines
Female gender
Repeated concussions (>3)
Concussion Treatment
How long should I rest after sustaining a concussion?
Traditional therapy and treatment had concussed patient rest in a dark room for over a week. With our current understanding of how people recover from concussions, we recommend only intense rest for 1-2 days postinjury. It is important that you get your body/brain up and moving, so it gets used to daily life!
How to do you treat a concussion if symptoms linger?
We just touched on the fact that the brain needs to get up and moving post-concussion. The best way to do this is through vestibular rehabilitation under the guidance of an experienced physical therapist. Vestibular rehabilitation involves rehabbing the parts of the brain that deal with eye movements, dizziness, and knowing where your body/head is in space.
This rehabilitation process will often use the principle of habituation. Habituation refers to the process that aims to improve your tolerance to certain movements. Habituation exercises allow your brain to adjust to dizziness and motion sensitivity so that it does not interfere with your daily activities.
Exposing yourself to activities that make you dizzy in small, controlled doses, will eventually allow your brain to get used to the sensation of dizziness so that you no longer have symptoms. It is paramount that you perform all of these techniques under the guidance of a vestibular specialized physical therapist to ensure proper recovery.
Concussions in Sports
What sports are the highest risk for concussions?
The answers may be surprising! Below in parentheses are the number of concussions per 100,000 athletic experience or event.
Females (# per 100,000 athletic experience):
Ice Hockey (40)
Soccer (33)
Lacrosse (31-35)
Field Hockey (23)
Basketball (18)
Softball (16)
Cheerleading (15)
Gymnastics (10)
Males (# per 100,000 athletic experience):
Cycling (87)
American Football (64-76)
Ice Hockey (54)
Lacrosse (40-46)
Rugby (32)
Soccer (19)
Basketball (16)
Baseball (5)
References:
Alsalaheen BA, Mucha A, Morris LO, et al. Vestibular rehabilitation for dizziness and balance disorders after concussion. J Neurol Phys Ther. 2010;34(2):87-93.
Bittar RS, Lins EM. Clinical characteristics of patients with persistent postural-perceptual dizziness. Braz J Otorhinolaryngol. 2015;81(3):276-282.
Collins M, Lovell MR, Iverson GL, Ide T, Maroon J. Examining concussion rates and return to play in high school football players wearing newer helmet technology: a three-year prospective cohort study. Neurosurgery. 2006;58(2):275-286; discussion 275-286.
Lau BC, Kontos AP, Collins MW, Mucha A, Lovell MR. Which on-field signs/symptoms predict protracted recovery from sport-related concussion among high school football players? Am J Sports Med. 2011;39(11):2311-2318
Laker SR. Epidemiology of concussion and mild traumatic brain injury. PM R. 2011;3(10 Suppl 2):S354-358.
Leddy JJ, Kozlowski K, Donnelly JP, Pendergast DR, Epstein LH, Willer B. A preliminary study of subsymptom threshold exercise training for refractory post-concussion syndrome. Clin J Sport Med. 2010;20(1):21-27.
Marshall S, Bayley M, McCullagh S, et al. Updated clinical practice guidelines for concussion/mild traumatic brain injury and persistent symptoms. Brain Inj. 2015;29(6):688-700.
Meaney DF, Smith DH. Biomechanics of concussion. Clin Sports Med. 2011;30(1):19-31, vii.
Murray DA, Meldrum D, Lennon O. Can vestibular rehabilitation exercises help patients with concussion? A systematic review of efficacy, prescription and progression patterns. Br J Sports Med. 2017;51(5):442-451.
Schneider KJ, Iverson GL, Emery CA, McCrory P, Herring SA, Meeuwisse WH. The effects of rest and treatment following sport-related concussion: a systematic review of the literature. Br J Sports Med. 2013;47(5):304-307.
Schneider KJ, Meeuwisse WH, Nettel-Aguirre A, et al. Cervicovestibular rehabilitation in sport-related concussion: a randomised controlled trial. Br J Sports Med. 2014;48(17):1294-1298.
KA, Scher AI. Update on the Epidemiology of Concussion/Mild Traumatic Brain Injury. Curr Pain Headache Rep. 2015;19(7):32.
Concussion Movie: "Concussion" IMDB: