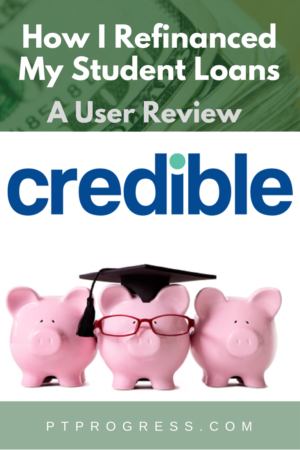 Last year I refinanced some of my student loans through Credible. I want to share my experience on the process by writing a Credible review from an actual user.
Why I Chose to Refinance My Student Loans
Graduating with a DPT from PT school and starting work as a Physical Therapist was exciting!
I was finally getting paid for doing what I had been learning about and practicing for 3 years.
Six months later was not such a fun day.
My federal student loans grace period was up and it was time to start paying back that borrowed money to the tune of over 6% interest rates.
When I saw how much of my payment was going towards the interest accrued and not chipping away at the principal, I got even more depressed.
How am I ever going to make headway on the total balance if I'm paying so much in interest every month?
I could win the lottery (get lucky), work extra to make more money (work harder), or get a lower interest rate (work smarter).
I got a part time PT job working some weekends to earn extra money, all of which I put towards student loans. It helped making payments easier, but hundreds of dollars a month in interest continued to accrue each month.
I was working harder but didn't feel it was paying off. Interest kept on accruing.
This went on for months until another PT friend of mine told me about how he refinanced his federal loans with over 6% interest rate to a private lender at almost 4% through Credible.
I was already working harder to make more money, so why would I want to continue paying off at a higher interest rate to end up paying several thousands more in the end?
Paying less in interest means that I will pay off my loans quicker AND pay less overall. Refinancing was really a no brainer for me … especially since the lottery thing still hasn't happened.
Who Should Refinance Student Loans?
If you plan on using any of the public student loan forgiveness programs, refinancing to private loans is not for you. The loans are no longer eligible for these forgiveness programs once you refinance your Federal Direct loans to a private company. Do your homework and find out if you qualify to have your loans forgiven.
For the rest of us that don't work for and do not plan on working for a "qualified" government organization or a "qualifying" 501(c)(3) not-for-profit organization for the required 10 years while making "qualifying payments", there are likely lower student loan refinancing interest rates out there that will save you thousands of dollars.
Refinancing federal student loans means losing some of the benefits that federal loans offer besides loan forgiveness programs such as more lenient loan repayment terms and different adjustable repayment plans
Recent news of the loan forgiveness programs makes me believe that the programs are anything but a guarantee and may be done away with in the future anyways. I'm even hearing stories of the people that thought they were eligible in the program since 10 years ago that won't be getting their loans forgiven now because they did not handle their loans properly.
I digress.
My choice to refinance was easy because I was not going to be working for a qualified employer for loan forgiveness and was already planning on paying my loans off faster than the standard term because I like guarantees when it comes to finances.
The only variable left for me to consider was paying off the loans at a higher or lower interest rate.
Ten times out of ten I want to save money and decided to refinance to a lower interest rate.
My Experience with Credible and Citizens Bank
There are many refinancing options out there to choose from. After researching the different companies I decided to go with Credible for mainly two reasons – low interest rates offered and the quick & easy process to navigate.
Credible allows you to apply to multiple lending companies with a single application and lay out multiple options for you to choose from. There is a one-time sign up to make an account to login and the rest of the forms and paperwork are pretty much filled out.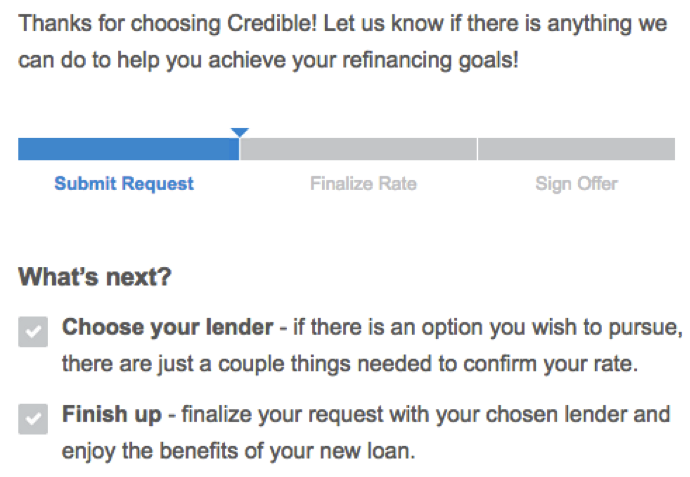 After this you receive offers quickly from multiple sources. In my case I had 3 lenders the next day offering rates between 4-5%.
One thing that can be confusing is that Credible is neither a lender nor a servicer; rather they facilitate finding multiple lenders and allow you to choose the one with the best interest rates and repayment term. The lender will likely be a bank (like Citizens) or credit union and you will set up your account to pay through a loan servicer (like Firstmark or Nelnet).
Options on Options and Savings on Savings
The number of term years for both fixed and variable interest rates were displayed in the offers. I had almost 40 refinancing options offered to me. In the end I wanted the lowest interest rate with the fastest payoff time to minimize my overall amount spent on loans.
Doing the math will show how much you will save by refinancing. It is important to choose a loan term that is appropriate for you. Choosing the shortest loan term ended up being thousands of dollars in savings for me, but I also realize it limits my repayment schedule and increases my monthly payment to have the benefit of more savings overall.
Citizens Bank offered me the lowest interest rate at a fixed percentage that was even lower than variable interest rate minimums, which was surprising. Having the lowest offer being fixed meant I didn't have to worry about the rate going up on me, so the savings were guaranteed.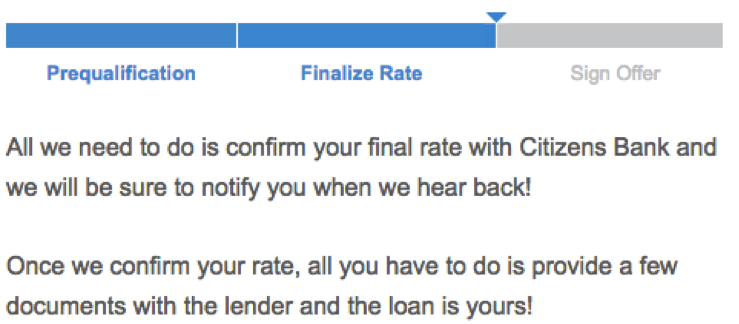 The lender approves your loan refinancing after you provide the last details on the loans and proof of income.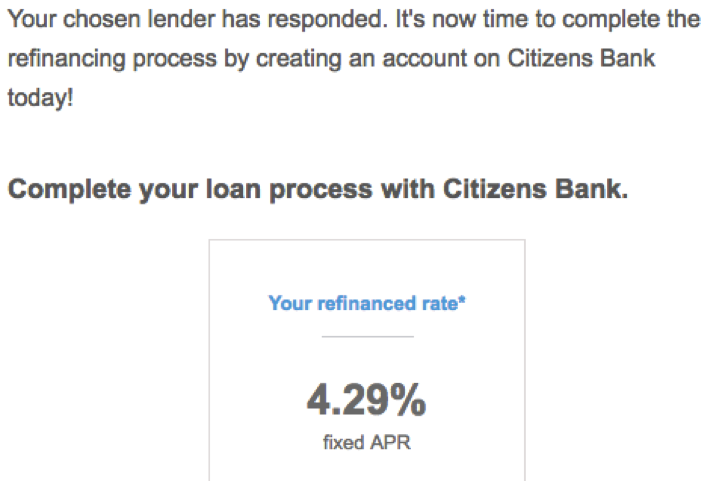 Time is Money: How Long Did It Take To Refinance My Student Loans?
It only took 13 business days to go from signing up and applying through Credible to having my application approved by Citizens Bank and being able to set up payments with my new loan servicer account with Firstmark.
You're refinancing for one reason – to save money!
You don't want to have thousands of dollars in loans sitting in loan processing purgatory while the interest continues to accrue daily with your original lender at the old higher rate.
Customer Service at Credible
This was the first time I had refinanced student loans, so it was important for the process to go smoothly along with saving me money to be a positive experience.
I can remember talking with 4 different employees via email or phone call with the frequent questions I asked along the way. All of the conversations with the Credible team were prompt and helpful.
They even followed up with phone calls and emails to see if there were any questions I had along the way. Overall, it was a pleasant money saving experience that I highly recommend.
If you're interested in seeing how Credible works, check out their easy to use site.