Earlier this year, I had the opportunity to try a very popular set of tools used for soft tissue mobilization. I won't go into a lot of detail, because my goal isn't to compare tools in this article. Let's just say the name of the tools rhymes with Kraston…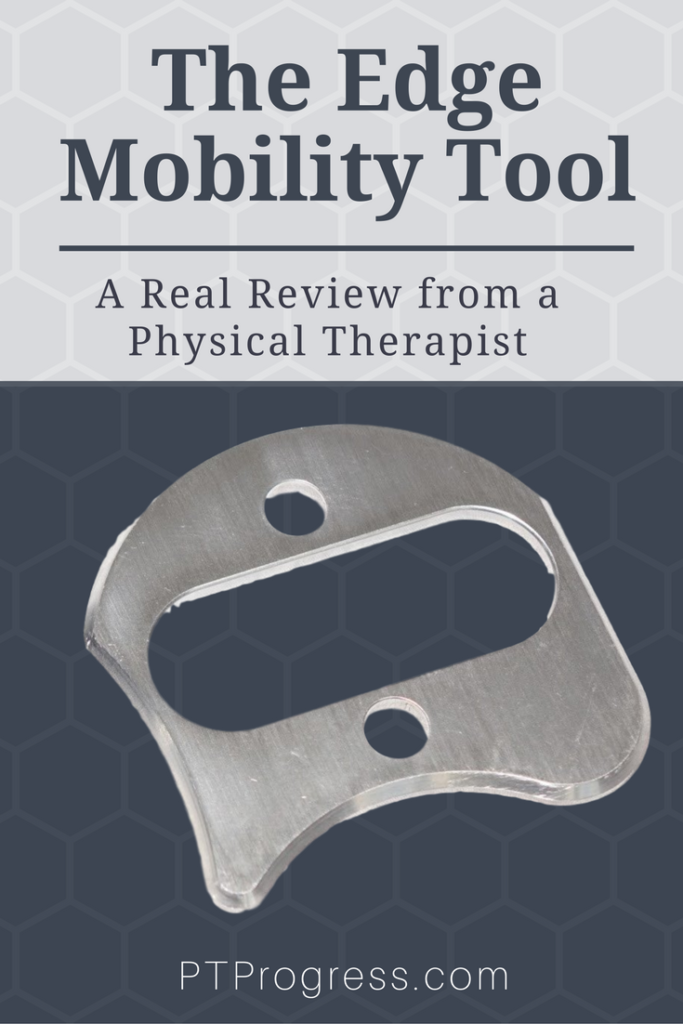 I liked the idea of instrument assisted soft tissue mobilization (IASTM), but wasn't about to spend $2,000 on a set of tools.
Almost a year ago I remember seeing an IASTM tool called the EDGE Mobility Tool. I hadn't given it much thought until I started watching my coworker use her expensive set of tools with her patients.
I realized there were some benefits to using these tools.
For me, the biggest benefits of IASTM were:
Comfort & Design
Effectiveness
Variety in Treatment
Edge Mobility Tool Review
When I found the EDGE Mobility Tool, these three features really stood out to me. I wanted a tool that was portable, comfortable, and effective. I've been really happy with the tool and wanted to share why I enjoy using the EDGE Tool.
1. Comfort & Design
I've worked with a lot of manual therapist who are really proud of the fact that they only use their hands.
I get it.
Using your hands to feel and manipulate the restricted tissues is very effective, but there's no doubt that your hands will pay for it down the road.
I've been using the Edge Mobility Tool this year and have saved hours of strain on my hands. The design of the tool fits perfectly into multiple directions, giving you a lot of approaches while saving your thumbs, wrists, shoulders, and back.
How many times do you remember your professors talking about using "good body mechanics"? As easy as it is to remember their voices, I still found myself battling a bit of upper back pain, especially before I started using the Edge Mobility Tool.
I understand that a lot of therapists do great manual therapy work with excellent body mechanics and don't have thumb, wrist, or back pain.
All I can tell you is that since I've started using the Edge Mobility Tool for soft tissue work to my patients, my hands and back haven't bothered me.
The tool is comfortable and I like that it gives me a lot of flexibility to use it for everything from plantar fasciitis to neck strains.
2. Effectiveness
In my use of the Edge Mobility Tool, I've found the best results when I use it for my patients who have back pain.
This has been a real lifesaver in the clinic!
I'll give you a short case study:
A 30-year-old patient presents with upper back pain due to a job that requires her to travel in an uncomfortable vehicle. Eval findings include: asymmetry in thoracic paraspinal musculature, significantly guarded and tender along rhomboids and a flexed posture to match.

Follow up visits were scheduled for 1 visit a week for 45 minutes. Treatment included: 15 minutes of soft tissue mobilization with EDGE Tool, and 20-30 minutes of exercises to reinforce thoracic extension and trunk stability. After 4 visits, she was pain free and really felt that the most beneficial part of her treatment was "the back tool" we used.
That's just one of the patients that come to mind.
And no, I didn't make that story up.
I don't have time or interest in making up "feel good" stories.
3. Variety in Treatment
It's easy to find yourself in a rut sometimes with treatment, especially if you're treating the same diagnosis over and over (I'm taking to you low back pain).
Sometimes I'll wait to use the Edge Tool for a few sessions, especially if the patient doesn't seem to be responding to movement corrections or therapeutic exercise.
Not only does it save my hands, it allows me to mix in some variety in my treatment approach.   There have been multiple instances where I've said to my patients, "I have another technique that could really be beneficial in helping to decrease pain and tissue restrictions."   They're usually intrigued and often times the "new approach" helps to keep the treatment progression moving forward.
I use the EDGE Tool almost every day. It sits right in front of me on my desk and fits very easily into my back pocket. I don't have to lug around a giant bag of metal tools and I feel like my patients have really benefited from the soft tissue work.
For $115, it's well worth it for multiple reasons:
Portability
Effectiveness
Comfort
Extremely Easy to Use
Variety in Treatment
You can go back and forth with the idea of using a different tool or "investing" in a class that requires the purchase of a $2,000 bag of tools.
But I promise that you won't regret the value in the . At $115, it's well worth the cost and you'll be pleased with the portability and ease of use of the EDGE.