A Review of Chris Johnson's "A Guide to Treadmill Running Analysis for Clinicians and Health Professionals"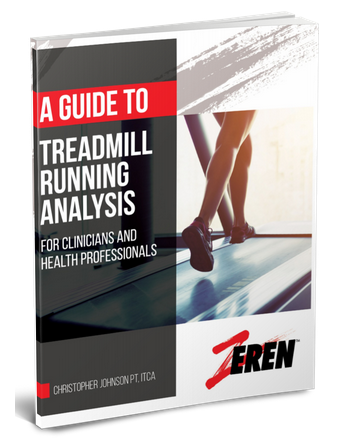 I recently purchased Chris Johnson's "
A Guide to Treadmill Running Analysis for Clinicians and Health Professionals
" and wanted to write a review for those following PTProgress for how to do your own treadmill running analysis.
Chris Johnson's Background
Chris has VERY impressive resumes in both his career and racing events.  He brings his passion and experience in endurance competitions to his training and treating high level athletes as a Physical Therapist and Performance Coach.
You can read more information on Chris's background here and view content from his video library here.
I was first introduced to Chris's content after several online Physical Therapy pages continually referred to Chris anytime there was a question about a runners and triathletes. He is always willing to help the profession and is worth a follow online for anyone in the rehab or fitness community.
Guide to Treadmill Running Analysis Review
I didn't want to just read the running analysis guide and write a review based on the content (which I could have done and would highly recommend the read based on the quality of the read alone).
I wanted to use the concepts and structure from the guide and apply them to patients that complain of pain with running or are ready to return to a running activity after their rehab.
Now that I'm several patients in, I can honestly say using Chris's criteria and protocol to perform a treadmill running analysis has dramatically improved my assessment of patients who had pain with running.
I was equipped with all I needed to perform running analysis after reading (and rereading) the guide, using the clinic treadmill with a video recording device (smartphone / tablet) and a cadence counter.
Not only has it helped patients I am currently seeing, but they are referring friends from their local running group for PT assessments.
One of my favorite parts about the Guide to Treadmill Running Analysis is that Chris has taken difficult concepts and simplified them in the form of 1 easy to read guide, with a host of scientific references (78 references for a 30 pages of content is well referenced in case you didn't know).
What's Included in the Running Analysis Guide?
In addition to treadmill running analysis, you will also learn differences between running on a treadmill versus a track or pavement.
He breaks down each component of running in detail using the 7 "S's of treadmill analysis".
Strike
Sound
Step Rate
Speed
Shoes
Slope
Swing
Although running is an activity most people are capable of performing, it does not mean they are performing it well or to the best of their ability.
Due to the repetitive motions of running, improving any 1 of these 7 S's could make a difference to help decrease injury and increase running efficiency but it takes a clinician educating and practicing the concepts themselves to make the correct modifications for their clients and patients.
Value: A huge potential for significant ROI
The Treadmill Running Analysis Guide is worth way more than the $24.95 price Chris charges.
The valuable aspect of the guide is that clinicians and health professionals can practice the protocol and develop their own running specialization in their clinic.
This guide equips clinicians and health professionals with the knowledge to recognize which component to modify and successfully serve their running clientele.
Of course it always helps when the Therapist or Clinician is active in the fitness community, but any PT can host running workshops in their clinic to perform injury assessments and then use the framework Chris has provided to perform a running analysis on new patients.
Click this link to get your own copy of the Guide to Treadmill Running Analysis for Clinicians and Health Professionals.