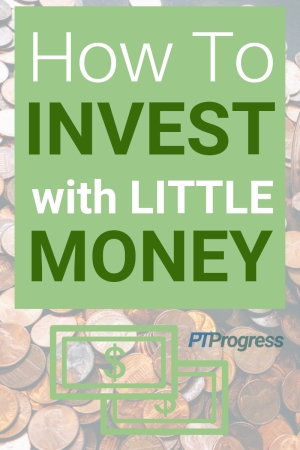 So you want to start investing money but you're not sure where to start? If you can learn how to start investing with little money, you can transfer these principles into larger portfolios as your wealth increases.
Sure, you could read classic books like the Intelligent Investor or the Little Book of Common Sense Investing. But if you're short on time, take a look at the top 4 ways to start investing with little money.
Best Investments for Beginners with Little Money to Invest
1. Get the Match! The 401k Match
If your employer offers a 401(k) or 403(b), you should really sign up as early as possible, especially if your employer offers a match. Even if your employer offers a match after a year or six months of starting there, you should start contributing to your retirement account now so you build the habit of saving. Plus, when you qualify for a match, you won't feel any difference in your paycheck if you started saving early on.
So why is this the absolute best investment for beginners who have little money to invest?
If your employer offers a 50% match, that is an immediate 50% return on your investment. Regardless of how little you put in, a 50% return is huge! It's like handing me a $20 bill and getting that same $20 plus a $10 back immediately. Why wouldn't you do that? Seriously, I don't know why someone wouldn't do that. But believe it or not, it's estimated that 25% of people don't get the full match from their employer!
Without a doubt, getting the 401k match is the best investment for someone who is trying to save or invest but has very little money right now.
2. Set up Automatic Deposits with a RoboInvestor
A smart investor who wants to develop the discipline of saving and investing will consider a roboinvestor to automate deposits into an investment account. I've been doing this with Betterment for over 8 years now and it's extremely simple to use. Simply link your bank account and choose the frequency of how often you want to deposit money into your investment account.
You can select your investment risk level and they do all the work to rebalance your account and create a well-diversified portfolio for you. You can even set goals for your investment accounts or IRAs and easily increase or decrease your contributions.
3. Get Started With Real Estate Crowdfunding
If you're interested in real estate investing but don't have the capital to invest in commercial or residential properties, don't give up just yet.
A newer online option for real estate investing has popped up, allowing you to invest in real estate with as little as $500.
This is crowdfunded real estate and is relatively straightforward with platforms like Fundrise.
With Fundrise you basically are investing in REITS, or real estate investment trusts. REITS are companies that hold income producing properties, in essence giving you a diversified portfolio of properties instead of a single property.
You can check out Fundrise here.
4. Lend Your Money and Earn Interest – Lending Club
In addition to crowdfunded investments in real estate, you can use crowdfunding to lend your money to borrowers. Platforms like Lending Club and Prosper provide loans to individuals for debt consolidation, home improvement, or just personal loans.
As an investor, you can choose the level of risk you're willing to take with an investor by sorting by credit rating, selecting individual loans, or investing in a portfolio of loans for more diversification.
The historical returns on Lending Club are between 4 and 8% based on the level of risk you're willing to take.
While it's not something I'd invest all my money into, it's a nice option for someone who is looking to invest a smaller amount of money outside of traditional stocks and bonds.
How to Start Investing with Little Money
Ask any intelligent investor and they'll tell you the best investments are usually the boring investment. If you have very little money to invest, it can be tempting to try to double or triple your money with risky investments, penny stocks, or speculative bets. That's not investing my friends, that's gambling.
If you only have a small amount of money to invest, consider one of the options listed above. Regardless of the investment you choose, the most important thing is that you develop a habit of saving