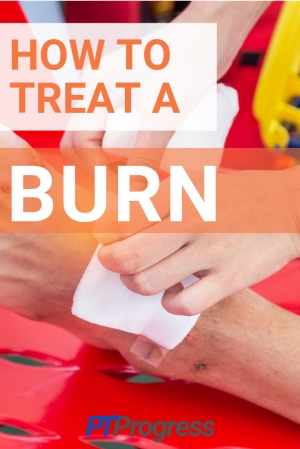 Burns are a serious injury that affect a large number of people each year. Knowing how to treat a burn is important for proper healing and to avoid future issues.
According to the American Burn Association (ABA), there are approximately 500,000 burn injuries in the United States every year that require medical treatment. There are a variety of causes for burn injuries including fire or flame contact, scald, electrical, and chemical.
What is a Contact Burn?
Contact burns would include a small child putting their hand on a hot oven or an individual with diabetes who has no sensation in their feet walking barefoot on hot pavement.
What is a Scald Burn?
Common scald burns include cooking accidents with adults or with small children pulling things off countertops. Children can also suffer scald burns from taking a bath in water that is too hot.
According to the ABA, fire/flame and scald injuries are the most common mechanisms that lead to burns. Burns can impact all of the body's systems when serious or if the injured person is already medically compromised.
Types or Degrees of Burns
The various levels of severity are superficial, partial thickness, and full thickness. You may have heard of these as first, second, and third degree burns. Managing these burns will vary based on the severity. It's always important to consult with your physician about proper ways to treat a burn. Here are general parameters on how to treat burns at home.
How to Treat a First Degree Burn
A first degree burn is known in medical terms as a superficial burn. This type of burn injury only affects the first layer of skin. It's similar to the burn you might experience from being in the sun too long.
Since the nerve endings are still intact, superficial burns are very painful. However, there are no open wounds so although very sensitive and painful, these burns will heal quickly with time and without intervention. There is virtually no risk for infection, fluid loss, scarring, or loss of motion with superficial burns.
Protect the area from further damage (i.e avoid further contact with the damaging elements or exposure to sun)
A cool compress can be used for 15 minutes at a time for pain relief.
Avoid using oils or butter over the affected area. Check with your health care provider before applying lotions, aloe vera, or antibiotic creams to the area.
How to Treat a Second Degree Burn
Primarily known as partial thickness burns, second degree burns get into the second layer of skin. There are two levels of partial thickness burns, superficial and deep. Essentially, a deep partial thickness burn goes more deeply into the second layer of skin than a superficial partial thickness burn.
Both of these types of injuries will require regular wound care and medicated dressings. Partial thickness burns can also lead to fluid loss if there's a high enough body surface area involved, so a specific amount and rate of IV fluids will be given.
How do Second Degree Burns Look?
Superficial partial thickness burns will be red, moist, and may have blisters. These injuries are very painful, as the nerve endings are exposed to air without any protective skin covering. It can take up to 3 weeks for these injuries to heal. As long as the wounds heal within 3 weeks, there is no risk of scarring. Even though it's painful, it's very important to continue moving the area where the burn is located to avoid future impairments and potential loss of motion.
With many burn injuries occurring to the hand, it's common to ask how to treat a burn on a hand. If it's on your dominant hand, use your hand normally. If it's on your foot or leg, continue to walk as normally as possible. Since these are open wounds, there is risk for infection. Keeping the wounds clean and using the appropriate medicated dressings are critical to avoid infection. Superficial partial thickness burns do not normally require surgical intervention for healing.
Deep Partial Thickness Burns
Deep partial thickness burns will be more dry, pink or mottled white, and will likely not be as painful. Often, these injuries burn off the nerve endings in the skin and are not painful. These wounds can be treated with medicated dressings or with surgery, depending on the injury.
If treated conservatively, it often takes longer than 3 weeks for healing. This means that there is a higher risk for scarring. There is a higher risk of infection with this type of injury due to being deeper into the skin, so frequently surgery is chosen in order to get everything clean. Skin grafting surgery may also be performed if indicated. Any area that requires a skin graft is at high risk for scarring and will benefit from use of compression garments once healed.
It's also very important for these injuries to continue moving the affected area to prevent loss of motion that can cause loss of function. If skin grafting surgery is performed, there will be a period of immobility to allow for wound healing, an average of about 5 days. After this period, aggressive movement and therapy is indicated to prevent loss of motion and function.
How to Treat a Third Degree Burn
Full thickness burns, referred to as 3rd degree burns by the layperson, are the most serious types of burn injuries. They go all the way through the first and second layer of skin and can also affect underlying structures including muscle, nerve, ligament, tendon, etc.
The skin will be tight, dry, and can present as white, yellow, or charred. All full thickness burn injuries will ultimately require skin grafting surgery to facilitate wound healing and prevent infection. This means that the wounds will be at high risk for scarring and will also require a brief period of immobilization after surgery followed by aggressive therapy.
Risk of infection is very high with full thickness burns, which is why it's so important for prompt surgical intervention to remove all the dead tissue. If the burn is circumferential, meaning it goes all the way around the limb or trunk, there is a high risk of compartment syndrome.
Burn injuries cause a lot of swelling, and with full thickness burns there isn't anywhere for this swelling to go because the burned skin is so tight. Therefore, the swelling can cause a build-up of pressure within the affected extremity or trunk leading to compartment syndrome. To prevent compartment syndrome, sometimes surgical procedures called escharotomies or fasciotomies are performed to open the skin and release the pressure.
Seeking Medical Attention for a Burn
It can be difficult to know when to seek medical attention for a burn injury. Any burn that has an open wound or appears to be more than a sunburn, meaning a partial thickness or full thickness burn, should immediately seek medical attention.
This will ensure that the wound is properly cleaned to prevent infection, the appropriate medicated dressings are applied, and additional critical medical needs are met including fluid resuscitation and airway protection.
A medical professional should determine if you need to be hospitalized or if you can follow up in an outpatient burn/trauma clinic and perform your own wound care at home. When in doubt about whether you should seek medical attention, it's better to be safe than sorry.
Where Should I Go for a Burn?
If the burn injury is fairly substantial, you should seek the services of an American Burn Association verified burn center. There are certain referral criteria that determine if someone should obtain burn care at one of these facilities instead of a regular hospital or trauma center.
Verified burn centers have gone through a rigorous and standardized process to be fully qualified to handle any and all burn cases and provide the appropriate and necessary multi-disciplinary approach. The following are the ABA referral criteria warranting transfer of care to a burn center: partial thickness burns greater than 10% of total body surface area, burns that involve the face, hands, feet, genital region, or any major joint, any full thickness burn, electrical burns, chemical burns, (smoke) inhalation injury, burn injury in patients with complicating pre-existing medical disorders, burn injury in patients with additional trauma such as fractures, or burn injury in children who are in a facility not equipped to care for children.
How to Treat a Burn at Home
After you have been discharged home either from the emergency room or after a hospitalization, it's important to follow your discharge instructions.
This is especially true for the wound care to ensure proper healing and to prevent infection.
You will likely have instructions from a physical and or occupational therapist with home exercises to perform. It's important to follow these instructions to prevent any loss of motion or scarring.
In addition, you may have a referral for home health or outpatient therapy. Be sure to follow up on these referrals to obtain the additional therapy services you need to prevent loss of function. It's likely that the burn center will have an outpatient clinic for follow up to ensure the wounds are healing well and that everything progresses as planned.
The best thing you can to recover is to resume normal activities and follow all discharge instructions as given exactly. This will allow a return to pre-burn status as quickly as possible without any complications.
This article is for informational purposes only and does not constitute medical advice. Always consult with your physician regarding treatment for your situation.