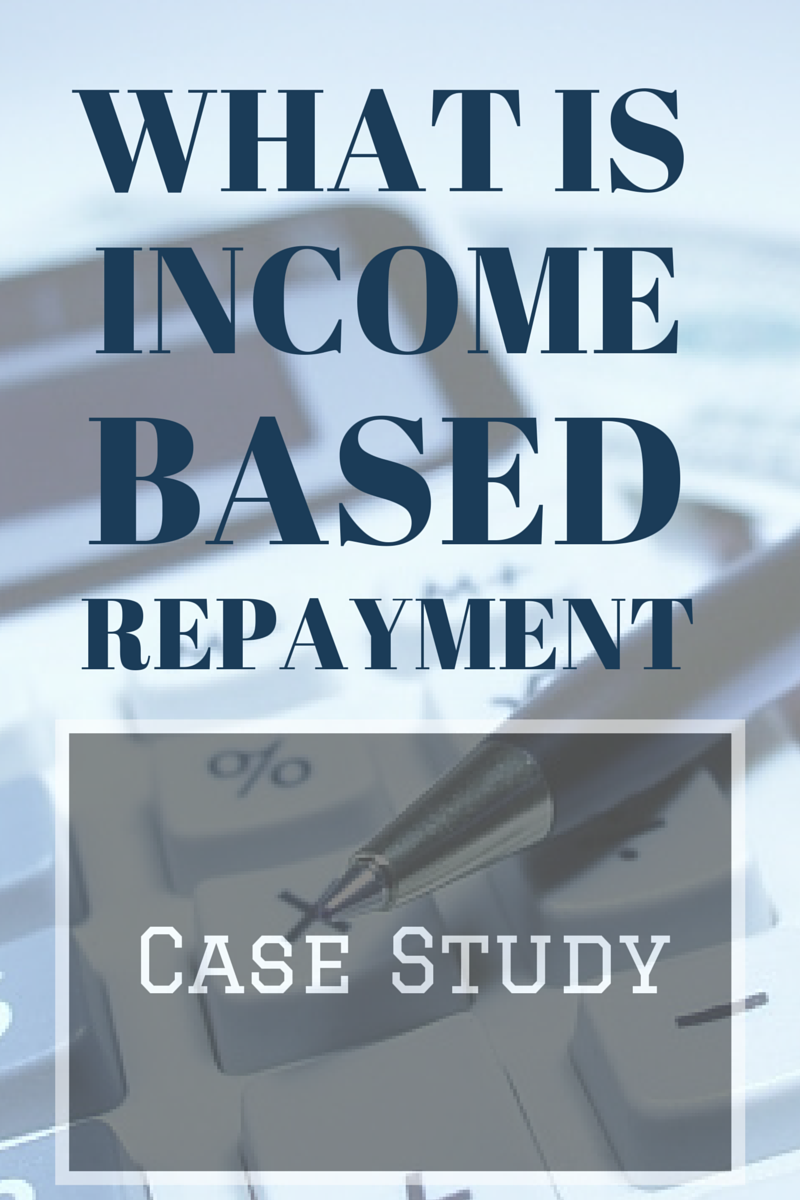 Income Based Repayment (IBR) plans allow borrowers to decrease the monthly payment of their federal loans, in some cases to as low as 10% of your discretionary income.
One of the best ways to get an estimate of how to lower student loan payments is by using the Department of Education's Repayment Estimator.
Let's run through a scenario to show you how Income Based Repayment works.
Scenario: Physical Therapy student in Missouri graduates with $108,000 in student loans from a 3-year DPT program.
Total Debt: $108,000 (Federal Direct Loan at 6.8%)
Projected Gross Income: $60,000
Adjusted Gross Income: $50,900 (Gross Income – IRS Standard Deduction)
After Tax Income: $43,500 (Projected with ADP)
*Annual Living Expenses: $26,400 ($2,200 / month)
*Remaining Income: $17,100 Annually / $1,425 Monthly (After Taxes and Expenses)
Standard 10-Year Student Loan Repayment for $108,000: $1,243
*Estimated Living Expenses: Rent ($1,000), Transportation ($400), Food ($500), $300 (Misc.) etc. etc. It adds up fast!
If this student uses the 10-year standard repayment option, he will have payments of $1,243 each month for the next ten years. Obviously in this case, a $1,243 loan payment makes his budget very, very tight. Even if he could lower his expenses a few hundred dollars per month, his remaining income would barely cover the cost of his student loan.
STRESSED YET?
Ok, So What Are His Options?
Here's a look at what the Student Loan Repayment Estimator suggests as his options. Looks like he has some good options. Let's take the IBR option and talk it through.

Based on his income and student loans, our student may qualify for an income based repayment (IBR) option. The IBR plans generally calculate the maximum payment based on your discretionary income.
Discretionary income is defined as: "the amount of adjusted gross income above 150% of the poverty level for the borrower's household size." (See chart)
Let's calculate his "discretionary income"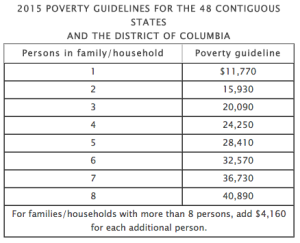 Adjusted Gross Income: $50,900
Poverty Guideline for 2015 (Single Person): $11,770
150% of Poverty Level: $11,770 x 1.5 = $17,655
AGI – 150% of Poverty Level = $50,900 – 17,655 = $

33,245
Discretionary Income = $33,245 Annually or $2,770 monthly
IBR Limits Monthly Payment to 10-15% of Discretionary Income so let's take $2,770 x .10 which gives us the low end of the payment range of $277. We can take $2,770 x .15 to find the higher end of the payment range which is around $415.
His Lowest Estimated Monthly Payment with IBR is $277 – $415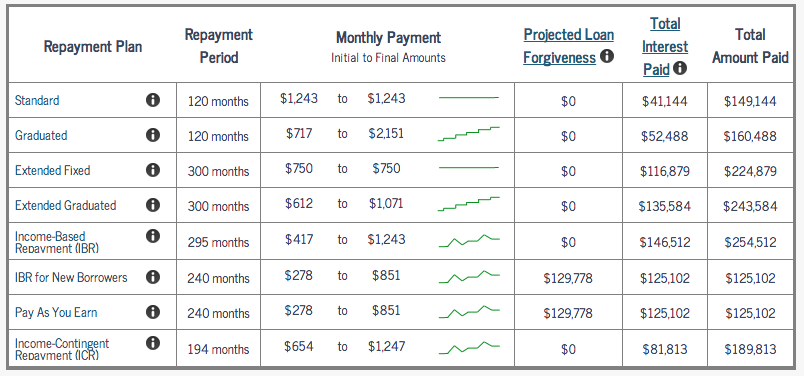 Based on the StudentLoan.gov estimates shown above, our math adds up! If our student qualifies for "IBR for new borrowers" (or even better for new borrowers – the Pay As You Earn plan), his monthly payments could be as low as $278 per month. Under the standard IBR option the low end of his payments may be $417 (which is about 15% of his discretionary income.
In fact, if he qualifies for an income based repayment plan on his Direct Loans, and he also qualifies for the Public Service Loan Forgiveness program, he may be eligible for loan forgiveness after 120 months of qualified payments.
If he plays his cards right, he may have $129,778 of his student loans forgiven.
Of course, he needs to make sure he follows the rules for PSLF and submits the correct documentation each year showing his income, tax status, and employer information.
Which Income Based Repayment Options Is Best?
Each IBR options has rules for eligibility. For example, the Pay as You Earn (PAYE) repayment plan requires the following:
A Partial Financial Hardship (Partial Hardship defined as a situation where student loans exceed 10% of your discretionary income – like our case above)
You must be a "new borrower" – A 'new borrower' for the PAYE program is defined as someone who
Has no outstanding balance on a Direct Loan or FFEL program loan when you obtain a new loan on or after October 1, 2007 and
Received a Direct Subsidized Loan, Direct Unsubsidized Loan, or student Direct PLUS Loan on or after October 1, 2011, or receive a Direct Consolidation Loan based on an application received on or after October 1, 2011.
You are not considered a new borrower if the Direct Consolidation Loan you receive repays loans that would make you ineligible under part (1) of this definition. (StudentLoans.gov)
In other words: did you have outstanding student loans before October 1, 2007? If yes, then you're not eligible for PAYE at all. Sorry. You'll have to look at the IBR option.
It's important to note that not loans are eligible for Income Based Repayment options and that you need to take the next steps to find out whether or not you are even eligible for a reduced payment through IBR.
The Next Step: Financial Tips for New Grads
Whether you're just starting school or you're graduating this spring, you need to have an idea of what to expect when it comes to your student loan payments. The way I see it, students need to have a grip on these three things:
1. Project Your Income and Expenses
It first starts with having a good idea of your projected income and expenses. Start working through an estimated budget for the next phase of your life. Where do you expect to live and work? What is the average cost of housing? What are your monthly expenses like: auto, insurance, phone, utilities, etc. Put it down on paper or use a budget software like Mint to keep everything in check.
2. Explore Your Options Early
Don't wait until the last month of your grace period to educate yourself on the options you have with your student loans. Find out your loan balance, the type of loan, the interest rate, and repayment options available to you as soon as possible. Research the Direct Loan consolidation options for your federal loans and learn about the student loan forgiveness programs that you may qualify for.
3. Save The Difference
In the example above, this student cut his payment from $1,240 a month down to $278 a month. Now he has about an 'extra' $1,000 each month!
Here's a nice representation of the savings from the Income Based Repayment Option (Red Bar):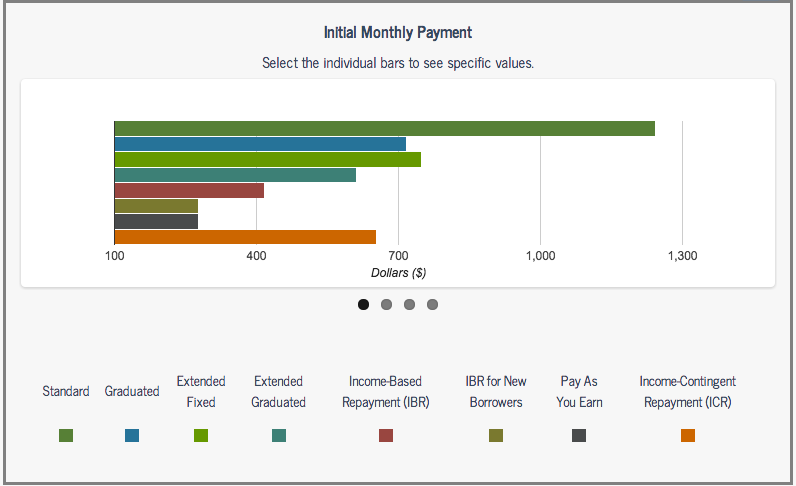 Just think about all the things he'll be able to buy. He can probably buy a newer car, go on a vacation, upgrade his laptop, eat out more often, and live the life he's been waiting for.
Ok, I'm being a little dramatic here – but that's a mentality that is easy to adopt, especially for new grads who are finally earning an income.
I'm not suggesting that you need to drive around a 20 year old beater or live in a shack.
I'm suggesting that you develop a habit of saving early.
The smart way to approach his 'extra' $1,000 a month is to allocate it into savings for large item expenses that are inevitable. Here are 3 items that he should seriously save for:
Emergency Fund – Build 3-6 months of living expenses in your emergency fund ASAP. If he sets aside $500 a month into an emergency savings fund, he can build a 3 month emergency fund in his first year out of school.
New Car / House Fund – Before you add a $300 car payment, try saving $300 each month for the new car. While you're at it, you might as well start saving for the down payment for a house too. Setting aside $300 a month for each of these expenses will add up to about $7,000 in your first year!
Save For Retirement – Don't wait to start saving for retirement. This is one of the biggest mistakes new grads make. Ask anyone in their 30's or 40's if they have any regrets about saving for retirement and the most common answer you'll hear will be "I wish I would have started sooner." Even if you can only afford to start with $100 a month, it's the habit that you're forming. Besides, most employers make it really simple to save directly from your paycheck. There's no good reason to NOT start saving for retirement with your first paycheck. Trust me, you won't regret it.
My goal for this scenario was to give you an idea of what to expect as a new grad. Your situation will obviously be different depending on your state, your income, and your family. Take the time to educate yourself about your student loan options and how to manage your money after graduation.
If you found this article to be helpful, show your friends how money-smart you are by sharing it on Facebook, Twitter, or Pinterest.