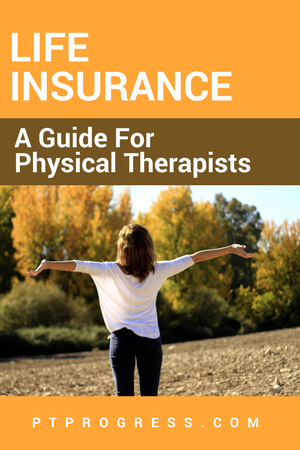 If you haven't already been approached by someone trying to sell life insurance, get ready. The conversation should be relatively simple, but unfortunately, financial products can sometimes be overcomplicated by sales representatives.
Tldr; Look for the cheapest, long term, level-premium term life insurance policy you can find. Use term4sale.com to compare the best quotes. (They are not affiliated with PTProgress – they are simply a very helpful site.)
1. Life Insurance Is a Must Have If…
Unless you are financially independent or no one relies on you for your income, you absolutely need life insurance.
My general thought on life insurance for Physical Therapists: You need to purchase life insurance as a new grad Physical Therapist.
Personally, I purchased a term life insurance policy as soon as I finished my undergrad degree and started working. Term life insurance policies are very affordable and should run the average 26 year old PT grad less than $30 a month for a $500,000 policy.
Answering the question 'how much life insurance do I need?' comes down to multiple factors: if you were to die tomorrow, how much money would you need to make sure your family had the resources they needed for their home, education, or even to cover unforgiven student loans. This number is different for everyone.
Should everyone get a $2 million term life insurance policy? Not necessarily. Is $100,000 enough? Probably not for a family of 4 who relies on you as the main source of income. For most people, selecting a term life insurance policy between $500,000 and $1,000,000 would be enough to ensure your family is cared for if you passed away suddenly.
2. It's Not Going to Get Any Cheaper
The older you are, the higher your life insurance quote will be. The beauty of a level-premium term life insurance policy is that your premiums (amount paid each month) does not change over the life of your policy.
Let's consider that $500,000, 30 year term life insurance policy you by at age 26 for $30 a month. The premium will stay the same for the length of the policy (30 years). Lock in the premium each month and add it to your budget. Think of it like this too: while inflation continues to rise, your premiums stay the same. The $30 payment you are making now costs less every year that inflation moves onward.
3. Purchase a Policy Outside of Your Employer
Your employer may offer a life insurance option for you. That's great, but life insurance is so affordable that you really need to purchase your own policy. There's no problem in purchasing extended life insurance through your employer – many offer small term policies of $50,000 for just a few dollars or included as a part of your pay package. But don't let that be your only policy. 1. It's probably not enough and 2. Many of these policies don't allow portability (the ability to continue the policy if you leave employment there).
4. Avoid Whole Life Insurance At All Costs
Whole life insurance policies are a type of permanent life insurance policy that is sold to people. It's a very expensive way to purchase life insurance as it is a confusing mix of both an insurance policy and an accumulated cash value account that is sometimes referred to as an investment or retirement plan. Don't do it. My advice (along with the advice of many other financial experts) is to keep your investments and insurance separate. Don't combine them. A simple term life insurance policy is super easy to understand. An IRA is a really easy way to save for retirement. Combining the two is like trying to mate a great dane with a chihuahua. Just don't.
Unfortunately, these plans produce a nice commission for the insurance agent selling them, so there is a significant incentive for them to suggest these profitable products (hey, they have to pay their mortgage too…).
In future posts, we'll get into more details on the differences between term life insurance and whole life insurance, but for the time being, take this to heart: Yes, you need life insurance. Look for the cheapest, long term, level-premium term life insurance policy you can find. Use term4sale.com to compare the best quotes. (They are not affiliated with PTProgress – they are simply a very helpful site.)