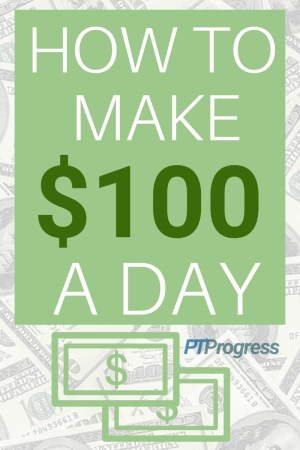 You're probably trying to figure out how to make extra money fast. Like one hundred dollars fast.
Learning how to make 100 dollars a day can change your life, especially if it's extra money on the side. Over time it's possible to use these strategies to even make 200 dollars in one day.
While there aren't too many ways to make easy money, there are ways to make money fast. When I was in college I thought about quick ways to make money all the time
That's because I was broke.
Now I'm not broke, but I'm still able to make over 100 dollars a day on the side. While it may not seem like a lot, making 100 dollars every day amounts to $36,500 a year or $18 per hour.
So let's dive into the best ways to make $100 dollars a day.
How to Make $100 Fast:
34+ Ways to Make a Hundred Dollars
While you don't have to do all of these ideas or side hustles, you will probably need to do a few of them to get started. This is the best way to make $100 fast – with diversified income sources.
1. Get Paid to Take Surveys
Yes, there are legit survey sites for making money online. Survey Junkie is the most popular, but I've listed a few more below Signing up to take surveys online is one of the fastest and easiest ways to make an extra $100. You probably won't earn a full time income doing it, but it's a good use of time while you have NetFlix on in the background.
You can expect to earn anywhere from $0.50 to a dollar for every survey that you complete. It might take 5 to 10 minutes per survey but your earnings can start to add up the more you do it.
The five most popular survey sites are listed below.
Survey Junkie
iSay
Nielsen App
2. Get Paid to Drive
You can easily make $100 a day by driving for UBER or Lyft. But did you know you can also drive for Amazon, Postmates and UBER Eats too?
Some of these companies like Lyft will offer a $100 bonus if you give 50 rides in your first 30 days.
Recover Money on Purchases
3. Use Paribus to Get Money Back
Paribus is an awesome free service that simply tracks your purchases to see if you've overpaid or have money owed to you for late shipments.
A lot of retailers will offer customers a price match if a lower price is available within 7 to 10 days. Many people don't realize this and even fewer take advantage of the price match guarantees. Paribus acts on your behalf with many retailers to submit the difference, resulting in more cash back in your pocket.
Late Shipments: They'll even do the legwork for the times your Amazon package is late and you're eligible for a $10 credit based on the Amazon terms of service.
4. Drop
Drop is a free app that allows you to cash in on points for everyday items you purchase. Simply download the app, link your cards and shop at the places you'd normally shop! The Drop app will apply points to your account for purchases you make through the app, which can be redeemed for gift cards towards stores you love. Doesn't get much easier.
5. iBotta
The folks at iBotta use a similar platform and promise cash back on everyday purchases. With iBotta, you actually get cash back that can be sent to you via PayPal, Venmo, or sent via gift cards.
Make Money with Apps
6. Acorns
Invest your spare change with Acorns. This app automates your savings by rounding up all of your purchases and investing 'the change' into an investment account. It's a hands off approach as Acorns uses a 'robo-investor' style approach to automatically invest your money into indexed mutual funds.
The best part? It's free to college students with a .edu address and very affordable for everyone else.
The fees to use Acorns is just $1 a month and it could end up 'automatically saving' hundreds of dollars a month depending on how many times you use your debit or credit card.
Quick Ways to Make $100
7. Sell Plasma
it's not glamorous, but you can make about $100 a week selling plasma. If you need cash quickly, this is a legit way to make $100 fast.
8. Sell Your Stuff
Old electronics, clothes, or even furniture sells quickly on Craigslist or the Facebook marketplace. Snap a few pictures and create some new room in your place by selling your stuff for cash.
Side Hustles to Make $100 a Day
9. Seasonal Side Jobs
One of the best ways for high schoolers to make $100 fast is to post a few flyers highlighting your services to rake, shovel snow, mow grass, or clean debris for people. I spent an entire summer doing this and paid for my first car, insurance, and had extra money left over from it! If you're well past high school, you can still make cash by offering to do this work too!
10. Dog Sitting & Dog Walking
When my wife and I travel, we have someone let our dogs out, which runs about $15 per visit. This person does dog sitting / feeding on a full time basis now! She started with just a few dogs, but now makes well over $100 a day feeding dogs, walking them and taking them out when their owners are out of town.
11. Start a Blog
While it's not a fast way to make one hundred dollars, you can absolutely make $100 a day doing it! I've been making at least $100 a day blogging since 2012. It takes commitment, but you can absolutely learn how to make money with a blog fairly quickly. Plus, there are a lot of opportunities to become a staff writer for other blogs, which can pay around $100 per article at times!
12. Become a Virtual Assistant
The great part of being a virtual assistant is that you can start with small jobs or take on a full time position doing specific tasks for a company or individual. Check out Upwork.com to get connected with jobs that will help you make $100 a day.
13. Rent a Room
Signing up with sites like AirBnB or Rotating Rooms can turn your spare room into a cash generating machine. If you live in a well traveled area, you can easily charge a premium for your rooms or entire house!
14. Rent Your Car
It's becoming more popular for people to rent their own cars to strangers using apps like Turo and Getaround. It's similar to AirBnB – I haven't done this, but if you have an extra vehicle, it might be worth considering!
15. Write an Article
If you enjoy writing, you might as well get paid to do it! Sign up with sites like Upwork, Listverse, or even Fiverr to promote your services and to start generating extra revenue as a freelance writer.
Random Jobs
Did you know you can actually run errands for people and get paid to do it. Sites like Task Rabbit and Mechanical Turk will show you opportunities to do just that! You can also find random jobs through Fiverr, Upwork and GigWalk.
16. Make Money Shopping Online
Ebates is a platform that pays you to shop online. Simply do your shopping through Ebates and earn cash back at over 2500 store.
17. Make Money Watching Videos Online
InboxDollars – get paid to take surveys, watch videos, do shopping, and more.
18. Lower Your Bills
Call your cable, trash, and internet company to renegotiate your current bill. You'd be surprised how quickly you can lower your – by 50% in some cases!
19. Hard Work
Ahh yes, good old hard work. There's nothing wrong with making an extra $100 on the side by doing hard work like cleaning houses, detailing cars, or cleaning boats and RVs. Word of mouth travels fast in these circles, so within a few weeks, you might find yourself busy with $100 side jobs!
20. Flip on Facebook
If you ever scroll through the Facebook marketplace, you can find some pretty good deals. If you find something that is way underpriced, you might take a risk with flipping the item for a profit. Some people just don't know what they have, especially with items like musical instruments or tools. If you're savvy, you can even put a little work in and clean up or flip an item of furniture for extra cash.
21. Start an Etsy Store
Are you creative? Use Etsy as an outlet to sell items that you make. You can even use it to sell printable items or digital downloads.
22. Start a Shopify Store
If you have an idea for an online shop, the Shopify platform may be your ticket to promote and sell your items to people all over the world.
23. Create and Sell Printables
Do you have a helpful guide or template for the work that you do? If so, you might be able to make money by selling it on your own website or on a platform like Etsy, Gumroad, or Shopify.
24. Create a Course
It's surprising how easy it is to create a course today. Using platforms like Teachable, Podia, Thinkific, and Kajabi, you can upload videos or documents and create a course very easily!
25. Sell Clothes You Don't Need
Take a look in your closet, snap a picture, and post it on Poshmark to star making money selling clothes that you don't wear. If it's not accepted on Poshmark, throw it on Facebook marketplace.
26. Be a Personal Trainer
Do you have a passion for fitness or enjoy working out and pushing others to perform better? As a personal trainer, you can earn well over $100 a week by guiding people to meet their fitness goals.
27. Be a Website Tester
User Testing and Respondent are some of the most popular platforms to get started as a website or app tester. You can perform this work anywhere, which makes it a great side hustle to earn an extra $100.
28. Make More at Work
Let's not forget that you can make an extra $100 by getting a raise at your current job! Most people immediately think that you have to negotiate a higher salary, but you can also earn extra at work by negotiating extra time off! Picking up overtime and working weekend shifts are quick ways to pocket an extra $100 too.
Ways to Make $100 Passively
29. Open a Rewards Credit Card
My wife and I just landed 100,000 Hilton points with our rewards card, which translates into 3 hotel stays (over $400 saved!)
30. Open a High Yield Savings Account
Check out online savings accounts like Ally to earn over 1 or 2% on your money.
31. Peer to Peer Lending
Sites like Prosper and Lending Club are great places to start earning extra money passively.
32. Invest with FundRise
FundRise is an investment platform that gives users a simple low cost way to access real estate investing in a new way.
33. Invest with Betterment
Betterment is a great option for automating your investments, earning money passively by investing in low cost index mutual funds.
34. Refinance Your Student loans
I recently refinanced my student loans through Credible and saved over $70 a month! Other sites like Sofi and Commonbond are great options to consider too.