In the book The Miracle Morning, Hal Elrod identifies the 6 Miracle Morning SAVERS you can use to create your own morning routine.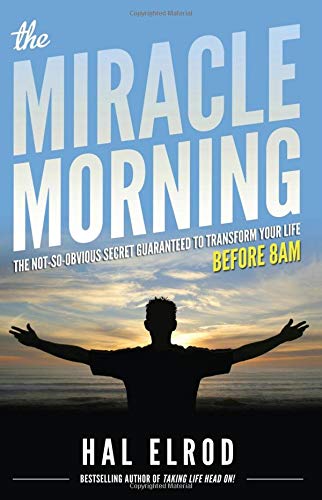 SAVERS: The Miracle Morning Routine
S – Silence
A – Affirmations
V – Visualization
E – Exercise
R – Reading
S – Scribing
The SAVERS method acts as a roadmap for creating a morning routine that works for you. It's great for someone who is interested in creating a miracle morning routine but they're not sure what it should look like.
How Do I Create a Morning Routine?
Search for "best morning ritual" or "best morning routine of successful people" and you'll end up reading basically the same article over and over again.
Wake up at 4:30, 5:00, or 5:30
Make your bed
Exercise
Read
Eat a healthy breakfast
etc
Most of these articles give you examples of wealthy entrepreneurs who appear to have pretty distinct morning routines.
But here's the key: they're all different.
Someone successful is waking up at 5 AM and going on a 30 minute run.
Someone else meditates for 30 minutes before throwing a handful of chia seeds into a blueberry smoothie while reading a book.
So what is the best morning routine?
I like Hal Elrod's approach to finding the best morning routine.
He had a similar quest to figure out what successful people did, so he studied entrepreneurs and leaders who started their day with a morning ritual or routine.
Hal started to see a pattern just like you would if you read through the top 10 articles on morning routines.
He found the top morning routines usually included some form of the following: silence, meditation, and or prayer, goal setting, self development through reading and positive affirmations, writing, and exercise.
In his book, The Miracle Morning, Hal shares the SAVERS principle as a way to develop a morning routine.
I like the SAVER Miracle Mornings steps and used them to create my own version (a shorter version I call my RISE technique – see below).
How Long Should a Morning Routine Be?
Creating your ideal morning routine can be as long as you want it to be.
You already have a routine right now – it's just not the morning routine that you want.
If you're just starting with the Miracle Morning, Hal suggests that you can spend as little as 1 minute on each of the items in the SAVERS method.
I found that 20 to 30 minutes is a good amount of time for initial reflection and development. If you're using your Miracle Morning as a time for extended exercise, you might spend 30 to 60 minutes on your routine.
But that's the beauty of establishing your Miracle Morning. You've completed your routine by 5:30 or 6:00 AM! Before you would normally wake up!
Miracle Morning Routine Example
When I read the Miracle Morning, I liked the idea of the SAVERS morning routine. I think Hal does a great job in condensing a variety of morning routines into a 6 part routine that can be replicated and modified.
After reading his book, I realized that some of the components of the SAVERS method could be condensed or grouped together. So I simplified it for my own miracle morning routine.
I call it the RISE technique.
Reflection
Ideation
Self Development
Exercise
Within the 4 parts of my morning routine, you can find room for the detailed components that you might use.
Here's what I mean:
Reflection (Silence, meditation, prayer, affirmations,)
Ideation (Visualization, goal setting)
Self Development (Reading, writing, affirmations)
Exercise (Walking / Running, strength training, stretching)
I'm not trying to write the next Miracle Morning book. I've just turned the SAVERS principles into my own version.
This is the beauty of creating your morning routine – it should be specific to you. It's great to use morning routines as examples, but start simple and develop your own routine based on the SAVERS or RISE technique.
My Miracle Morning Experience
I recommitted to my Miracle Mornings this month and have found it much easier to become motivated in the AM to exercise and to set myself up for a productive day.
My Miracle Morning Example:
5:00 – Wake up, head to my home office
5:05 – Reflection (Silence for 1-2 minutes, affirmations, read the Bible)
5:10 – Ideation (Write out "Big Three" goals, visualize tasks for the day)
5:15 – Self Development (Write down what I'm grateful for, read/write
5:30 – Exercise (at home in the basement – walking, rowing, weights, etc)
6:00 – Breakfast
My goal is to commit to a month of my new Miracle Morning routine to see how that affects my work, productivity, creativity, and health.
Have you read the Miracle Morning?