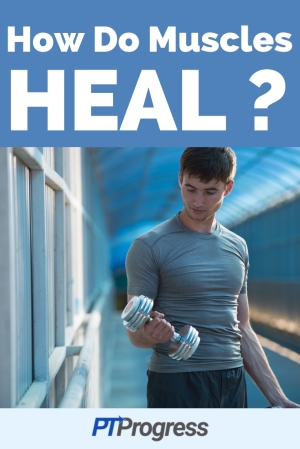 Did you know muscle strains and contusions make up approximately 90% of all sports injuries? Muscle injuries can be categorized into 3 different categories:
Muscle Strains are when excessive forces cause over-stretching of the muscle
Contusions are when trauma directly causes injury to the muscle
Lacerations are when a muscle is cut all the way through
What is a Muscle Strain?
When we have a strain we can also classify how severe the strain was:
1st degree strain: tearing of a few fibers, there is minimal loss of strength.
2nd degree strain: more damage to fibers with loss of contractile strength.
3rd degree strain: cross sectional rupture with complete loss of contractile strength.
How To Heal a Muscle Strain
Muscle injuries heal in the 3 phases of Tissue Healing. Here's a brief overview:
Phase 1: following injury, damaged contractile elements die off, a hematoma forms, and inflammation sets in. Contraction of the muscle at this point is reduced because fibrin and fibronectin link up to support against contraction.
Phase 2: starting a few days following initial injury, macrophages swarm the area to phagocytize the dead tissue. In its place, satellite cells regenerate contractile elements and there is a release of growth factors which stimulate scar formation.
Phase 3: for the next 4-6 weeks the tissues remodel in order to improve tissue integrity.
Does that mean that torn muscles heal back with its original muscle tissue?
No! Very small muscle injuries can repair with muscle tissue, but most muscle injuries heal with dense connective tissue (aka scar tissue). Muscles are most likely to be injured at the myotendinous junction (aka where the muscle and tendon connect). Large muscle injuries heal in the following way:
Macrophages phagocytize necrotic tissue and secrete growth factor to stimulate satellite cells.
Satellite cells differentiate into myoblasts (a cell capable of forming muscle cells).
Myoblasts then fuse with each other and with the injured myofibers to form a scar.
The scar has fibroblasts which then form a protein extracellular matrix.
Collagen and elastic proteins are formed which are embedded into muscle to create a dense connective tissue scar.
How To Treat a Muscle Strain and Improve Muscle Healing
Avoid immobilizing the muscle for too long!
Completing strengthening activities within the patient's limits of pain tolerance leads to faster capillary regrowth, better fiber regeneration and alignment, and a faster return of strength. However, if you resume activities too quickly there can be an increased risk of damage to the muscle and greater scar formation.
R.I.C.E. it!
Rest, Ice, Compression, and Elevation should be the patient's best friend! A common question
Source: https://www.yourphysio.org.uk/new-pain-problem/managing-a-soft-tissue-injury/
Apply Gentle Stretch or Massage
Stretching is important for the health of the scar tissue! It helps to avoid scar adhesions and helps during the repair and remodeling phase of healing to create a pliable scar.
Editor's Note…
Here are some common questions about muscle healing that I hear in the clinic:
Should I Use Heat or Ice for a Muscle Strain?
Heat will increase blood flow, which can promote healing. It can also increase swelling. Ice will restrict blood flow and decrease swelling. Immediately after an injury, it's beneficial to use ice to control the swelling. As the tissue heals, it may be ok to alternate heat and ice for 10 to 20 minutes at a time. For early injuries, focus on using ice to reduce swelling and pain.
How Long Does a Muscle Strain Last?
This will depend on the severity of the injury. For a 1st or 2nd degree strain, the healing time may vary from 1 week to 8 or more weeks. A complete rupture usually will not heal to 100% without surgical intervention. A full laceration of a muscle may never be the same, however, extreme injuries like these are not as common as a grade 1 or 2 muscle strain.
What Are Common Muscle Strain Symptoms?
Muscle strain symptoms can include: pain, swelling, muscle spasm, and decreased ability to move after injury.
When Should I Consult a Physician?
If the injury is preventing you from moving your joint completely, you should consult with a doctor. Injuries to leg muscles that prevent you from walking more than a few steps without pain require consult by a physician. If you have pain directly over a bone or joint, it's important to go to the hospital or urgent clinic to have it inspected. Also, numbness or tingling is a symptom that means you should consult with a physician to have it inspected further.
This article was written by Ashley Falls who is studying to become a Physical Therapist at the University of the Incarnate Word in San Antonio. If you are a Physical Therapist and would like to contribute to PTProgress, contact us.
Resources: Sueki D, Brechter J. Orthopedic Rehabilitation Clinical Advisor Text. Mosby Inc; 2009.