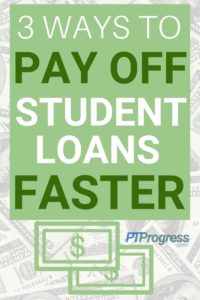 If you are trying to figure out how to pay off student loans faster, I want to share three strategies for paying off your loans as fast as possible.
It's no surprise that earning more money or decreasing your expenses can free up money towards your student loans. But unless you actually have a game plan for those new dollars saved or earned, it's very easy to fall into a habit of spending if you haven't already established a debt payoff system.
Let's look at three ways you can pay off your loans in record time.
1. Create a Separate Debt Payoff Savings Account
If you're like most people you have a checking account and a savings account. I want to encourage you to create a separate savings account that is only used as a student loan payoff account. Now the idea with this account is to save and pay off $500 chunks of your student loan at a time.
Here's the rationale behind the separate account.
Let's say you make a decision to put all of the extra money aside that you've earned from random tasks or jobs but you do on the side. Sure, you could look at your checking account and write a separate check or make a payment to the student loan company every time you earned a few extra dollars. But it's too easy for that money just to get lost in the mix of things and to be spent on everyday expenses and bills.
The nice thing about having a separate saving account for paying off student loans is that you can simply and quickly transfer any amount of money over to that savings account from your phone or banking app whenever you make extra money to put towards your student loans.
Personally, I like the idea of paying down student loans in chunks like $500 or $1,000 payments. if you have a system like this in place you can sync up this one bank account to your student loan account and make $500 payments anytime you achieve that goal.
Show me the money! Consider this example:
So let's say you just got your paycheck and you work a few extra hours of overtime. You figure out the amount of overtime was $250 and you transfer that amount into the student loan savings account. Maybe later that week you decide to sell something and pocket a cool $150 from it. Go to the bank and deposit it into the student loan savings account.
Once you've reached a specific threshold of $500 or $1,000 you've met your goal and now you can chunk it towards the student loans.
Setting goals to pay off your loans in $500 chunks is a lot easier to stay motivated than trying to tackle the entire 30, 50 or 100,000 you might have in student loans.
2. Use the Debt Snowball Method
Another way you can shorten the life of your student loans is to use the Debt Snowball method. Now this strategy was made popular by Dave Ramsey who encourages you to list your debts from smallest to largest without regard to the interest rate. The idea here is to make the minimum payments on all your loans but to apply all extra money towards the smallest loan so you can pay it off first.
This works because you achieve little wins and eliminate that entire monthly payment of the small loan. Once that payment is freed up, you can apply it towards the next smallest loan and snowball your payments each month.
But wait, what about the math!!!
Now from a pure numbers perspective, some people like to poke holes in this method because it makes sense financially to pay off the highest interest rate loan first.
But from a behavioral perspective, the debt snowball method works. Each time you pay off one of the small student loans, it increases your drive and motivation to pay off the next loan.
It might seem more rational to pay off the highest interest rate loan first. But we humans aren't as rational as we like to think.
Research from the Boston school of business found that people are more successful in paying down debt when they focus on one account at a time.
Surprisingly, their study showed that people using a debt snowball strategy worked harder to pay down their debt. And the participants actually felt more progress and higher motivation to pay off their debt when they focused their efforts on a smaller portion.
Sale
3. Consolidation: Lower Interest Rates and Smaller Payments
There are usually two reasons why people consolidate their student loans:
They want a lower interest rate or they want a lower payment.
Sometimes a lower interest rate doesn't translate to a lower payment. For example, you may have the option to choose a 10 year repayment term with a 4.5% interest rate or a 5 year repayment term with a 3.7% interest rate.
Sure, the total amount of interest you'll pay in the lifetime of the loan is smaller on the 3.7% loan, but your payment will be larger because the term is only 5 years.
If you're financially stable and can make the larger payment, this can be a great way to pay off your loans faster and save money on interest.
But if you're short on cashflow, it may not be the best idea to sign up for a shortened loan term, especially if your job has any degree of variability in your compensation.
How do I consolidate or refinance my student loans?
Now when it comes to refinancing your student loans, I personally have used and recommend Credible to find the best lenders. I used them to find a better rate for my private student loan and was able to make extra payments and eventually pay it off faster than I would have otherwise.
I like Credible because they give you the ability to find lenders who will offer the lowest rate for the term you choose. If you want to see all lenders who will offer a 10 or 15 year repayment option, you can sort the results and select the lowest interest rate and payment term based on this criteria.
You can take a look at the review we did on Credible based on our actual experience with consolidating student loans.
A Final Word on Paying Off Student Loans Faster
Okay, so there you have it. Those are three of the most common ways to pay off your student loans faster. If you haven't already picked up the book Total Money Makeover by Dave Ramsey and you're curious about the debt snowball method, I highly encourage you to pick up the book and read it because it will provide you a solid strategy for paying off your debts in record time.
And if you're interested in mastering your personal finances with a proven system that focuses on automation and creating smart money systems, check out the book I Will Teach You to be Rich by Ramit Sethi. If these are the only two finance books you read this year, I think you'll be off to a great start in paying down your student loans.
Sale