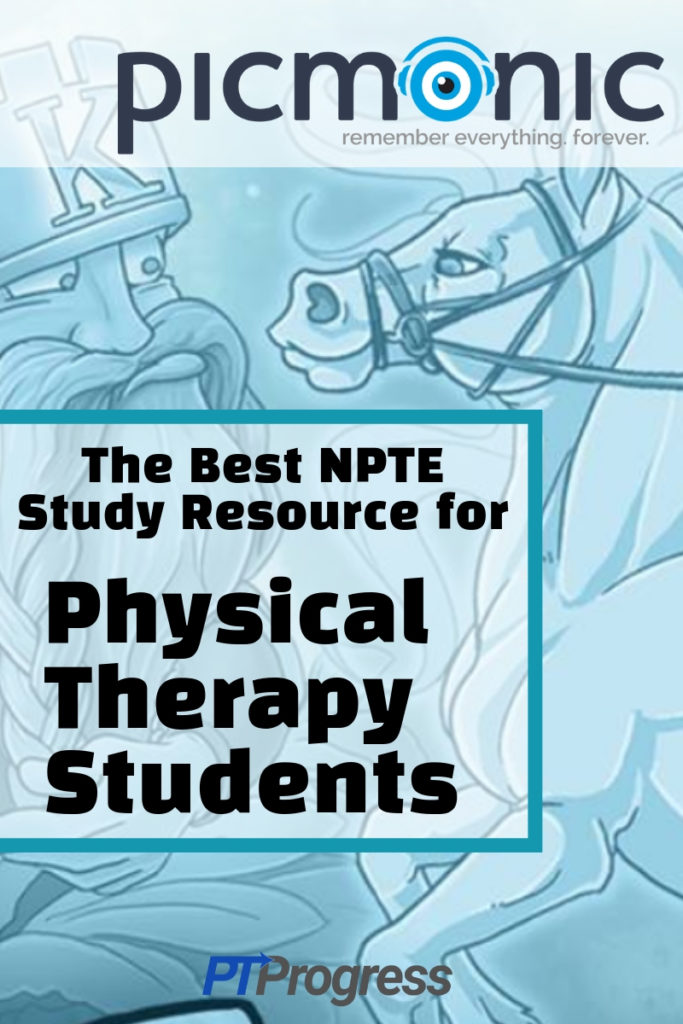 Good news for PT students: Picmonic has launched the Physical Therapy version of its world-renowned study resource, and it pairs perfectly with the content you'll see on the NPTE boards exam. Keep reading for my full Picmonic review!
If you're looking for a fresh, easy way to memorize high-level material for the NPTE, Picmonic is the resource for you. It makes studying affordable, effective, and fun.
Picmonic Review: What is Picmonic?
Picmonic is an audiovisual learning system that pairs unforgettable stories and characters with terms and concepts for a particular topic. The "picmonics" are fun to watch and make memorization effortless.
An old standby among all kinds of students, Picmonic has been around for years. Over 500,000 students, including medical and nursing students, have used it to prepare for their boards exam.

Now that Picmonic has added a Physical Therapy topic, PT students can take advantage of this clever resource to help commit to memory the high-level material of the NPTE.
How Does Picmonic Work?
Picmonic uses a visual storytelling platform to review high-level, highly tested content likely to appear on your physical therapy board exam. Each picmonic delivers creatively memorable audiovisual clips that are visually captivating and easily digestible.
When used in conjunction with other study materials – such as boards exam books, test prep courses, and independent studying techniques – picmonics help engrain study material in a fun and memorable way. Watching a picmonic is like taking a break from studying, without taking a break from learning.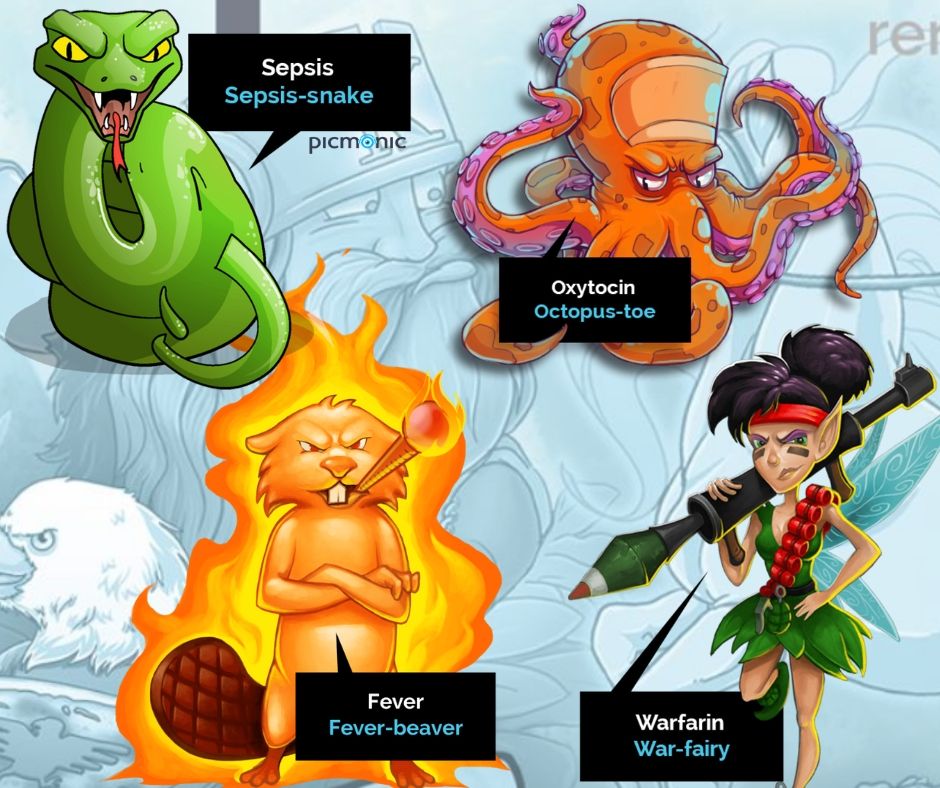 I first learned about Picmonic when my wife started using it to study for her medical boards exam. With Picmonic as a study supplement, she was able to score high enough to match into a very competitive surgery residency.
Since then, I've met dozens of residents who used Picmonic in medical school. Many find it extremely helpful for remembering difficult concepts on the boards exam.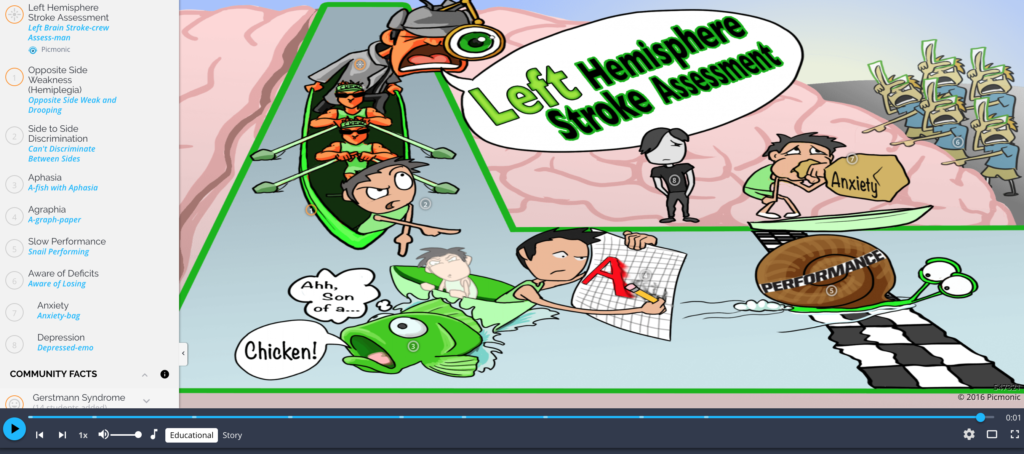 Picmonic: The NPTE Prep Tool I Wish I Had
When I studied for my physical therapy boards exam, I was limited to textbooks, classmates, my school notes, and online or weekend test prep courses.
The courses certainly helped, but not everyone can afford one. That got me thinking: Physical Therapy students could benefit from Picmonic, just like the 500,000 medical students, nurses, pharmacists, and paramedics who used Picmonic for boards exams.

So I reached out to Picmonic recently. They agreed that Physical Therapy students could benefit from their study tools, so they created a specific PT boards study track. It covers all the major categories you'll see on the boards exam: Cardiovascular, Musculoskeletal, Neuro, Integumentary and even Non-Systems items such as research, safety, and assistive devices.
With over 300 picmonics as well as interactive lessons and quizzes, the presentation makes studying actually fun!
Is Picmonic Worth It?
Picmonic is proven to increase long-term memory retention by up to 331%. It has also shown improvement in test scores by up to 50%. This is huge for PT students who absolutely must pass the NPTE on the first time around.
The best part about Picmonic PT is that it's really affordable for PT students.
How Much Does Picmonic for Physical Therapy Cost?
You can get 6 months' access to the full PT version of Picmonic for less than $25. Most PT students study 3 to 4 months ahead of the exam, so this will be plenty of time for you to access the material. With six months of unlimited access to Picmonic, you can maximize your studying and ace your PT boards exam.
Look, I'm not opposed to paying for a weekend PT boards course. I took one myself and found it to be pretty helpful – expensive, but helpful. (I spent more than $25 on lunch alone during that weekend course!)
Picmonic gives you the flexibility to spread out your study time, while also keeping you on track with daily lessons and quizzes. Plus, with Picmonic's handy mobile app, you can access your account and study anywhere you want.
It's free to sign up, and you'll automatically receive access to one Picmonic per day, at no cost. If you're not convinced it's a good study tool, just sign up and check out the free picmonic each day. Once you see it for yourself, you'll be sold.
However, if you're serious about studying for the PT boards over the next few months, you'll want access to all of the 300+ Picmonics. It costs just $24 with the PTProgress discount.
If you're serious about acing the NPTE, don't overlook this incredible study aid! Not only is it free to check out, you can save over 20% off the full version with my PTProgress discount.
Visit PTProgress.com/Picmonic and get started with the #1 study tool for passing the boards the first time around. If you sign up for Picmonic, let me know! I'd love to hear what you think of it!

Summary: My Picmonic Review
What is Picmonic?
Picmonic is an audiovisual learning system with unforgettable stories and characters that help you remember everything you need to know for a specific topic.
Is Picmonic Free?
Users can sign up for Picmonic for free and receive access to one picmonic per day. Premium plans give users access to all picmonics within an area of study.
Is Picmonic Worth It?
Picmonic can increase long term memory retention by up to 331% and improve test scores by up to 50%. Over 500,000 medical students, nurses, and others used it to pass the boards exam.
Is Picmonic expensive?
Picmonic starts at less than $4 a month, depending on the content area you choose. Select picmonic promotional codes can lower the price by up to 20%.