I want your feet to be happy again!
If you've tried everything for Plantar Fasciitis but you still have excruciating heel pain, you're not alone.
Have you been to Physical Therapy but it still feels like you're walking on razor blades?
Is your closet full of shoe inserts that do NOTHING for your Plantar Fasciitis?
Your Feet Can Be Happy Again!
What if your feet could be happy again by using a system developed by a Physical Therapist who specializes in the treatment of orthopedic injuries like Plantar Fasciitis.
I'm glad you asked! 🙂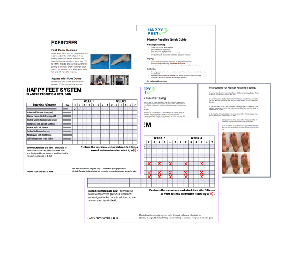 What This Course Offers
In this course, you'll get the full 8-week plan I use to progress my patients from heel pain to happy feet
Instructional videos for performing every exercise and stretch (trust me, it's a different approach – check out Lesson 1 to see what I mean).
This course isn't a substitute for a physician or treatment by a physical therapist. However, after treating a countless number of patients who suffer from plantar fasciitis, I've collected some of the best 'tips and tricks', exercises, and soft tissue techniques for relieving this common problem.
With this course, you get the following:
The Complete 8 Week Plantar Fasciitis Recovery Protocol
Access to over 20 Treatment Videos
Plantar Fasciitis Foot Taping Guide & Video
Recommended Tools & Equipment I Personally Use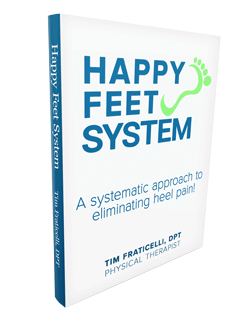 Part One: Walking Analysis & Habits to Avoid. In this section of the course, you'll see firsthand what I address when performing a walking analysis. Here I'll share some of the subtle habits that prevent people from fully recovering from heel pain. You will be able to immediately implement the strategies I share to address the most common walking pattern faults I see when treating my patients.
Part Two: Practical Strategies to Reduce Pain Now. In these lessons, you'll see how I manage the immediate symptoms of plantar fasciitis with taping strategies, recommended orthotics, and equipment I use to manage plantar fasciitis at home.
Part Three: Exercises and Stretches for Happy Feet. You will have access to the videos of every exercise I recommend in the 8-week Happy Feet System. You will also get the printable exercise guide which includes written instruction and pictures that you can use anytime, anywhere.
What is Plantar Fasciitis and Can It Be Treated?
Chapter 1: What is Plantar Fasciitis?
Plantar Fasciitis can come on suddenly and last for months. The plantar fascia is a band of tissue that runs from your heel to your toes and supports the arch of your foot. Straining the arch of your foot can lead to heel pain when walking and especially heel pain in the morning.There are three basic steps to getting rid of your heel pain for good:
Proper Support
Proper Stretching
Proper Strengthening
This treatment protocol uses all three of these elements together and progresses stretching and strengthening in order to develop the foot's natural ability to provide support through a well-designed arch.
Just like any other muscle in your body, your foot muscles can be strengthened and provide the support you need. Yes, even if you are 'flat footed' or have a pronated foot.
Who is the Happy Feet System For?
This course is for you if…
You're tired of the 'same ol' plantar fasciitis treatment ideas you've read online.
You've already tried everything for your heel pain, but still deal with it daily.
You need a step by step system to establish a routine that provides results.
You are active and need immediate strategies to address the sharp pain in your heel.
You are a busy professional who is tired of missing work for appointments and looking like you're limping every time you get up from your desk.
It's also a great course if you're a Physical Therapist looking for a treatment system that works.
This course isn't for you if…
You haven't checked with your doctor about why your foot is hurting.
You want a quick fix – the system is based on an 8 week approach to success.
You're not serious about putting in 10 to 15 minutes a day to implement the Happy Feet System