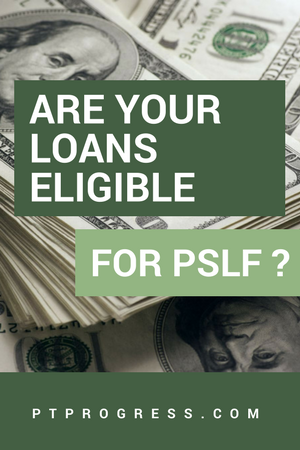 In order to qualify for Public Service Loan Forgiveness (PSLF) the type of loan you have must meet certain requirements. In other words, not all student loans are eligible for PSLF. In this article we list out which loans are eligible for PSLF.
What Loans Are Eligible for PSLF – Public Student Loan Forgiveness?
The following loans are eligible for forgiveness:
Federal Direct Stafford/Ford Loans (Direct Subsidized Loans)
Federal Direct Unsubsidized Stafford/Ford Loans (Direct Unsubsidized Loans)
Federal Direct PLUS Loans (Direct PLUS Loans)—for parents and graduate or professional students
Federal Direct Consolidation Loans (Direct Consolidation Loans)
Parent Direct PLUS Loan – If the parent (not the student) is employed by a public service organization.
The PSLF program promises to pay the remaining balance on your direct loans after you have made 120 qualifying monthly payments under a qualifying repayment plan. You must also be working full-time for a qualifying employer.
What Types of Jobs Qualify for the PSLF Program?
In order to qualify for PSLF, you must be employed full-time at an eligible employer. The eligible PSLF employer may include:
Government organization: (federal, state, local, tribal organization, agency, or entity, a public child or family service agency or tribal college or university).
A not-for-profit, tax-exempt organization under section 501(c)(3) of the Internal Revenue Code.
A private, not-for-profit organization (that is not a labor union or a partisan political organization) that provides one or more of the following public services:
Emergency management
Military service
Public safety
Law enforcement
Public interest law services
Early childhood education (including licensed or regulated health care, Head Start, and state-funded pre-kindergarten)
Public service for individuals with disabilities and the elderly
Public health (including nurses, nurse practitioners, nurses in a clinical setting, and full-time professionals engaged in health care practitioner occupations and health care support occupations)
Public education
Public library services
School library or other school-based services
The following types of employers do not qualify for PSLF:
Labor unions
Partisan political organizations
For-profit organizations (this includes for-profit government contractors)
Not-for-profit organizations that are not tax-exempt under Section 501(c)(3) of the Internal Revenue Code and that do not provide a qualifying public service as their primary function
What are Qualified Payments under PSLF?
Qualified Payments under the PSLF program must come from a Direct Loan repayment option. The following Direct Loan repayment options qualify for the public service loan forgiveness program:
Income-Based Repayment (IBR) Plan
Pay As You Earn Plan
Income Contingent Repayment
10-Year Standard Repayment Plan
Any other Direct Loan Program repayment plan; but only payments that are at least equal to the monthly payment amount that would have been required under the 10-Year Standard Repayment Plan may be counted toward the required 120 payments
Check out this article for more information on the Public Service Loan Forgiveness Program.