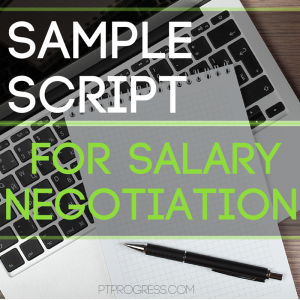 First thing's first: Practice Small
Negotiating salaries, cars, and even at a garage sales can be nerve-racking. The best practice to negotiations is to actually do it. Get comfortable making 'the ask' a concept we covered in our first article Tips for Negotiating a Salary.
The 'ask' is your request. It's really just your attempt to find out if there's room to meet closer to the price you really want.
In this article, we'll give you a sample script for salary negotiation that can be used in email and phone.
Manufacturing courage to even negotiate a small item at a garage sale can be tough – but it's a great place to start. The next sale you see, pull over and try it – yes, break out of your shell and actually say the words "Is this the best price on these ____?"
One of two things will happen: they'll say "yes" or they'll immediately drop the price.
You have two options: You can practice walking away or counter with an even lower price.   It sounds absurdly simple, but these small interactions are great for building confidence in your counter offer. Don't let a job offer or a major car purchase be your first real dollar for dollar negotiation.
The email ask
You aced the interview and you're waiting for the email that holds your future with the company. The email comes and announces that you've been selected for the job and that your salary is $xx,xxx.
You feel that accepting the first offer probably isn't the best thing and that you want to negotiate, but you're unsure how to reply. Here's a really quick script that let's them know you're interested but also serious about accepting the best opportunity.
Thanks so much, I really appreciate it.   I need time to think about it and to consider it among other opportunities I'm looking at. Is there any flexibility in the base?
Even if you don't have other offers – you're ALWAYS looking at other opportunities.
The phone ask
Let's say your phone rings and someone from HR is on the line and says, "Mr./Ms. ___, the company would like to extend the position to you. Here's a few of the details and what the compensation package includes."
Use the same structure as the email ask:
Thanks so much, I really appreciate it.   I need time to think about it and to consider it among other opportunities I'm looking at. Is there any flexibility in the base?
Yes, it's intimidating to negotiate over the phone. Yes it might be 100% uncomfortable. But it is JUST as uncomfortable for the person on the other end. They just want to be done with it too, so you have leverage if you've gotten this far.
If you're strong and can manufacture some confidence at the moment, take advantage of the weird social pressure at the moment and use it as an advantage.
The 10-15% ask
You're ready to accept the position, but feel that the salary should come up a bit. Whether you're on the phone or sending an email, use this approach to craft a quick counteroffer:
"I'm really excited about the company and I want to be here. But based on other opportunities, I think I'm worth this (raise 10-15% their offer – any more is probably a mismatch for you and the company). If you can MATCH this, I'll give my notice tomorrow at my job OR I'll start right away. If not, I'll have to consider another opportunity."
This is another use of social pressure. You're also banking on the fact that they don't want to be in the negotiations any more so 9 times out of 10 they'll move up closer to your asking price.
Quick Tip: Use emotion to your advantage: Strategic Silence
Strategic silence can be used for your advantage in a negotiation. When you give your counter, let it sit there. Let the silence fill the room. Don't speak until they've said something and when it's your turn to reply use pauses and silence to your benefit. A slow and steady reply is better than quickly conceding to the original offer.
After the Hire
You don't want the awkwardness to carry over to your job. That's why you want to limit the 'back and forth' to 2 counter offers. More than that will start to pick at the relationship. You NEED to negotiate – it at least shows the hiring person that you value yourself and have the confidence to speak up for yourself and even the position you're filling. Just don't let your counter come across as disrespectful and you'll be just fine.
Everything is up for negotiations. We think there are hard and fast rules to everything, but in reality, there's just another person making a decision on the other end. You never know unless you ask – and you're more likely to get it if you ask the right way.
Do you have any negotiating tips to ask for a bigger salary?