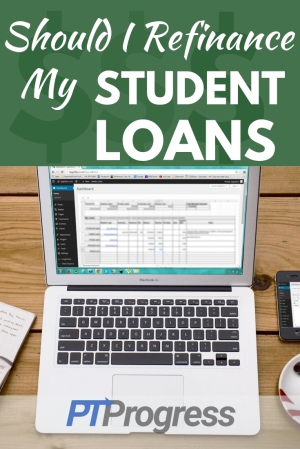 If you have high student loan payments at multiple lenders, you might be asking yourself, "Should I refinance my student loans?" Lower interest rates and smaller payments are better, right?
The truth is, student loan refinancing isn't right for everyone. But for many people, refinancing is a huge relief.
This guide will help you decide if refinancing your student loans is right for you and what to do next.
If you already know you want to refinance your physical therapy student loans and want our recommendation, consider using Credible or LendKey to find lenders who are competing to get your business.


First, let's start with why you shouldn't refinance.
Why You Should Not Refinance Student Loans
Deciding whether or not you should refinance student loans comes down to more than just chasing low interest rates or a lowering your monthly payment.
There are a few key factors you need to consider before refinancing. In fact, here are the most common reasons why you should not refinance your student loans:
You depend on the Federal Income Driven Repayment Programs
You qualify for and want Federal Loan Forgiveness like PSLF
You have bad credit history or an unsteady job
Let's look at each of these reasons more closely.
1. You Depend on Federal Income Driven Repayment Programs
The federal government offers a few different programs for borrowers to help lower monthly payments. These include: Income Based Repayment (IBR), Income Contingent Repayment (ICR), Pay As You Earn (PAYE), and Revised Pay As You Earn (REPAYE).
These programs lower your monthly payment based on your income and family size and may result in federal loan forgiveness after 20 to 25 years of making payments.
Refinancing Means Giving Up Income Driven Repayments
Let's be honest. The real reason most people sign up for income based repayments is to lower their monthly student loan payment. Many grads with $100k in loans can't make the $1,200 monthly payment. So they apply for income driven repayments and lower their payments until they can earn more money.
If you refinance your federal student loans, you will no longer have the federal income based repayment option. So if you need a lower payment because you don't earn enough to make your regular payment, your best option right now is to apply for an Income Driven Repayment Plan instead of refinancing.
Of course private student loans are a different story. The federal income driven repayment program does not apply for private student loans, so you may be better off refinancing your private loans and leaving your federal loans as is.
But What About Income Driven Repayment Loan Forgiveness?
If you refinance your federal loans, you cannot receive forgiveness after 20 years. Of course the chances of having a forgivable balance after 20 years of payments is very low, unless you make very little or no income.
Plus, extending your repayment plan to 20 – 25 years with the Income Driven Repayment plans may actually result in you paying way more interest on your loans.
Let's not forget that if you happen to receive loan forgiveness after 20 years with these plans, you're still taxed on the amount that's forgiven. So if you have a balance of $40,000 at the end of 20 years, you may owe upwards of $10,000 in federal taxes plus more for state taxes.
*Bottom line: If you need a super low payment on your federal loans through Income Driven Repayment Plans, don't refinance right now.
If you have private student loans, refinancing may be a great option for you.
2. You Qualify for and want Federal Loan Forgiveness like PSLF
If you qualify for Public Service Loan Forgiveness, you may be eligible for federal loan forgiveness after just 10 years (120 qualified payments). However, you are not eligible for PSLF if you refinance your federal loans to a private company.
For those who work in non-profit or government organizations, it may be wise to continue with the PSLF option. If there are any changes to the law or you become ineligible for forgiveness, you may consider refinancing to a lower rate to avoid paying more interest over the life of your loan.
Side note: PSLF started in 2007, which means it has been 10 years already for some borrowers. Unfortunately over 99% of the 29,000 applicants have been denied forgiveness under PSLF. According to this NPR article, many borrowers thought they were on the road to forgiveness, only to find out years later that they don't qualify.
I'm not saying you should refinance instead of choosing PSLF. Just realize that qualifying for loan forgiveness with PSLF may be more difficult than expected.
Always be prepared by setting aside payments to cover your student loans in case your application for PSLF is disqualified or denied.
3. You Have Poor Credit or an Unstable Job
Young borrowers may not have the credit history to qualify for a lower interest rates when refinancing. After all, when you refinance, you're applying for a new loan to pay off your existing loans, so the lender will look at your credit and your ability to make the payments.
If you you have bad credit history or very little credit history, you may be denied. You may also be required to have a cosigner who would be responsible to make payments in case you cannot make your payment.
If you're just starting to work but have an unstable job, you might wait to refinance your loans until your job becomes more stable.
Reasons Why You Should Refinance Your Student Loans
If you don't plan on signing up for any Federal Income Driven Repayment programs, then you might want to consider refinancing your loans. Doing so can lower your interest rates, lower the total interest paid, create one simplified payment, and lock in a fixed rate as interest rates continue to rise.
Here are the most common reasons why you should refinance your student loans:
You want a lower interest rate
You want one convenient payment
You want to pay less interest overall
You want to lock into a fixed interest rate
Lower Student Loan Interest Rates
If you have high interest loans with private lenders or even high interest federal loans, you can find a lower rate through refinancing. Lenders today compete for borrowers by offering lower interest rates.
The nice part is that you can use a free service like Credible to find lenders who are willing to compete for your business! Credible brings the lenders to you and compares the savings you can expect to see based on the terms of each lender.
Less Interest Paid
Refinancing student loans can lower the total interest paid over the life of the loan. Of course, it's important to consider the terms of the loan. You can still pay more interest on a low interest loan if you choose a longer payment period.
Refinancing your loan gives you the freedom to choose the length of the loan. Many times you can even get a lower interest rate if you choose a shorter loan term like 5 years. Yes this will make for a higher payment, but you'll pay less interest over the life of your loan.
One Convenient Payment
Making multiple payments to different loan providers is not only inconvenient, it may be costing you in the long run. When you refinance your loans, you can consolidate your payments into one easy payment.
For many people, this lowers the monthly payment owed. Consider saving the difference and making extra payments to become debt free faster.


Lock into a Fixed Low Interest Rate
We all want a low student loan interest rate. But with variable interest rates on the rise, it smart to refinance at a fixed interest rate while rates are low.
Comparing interest rates among lenders is easy with places like Credible. I personally used them to lock into a low fixed rate loan that was 4% lower than my previous lender!
When Should You Refinance Your Loans?
Ok, you've decided that refinancing your current private or federal loans is a good idea. Now let's talk about when you should actually refinance your loans.
After the 6 Month Grace Period
If you have a job during your grace period and can set aside money to pay off your student loans, great! Since you are not required to make payments during the grace period, make payments to yourself for the estimated loan payment. It's usually recommended to wait to refinance until after your grace period because private lenders will require immediate payment as soon as you refinance. So take advantage of the 6 month grace period, especially if you're a new grad! Jobs and expenses can change quickly when you start your new career!
When you have a stable income
When you refinance your student loans, you are no longer eligible for federal deferment or forbearance if you have an emergency or financial situation arise. It's important to have a stable income in a good job before you refinance your loans with a private company.
Important Considerations Before Refinancing Student Loans
There is a lot to consider when deciding to refinance your student loans. Let's review some of the major considerations to think about before you refi your loans.
You don't have to refinance every loan. It's possible to only refinance your private loans and to leave your federal loans as is, especially if you want to take advantage of the Income Driven Repayment programs.
Do you qualify for Public Service Loan Forgiveness? If you want to pursue PSLF, do not refinance your eligible federal student loans. (Private loans, Perkins or FFEL loans are not eligible for PSLF)
Shop around to find the best student loan refinance rates. You can do this on your own or you can use a free service like Credible (that's how I personally refinanced my private loans).
Best Student Loan Refinance Companies
Not sure where to refinance student loans? Of course you want the best student loan refinance rates available, but that's only one component of your decision.
It pays to shop around, especially if you have a unique financial or job situation. You can start your search online but don't forget to check with your local bank or credit union.
Short List of Where to Refinance Loans
30 Second LendKey Review:
LendKey connects student borrowers with community banks and credit unions that provide highly competitive rates and terms for refinancing existing student loans or finding private student loan options.
You'll find some of the lowest rates for student loans because these community banks and credit unions often have a very low cost of funds. Through LendKey's automated platform, lenders can connect directly to borrowers, passing the savings directly to you in the form of low rates and better terms.
How to Refinance Your Student Loans
Once you've decided to refinance your student loans, the next steps are actually pretty simple. I've previously written a helpful guide how to refinance your student loans. The short version is as follows:
Locate your loans. Use the NSLDS.ed.gov website to list all your federal loans
Locate your private student loans and account numbers.
Check your credit reports for other outstanding student loans.
Submit the account summaries to the refinance company.
Verify income information and provide employment verification.
The refinance company may take 2 to 4 weeks to process your request and to completely pay off your loans. Keep an eye out by logging into your old loan accounts and
Next Steps: How to Refinance Your Loans
Personally, I've used and recommend Credible because they match you with the best student loan refinance companies out there. There's no pressure and the process is really simple. Credible even pulls your loans based on your credit report as you complete the application online.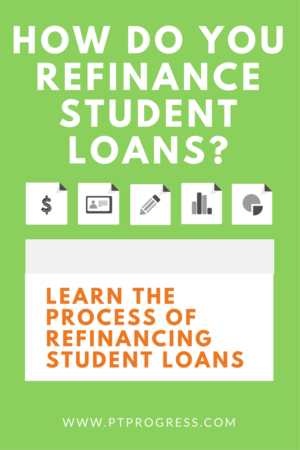 If you're like me, or one of the other 44 million student loan borrowers, you've probably asked how do I refinance my student loans?
Unfortunately, most sites just recommend student loan refinancing companies and don't really outline what's involved in the process itself. This article actually tells you how to refinance student loans.
I decided to dive headfirst and figure it out for myself, documenting the journey to answer the question: How Do You Refinance Student Loans?
8 Steps to Refinance Student Loans
Step 1. Find your current student loan payoff statements.
Step 2. Gather your financial documents: paystubs, rent, SSN, employer info, photo i.d.
Step 3. Scan or download your college transcript or diploma.
Step 4. Have Co-Signer personal info ready; you may also need a personal reference.
Step 5. Start the first application with a reputable company (SoFi, Laurel Road, etc).
Step 6. Get ready to be denied at first. Don't worry, that's common.
Step 7. Add Co-Signer if needed. Have Co-Signer log in and verify their info and income.
Step 8. Wait about 24-72 hours for approval or denial.
The first 7 steps took about an hour. I had to locate these documents and scan/upload them to my computer. That part wasn't difficult – I just snapped a picture of them and sent them via bluetooth to my computer. Here are the items I had to locate:
Identification Card
Transcripts or Diploma
Paystub or Tax Returns
Professional License (if you're in a healthcare field)
Current Student Loan Payoff Statement
A Personal Reference and Contact Info
Cosigner Basic Info: Name, Address, Phone, Email
I also decided to add a cosigner to the application. This will make the process longer because the cosigner will have to log in, put their income and personal information into the website and submit the application.
If you're fortunate to have a spouse who can co-sign, that will save you some time and headache.
Part 2: Student Loan Refinance Approved!
You're approved! Now it's time to choose your lender and your terms.
There are two big items you'll have to consider:
Interest Rate
Length of Loan
Most borrowers are attracted to a lower interest rate, but that shouldn't guide your decision 100%. It may also be important for you to have flexibility with the term or length of the loan.
My advice is to use a student loan calculator to figure out the monthly payment and terms that best fit into your budget or goal for paying off the loan. A good student loan calculator can show you the interest you will pay over the life of the loan and how extra payments can help you to pay it down faster.
Questions About Refinancing Student Loans:
What if I don't qualify for student loan refinancing?
Sometimes a lender will reject your application if your debt to income ratio is too high. If you have outstanding credit card balances or auto loans, consider paying these off as quick as possible to lower your debt to income ratio. Freeing up a few hundred dollars a month in a payment might be all you need for approval the next time you apply.
How much does it cost to refinance student loans?
According to the Higher Education Opportunity Act of 2008, private lenders are not allowed to charge consolidation fees or prepayment penalties on refinanced loans.
Can you refinance a private student loan?
Yes, these loans generally have higher interest rates so they are great loans to consolidate and refinance.
Can you consolidate a Subsidized and Unsubsidized student loan?
Yes, you can consolidate these types of federal loans with a private student loan refinance company, but you may not be eligible for the income based repayment options once you refinance with a private lender.
The decision to refinance your student loans can be tough to make because it's not always cut and dry. Do you homework and follow the steps above to help determine if you should refinance your student loans.