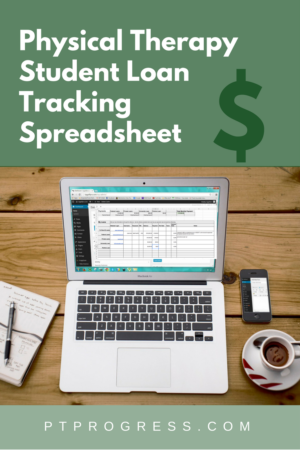 Keeping your student loans organized is the first step to eliminating your student loans completely! When my wife and I graduated from medical school and PT school, we needed to find a way to organize all our loans into one student loan tracking spreadsheet.
(If you prefer to use Google Sheets, here's the link.)
As you are aware, student loans are often sold and moved around, so keeping track of who has your loans is a must. With multiple loan servicers and countless logins, the original word doc we used to track our loans needed an overhaul.
Student Loan Organizer Spreadsheet
This spreadsheet lets you add multiple student loans, along with the login information, interest rates, and payments. It's helpful to quickly glance at what loans are due and you can keep notes on the side (i.e. if you've applied for an income based repayment or PSLF program, you can make note of it in the spreadsheet.
If you weren't already aware of the nslds.ed.gov website, it's listed in the first line of the student loan tracking spreadsheet. This is a federal website that lists all the federal student loans you have taken out. A sad, but helpful website.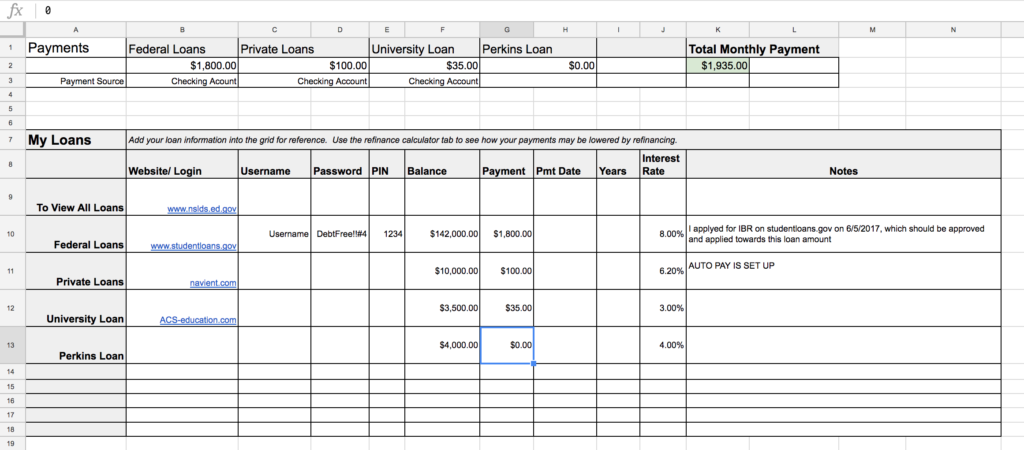 Student Loan Consolidation Calculator Spreadsheet
There's even a quick consolidation tab that gives you an idea of what your payment would be if you consolidated your loans and were offered a lower interest rate. Many lenders offer terms beyond the standard 10 year repayment, but the spreadsheet gives you an idea of the difference you could see if you consolidated your loans.
We created the student loan organization spreadsheet to be a simple and easy way to keep your student loans organized. When you're ready to consolidate or pay off a loan, you'll have a really quick way to reference your login information and access your accounts.

Other Ways to Organize Your Student Loans
Using mint.com to track your expenses is a great way to stay organized. If you haven't already been using mint.com as a budgeting site, you should definitely consider it. You can also set goals to pay down your debt and Mint will track your progress and give you estimates of when you'll meet that goal.
Keep Physical Records In Check
I probably get 20+ student loan emails each month for both of our student loans accounts. Now, I haven't gone completely paperless with a couple of the accounts, so if you're in the same situation, I'd recommend keeping track of the main statements you get on your loans. I like to double check that the payment is marked as "auto debit" so there's no mistake that a payment isn't made that month.
The last thing you want is to be delinquent or late on a payment because you weren't organized. Take a few minutes to download the Student Loan Tracking Spreadsheet and start on your journey to paying down ALL of your loans!
(If you prefer to use Google Sheets, here's the link to the spreadsheet.)