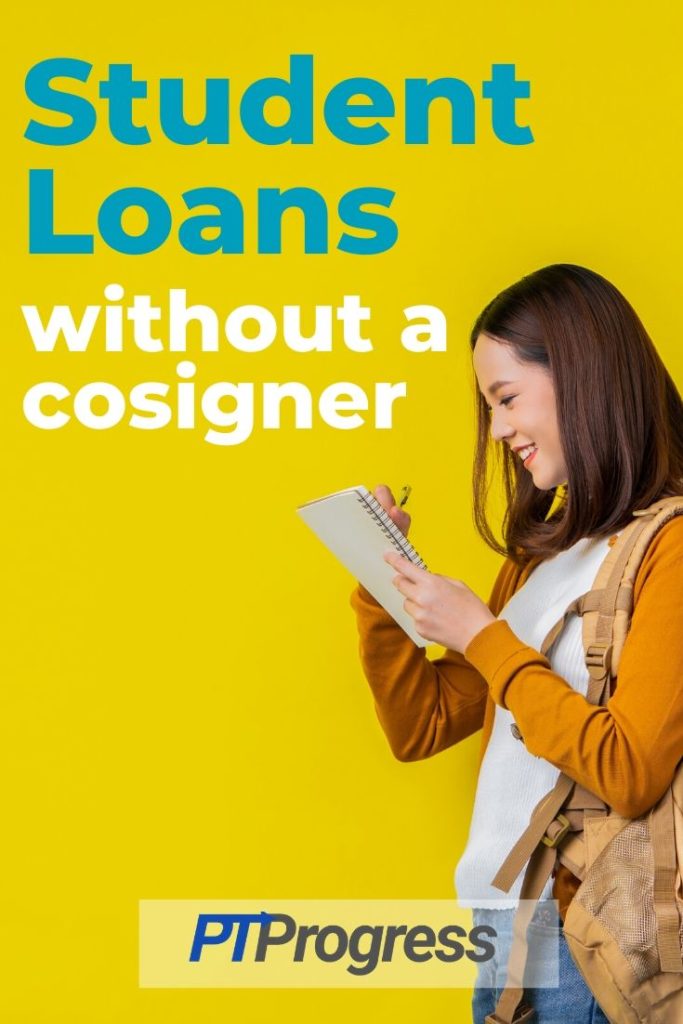 If you're wondering how to get a student loan without a cosigner, you have a few options.  You should start with federal student loans and if you absolutely need more, then look at private student loan options. We'll break down both options below.
Is It Really Possible To Get a Student Loan With Bad Credit or No Credit History?
You can absolutely get a Federal student loan with bad credit or no credit history. But if you need additional private student loans, your options will be limited.

It is possible to find private, no cosigner student loans, but these lenders will look at your credit history. If you have bad credit, you will need a cosigner. The good news is that most of these lenders will allow you to apply for student loans without charging a fee, so you can see immediately if you are approved or if you need to look for a cosigner.

Federal Student Loans Without a Cosigner
Federal loans are the most common student loans that don't require a cosigner. The US Department of Education provides the following student loans without a parent cosigner or even a credit check (except for PLUS loans). In order to receive any Direct Federal student loan, you will need to complete the FAFSA, which helps to determine what kind of loan you qualify for.
Direct Subsidized Loans. As an undergraduate student, you have access to Direct Subsidized Loans, also referred to as Subsidized Stafford Loans. The term 'subsidized' means the government will pay the interest on the loans while you're in school and during your grace period before you start making payments.

Direct Unsubsidized Loans. You can receive unsubsidized federal loans to pay for both undergraduate and graduate studies and do not have to show financial need to receive this type of loan. The interest is unsubsidized, which means it accrues and you are responsible for paying all of it.

Direct PLUS Loans. These types of loans are available for graduate students and parents who want to take out loans for their grad students. If you have "adverse credit history", it will be more difficult to qualify for this type of loan without a cosigner.
What is "Adverse Credit History" 
The applicant is considered 90 or more days delinquent on the repayment of a debt; or
The applicant has been the subject of a default determination, bankruptcy discharge, foreclosure, repossession, tax lien, wage garnishment, or write-off of a Title IV debt, during the five years preceding the date of the credit report.
Private Student Loans Without a Cosigner
Many private lenders will recommend you have a cosigner when applying for student loans, but it is generally not a requirement.  However, if you have poor credit or no credit history, student loan companies will most likely require a co-signer. According to the Consumer Financial Protection Bureau, 90% of private student loans have a cosigner. 

The good news is that most of these lenders will allow you to apply for free, so it's worth checking to see if you qualify for a student loan without a cosigner. There are some companies that offer private student loans with no cosigner required. 

With LendKey, you can easily apply online and get connected with hundreds of banks and credit unions to find the lowest rate and best terms for your private student loan. LendKey does not charge an application fee, which is why it makes sense to start with them since they can connect you with so many lenders. While a cosigner is not required, LendKey encourages you to consider one as it may improve your chance for approval and even result in a better interest rate. 
One of the most well-known names in student loans, Sallie Mae provides private student loans to students and will lend without a cosigner. However, your chances of getting a private loan are 4x greater with a cosigner.  Sallie Mae does offer a 'cosigner release' after 12 months of on-time payments of an undergraduate loan.

Another way to compare private student loan rates and terms before committing to a lender is to use Credible. Instead of applying for private student loans on multiple websites, Credible connects you with private lenders in one place – some of which are on this list.  The convenience factor of Credible is nice because you can start with one application and get an idea of the options available to you without starting over with an application of 10 different lenders. 

Discover
Whether you're applying for an undergraduate, graduate, or medical professional private loan, you can apply for a loan through Discover without application or origination fees.  They also provide cash rewards for borrowers who have a 3.0 GPA or higher.

No-cosigner student loans are offered at Citizen's bank, but they do require a good credit score and recommend that you have a cosigner for the best rate. You can apply for co-signer release after making 36 consecutive on-time payments of principal and interest. 

While Common Bond requires a cosigner for undergraduate student loans, there are exceptions for certain graduate programs, requiring no co-signer for a private student loan.  Cosigner release is available after 24 consecutive on-time payments.

This company specializes in providing student loans without a cosigner. Their mission is to provide undergrad students with an easy solution to private student loans to cover any gaps in their education. Instead of dropping out of school because you can't get a loan with a bank, consider Funding U as a no-cosigner private student loan option.  
Taking Out Student Loans Without a Cosigner
1. Do Your Research
When it comes to finding the best lender, do your research and make sure you are applying for a legitimate student loan. You can trust the lenders above to be legitimate businesses with track records.. 

2. Apply to Lenders Early
Don't wait until the last minute, applying for loans the week before your school starts.  Plan ahead and apply early. Most of these lenders do not have any application fees, so it's worth applying early and making sure you choose the best option for you.

3. Have Financial Statements Ready
If you are applying for a student loan without a cosigner, you'll need to make sure you have all of your previous years' tax returns and also have access to any record of employment.  Just be ready for the lender to ask to see records of financial history including work, savings, and even investment accounts.

4. Review the Terms Closely
If you don't have a cosigner, there's a strong chance that your interest rate will be quite high.  Make sure you review the terms and conditions carefully to make sure you can afford the repayment option and that your interest rate is not out of control.  If you have a very high-interest rate, you'll probably want to refinance your student loans after you graduate. 
While it is possible to get a student loan without a cosigner, you'll need to make sure you do your homework, compare lenders closely, and borrow conservatively.