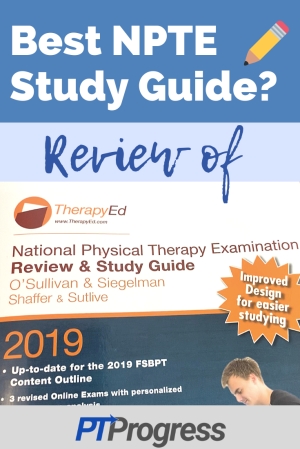 Let's dive into a review the 2019 National Physical Therapy examination review and study guide by O'Sullivan published by the team at TherapyEd.
I was interested to see how much different it is compared to the 2015 version that I used to study for the NPTE boards exam back in the day.
So I bought a copy and decided to thumb through it to see what I liked and what was new in this book.
Now before you dive into the 943 pages of goodness in this book, you're probably wondering how on earth am I going to even wrap my mind around studying for the board's exam.
I felt the same way when I started studying for the board exam back in 2015, but quickly found that scheduling out a study calendar was super helpful in keeping my focus every day, week after week leading up to the board's exam. Some of you have found my boards study calendar on the website which I hope you download and use.
Each day is broken down into content segments that align with the TherapyEd book here to help keep your focus as you chug through this hefty book.
O'Sullivan TherapyEd vs Scorebuilders Book
Now I personally used the TherapyEd book as my primary study guide but I also purchased the Scorebuilders book which was a little bit more like a textbook as it broke down the content into a paragraph style format.
I felt like this was one of the biggest differences between the Scorebuilders book and the O'Sullivan book with Scorebuilders using a paragraph style format throughout and O'Sullivan book using an outline format.
Review of TherapyEd Boards Book
There is a ton of information in this book and I think they do a pretty good job overall by outlining it and categorizing it with different subheadings and numbered bullet points. It flows easily and is quick to read through whether you're looking over the content of the book for the first time or the the third time, it's easy to digest.
Some of the things I really like are the colored images in the figures and tables throughout the book. They've also added some pictures to help show various special tests and other relevant items you'll find in the exam. And as you may know images are fair game on the NPTE so it's helpful to have these extra pictures and images in this new edition so I think it was a great thing to add.
I also really like the call out boxes for red flag items and even specific tables for differential diagnosis and comparing things like developmental Milestones or dressing categories for various wounds.
These are really high yield topics for the board's exam and I think they do a great job in providing all of the information on one or two pages whether it's in a table format or in a bulleted outline.
Now this book is about a thousand pages in total but when we break it down the first 500 pages are full of content the last 500 pages give a comprehensive review for every question in the 3 practice exams that are included.
NPTE Practice Exam
Now aside from the retired NPTE exams that you can and should purchase for your studying, I found the TherapyEd practice exams to be pretty difficult but very helpful for passing the actual NPTE boards exam.
Don't be surprised if you fail the first exam or two within this book They're meant to be very difficult and challenging, and I think you'll find real value in reviewing every question after you take an exam. After taking a practice exam, I would designate the following day to review the exam entirely going over each question and making notes on specific sections that I need to improve on. Of course they make this really easy because when you finish one of the practice exams it gives you a nice outline of content area that you need to focus more on which is really helpful.
Final Thoughts??
Overall I think the TherapyEd book is outstanding and if I had to take the npte again I would go through this book again with a fine-tooth comb studying it and reading it through at least twice like I did just a few years back.
If you're on the fence about this book because the cost it's possible that you use an older version of the book, but try to find a book that's not more than a year or two old. It's not that the content has really changed, it's that the editors are constantly trying to keep the book as relevant as possible to the actual exams so I think it's worth the money to buy the most recent version of the book.
If you have any questions let me know and I'll try my best to answer them in the comments. Until then, happy studying!