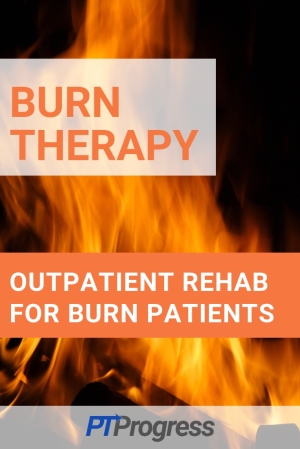 Now that you're familiar with how to create an individualized plan of care for the
burn patient
in acute or subacute rehab, it's time to shift focus to outpatient and home health settings.
The majority of burn survivors discharged from the acute burn center will eventually receive therapy services through home health and or an outpatient clinic. They may discharge straight home and this is their first encounter with therapy outside the hospital, or they may be progressing through the continuum of care from acute rehab or subacute rehab. Regardless of how their journey leads to you in the home or in the clinic, these patients will continue to require an individualized plan of care to incorporate all the specifics of burn evaluation and treatment.
Early Management of Burns and Wounds
At this point, the patient's wounds will likely only have small open areas that require minimal wound care. The patient will either be managing these wounds by themselves or with the assistance of a caregiver, sometimes with the added assistance of a home health nurse or at an outpatient wound care clinic.
When you are seeing these patients for the first time, don't be afraid to ask the patient to bring their supplies to perform a dressing change during the evaluation. This will ensure that you can see what the wounds look like underneath the dressing, if they cross any joints, and if scarring processes are taking place.
You can have the patient perform range of motion briefly without dressings in place to observe any potential for scar banding and/or contractures as well as any potential for re-opening of wounds. The patient will then be able to redress their wounds, since you have previously instructed them on bringing all necessary materials. It's important to have their wounds covered for the majority of the session, especially in the outpatient clinic, to prevent infection.
Contractures and Scar Prevention
Scar and contracture prevention become crucial at this stage because as the wounds heal, the skin wants to tighten and prevent movement at all nearby joints. Some patients may still have splints for anti-contracture positioning if they are still high-risk for contracture, although these are most often worn only at night to encourage movement during the day.
Splints worn at all times in this stage of healing are most often utilized for the hand/wrist. Ensure the patient and/or caregiver is able to demonstrate proper donning/doffing and cleaning of the splint. Aggressive stretching to all affected joints remains critical to prevent scar banding which can lead to contractures.
Home Exercises Preventing Contracture
It's important to make sure that the patient and their caregiver are independent with their stretching HEP. If the caregiver is not able to assist into full end-range stretch position, you may need to incorporate it into your plan of care. Custom compression garments should be worn in all areas that are completely healed, they are worn 23 out of 24 hours for full effectiveness. Essentially, they are only removed for wound care and showering/bathing. All of these pieces together work to prevent increased scarring, which can lead to scar banding, which can then lead to joint contractures.
If you find that your patient is already developing a joint contracture, you will find that it's very difficult to reverse. Therapy techniques to reverse a joint contracture due to burn scar include static or dynamic splinting, serial casting, manual therapy, and modalities. If these techniques are unsuccessful, many patients end up requiring surgical release of the scar tissue.
Therapeutic Treatments for Improving Function
Similar to all other patients that you see in these settings, you will continue to progress the patient's function. This will include balance activities, gait training, and weaning from assistive devices as appropriate. Some patients may have been non-weightbearing on a lower extremity to allow for wound healing, but are now able to weight bear as tolerated and require therapy intervention for normalized gait pattern and progression. In addition, you will prepare patients for return to work or school.
Burn survivors also require overall strengthening and endurance training. They would benefit from individualized training programs that they can not only do during therapy sessions, but also perform on their own time. Patients from large burn injuries who undergo the hypercatabolic state during their hospitalization are severely deconditioned. Even patients with smaller burn injuries have lost strength and become deconditioned from being in bed for a prolonged period of time. Patients who have undergone limb amputations may be ready for pre-prosthetic or prosthetic training.
Reach Out For Help When Needed
If possible, try to contact the therapist from the burn center where the patient was hospitalized to get more information. This will get you on the same page as the burn therapist and determine what aspects of the patient's care they will be following. For example, scar management and splinting needs may be followed by the burn therapist and you will be assisting in proper execution.
Also, if the patient develops a contracture and you don't have the resources necessary to perform the interventions that patient requires, you can speak to the burn therapist to refer them back or elsewhere. You can also communicate to the burn therapist if a patient's contractures aren't responding to therapy and may require surgical intervention. The burn therapist will always be willing to collaborate with you for the best interest of the patient, whether it be providing assistance on treatment ideas or giving you information regarding the patient's plan of care that you wasn't in the referral.
A Final Thought on Treating Burn Patients
All burn patients are unique and require their own individualized plan of care, but there are specific interventions that will always need to be addressed in the home health or outpatient therapy settings. Wound care, scar management and prevention, HEP and stretching, splinting, strengthening, endurance training, and gait/balance training are all important pieces of the puzzle to return a burn survivor to highest level of function and independence.
Scar banding and contractures are the enemy, but can also be addressed in the therapy plan of care if they arise. Use the burn therapist as a resource and to provide insight into any outside interventions being provided such as splinting or scar management. Similar to a 1,000-piece puzzle, the process can be tedious and difficult but the finished product makes it worthwhile. Helping these patients achieve their goals is what makes our jobs worthwhile.
About the Author
This article was contributed by Lauren Higgins, DPT. Lauren is a Physical Therapist who provides specialized treatment for burn patients. After completing her DPT from Washington University in St. Louis, she pursued a career in acute care rehab with a specific interest in treating patients with burns and traumatic brain injuries.