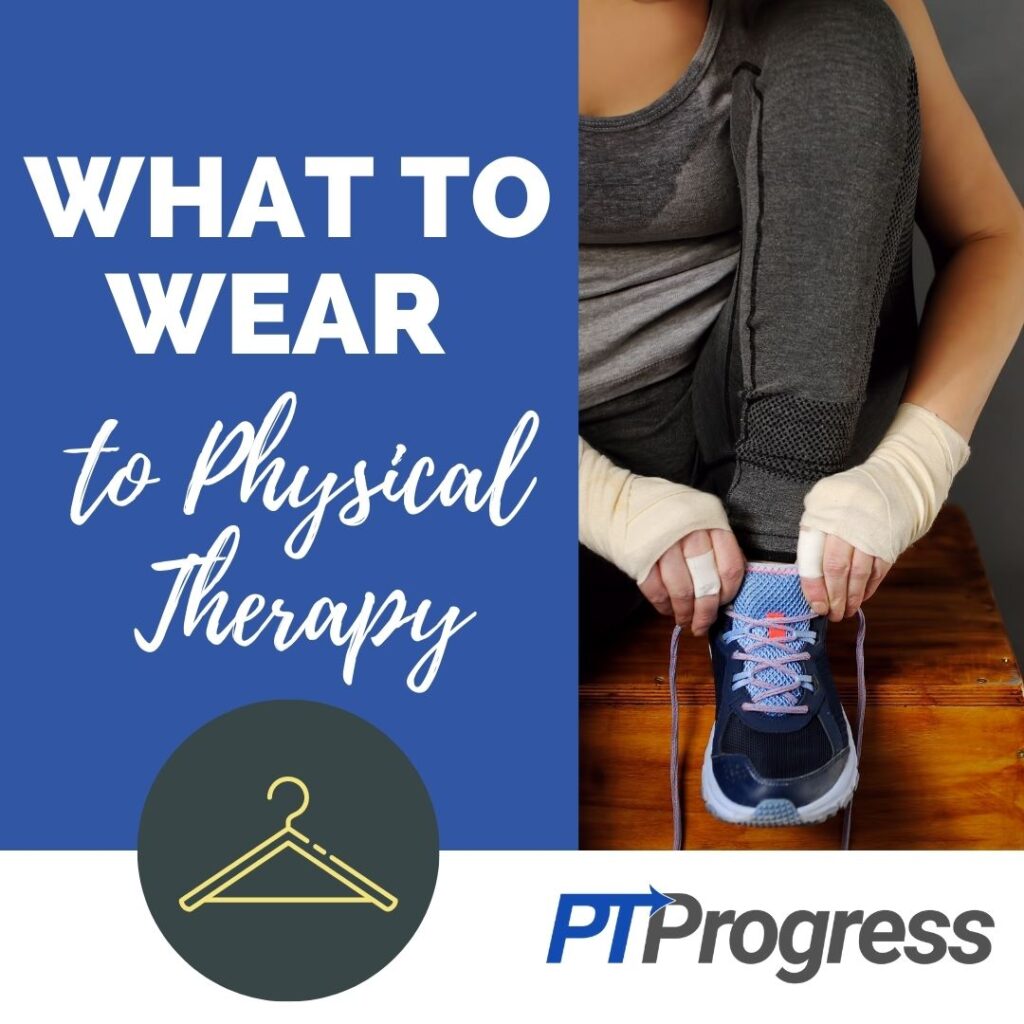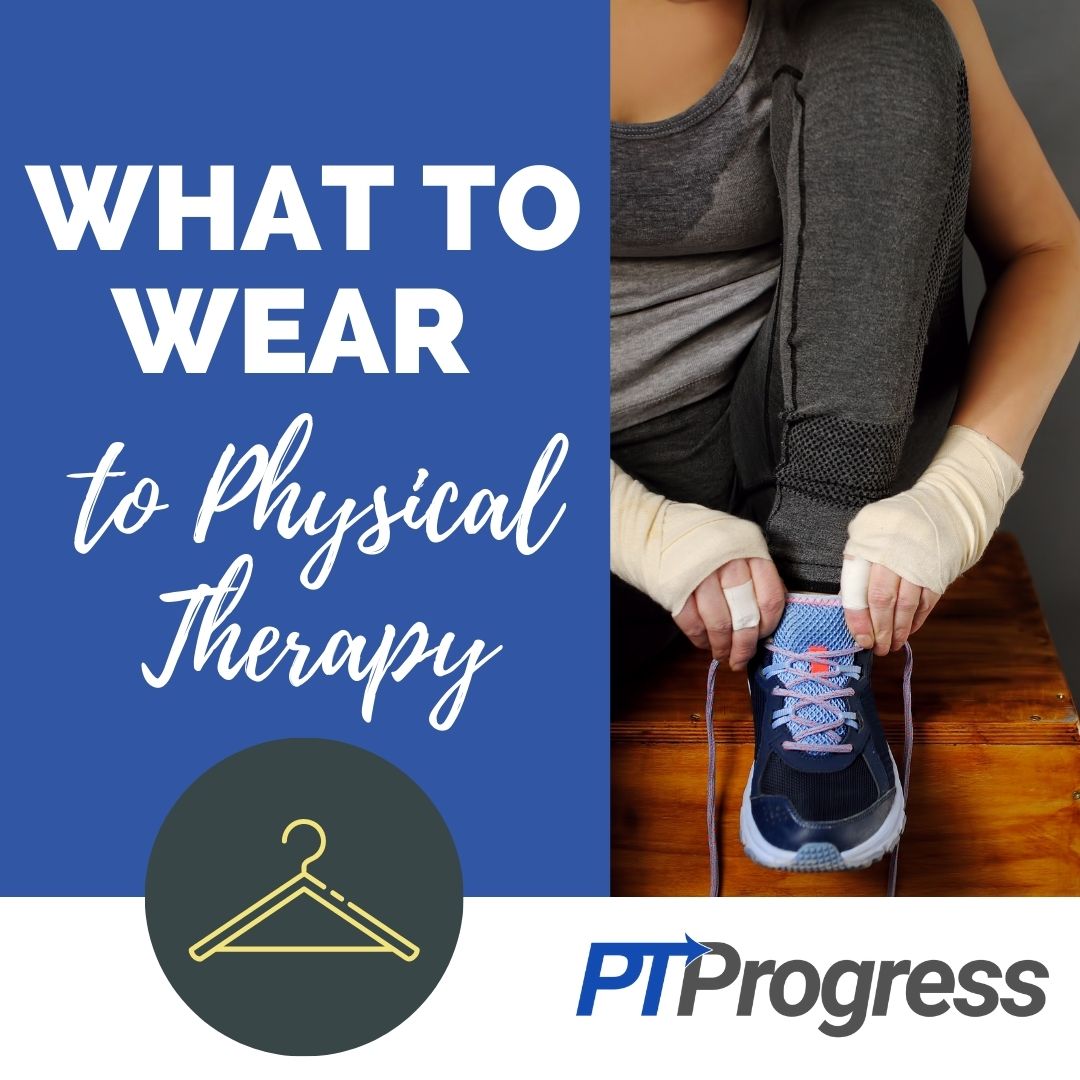 Whether you're recovering from an operation or treating a bad back, chances are you'll be seeing a physical therapist. But if you've never gone before, you may be wondering, "What should I wear to physical therapy?" I'm a PT, so the clinic is my office, but for many patients it's an unfamiliar environment with an unknown dress code.
In this article I'll share a PT's perspective on clothing, so that you can choose an outfit that will both suit you and serve you well in physical therapy.
Dressing for PT
Now, to be clear, you don't need to undress for physical therapy, including the initial evaluation; it's not like your annual physical. However, what you wear does matter.
You'll be moving, bending, stretching, and maybe even exercising at your PT's instruction. Treatment could include cryotherapy (ice), EMS (electronic muscle stimulation therapy) or manual therapy (similar to massage). What you wear can either facilitate or disrupt these treatments.
What NOT to Wear to Physical Therapy
First, let's go over what you shouldn't wear to physical therapy.
Dresses and skirts
Tight sweaters or stiff button-downs
Jeans and heavy fabrics, like corduroy
Dress shoes and heels
Boots
Flip flops, sandals or open toed shoes, unless necessary
Excessive jewelry
Lotion – which can make manual traction more difficult for your PT
Perfume – which may bother others in the clinic
Granted, your PT won't deny you treatment if your choice of dress is suboptimal. But the wrong clothes could limit or detract from your workout session.
It's much more productive for you and your therapist if you dress according to the guidelines below.
What to Wear to Physical Therapy
The rule of thumb is to dress comfortably but functionally. There are three parameters to consider in your clothing:
Comfort
Range of motion
Coverage
In this case, "comfort" is not synonymous with an oversized fleece and slippers. Rather, comfortable clothing is loose-fitting without restricting, pulling, or bunching. Exercise apparel is totally appropriate for physical therapy, and women may want to wear a sports bra instead of a regular bra.
Besides the fit, the fabric of your clothing makes a difference. A stiff shirt could limit your stretches and restrict your range of motion. Elastic or knit fabric is far more forgiving, and if it's lightweight, it won't weigh you down either.
An appropriate amount of coverage will keep you comfortable but also allow your PT to evaluate the body part or area receiving treatment. Wear clothing that you can easily roll up or zip off, or dress in layers.
Before you head out the door for PT, check that your outfit makes sense for what you'll be doing. Maybe do a couple squats or jog in place for a bit. Reach up high and bend over. Everything comfortable and sensible? Then you're good to go.
By considering the reason for your PT, you can dress more strategically and get the most out of your session. Let's take a look at how this logic applies to three conditions we treat every day in the clinic: post-operative knee replacement, shoulder injury, and poor posture.
What to Wear for Knee Replacement Physical Therapy
If you recently underwent a knee replacement, you'll probably spend a few weeks in PT. Your physical therapist will probably want to examine your knee each time you show up, so dress accordingly. Leggings, tight yoga pants, or cuffed joggers are generally too restrictive to roll up past one's calf muscle. In that case, long shorts are more suitable; they better accommodate both movement and manipulation.
To expose your legs and knees for PT treatment, I recommend wearing gym shorts, capris, or loose pants.
Check out these options for women:
And these for men:
What to wear to Physical Therapy for a Shoulder Injury
For a shoulder injury, your PT may test your range of motion and give you overhead exercises to do. A tight button-down shirt will be too stiff to allow these movements, so make sure you wear fabric that moves with you. You shouldn't have to work against your own clothing as you rehabilitate a shoulder injury.
For movement and visibility, I recommend wearing a wide-strapped tank or loose t-shirt for your shoulder PT.
Here are a couple good picks for women:
And a couple for men:
What to Wear to Physical Therapy for Kyphosis
Kyphosis is also called dowager's hump, a forward slumping that usually results from prolonged poor posture. We treat kyphosis all the time in the clinic, but you can help us out by wearing clothing that doesn't obscure your hump or spinal curve. Racerback tops, such as exercise tanks and sports bras, hit high on the back along the spine. It's a great style for shoulder visibility, but not for spinal visibility.
If you're coming in for kyphosis, scoliosis, or other spinal problems as a woman, wear an open-back sports bra so that your therapist can better assess your condition.
Check out these two examples:
What Shoes to Wear to Physical Therapy
Footwear plays a huge role in rehabilitation. The right kind of shoes will support your steps and help you maintain good posture as you stand for strengthening exercises. You may be on your feet more than you expect, so pick shoes that are more functional than fashionable.
Furthermore, we recommend wearing closed-toe shoes, unless it won't fit over an injury or post-operative site. It's always better for your feet to be as protected as possible when entering a clinic or gym setting.
You should also make sure your shoes have non-skid soles and are both secure and easy to take off. No matter what shoes you wear, please wear socks.
Here are some examples of PT-appropriate shoes:
Other things to consider when dressing for PT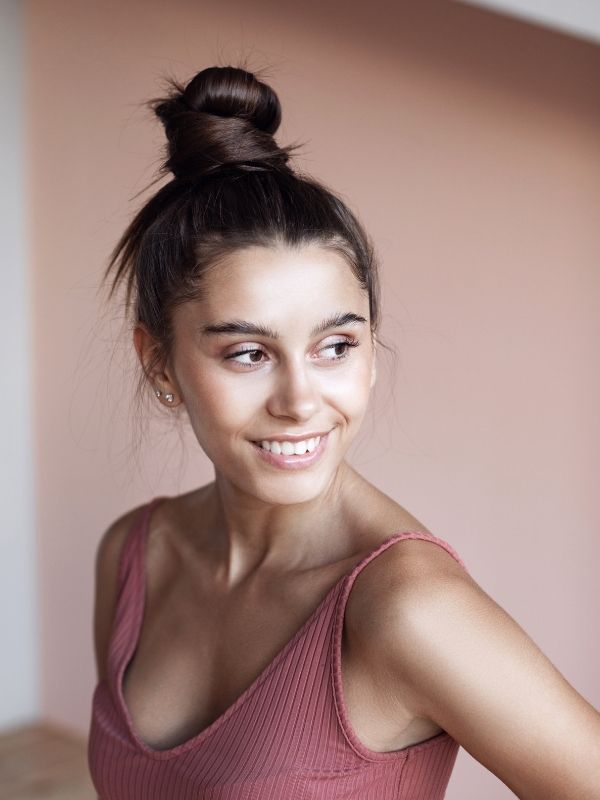 Dressing for PT is fairly simple, but there are a few more tips I can share.
Tie your hair back. Make sure your hair doesn't get in the way of your treatment. I recommend wearing a bun at the top of your head instead of at the nape or crown.
If you're coming straight from work, pack a change of clothes so that you can change at the clinic. Depending on your line of work and your reason for PT, a change of clothes may not be necessary. But it doesn't hurt to pack your athletic shoes, exercise shorts, and a comfortable t-shirt just in case.
Dress in layers. It's fine to wear a hoodie or jacket to PT, but once you start exercising, you may really heat up. I recommend layering with a lightweight zip-up, like one of these:
Summary
In short, clothing should not interfere with physical therapy. Choose activewear that accommodates movement and allows your PT to evaluate your injury if needed.
Physical Therapy Evaluation
For your first trip to PT, you'll probably undergo a PT evaluation, during which your therapist will assess your need for therapy and plan out your treatments and goals. You can learn more about physical therapy evaluations here.
If you're curious about what it's like to be a Physical Therapist—besides what I wear to work—check out this article.