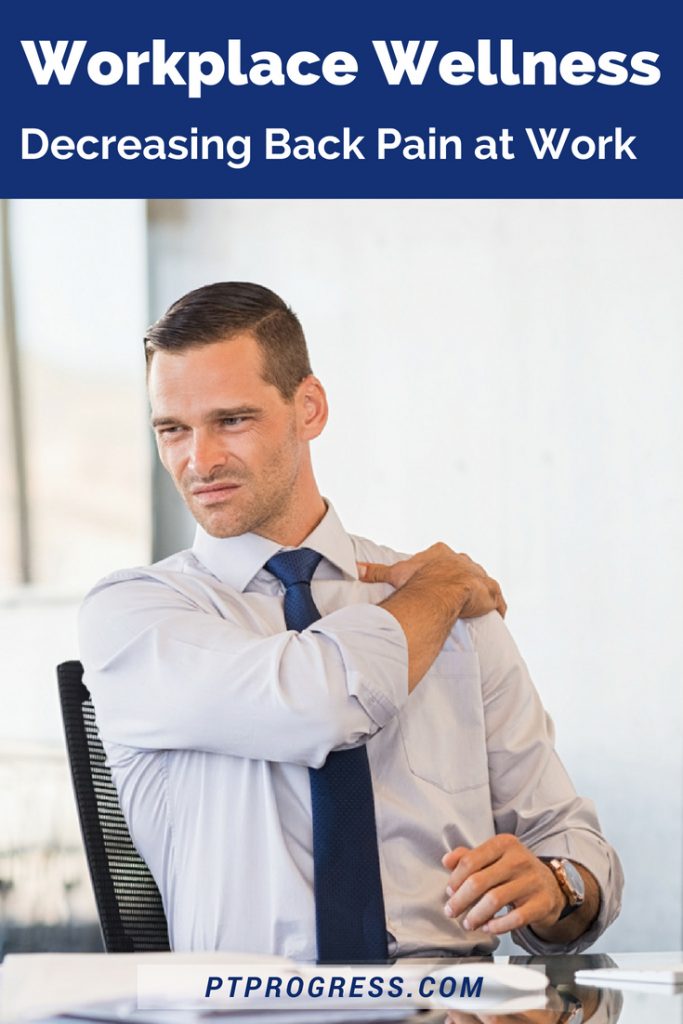 Over 80% of adults in the United States will experience back pain in their lifetime. Back pain at work is the second most common cause of disability in US adults, causing over 149 million days of work lost per year.
The cost of low back pain has been estimated around 300 billion annually, with 2/3 of the cost due to decreased wages and productivity.
Low back pain (LBP) is a serious problem for workers and organizations, which is why it is so important to learn how to prevent low back pain in the workplace.
What is Low Back Pain?
Low back pain (LBP) can happen due to a number of reasons. In many cases, the cause of low back pain is mechanical, involving the moving parts of your back. This includes the muscles, ligaments, and vertebrae as well as the discs between each vertebrae
In many instances, LBP will go away on its own, but it can often take a while. Resting from heavy tasks and taking over the counter pain relievers or anti-inflammatory medications can be helpful in the short term. But if back pain persists for longer than 3 days, it may be helpful to consult with a health care provider. Seeking medical evaluation following an injury to your back is also very important in order to rule out a fracture or other emergency.
Classification of Back Pain
Acute Low Back Pain: Think of this as an early onset of back pain (0-1 month since onset). Addressing movement patterns and postural changes in this stage can help to decrease the likelihood of further injury and irritation.
Sub-Acute Low Back Pain: The episode of back pain that lasts 1-2 months is generally considered sub-acute. Repetitive use, poor postural habits, and lack of appropriate changes to movement patterns may prolong back pain into this category.
Chronic Low Back Pain: When an episode of back pain lasts longer than 3 months, it's generally considered chronic. Treatment of chronic low back pain by a Physical Therapist for example usually involves performance of specific exercise, stretching, soft tissue mobilization, and stabilization exercises.
For all three of these categories of low back pain, the treatment will depend on the type of pain you have as well as the symptoms you are experiencing. A physical examination by a Physical Therapist or Physician can help to rule out red flags and lead to the development of a treatment plan, which may include hot or cold packs, exercise, medicines, injections, acupuncture, or in some cases surgery.
Decreasing The Risk of Back Pain at Work
In an ideal world, we would avoid months of back pain by adopting strategies to reduce the risk factors that cause it in the first place. Understanding the most common risk factors for LBP can help us in finding creative ways to adopt better movement patterns at work.
Risk Factors for Low Back Pain:
Mechanical (Moving Parts of the Back)
– Disc Degeneration
– Muscle Spasm and Guarding
– Ruptured or Bulged Discs
– Sprains, Strains, and Traumatic Injury (falls/impact)
Non-Mechanical Risk Factors:
– Scoliosis or structural deformity
– Spondylolisthesis – a slipping of one vertebrae due to fracture
– Arthritis, osteoporosis
– Spinal Stenosis – narrowing of the spinal column
– Infection, tumor, kidney stones, etc.
– Age, weight, lack of exercise
– Smoking, poor nutrition or hydration
Work Related Risk Factors
– Increased Stress
– Poor Ergonomic Setup
– Improper Lifting Techniques
– Repetitive Job Tasks
– Inactivity or sedentary environments
Strategies for Decreasing Risk of Low Back Pain
Some of the risk factors are difficult to change immediately, while some factor cannot be modified at all (age, structural deformity like scoliosis, stenosis, or arthritis). Fortunately, you can address many of the risk factors by establishing new habits and routines that promote a healthy lifestyle.
Here are some of the best strategies for preventing low back pain.
Reduce Mental Stress
Begin an Exercise Routine
Stay Hydrated
Reduce Body Weight
Improve Your Fuel (Nutrition)
Focus on Posture Variation
Lift and Carry Items Properly
Perform Micro-Stretches at Work
If you are interested in conducting a workplace wellness seminar that explores how to prevent back pain at work in more detail, contact Tim at Corporate Wellness Advisors.