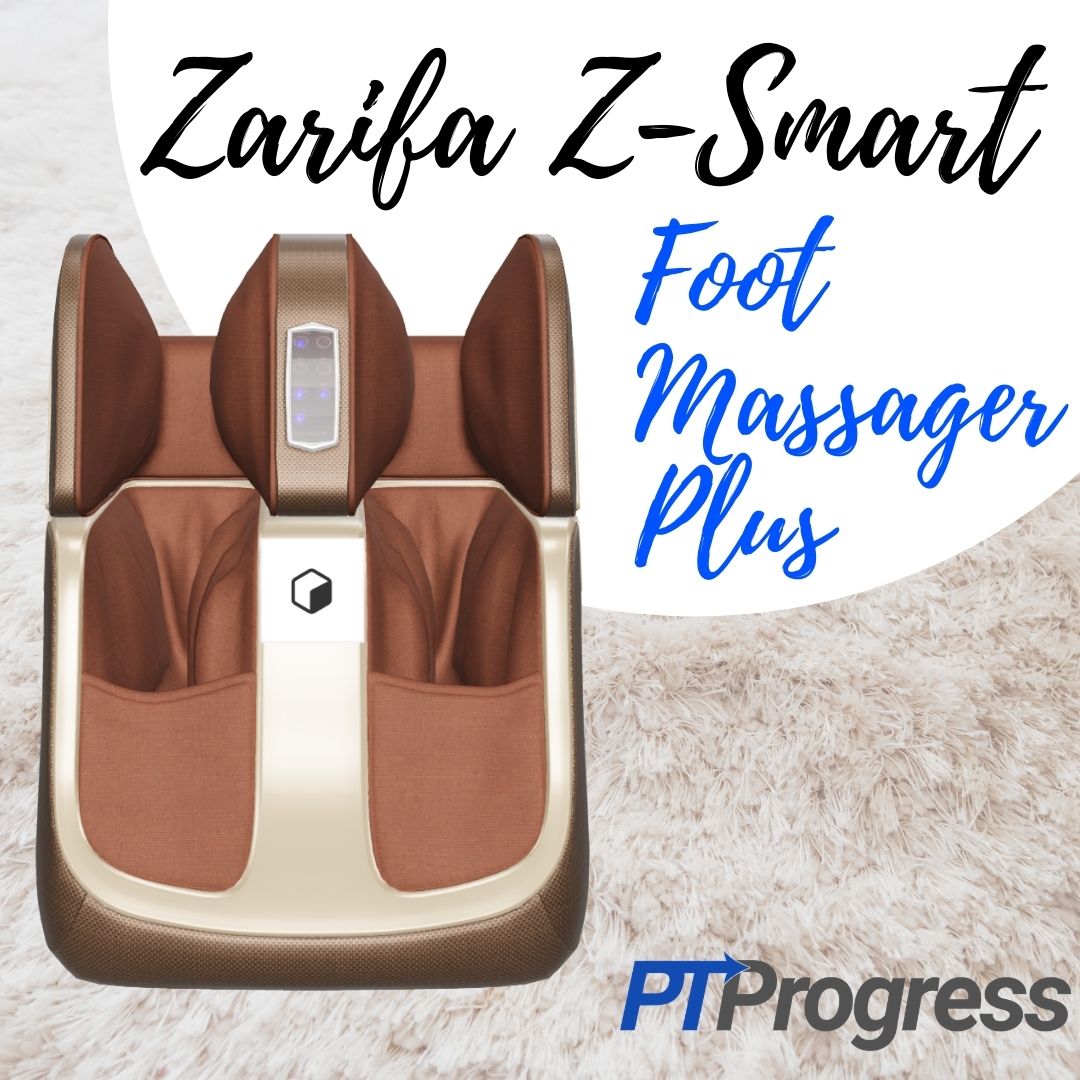 Plantar fasciitis is painful, but I know a great tool you can use at home to relieve heel pain and promote circulation in your feet and calves. The Zarifa Z-Smart Foot Massager Plus uses compression, shiatsu massage, and heat to combat plantar fasciitis pain and soothe achy muscles. Keep reading for more information on this neat device!
Treating Foot Pain and Plantar Fasciitis
As a physical therapist, I treat patients with foot and calf pain on a regular basis. Among my arsenal of treatments are exercise and stretches – undoubtedly some of the best ways to prevent pain. However, for treating plantar fasciitis in particular, I recommend soft tissue mobilization, or manual massage therapy.
Research Behind Plantar Fasciitis Massage Treatment
Soft tissue mobilization is a massage treatment used to reduce pain, improve tissue extensibility, and improve circulation.
According to a study published in the Journal of Orthopedic & Sports Physical Therapy, soft tissue mobilization and other manual therapy techniques were more effective than e-stim in reducing plantar fasciitis pain. Importantly, both e-stim and manual therapy treatments included therapeutic exercise.
Research supports the claim that massage therapy helps foot pain in the long run, and that's great news for physical therapists and their patients in the clinic. But what if you can't wait until your next physical therapy session to get relief from your foot pain? What do you do in the meantime?
You can replicate the benefits of a manual therapy massage at home by using a deluxe foot massager such as the Zarifa Z-Smart Foot Massager Plus. Instead of paying for a professional massage every week, a foot massager will continue the relief you get from manual therapy and help you manage your plantar fasciitis at home.
Zarifa provided me with their Z-Smart Foot Massager Plus to test and review. Compared to other foot and calf massagers I've used in the past, Zarifa's product is exceptional. I've never seen a foot massager quite like this.
Key features:
Foot, ankle, and calf massager
Hinge-back feature also massages knees and thighs
Compression, shiatsu, and heat therapy programs
Multi-directional massage treatment
Automatic shut-off and machine-washable liners
Handle and wheels included for easy transport
FDA-approved Class 1 or 2 Medical Device
$640
How It Works
The Zarifa Z-Smart massager uses air bags to apply compression and shiatsu massage to your feet and calves.
This unique air bag compression system is designed to mimic real hands, but personally I think it provides a unique type of massage that you can't get from a massage therapist.
Using 36 massage nodes, the Z-Smart massager applies compression first along the front and back of your feet and then works its way up towards your ankles, calves, and lower thighs.
Z-Smart's combination of intermittent massage and continuous compression helps promote circulation in your feet and legs. And by working from bottom to top, the treatment draws fluid from the feet to help reduce swelling and pain.
We use these techniques in physical therapy; they're very effective in reducing swelling and decreasing pain in the feet and calf muscles.
Not Just for Feet: Z-Smart Foot Massager Plus
The Z-Smart Foot Massager Plus is more than a foot rub. Choose the leg setting, and you'll receive the same cathartic relief in your ankles and calf muscles.
For an even more extensive massage, the upper portion of the device hinges back 90 degrees to target the upper leg muscles. The compression you enjoyed in your lower legs will provide similar benefits above the knee, addressing knots along the quads and soreness in the lower portion of your IT band.
This hinge-back feature is unique to the Z-Smart massager and certainly helps you get the most bang for your buck. Personally, I found the calf massage function to be the best add-on to this foot massager. But you can also use the compression setting on the top portion to promote better circulation and further draw out fluid and swelling towards the heart.
Strong Settings
This device offers a wide range of massage intensity, direction, and placement, which you can control using simple program buttons.
In addition to compression, the Z-Smart Foot Massager offers shiatsu massage techniques to help pinpoint specific trigger points. These Shiatsu massage balls are located in the device near the bottom of your feet, along your calf, and in the upper leg attachment. In my experience with personal foot massagers, I have never seen Shiatsu technique quite like this.
Overall, the massage capability on this device is strong, and when it comes to intensity, I prefer the lowest and middle setting the most. The highest setting is really intense and best reserved for exceptionally stiff knots.
Depending on how sore your feet and calf muscles are, I recommend trying the green and blue settings. Besides, a lighter massage will more effectively draw fluid away from your heels and feet and will better emulate that soft tissue mobilization discussed above. So if you're using this massager to reduce swelling and treat plantar fasciitis, make the lower settings your go-to setup.
Design Features of the Zarifa Z-Smart Foot Massager Plus
In terms of design, the massage unit is comfortably ergonomic and perfect for any at-home use, whether you're sitting at a desk chair or on a couch. All you have to do is slide your feet into the slots, select your desired program, and relax! The machine shuts off automatically after 20 minutes, so if you fall asleep, you won't accidentally overdo your foot massage.
If you end up using this machine frequently – which I can attest is certainly warranted – you can keep it clean by washing the removable slot liners. This considerate detail certainly prolongs the life of the unit and makes your overall massage experience more comfortable.
The slots best accommodate feet sized 7-13 in Men's shoes. My feet are size 12, and I found it perfectly comfortable. If your feet are considerably smaller or larger, the massage balls might not align properly against your heel and arch and you might find the compression uncomfortable.
Additionally, I'm 6 foot tall, but the calf massager hit all the right points on my lower leg. Clearly, this unit was carefully designed to accommodate as many people as possible while still delivering targeted massage.
Heated Rollers
If your feet are cold all the time, you'll love the heated roller setting unique to this massager. Not overwhelmingly hot, the heated rollers located in the foot portion of the device provide just enough warmth to further relax your feet and make your massage session even more comfortable.
Medical Product Classification
Finally, perhaps the feature that struck me the most about this foot massager is that it's an FDA-approved medical device, which means you could pay for it with an FSA or HSA card.
Quality foot massagers are expensive, and the Zarifa Z-Smart Foot Massager Plus costs just over $600 – at the upper end of at-home massage equipment.
However, no other foot and calf massager is categorized as an FDA class 1 and class 2 medical product.
For these kinds of items, most HSA or FSA plans require that you submit a receipt for reimbursement, and very few will request a letter of medical necessity from your physician. Be sure to check with your provider directly, and download the FDA certificate when you make your claim.
Zarifa Z-Smart Foot Massager Plus: Conclusion
Based on my experience, this massager is worth its high price tag. I realize that a unit like this is expensive and there are certainly other cheaper alternatives out there with fewer features. However, I've never seen a massager quite like this – particularly one that is FDA-approved – that incorporates compression and shiatsu massage from your feet all the way to your thigh.
This design and functionality make the Zarifa Z-Smart Foot Massager Plus an excellent tool to help you relieve foot and heel pain as you recover from plantar fasciitis.
Check out the latest model of this foot and calf massager at ZarifaUSA.