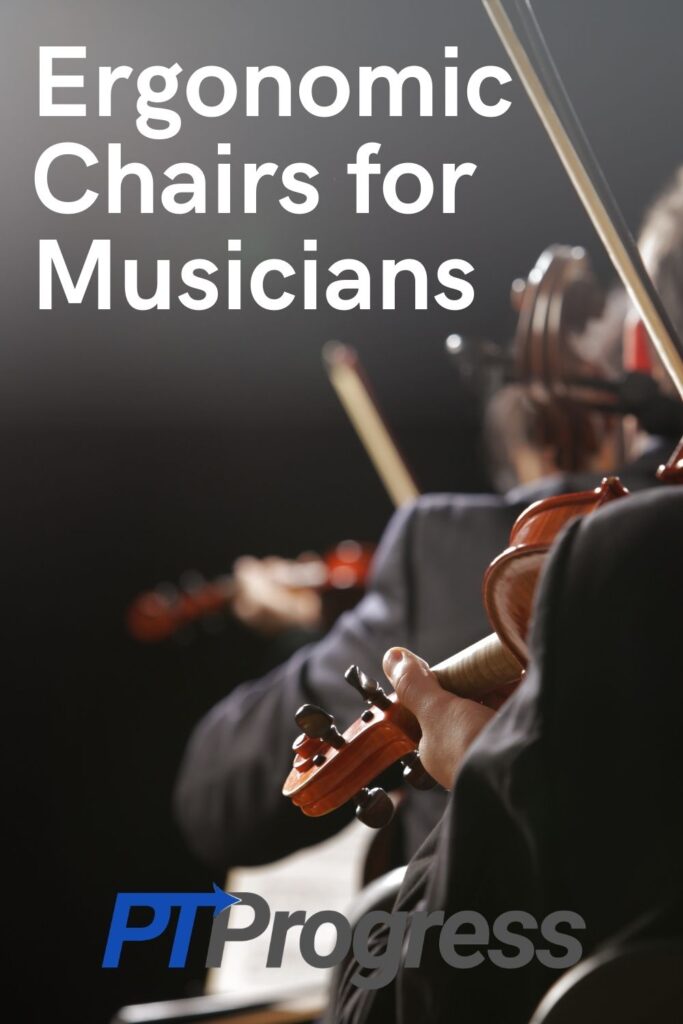 As a cellist, I have no choice but to sit when I play music. And after 20 years of practicing, I've come to value the difference an ergonomic chair makes. Keep reading for my take on the best chairs for musicians!
Why Musicians Need Ergonomic Chairs
Musicians like to consider themselves "small-muscle athletes" to reflect the physical demand of playing an instrument, but truthfully, we spend a lot of time sitting. Sedentary activities, no matter how skilled or arduous, can lead to poor posture and back pain.
This is because most chairs are not designed with a musician's needs in mind. Visualize a typical armless chair; maybe what you have encircling your kitchen table or what you slouch in for long meetings at work. Chairs like these are designed to settle the sitter's weight into the back of the chair and accommodate passive activities such as classroom learning, dining, and conversing.
In contrast, musicians need to sit up straight with a neutral spine, with feet grounded on the floor for stability. They need to maintain a 90º angle in their knees and a greater than 90º angle between their thighs and back. And a musician needs to move freely around the chair, unimpeded by arms or a wide back.
Most chairs work against these objectives. Some of the worst offenders I've come across in my orchestral career include those plastic bucket chairs from school cafeterias, metal folding chairs (with or without the padding – it doesn't matter), and overly-plush church chairs.
What to look for in an Ergonomic Musician Chair
You may not have any say over the chairs you gig or perform in, but you don't have to settle for an uncomfortable chair in your practice studio. As long as choice allows, shop for chairs with the following features:
Height: The chair needs to be the right height to achieve optimal posture in your legs and hips. It should be tall enough to keep your hips slightly higher than your knees, but short enough that you can keep your feet flat on the ground. Make sure you can stand up at the drop of a hat, without scooching or straining.
Tilt: The worst thing you can do for your back as a musician is play on a seat with a backward tilt, like this one pictured. A seat with this "depth" will press into the back of your knees, decreasing blood flow; root you to the back of the seat; and force you to round your back and tilt your hips forward to compensate.
Cushion: You'll spend several hours on your chair practicing each week, so make sure it's comfortable and cushions your sit-bones. That being said, the cushion shouldn't be so plush that you sink into it. That would disrupt the perfect posture you've worked so hard to achieve.
Finding and using a chair designed for what you do will prolong practice sessions and prevent back pain. However, if purchasing a new chair isn't an option, there are some modifications you can make to the chair you currently practice on to make it more comfortable.
A note about seat-backs
For a musician, the back of a chair is optional. It's nice to sit back and relax during long rehearsals, but most instrumentalists sit toward the edge of their seat to play. A good musician chair will accommodate either position; if you sit on the edge, you shouldn't have to compensate by rolling your hips forward. And if you use the seat-back, you shouldn't have to compromise your posture.
Best Chairs for Musicians
I don't have a long list of chairs for you because, frankly, there aren't that many options out there. A musician's sitting needs are unique and thus, not well-marketed.
These chairs set the standard for best chairs for musicians; you'll see them on the stages of professional orchestras, in the studios of performing artists, and peppering practice rooms all across the country.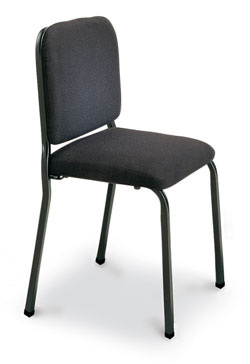 After 75 years of ergonomic engineering, Wenger is the gold standard of chairs for musicians. I've personally spent a large portion of my music life on a Wenger chair; their Cellist chair gets my heartiest recommendation.
Height: The chair comes in just two height options: 18.5" and 19.5," so unless you're 5'5" or taller, it may be a little too tall for you. However, because of the seat tilt (see next point), a shorter person could play on the edge of the seat comfortably and still achieve grounded footing.
Tilt: The seat is perfectly angled for cellists, with a 1.3º forward tilt. You'll think it's perfectly flat, though, because at such a slight angle, you'll achieve the ideal forward balance for playing an instrument or reading music.
Cushion: The cushion is just the right amount of shock absorption without sinking in; it feels like sitting on air.
Specs: 16-gauge metal frame in black or chrome | Seat height: 18.5" or 19.5" | Cushions are 100% polypropylene, available in 6 colors | Seat cushion is 2″ deep, back cushion is 1.75" thick | Weighs 18 pounds.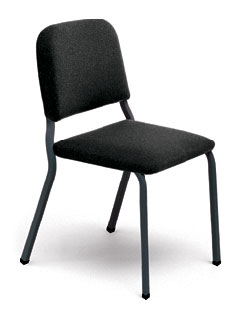 Wenger's Musician Chair offers many of the same features as a Cellist Chair. For me, the main difference is that the seat-back tilts backward slightly and doesn't provide as much support as the closer-positioned Cellist Chair seat-back.
Height: The musician chair comes in six different seat heights, incremental from 15.5" to 19.5", so you don't have to settle for a practice chair that's less than tailor-fit.
Tilt: Sitting in this chair is designed to emulate standing posture. With a 4.5º forward seat tilt, you'll achieve a 97º angle between your thighs and the seat back. Unlike those janky cafeteria chairs, a chair with this angle will help you sit up taller and free up your diaphragm – a huge bonus among wind players.
Cushion: The musician chair has nearly the same cushioning as a Cellist Chair, with slightly less on the back cushion. The overall effect of elevation and support, however, is the same.
Specs: 16-gauge metal frame in black or chrome | Seat height: 15.5", 16", 17", 17.5," 18.5," or 19.5" | Cushions are 100% polypropylene, available in 6 colors | Seat cushion is 2" thick, back cushion is 1.5" thick | Weighs 15 pounds.
Although I prefer the Cellist Chair, you can't go wrong with either of these chairs; they are optimized for musicians of all instruments.
Adjustrite has effectively monopolized the market for gig chairs, because their adjustable folding chair checks all the boxes musicians need for a comfortable, supportive, portable seat. If the six height settings for the standard chair are too short for you, check out their Tall version.
Keep in mind, however, that the back of either chair is only 13 inches up from the seat and might not fully support your back, especially if you're tall.
ADJUSTRITE Musician's Chair by Vivo USA
The "ADJUSTRITE" Musician's Chair just may be the greatest musicians chair ever!
The padded back gives you enough support to help you sit correctly, making it very comfortable for those long gigs or practice sessions.
Height: Perhaps the strongest selling point for this chair is that the height is totally adjustable, with a wide range from 15" to 20" high. The buttons along each leg make customizing your chair a snap; no more stacking books under your feet or cushions under your bottom to achieve the perfect height!
Tilt: The other strong selling point for this chair is the fact that the seat tilt is also adjustable. You can engineer a forward tilt for yourself by setting the back legs higher than the front legs. However, these adjustments are at 1" intervals, which may or may not help you achieve the optimal 97º angle between your thighs and back.
Cushion: Both the seat back and the cushion are well padded, supporting several hours of rehearsing, gigging, and practicing.
Standard Specs: Seat height: 15", 16", 17", 18", 19", or 20" | Weighs 18 pounds. Tall Specs: Seat height: 21", 22", 23," 24," 25," or 26" | Weighs 19.5 pounds. Available in black only.
Oh, and the other strong selling point: this chair folds up flat! You can easily take it with you while traveling, itinerating, or touring. Shamelessly be "that guy" who brings their own chair to a gig – your back will thank you!
Backless Seat Options
Having a supportive backrest to your chair is the height of luxury when it comes to music-making. That being said, backed chairs are more expensive and generally less portable.
If you never use the back of your chair anyway, consider a backless seat, such as a piano bench. Using a backless chair will activate your trunk muscles as you sit and help you strengthen your core, supporting healthy posture!
A little trick many cellists pull when desperate for a good seat is to snag a nearby piano bench. A surprisingly good substitute for a poor orchestra chair, piano benches are not only well-cushioned and adjustable, they forgo the backward seat tilting and bucketing that make bad chairs so uncomfortable.
Height: Piano benches tend to sit higher than other chairs – mostly due to the lack of a seat-back. This variety is seamlessly height-adjustable from 19" – 21.5", with no increments to have to choose between.
Tilt: As mentioned above, piano benches don't mess around with a seat tilt. You can easily slip a wedge cushion beneath your bottom to elevate your hips if desired. However, I found that the height of a piano bench helped me achieve a standing posture in my torso without needing a forward tilt.
Cushion: A piano bench like this one is amply padded – not like those frightfully bare wooden ones. Designed to support weight for long hours at a time, this plush leatherette cushion will do the trick in minimizing discomfort as you practice.
Specs: Seat height: Adjustable from 19" – 21.5" | Available in black only | Weighs 25 pounds.
One bonus feature of this bench is its storage capacity! Music storage in a seat is the equivalent to pockets on dresses. Pianists won't be so impressed, but if you're used to regular chairs, you'll appreciate this feature.
For something even more unconventional, try practicing on a weighted stability ball. I swapped out my studio chair for a stability ball one summer as I recovered from a playing injury. The ball turned out to be the most comfortable seat for practicing and helped me strengthen my core outside of my physical therapy.
A weighted ball contains sand-like material to keep from rolling away too easily. Otherwise, you can buy a stability stand or ring accessory to keep the ball safely under you when sitting and rising.
Height: Stability ball heights are just about as customizable as it gets. Stick to the sizing chart listed for the ball you buy. Most stability balls come in a range of sizes, from 45 cm to 85 cm, fitting musicians 4'8" to over 6'5". Plus, you can slightly deflate a too-tall ball to achieve the optimal thigh-to-back ratio our musician chairs work so hard to provide.
Tilt: Part of the magic in sitting on a stability ball is that you can't help but have good posture. Thanks to its spherical shape, it's impossible to stay on the ball while tilting your hips forward. As you grow used to sitting on the ball, your core will strengthen and your torso will straighten – all without having to buy a fancy adjustable seat.
Cushion: You can imagine how comfy stability balls are for your bottom. I enjoyed bouncing up and down as I played. (Not recommended for ensemble rehearsals though.)
Specs: Seat height: anywhere from 45cm – 85 cm | Comes in multiple colors | Weighs ~5 pounds.
A stability ball is the cheapest chair on this list, but if you're looking for something you can more easily take with you, consider buying accessories to modify your current seat.
Ergonomic Chair Accessories for Musicians
Although I am deeply invested in using a comfortable seat, I found that bringing my own chair to daily rehearsals was a bit much. Toting an instrument, stand, music, bag, and heavy foldable chair is impractical by most people's standards. There are a couple of ways to modify a less-than-ideal chair, and they won't cost you an arm and a leg (or a shoulder from lugging them around).
You've probably seen these in people's cars, on airplanes, at sporting events, and other occasions. The concept is simple: by slipping a wedge cushion beneath your bottom, you will elevate your hips and compensate for a backward-tilted chair. The Tush Cush will also mitigate the discomfort of cushionless seating atrocities such as those wooden piano benches or hard bleachers. Furthermore, it's compact enough to fit inside a music bag, yet supportive enough to level your hips with your knees. A Tush Cush cannot transform a bad bucket chair into an ergonomic chair, but it can help literally "take the edge" off uncomfortable seats.
Another way to modify a bad seat is to place wooden blocks, like these furniture risers, under the back two legs of a char. This tilts the seat slightly forward, giving your hips a chance to be at least level with your knees. You can also use risers to elevate all four legs of the chair if you need more height than tilt. Blocks come in a range of heights, from 1" – 4". These risers are even more compact to carry around than the cushion and are surprisingly effective (so long as it's a typical chair with two back legs).
Furniture risers are also handy to keep at home to stabilize an ergonomic office chair. Just make sure you buy the variety with slits to accommodate for bulky wheels.
Final Thoughts on Chairs for Musicians
Even when you've found your dream ergonomic chair, the key to preventing pain and discomfort is to alternate your posture throughout the rehearsal. As a collaborative musician, you might not have the option to stand up and stretch your legs whenever you want. However, there are micro-stretches and twists you can perform while seated to loosen up your back and shoulders. Check out this article to discover stretches for musicians, including exercises to do while on break and at home.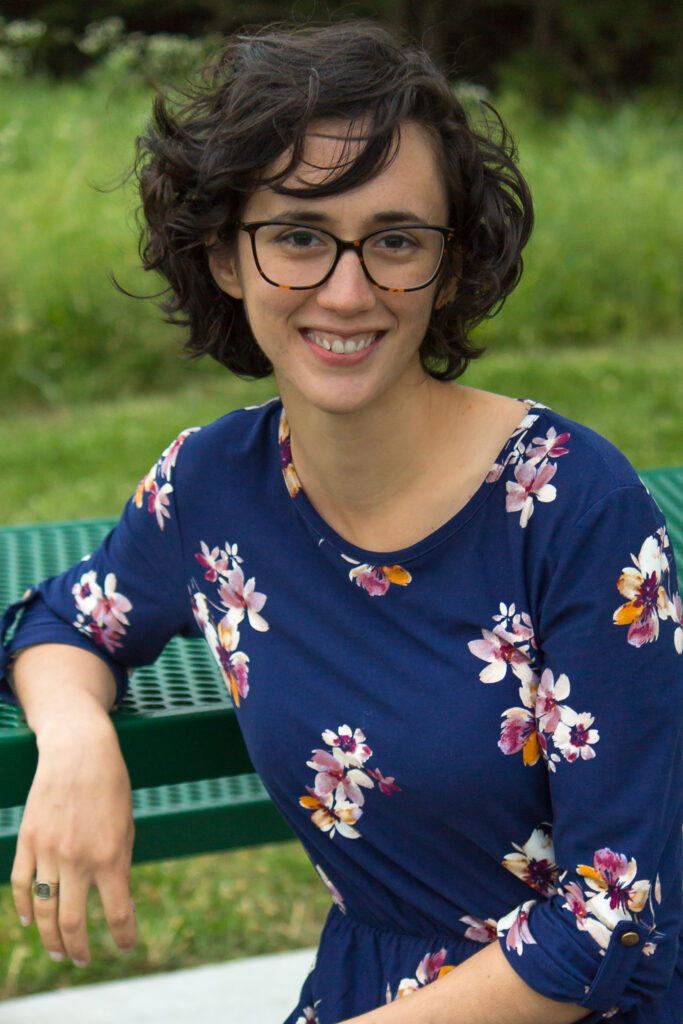 This article was written by Naomi Benecasa, a cellist with a Bachelor's in Music Performance and a Master's in Music Psychology. Fascinated by fitness and fermentation, she provides copywriting and editing services for PTProgress from her home in New York.