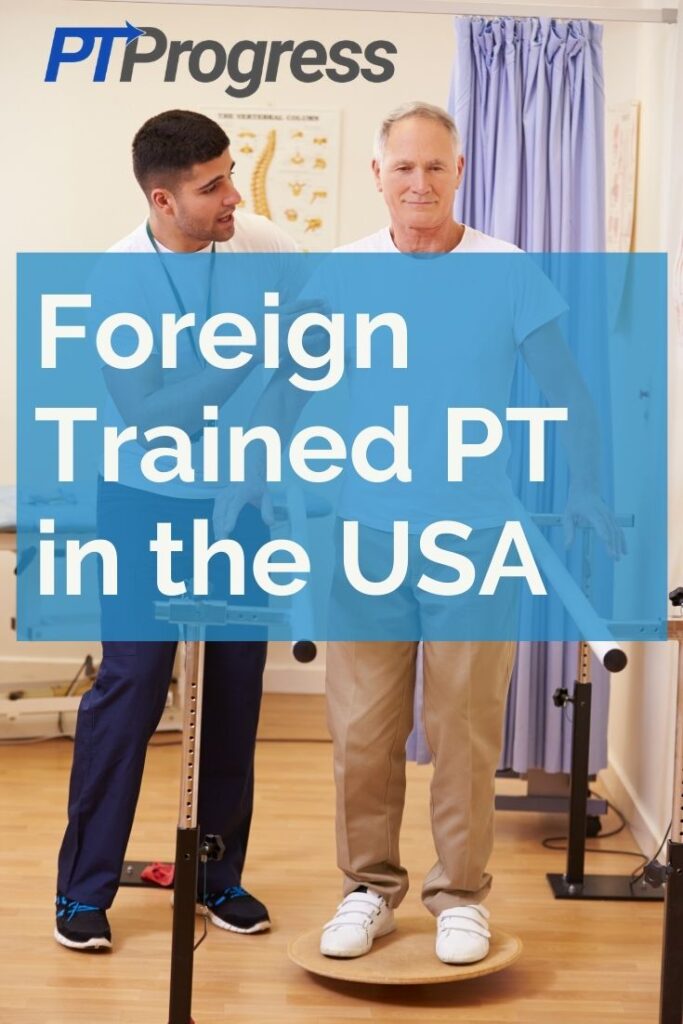 For a foreign-trained physical therapist, the process of becoming a licensed PT in the United States can feel intimidating. Yet, after following several steps and meeting certain requirements, it is possible to practice PT with a foreign education. All it takes is patience, persistence, and the right information.
In this article, we'll show how to obtain authorization for PT work in the United States as well as how to qualify for a PT license.
We'll also include the tips and recommendations of multiple foreign-trained PTs who already went through this process.
Requirements for Practicing PT in the United States
But first, why all these steps? Is it this complicated for US citizens?
Well, in short, the process is simpler for US students, though not without its challenges. In the United States, students seeking a career in physical therapy must first earn a Doctorate of Physical Therapy from a CAPTE-accredited school. Upon graduation, they must take and pass the National Physical Therapy Exam. Then, they are licensed therapists with permission to work as a PT.
Foreign Trained PT in the United States
For a foreign-trained physical therapist, there are a couple additional steps. Not only will you need to prove that your education is the equivalent of a DPT and pass the NPTE yourself, you'll need to satisfy US immigration requirements.
Here are the three main steps for practicing in the US as a foreign-trained PT:
Obtain permission to work in the US (in most cases, an HCWC).
Complete Education Evaluation and Remediation (based on state requirements and the CWT).
Pass the National Physical Therapy Exam (NPTE).
The first step qualifies you to work in the US as a healthcare worker. The second step qualifies you to register for the NPTE, and the third step qualifies you to practice Physical Therapy in the US.
1. Obtain Permission to Work in the United States
Before you start the long journey of education evaluation and remediation, make sure you are approved to legally work in the United States. The United States Commission on Immigration Services (USCIS) has strict requirements for all foreign-trained healthcare workers, including PTs.
If you are a US-citizen or on a dependent/spouse visa, you can skip this step. For everyone else, you'll need a Healthcare Worker Certificate (HCWC).
There are a number of resources that can help you navigate the immigration requirements for foreign-trained PTs and PTAs. I recommend checking the Federation of State Boards of Physical Therapy website. (The FSBPT issues the culminating National Physical Therapy Exam – what makes a PT "board-certified.")
In short, there are two agencies approved by the USCIS to help you in this process: the Foreign Credentialing Commission for Physical Therapy (FCCPT) and the Commission on Graduates of Foreign Nursing Schools (CGFNS).
To begin the process through the FCCPT, ask for a Type 1 Review. Or, if you choose to go with the CGFNS, you'll complete what they call a VisaScreen. Both the Type 1 Review and the VisaScreen processes work the same way and will help you obtain valid work authorization.
2. Complete Education, Evaluation, and Remediation
It doesn't make sense to give someone a work visa if they aren't properly credentialed. So, part of your HCWC requirements will include showing that you have valid credentials to work in the US as a PT.
But your foreign degree in Physical Therapy isn't sufficient for a license here. Currently, the degree requirement for practicing physical therapy in the US is a Doctorate of Physical Therapy (DPT). You can take the NPTE, and thereby obtain a license, only if you have a DPT from a CAPTE-accredited program – or an equivalent degree from an equivalent program.
How do you know if your degree is equivalent? To show that your education meets US standards, you'll need to compare the coursework you took overseas to the "minimum general and professional education requirement" in the US.
The standard for "education equivalence" is the Coursework Evaluation Tool (CWT), created by FSBPT in 2000. It is now widely used to authorize foreign-trained PTs for the NPTE.
Coursework Tool for Foreign Trained Physical Therapists: How it Works
Standard education requirements for physical therapists have changed over the years, and the Coursework Evaluation Tool has been updated periodically to reflect those changes. Foreign-trained PTs will need to compare coursework based on their graduating year.
If you're a current student or just recently graduated, you'll compare your coursework to the DPT program outlined in CWT6. However, if you graduated prior to 2017, you'll compare your coursework to the appropriate CWT, listed in the table below.
There are currently 6 versions of the CWT based on when a candidate graduated from their program:
| | |
| --- | --- |
| Coursework Evaluation Tool version | Graduation year |
| CWT1 | Prior to 1978 |
| CWT2 | 1978–1991 |
| CWT3 | 1992–1997 |
| CWT4 | 1998–June 30, 2009 |
| CWT5 | July 1, 2009–2016 |
| CWT6 | 2017–present |
Although I've included these CWTs for your convenience, ultimately you should have this evaluation verified by a credentialing agency. Without verifying your credentials, you won't be able to obtain your HCWC or register for the NPTE.
This step may sound stressful and time-consuming, but luckily, there are a few Foreign PT Agencies that can perform the evaluation for you. These agencies use the CWT to make sure you have all of the required verification needed to practice physical therapy in the US.
Foreign PT Agencies
The following three agencies are currently licensed to use the Coursework Evaluation Tool:
CGFNS (used by the International Consultants of Delaware)
If you are using the FCCPT or CGFNS to obtain your HCWC, then you are already on your way to verifying your credentials. The IERF is a good option for PTs who do not need a HCWC because of citizenship or current visa status.
Suppose the agency determines that your foreign license is not equivalent to a DPT due to insufficient coursework or inadequate clinic hours. In that case, they will direct you to "remediate" this lack through supplemental coursework, such as the FCCPT's Planned Learning and Assistance Network (PLAN).
After you correct whatever is lacking, you will need to have your credentials re-evaluated. Then, you may finish the process to obtain your HCWC (step 1) and register for the NPTE (step 3).
Using a Credentialing Agency: One Reader's Experience
Using a credentialing agency is highly recommended. Not only will they compare your coursework to the CWT, they will also help you meet specific requirements based on the state in which you plan to practice.
Consider the experience of Chinenye Igwebuike, a PTProgress reader who used FCCPT to guide her journey to PT licensing in Texas. She recommends the FCCPT because it is an approved agency in every state. Plus, it provides a helpful service for locating remediation courses. Read her recommendation below:
The first thing will be to go on FCCPT website as a new applicant and pay for any of their primary service that best suits you. My advice will be to send them an email and they can help you figure out the service that best suit your needs. If they find your course work not eligible, the next step will be to pay for the PLAN Service. This service allows you to work with an advisor for 6 months. Your advisor will look at your deficiencies and give you acceptable schools to take the remediation courses. After taking the courses, you give them the authority to go ahead and re-evaluate your coursework. This step alone can take close to two years.
She also recommends contacting someone from your overseas PT program who has already completed the coursework required in the US. Since every foreign PT program is different, course deficiencies may differ from one program to another. Your colleague may offer guidance on remedial courses to take.
I took 10 courses in total: 8 professional courses as a non-degree seeking student, CPR and a CLEP course. Everything was online except for CPR and CLEP. I took my courses from University of St Augustine and University of Montana. I can tell you categorically that the University of Montana is one of the cheapest schools out there for a non-degree student.
Once your course work is deemed substantially equivalent, the next step will be to figure out if your state has other requirements to get eligibility. For instance, Texas requires all foreign trained PT to write TOEFL. They also require that you write JAM i.e a jurisprudence exam and go for fingerprinting. Here is the link for Texas state requirement for foreign trained PT.
To check the specific licensing requirements of the US state in which you seek employment, locate the contact information on this page.
3. Pass the NPTE
The National Physical Therapy Examination is a standardized exam every PT, US- or foreign-trained, must pass to obtain a physical therapy license. For foreign-trained PTs, there are a couple of things to address before registering for the exam.
Once you've met all licensing requirements (step 2), you will receive an ATT letter, or Authorization to Test, from the FSBPT and your state. This ATT letter, usually electronic, provides instructions on how to schedule the NPTE at a Prometric testing center. You can check the status of your ATT by logging onto FSBPT.
Besides the all-important ATT, you will also need either a Social Security Number (SSN) or an Alternate Identification Number (AIN) to register for the NPTE. If you do not have an SSN, you can apply for an AIN via the FSBPT website.
As part of your NPTE registration requirements, you will need to provide results from a recent TOEFL (Test of English as a Foreign Language), unless your foreign degree institution is exempt.
Resources for Passing the NPTE
After all this evaluation, certification, and email-checking, studying for the NPTE can feel daunting. But there's help! I've written a couple articles about how to ace the NPTE, with linked resources that will prepare you to do just that.
10 Tips for Passing the NPTE Study Guides for Passing the NPTE
If you're nervous about the NPTE, don't worry; you're not alone. Besides these resources, check out the advice of one foreign-trained PT who went through the process.
Here is what a foreign-trained PT had to say about the NPTE:
NPTE is a 250 questions exam that is timed for 5hrs 15mins. Pass score is 600/800 which is a scaled score. Personally, I think to be properly prepared for it as a foreign trained PT you might need 6 months of preparation. It's like studying everything afresh if you are foreign trained and this can take some time. The NPTE is particularly more difficult for foreign trained PTs. You have to figure out your strengths and your weakness by practicing questions every day.
NPTE is by far the hardest exam I have taken. The style of questioning is so different from what I am used to. My candid advice to any foreign trained PT is to join a coaching program. I started studying on my own, but I quickly became overwhelmed. I asked around and discovered the best coaching program especially for foreign trained PT called NPTE Final Frontier. They have a structured time table and 3 classes a week where important concepts are simplified. Their course outline is for 3 months
I also recommend Therapy Ed, and the PEATs (retired NPTE exams) and definitely a coaching program. It was NPTE Final Frontier for me. They not only give you important material and simplify it for you they also motivate and push you.
If you're interested in trying the NPTE Final Frontier yourself, click this link.
Practicing in Different States as a Foreign Trained Physical Therapist
Once you've obtained your license for practicing physical therapy in your state, you may decide to relocate or work in a different state. Keep in mind that, unfortunately, it is not easy to transfer your physical therapy license to a different state.
Since each state establishes unique licensing requirements, you may have to complete additional courses or take a language proficiency examination. Some of these steps may even be a repeat of your initial process.
Again, check this page for easy access to PT licensing requirements by state.
Requirements for Foreign Trained Physical Therapists: A Summary
You worked hard for your foreign education and there's no reason why you can't practice with it. But to legally work in the US and pass the NPTE, you do need to prove your education is equivalent. Luckily, there are plenty of agencies, resources, and PTs out there to help you on your journey.
The process to becoming a PT in the US is challenging, but worth it. This blog can be a resource for you throughout your career as a PT!
Foreign Trained Physical Therapist Documentation
Lastly, if English is not your first language, you may struggle with typing your physical therapy documentation.
Many foreign-trained PTs feel embarrassed by their clinic notes. Despite providing excellent physical therapy, they may have difficulty typing notes of equal quality.
If that's you, check out the PTProgress documentation templates. This resource gives you access to 50+ pages of therapy note examples, full of helpful phrases and full-text examples. The templates include evaluation examples, sample progress notes, and daily notes to inspire excellent therapy documentation.
Access the entire bundle for 30% off.