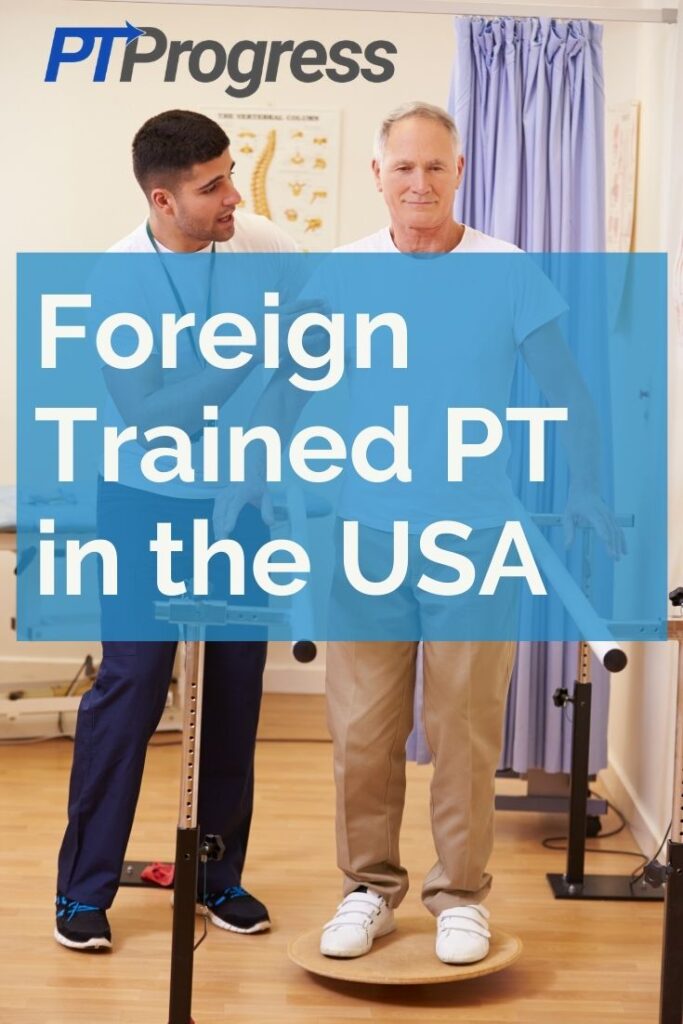 The process of becoming a licensed PT in the United States can be difficult for a foreign trained physical therapist. Even though the steps may be challenging, it's possible for a foreign trained PT to practice in the United States with the right information.
In this article, we'll cover the requirements for foreign trained PTs to obtain a license to practice as a physical therapist in the United States.
We developed this resource with multiple foreign trained PTs who have gone through the process to become a PT in the US.
Foreign Trained PT in the United States
There are three key steps for foreign trained PTs to practice in the United States:
Obtain permission to work in the US
Complete Education Evaluation (and Remediation)
Pass the NPTE (National Physical Therapy Exam)
1. Obtain Permission to Work in the United States
Before you start on the long journey to obtain approval of your education or even take additional courses, make sure you are approved to legally work in the United States. The FSBPT has a great resource for foreign trained PTs and PTAs to help with immigration requirements for working in the United States in the field of Physical Therapy.
2. Complete Education, Evaluation, and Remediation
In order to obtain a physical therapy license in the United States, you must either complete a CAPTE-accredited physical therapy program or a program that is considered 'equivalent.' If you completed a PT program outside of the United States, you will need to work with a credentialing agency to make sure your education meets the standards for US trained PTs. The credentialing agency will use the Coursework Evaluation Tool (CWT) which was created by the FSBPT.
What is the Coursework Tool for Foreign Educated Physical Therapists?
The CWT compares the courses you've taken overseas to the 'minimum general and professional education requirements' for an entry-level degree in physical therapy from a US school. It was created by the FSBPT to provide a standardized method of evaluating educational equivalence of foreign educated PT.
There are currently 6 versions of the CWT based on time periods of when a candidate graduated from their program. You can view the requirements by visiting this FSBPT page and clicking on CWT 1-6 to find the worksheet that is based on the year you finished your overseas physical therapy program.
The task of verifying education requirements can be very stressful and time consuming. Using the services of a Foreign PT Agency is recommended as a way to make sure you are on track with all of the required verifications needed to practice physical therapy in the US.
Foreign PT Agencies
Currently there are three agencies licensed to use the Coursework Evaluation Tool. These agencies are:
CGFNS (used by the International Consultants of Delaware)
One PTProgress reader named Chinenye Igwebuike used the FCCPT agency to guide her journey to become licensed in Texas.  She recommended the FCCPT because it is approved in every state and provided a helpful service called the PLAN service. Read her recommendations below:
The first thing will be to go on FCCPT website as a new applicant and pay for any of their primary service that best suits you. My advice will be to send them an email and they can help you figure out the service that best suit your needs. If they find your course work not eligible the next step will be to pay for the PLAN Service, this service allows you to work with an advisor for 6 months. Your advisor will look at your deficiencies and give you acceptable schools to take the remediation courses. After taking the courses you give them the authority to go ahead and re-evaluate your coursework. This step alone can take close to two years.
She also recommends finding someone from your overseas PT program who already completed the required coursework in the US and asking them which courses they needed to complete. Since every foreign PT program is different, the course deficiencies will not be the same from one program to another.
I took 10 courses in total, 8 professional courses as a non-degree seeking student, CPR and a CLEP course. Everything was online except for CPR and CLEP. I took my courses from University of St Augustine, and University of Montana. I can tell you categorically that the University of Montana is one of the cheapest schools out there for a non-degree student.
Once your course work is deemed substantially equivalent, the next step will be to figure out if your state has other requirements to get eligibility. For instance, Texas requires all foreign trained PT to write TOEFL. They also require that you write JAM i.e a jurisprudence exam and go for finger printing. Here is the link for Texas state requirement for foreign trained PT – https://www.ptot.texas.gov/page/foreign-trained-applicants.
3. Pass the NPTE
The National Physical Therapy Examination is a standardized exam you must pass in order to obtain a physical therapy license in the United States. The NPTE is required for both US trained and foreign trained individuals.
Remember, you must first complete the education evaluation process with an approved agency based on the state in which you wish to practice. Once your education requirements have been approved, make sure you've satisfied all of the other requirements listed on the website of the state PT licensing board.
In order to take the National Physical Therapy Examination, you must obtain an ATT letter from the FSBPT. ATT stands for Authorization to Test and is issued once you've met the requirements for the state or jurisdiction you wish to practice. After you have satisfied the requirements of your state, the state will communicate with FSBPT to issue an ATT. This ATT letter (usually sent by email) will provide you with instructions on how to schedule the NPTE at a Prometric testing center. You can also log into FSBPT to check the status of your application.
Tip: You will need either a SSN (social security number) or an AIN (alternate identification number) to register for the NPTE. You can apply for an AIN via the FSBPT website if you do not have a SSN.
Resources for Passing the NPTE
Here are a few articles on the blog about passing the NPTE:
Here is what a foreign trained PT had to say about the NPTE:
NPTE is by far the hardest exam I have taken. The style of questioning is so different from what I am used to. My candid advice to any foreign trained PT is to join a coaching program. I started studying on my own but I quickly became overwhelmed so I asked around and I discovered the best coaching program especially for foreign trained PT called NPTE Final Frontier. They have a structured time table and 3 classes a week where important concepts are simplified. Their course outline is for 3 months
NPTE is a 250 questions exam that is timed for 5hrs 15mins. Pass score is 600/800 which is a scaled score. Personally, I think to be properly prepared for it as a foreign trained PT you might need 6 months of preparation. It's like studying everything afresh if you are foreign trained and this can take some time. The NPTE is particularly more difficult for foreign trained PTs. You have to figure out your strengths and your weakness by practicing questions every day.
I also recommend Therapy Ed, and the PEATs (retired NPTE exams) and definitely a coaching program. It was NPTE Final Frontier for me. They not only give you important material and simplify it for you they also motivate and push you.
Practicing in Different States as a Foreign Trained Physical Therapist
Unfortunately, it is not easy to transfer your physical therapy license to a different state. Since each state establishes individual licensing requirements, you may be required to take additional courses or language proficiency examinations in order to meet the standards of a different state. This is true even if you went through everything in one state – you may have to repeat many of the same steps again.
The process to become a PT in the US is challenging but worth it. Hopefully you found this article to be helpful
Foreign Trained Physical Therapist Documentation 
If English is not your first language, you may find it difficult typing your physical therapy documentation.
It can be embarrassing for many foreign trained PTs because they are good at providing skilled physical therapy, but have difficulty typing their notes.
Use the PTProgress documentation templates to access over 50 pages of therapy note examples with helpful phrases and full text examples.  The templates include full evaluation examples and sample progress notes and daily notes to provide you with the inspiration you need to write better therapy notes. 
Access the entire bundle for 30% off.