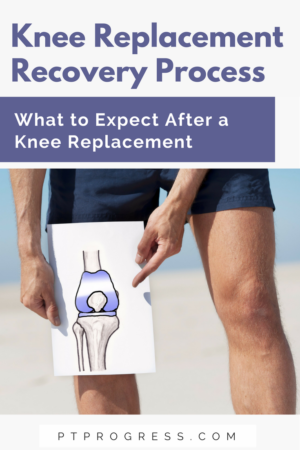 Nearly 1 million total knee replacement procedures are performed in the U.S. each year and that number is expected to continue rising exponentially to over 3 million in the next 15 years!
So it comes as no surprise that the most common joint replacement procedure Physical Therapists rehab in the outpatient clinic is a total knee arthroplasty or total knee replacement.
Many candidates want to know what to expect after a total knee replacement before they choose to have the surgery. Patients usually elect to have this procedure after nonoperative treatment options or knee replacement alternative surgeries fail to maintain knee function and pain levels.
For those patients that do decide to have total knee surgery, keep reading to learn more about the total knee replacement recovery process.
What to Expect After Knee Replacement Surgery
Typically a patient's knee will be swollen, stiff, weak, and sore following surgery. This makes functional activities such as walking and standing up difficult to perform.
The timeline for regaining strength and range of motion after knee replacement is variable. These two elements are key to successfully completing the total knee replacement recovery process.
How Long Does it Take to Recover From Knee Surgery?
The timeline for recovering varies from patient to patient, but typically the rehabilitation process takes 10-12 weeks of therapy to reach goals of achieving range of motion, strength, and performing functional activities such as standing from sitting, walking, and climbing up/down stairs independently – without difficulty or pain.
Hospital Stay
The start of rehabilitation begins in the hospital soon after surgery. Pain levels, range of motion, and strength will be monitored to ensure progress is being made.
Patients will be assessed on day 1 or 2 to determine how much assistance is required with:
Moving in and out of a bed to a chair
Walking (likely with a walker or cane)
Going up/down stairs
Transferring in/out of a vehicle – since you're not walking home!
Discharging home depends on the status of a patient's knee healing, flexibility, and strength.
Patients are often provided with basic, but important beginner exercises to perform while in bed for regaining the necessary straightening (extension) and bending (flexion) of the knee, as well as early mobility to prevent blood clots.
Patients and family will also be educated on managing swelling, pain, and monitoring the incision site for bleeding, blood clots, or infection.
Blood clots can cause lower leg pain at rest in the calf area that is unrelated to the incision site itself and can cause increased swelling below the knee that is painful in the calf, ankle, and foot. Sitting still after surgery can create an environment for blood clots, so performing exercises while sitting or lying down is better than nothing.
Signs of infection include severe pain with or without activity and abnormal redness, tenderness and increased drainage at the incision sight.
How Long Will I Be in the Hospital After Total Knee Replacement?
The length of hospital stay after knee replacement will depend on:
Replacement and incision healing routinely.
Manageable pain levels.
The patient being able to perform bed mobility and walking without requiring someone else doing the majority of the work for them
Help at home from family or friends for activities that will require assistance such as driving, cooking, cleaning, moving in and out of bed, sitting down and standing up, walking, or using stairs
These are important for ensuring a patient is safe to go home. The majority of patients meet these requirements and will be out of the hospital within 1-3 days.
If a patient has delayed healing or limited support at home, they may be a candidate to be transferred to a skilled nursing facility or rehabilitation hospital for 1-2 weeks for further recovery.
Knee Replacement Recovery at Home and Outpatient therapy
It would be nice if a knee replacement was like getting a new car part installed and away you go. The surgery is just the beginning of the knee rehabilitation process.
Swelling, stiffness, and strength are necessary to improve in order to decrease pain and progress therapy to higher level activities. They will be the primary focus of therapy early on to set up the patient for successful rehabilitation. It will take time for the knee tissues to heal and gradual loading to improve strength and flexibility.
Swelling After Knee Replacement
Leg swelling is going to be present after having a knee replaced. Swelling has a significant effect on knee flexibility and the ability for muscles to contract. Think of trying to roll up a full water hose versus an empty water hose.
It is important to monitor, limit, and attempt to reduce swelling as much as possible.

Swelling management strategies include:
Laying down with the surgical leg straight and elevated above the level of the heart with an ice pack for 20 minutes of every hour.
Performing ankle pumps, knee bending and straightening, and moving the hip in all directions every 20-30 minutes will prevent having too sedentary of an environment.
Avoiding having knee in a gravity dependent position or below the level of the heart for too long (i.e. standing or sitting still for prolonged periods).
Wearing appropriate fitting compression stockings or socks may aid in reducing swelling as well.
It is also important to continue monitoring for blood clots and infection, as sometimes the onset of symptoms is delayed and requires immediate medical attention, possibly rehospitalization.
Knee Replacement Range of Motion
Knee swelling will limit knee flexibility, but there is also healing and scarring of tissues to consider that will prevent a knee from bending and straightening. Patients need to slowly improve their flexibility so their knee does not heal stiff, but at the same time not push too much that they are aggravating the recovery and causing more swelling.
The "normal" knee range of motion is 0 degrees of knee extension (straight) to 135 degrees of knee flexion (fully bent). It is not unusual for someone to have 5-10 degrees of hyperextension and knee flexion varies anywhere from 120-150 degrees.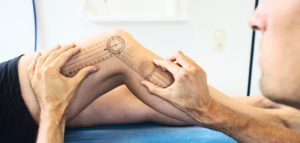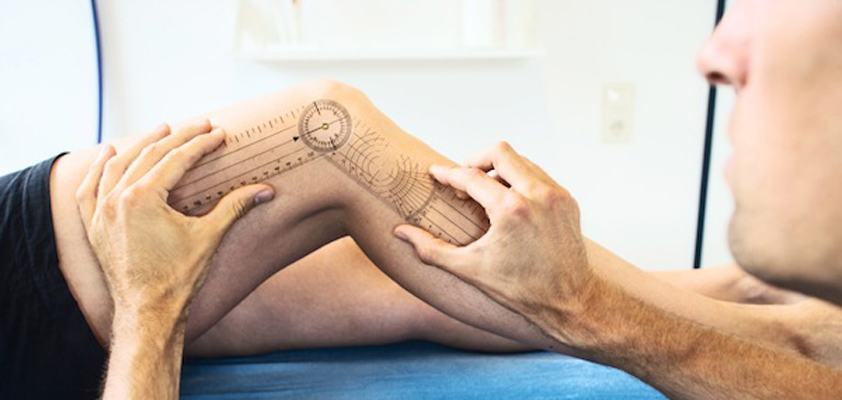 The expected range of motion after knee replacement is 0 degrees of knee extension to at least 115 degrees of flexion or greater, but this can take several weeks or months to achieve. Starting out, the goal is to get the knee to bend to 90 degrees within the first week and then improve 5 to 10 degrees each week after that until full flexion is reached. Again, this timeline is variable from patient to patient.
It is important to achieve full knee extension for walking to feel more natural and have less knee pain. If you don't achieve full extension, it will feel like you're walking with 1 leg shorter than the other.
Knee Replacement Exercises
Strengthening after a knee replacement is just as important as managing swelling and regaining knee range of motion.
After surgery, a physical therapist will guide each patient through total knee replacement exercises. Having a PT provide guidance will be helpful as it can be difficult to engage the muscles of the leg in order to achieve the motion into flexion and extension. As mentioned above, the motion of extension (straightening the knee) and flexion (bending the knee) will be a focus early on with the rehab process. Below is an outline of the exercises you can expect to perform during Physical Therapy.
Knee Extension Stretches and Exercises
Expect to perform a variation of these knee extension exercises:
Quad Sets
Straight Leg Raises
Short Arc Quads
Long Arc Quads
Glute Sets
Supine foot prop
Seated foot prop
Passive Range of Motion
Overpressure
Contract/relax
Seated calf stretch with towel/belt
Standing TKE
Prone TKE
Knee Flexion Stretches and Exercises
Knee Flexion Stretches and Exercises
It is vital to achieve full knee flexion to:
Sit without having surgical leg sticking out (think sitting in a car or airplane)
Bend knee to go up and down stairs or an inclined walkway
Make dressing easier (think putting socks and shoes on)
Ride a stationary or road bicycle
Expect to perform a variation of these knee flexion exercises:
Ankle Pumps
Heel slides
Partial Squats to chair
Seated Knee Bends
Quad stretch
Some patients will use a continuous passive movement (CPM) machine that will repeatedly assist bending and straightening your knee slowly for hours each day for a couple weeks until they have reached a desired range of motion.
Walking After Knee Surgery
As previously mentioned, walking after knee surgery will likely begin the day of or day after surgery in the hospital with a walker or cane. The amount of weight put on the surgical leg is usually as much as tolerated, so using the walker and taking smaller steps can help offload a painful knee. The goal of walking early is to prevent muscles from weakening and to get the knee moving in a normal gait pattern again.
Patients that are hesitant to walk or use the walker as a "crutch" for too long can also delay the recovery process. This goes back to the "as tolerated" concept. If you can tolerate walking without a walker, then walking starts with short bouts until longer distances are comfortable.
When Can I Stop Using a Cane after Knee Replacement?
Within two weeks of surgery, some patients may walk without any device in the morning, but become tired in the afternoon and need the device again. The same concept applies to changing surfaces (carpet, tile, grass, pavement), inclines, or steps. It may be easier to walk in the house on a firm and predictable surface without a cane or walker, but going outside on uneven and unpredictable ground would be safer with an assistive device.
On the other hand, walking without a limp while using a walker will be necessary before moving on to walking with a cane or no assistive device at all. Tossing the walker or cane to the closet too soon can cause delayed recovery and possibly not regain a normal gait pattern.
Almost every PT has had a "strong-opinionated" patient that chose to walk without a walker or cane before the therapist was in agreement and had less successful outcomes in terms of their walking abilities. It is highly recommended that an assistive device is used for as long as needed to achieve the required strength, flexibility, and gait pattern.
This process requires patience and understanding from the patient that every surgery and recovery is different. This means that even though someone they know was walking without a walker after surgery before they are that they are not necessarily behind.
Alternatives to Total Knee Replacement Surgery
There are several different conservative or less invasive options that may be attempted prior to having a total knee replacement.
Injections are often used in an attempt to decrease inflammation, friction, and pain in the joint. Surgical options to consider aim to preserve or restructure remaining tissue and to prevent or put off a total knee replacement.
Physical Therapists provide non-invasive treatment options to improve strength, flexibility, and body mechanics for functional activities to reduce knee pain. PTs can also educate patients on an exercise program for improving body composition.
Life After Knee Surgery
As a Physical Therapist, I've seen firsthand the significant improvements in people following a knee replacement. However, there is no surgeon or PT out there who can 100% guarantee success. There certainly are risks following a surgery and this should be discussed with your doctor. But just as important, you should discuss the expected outcomes with your physician.
Returning to activities such as walking, golf, bowling, swimming, light dancing, and even light tennis is usually encouraged. However, ask your doctor about suggested timeframes for these activities.
Knee replacements have come a long way in the past 20 years and the technology continues to improve. Set your expectations appropriately with your physician and therapist. Here's to hoping your life after knee surgery is full of enjoyment and activity!