The physical therapy assessment portion of a therapy note is the why behind the treatment you provided during that visit.  A great therapy assessment will highlight the necessity for skilled therapy and identify areas that need to be addressed in future treatments.  
Part of your therapy assessment documentation should include a summary of the patient's ability (or difficulties) in performing a specific task.  Relating the treatment back to a functional goal will make for an excellent assessment statement.
Physical Therapy Assessment Documentation Examples
The assessment component of a daily note, progress note, or evaluation can be the most time consuming portion of your documentation.  Let's take a look at the two most common times you'll need to write an assessment: an evaluation and within daily notes.
Physical Therapy Evaluation Assessment Example
Your physical therapy evaluation assessment acts like a quick summary of your findings and answers the question: "why does this person need PT?"
Here is a very simple outline for an evaluation assessment:
Restate diagnosis
Remark on rehab potential
Identify key impairments
State why skilled PT is necessary
Evaluation Assessment Example:​ Patient presents with signs and symptoms consistent with diagnosis of R Hip OA, s/p 1 week post operative R THA. Rehab potential is excellent. Key impairments include: decreased ROM and strength of the left lower extremity, poor balance and compensatory gait patterning, increased swelling, and pain with functional activities such as squatting, walking, and stairs. Skilled PT is required to address these key impairments and to provide and progress with an appropriate home exercise program. This evaluation is of moderate complexity due to the changing nature of the patient's presentation as well as the comorbidities and medical factors included in this evaluation.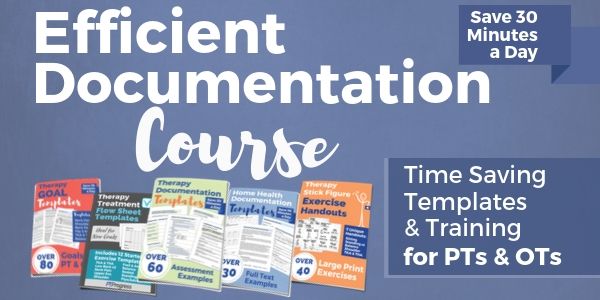 Interested in the full sample evaluation? Documentation templates and evaluation example included in the Efficient Documentation course.
Daily Note Assessment Examples
You don't need to write a paragraph here, but you don't want to be too brief and gloss over important aspects of your skilled assessment. Focus on the key elements you worked on today. If you worked on a lot of balance training, your assessment should reflect the reasoning. It wouldn't make sense to spend the majority of your treatment performing balance and stability training and then talk about soft tissue restrictions for the majority of your assessment. Using the tips below can help you write better documentation in less time.
3 Physical Therapy Documentation Tips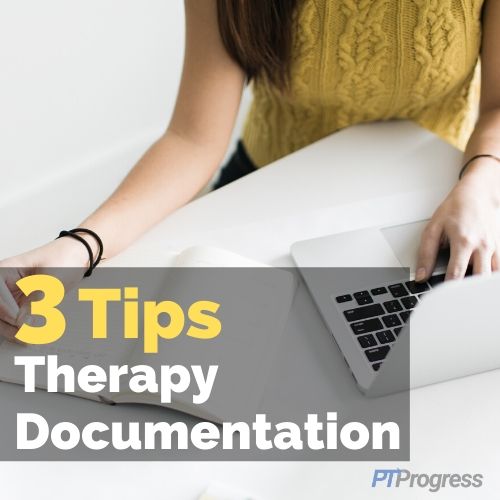 1. Comment on Improvements and/or Impairments
Making a statement on a patient's improvement in strength, balance, or mobility is a good use of space in the assessment. It's also good to acknowledge areas that need continued work. Here's an example:
"The patient is now able to ascend a 4" step but requires the use of both hands for support."
2. Identify Response to Treatment
We've all seen the phrase "patient tolerated treatment well." You should cringe if this is all you see in the assessment section.
The response should include areas such as ability to change movement patterns or posture, physical changes or adaptations during treatment, stability, etc. Here's an example:
"The patient demonstrated poor upward rotation of the scapula with right shoulder flexion. Tactile cues and manual support of the scapula decreased popping in the shoulder."
3. State the Reason to Continue Therapy
The assessment is a good place to argue for the continued care of your patient. Identifying the current improvements, remaining impairments, and your focus for addressing these impairments will make a strong case for continued therapy.
"The patient demonstrates improved balance as noted with ability to stand on a single leg for 3 seconds.  However, he continues to lose his footing while ambulating on uneven surfaces. Dynamic stability training on varying surfaces should aid in the patient's ability to safely navigate different terrains."

60+ Physical Therapy Assessment Documentation Examples?
Sometimes we can get in a 'documentation rut.' After a long day of seeing patients, it may feel like you're lacking the creativity to jump into 'writing mode' to document the treatments you just spent all day performing.
If you see 13 patients in a day, you can easily spend 5 to 10 minutes for each note. Saving even just 5 minutes per patient will reduce your documentation time by over 1 hour a day.
The assessment templates we've created will provide you with the format inspiration that you need to craft well written assessments in record time.
Take a look at the 60+ therapy assessment documentation examples below that will save you mental fatigue, time, and also help you to craft well written assessments that reflect the skilled care that you provide.
See the template image below or click here.