I've been using TurboTax for the past 12 years and have enjoyed finding the best discounts for TurboTax each year. As a way to organize the top TurboTax service code offers and TurboTax coupon deals, I've compiled a list for reference. Below are the best Turbotax coupons for 2019 and 2020 that I've been able to find online.
TurboTax Discount *Update*
As of 1/20/2020: $20 Coupon + Free Federal and State File from TurboTax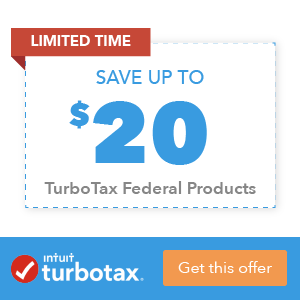 TurboTax is running a new promotion that offers FREE Federal AND State filing.  In past years, they have charged between $14.95 and $29.95 to file your state returns. But for 2020, you can file your 1040EZ/A  FREE for Federal and State with the free edition or get $20 off a paid product.  This deal is good through 2/17/2020; I will update this page if an extension is made.  
$10-20 Off TurboTax Service Code and Coupon for Tax Year 2019-2020
Exclusive TurboTax Deal: Get $10-20 Off Below
TurboTax Bank of America Discount:
Bank of America has provided discounts for TurboTax in the past, but they no longer provide this discount. With the newest $10 – $20 discount applied from TurboTax, it's actually a better deal that the old discount from Bank of America.
* Fidelity, USAA and Progressive Insurance are known to provide discounts for their members. However, the $10-$20 off discount is usually much better than the smaller 10-15% discount often seen with these companies.
The discounts listed above are based on the latest deals from TurboTax, most updated 12/30/19. Offers are subject to change and may be discontinued at any given time.
Which TurboTax Product Should I Use?
One of the reasons I like to use TurboTax is that it guides you to select the appropriate product based on your needs. For example, if you are a student who needs a basic tax return, you don't need the Premier version. For someone who owns a house and started a business on the side this year, TurboTax will guide you through the questions that help you decide between the Premier and Self-Employed option.
How much does TurboTax cost in 2019 and 2020?
TurboTax Plans and Pricing
TurboTax has 5 editions:
TurboTax Free – Cost is $0 + $0 for each state return

TurboTax Deluxe – Cost is $40 + $40 for each state return

TurboTax Premier – Cost is $70 + $40 for each state return

TurboTax Self-Employed – Cost is $90 + $40 for each state return

TurboTax Live – Cost is additional $50 to $80 per edition plus $50 for state return
However, a $10-$20 coupon will drop these prices to $30, $50, and $70 for the deluxe, premier, and self-employed options.
Federal Free Edition
Turbotax Free Edition – Use the Turbotax free edition for simple tax returns (1040EZ and 1040A). A must for students or new grads.
Is TurboTax really free? Yes, you can file a simple federal and state tax return with Turbotax for free if you only have the following situations:
W-2 income

Limited interest and dividend income reported on a 1099-INT or 1099-DIV

Claim the standard deduction

Earned Income Tax Credit (EIC)

Child tax credits
If you have educational expenses or student loan interest to claim, you'll want to use the deluxe edition for $30.
Turbotax Deluxe Edition
Turbotax Deluxe – Most Popular. This version is great if you own a home or want to deduct your charitable donations or student loans.
Use the deluxe edition if you meet these criteria:
Deduct student loan interest & educational expenses

Deduct charitable donations

Mortgage or property tax
The Deluxe edition will come with all the features of the Turbotax free edition, and searches for over 350 deductions you may qualify for.
If you're self-employed or own rental properties, you'll want to use the premier or self-employed option.
Turbotax Premier Edition
Turbotax Premier Edition – This version includes everything from the Deluxe and is great for those with investments, rental properties, and for those who refinanced their home recently.
You'll want to consider the Turbotax premier option if you meet the following criteria:
Own stocks/bonds within an investment account

You have rental property income

You've refinanced your home this past year

Reporting gains/losses of cryptocurrency on taxes
Some investment firms can connect directly to TurboTax to allow easy transfer of your tax forms – super helpful if you choose this package.
Turbotax Self Employed Edition
Self Employed – As it sounds, this version is for people who are are independent contractors, freelancers, and business owners. This version helps you in deducting mileage, home office, and business expenses.
You'll want to consider the Turbotax self-employed option if you meet the following criteria:
You need to file a Schedule C,

Import expenses and vehicle mileage from Quickbooks,

Need to report 1099-MISC income
TurboTax Live
This newest product from TurboTax provides you with a one-on-one review of your taxes with a CPA or EA tax professional. It includes the 100% accuracy guarantee.
Each version of Turbotax can include the TurboTax Live feature, connecting you with a CPA and EA for unlimited guidance to answer questions you have.
The Turbotax Live option provides you with year round guidance, so you can connect with a tax professional anytime, a really nice feature.
Turbotax Live Pricing
You will pay a premium for this feature, ranging from an additional $50 to $80 depending on the plan you choose.
For a small business owner who is trying to save money but also values the expertise of a CPA, it's a surprisingly affordable option to know a CPA is reviewing your tax return for just $80! Most accountants and tax lawyers won't answer the phone for less than $150!
TurboTax Coupon vs TurboTax Service Codes 2020
The coupon below is simple because the discount is applied directly through the link.
TurboTax has set up specific pages where the coupons automatically apply. Most discounts are automatically applied when you click on a link or coupon similar to this one:
Top 5 TurboTax Service Code Deals (from 2018, 2019, and 2020)
1. TurboTax for Military – TurboTax has long offered a discount for the military. In fact, you can file for free if you are a service member in ranks E1-E5. If you need the premier features, you are eligible for a discount as well.
2. Student Discount TurboTax – Not only can students use TurboTax to file for free, they can use the guided features to maximize their student tax credits and deductions. Whether you are a grad student or an undergrad, you can save money on TurboTax with the latest discount. As of now, it's $10-$20 off depending on the option you select.
3. Costco TurboTax Deal – If you are a member at Costco, you can save money this year when you purchase TurboTax in the store. Yes, they still offer TurboTax in a box! Combine your purchase with the latest promotional deal from Costco for new members (a $20 reward) and apply that towards TurboTax for an even sweeter deal!
4. Uber or Lyft TurboTax Offers – As of now, the $10-$20 off deal is still the highest discount for drivers who want to use TurboTax. If you worked as a ride share provider, you're best off using the self-employed TurboTax option as you'll be able to take advantage of certain deductions and credits.
5. AAA Discount on TurboTax – By far the best discount on TurboTax has been AAA over the past few years. However, this will depend on your region. For some reason, the $20 discount is offered in certain regions only. Even if you don't qualify for a AAA discount, you can still file free and use the latest discounts to save on the cost of TurboTax.
What about an AARP TurboTax Discount?
AARP TurboTax Discount – As an AARP member, you can get access to hundreds of discounts on services. Many people wonder if there's a specific AARP TurboTax discount, but they do not offer one as of 2020. But that won't keep you from getting the best deal when filing your taxes. You can still use the free file option or save a good percentage with the latest TurboTax service code and promotion.
What is a TurboTax Service Code?
A TurboTax service code applies a discount to your TurboTax product. Sometimes employers provide service codes for TurboTax. You may also get a TurboTax service code from a company like AAA or USAA. You can add the TurboTax service code directly in your cart when you select the product. The following $20 coupon is the best discount provided.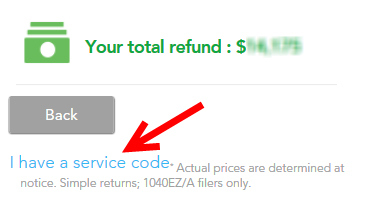 Enter your service code and click "continue"
Why isn't TurboTax Discount Working?
Sometimes the big name coupon sites will list out multiple 'coupons' but none of them actually lead to a page.
Other times, you may be trying to access a TurboTax landing page through a specific offer, but cannot see the page because you are already logged in.
I recommend logging out of your current page with TurboTax and referring back to the discount page that you are trying to reference.
Here's an example: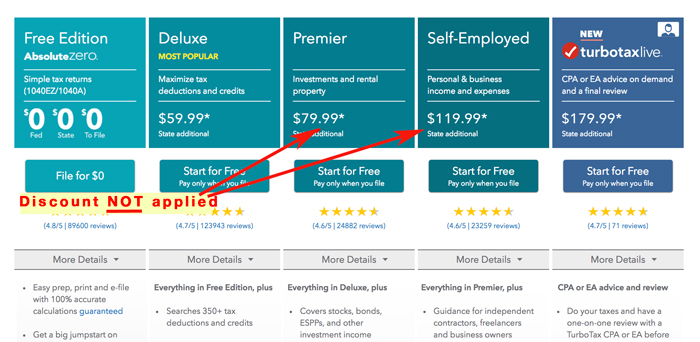 Log out of your account.
Click on the desired

TurboTax coupon link

on our site
View the new page with updated discount: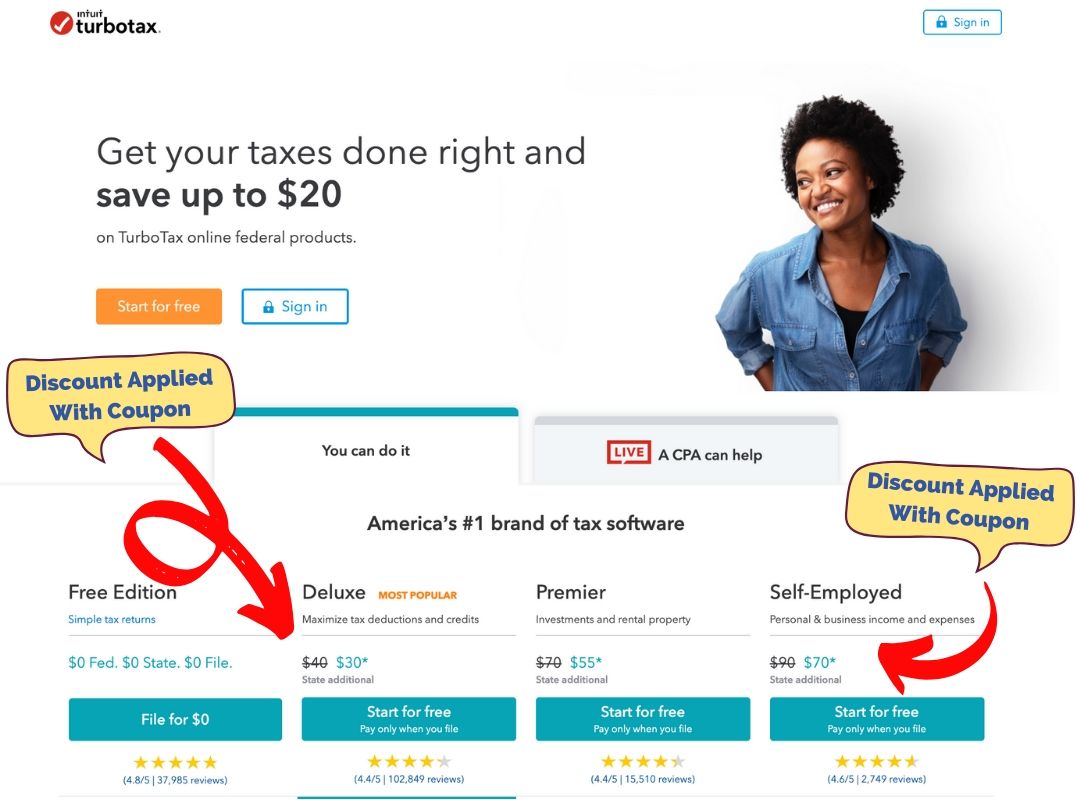 Start Preparing Early
My best advice for those looking to file their taxes is to begin the process early. The deadline is April 15th this year, but you can and should start your return now.
Using the $10-20 Off Coupons, head over to TurboTax and sign in while the discount applies. You'll be able to add your tax information as it arrives and the discount should still apply!
Frequently Asked Questions
TurboTax Service Code Reddit
In 2018 a user on Reddit posted how they were able to get a Turbotax service code of $20 because they complained about a price discrepancy. For 2020, a $10 to $20 discount can be applied to all Turbotax products.
Is Turbotax Really Free
Yes, you can file a simple federal and state tax return with Turbotax for free if you only have the following situations: W-2 income only, limited interest and dividend income reported on a 1099-INT or 1099-DIV , you claim the standard deduction, Earned Income Tax Credit (EIC) – Child tax credits. If you have educational expenses or student loan interest to claim, you'll want to use the deluxe edition for $30.
Happy tax filing!