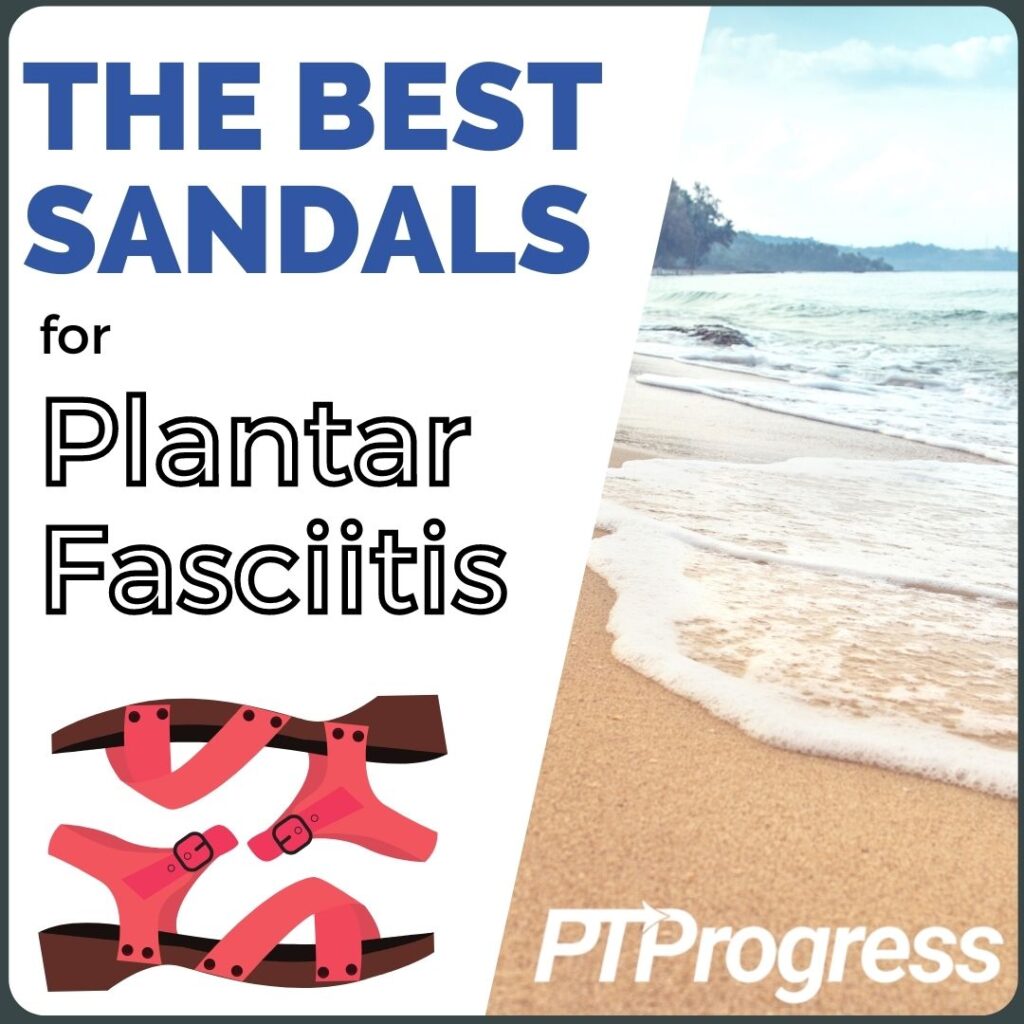 As the weather warms up, windows open, and winter sweaters are stowed away, you might find yourself reaching for last year's pair of sandals. But if you have a new case of plantar fasciitis, those flip-flops might not give you the support you need. The best sandals for plantar fasciitis are comfortable, molded, and made to outlast your summer adventures.
What is Plantar Fasciitis?
Characterized by stabbing heel pain, plantar fasciitis is a disorder of the muscle tissue that spans the bottom of your foot. This condition is extremely common, affecting 1 out of every 10 adults.
You may find that your plantar fasciitis pain is worse in the morning or when you get up after sitting or lying down for long periods of time. A sudden onset of high-impact activities, such as running, jumping, or hiking – particularly in ill-fitting shoes – can worsen your plantar fasciitis.
How to Treat Plantar Fasciitis
You can treat and prevent plantar fasciitis with careful stretching and exercise. Other lifestyle changes, such as weight loss and posture recalibration, can also make a big difference in your heel pain.
Watch your Footwear
Your footwear plays an important role in aggravating or ameliorating your plantar fasciitis. If you stand in flat shoes all day, your heel pain will feel much worse. To distribute your weight and better support your heel, wear shoes that have a well-padded, molded footbed, sufficient arch support, and a deep heel cup.
So what about those flip-flops you wore last season? Look, no one's saying you have to wear orthotic sneakers all summer long and earn a shoe tan. It's possible to find supportive sandals for plantar fasciitis, and I encourage you to wear them so long as they meet the right criteria.
Look for sandals that are:
Comfortable: well-cushioned, and not a flat piece of foam.
Supportive: a molded footbed, with arch support and a deep heel cup.
Durable: able to withstand water, sand, chlorine, or other elements that characterize your summer season.
You might even find a pair of flip-flops that fit this bill! Just make sure, whenever you try new footwear, that you give your heels time to adjust. I recommend breaking in the new shoes slowly over a couple weeks.
Best Sandals for Plantar Fasciitis Pain
Whatever your style or summer adventure, there's a supportive sandal out there ready to relieve your plantar fasciitis pain.
Unisex Sandals
One of the best-loved brands for outdoor footwear, Birkenstock's Arizona sandals are the paragon of supportive shoes. With an EVA-molded footbed, roomy toe box, heel cup, and arch support, these sandals are perfect for plantar fasciitis.
This classic style features 100% suede leather and sustainable cork oak. If you can't find a sandal you love out of the 170+ colors available, we need to talk.
Buy on Amazon for ~$100 (prices vary).
If you have plantar fasciitis, definitely pass up those cheap flip-flops for sale in your local supermarket or convenience store. However, you can keep your feet a-flip-flopping this summer with the Cascade sandal from Nuusol. Featuring a contoured footbed and a deep heel cup, these waterproof flip-flops defy the shoddy-shoe stigma. Best of all? They're made in the USA.
Buy on Amazon for $35.

3. Crocs LiteRide Slide
Maybe you prefer to slip on your shoes but dislike a toe post. These slide sandals by Crocs are the perfect fit, offering a soft, cushioned insole supportive enough to relieve plantar fasciitis pain. They're waterproof, too, so you can treat them like any other pair of Crocs and wear them everywhere.
Buy on Amazon for $40.
4. KEEN Newport H2
Another sought-after brand, KEEN offers sturdy support and lightweight construction for an all-over summer sandal. I personally own these and love wearing them for hiking and doing anything outdoors. Their coined "metatomical" footbed is designed to cushion your toes and relieve pain. A water-friendly, support-ready shoe, these sandals are ideal for the outdoor enthusiast who can't decide between a trail or a beach. 
Buy on Amazon for ~$90 (Women's and Men's; prices vary). 
Women's Sandals for Plantar Fasciitis
For a decidedly feminine feel, these sandals offer prime plantar fasciitis relief without compromising on style.
1. Vionic Lupe Sandals 
Vionic is a popular brand among plantar fasciitis patients because their 3-zone insole ticks all the boxes for a supportive, comfortable shoe. These Lupe sandals dress up the Vionic insole in buckled leather straps, available in 4 colors. Besides looking stylish, these sandals will have you feeling great all summer, considering they're accepted by the American Podiatric Medical Association (APMA).
Buy on Amazon for ~$116 (prices vary). 
2. NAOT Kayla
The three-strap Kayla sandal from NAOT is also APMA-accepted, and for good reason: the comfy cork-and-latex footbed molds to your foot to provide ideal support all summer long. Unlike most shoes, the longer you wear these sandals, the more comfortable they'll become. You won't want to take them off, so it's a good thing they're stylish enough to suit both casual and dressy events.
Buy on Amazon for $140.
For another supportive flip-flop, check out Spenco's beloved Yumi sandal. This thonged shoe features high arch support, a deep heel cup, and flexible cushioning throughout its EVA molded footbed. The APMA gave these the seal of acceptance, so all you have to decide is which color you like best.
Buy on Amazon for $50.  
Men's Sandals for Plantar Fasciitis
Whether you're trail-blazing, road tripping, or just trying to stay cool, pamper your plantar fasciitis this summer with a pair of these sandals.

One of the most comfortable sandals on the market, the Orthofeet Cambria provides anatomical support and ample heel cushioning in a carefree, adjustable sandal. Make these your primary pair of summer sandals and you'll be set for the season. Made with rubber soles and leather uppers, these shoes are suitable for long walks in the sun or rain.
Buy on Amazon for $120.
It's hard to beat the comfort, support, and durability of the ECCO Yucatan sandal. This lightweight sandal features nubuck leather straps, a rubber sole, and a microfiber-covered footbed for excellent arch support and heel stability. Reviewers swear these are the best shoes they've owned, standing up to years of wear and tear.
Buy on Amazon for ~$115 (prices vary). 
You can't go wrong with OluKai. This Hawaiian-based activewear company handmakes every shoe with comfort in mind. Many of their hydroponic sandals offer high arch support, and all feature OluKai's signature anatomically-molded footbed. Whether you prefer a toe-post flip-flop or a casual slide, OluKai's line of men's sandals is the epitome of high-quality summer footwear.
Buy on Amazon for $120 (flip-flop) or $80 (slide).
Sandals for Plantar Fasciitis
Maybe the shoes on this list are pricier than what you'd find in the bargain bin at your local big-box store. But a supportive and durable sandal is well worth the expense.
Summer is rough on feet, and if you have plantar fasciitis, the last thing you should skimp on is proper footwear.
Besides wearing the right shoes, consider addressing your plantar fasciitis with the at-home treatment routine I recommend to my patients. You can also help treat plantar fasciitis pain at home with a deluxe foot and calf massager.