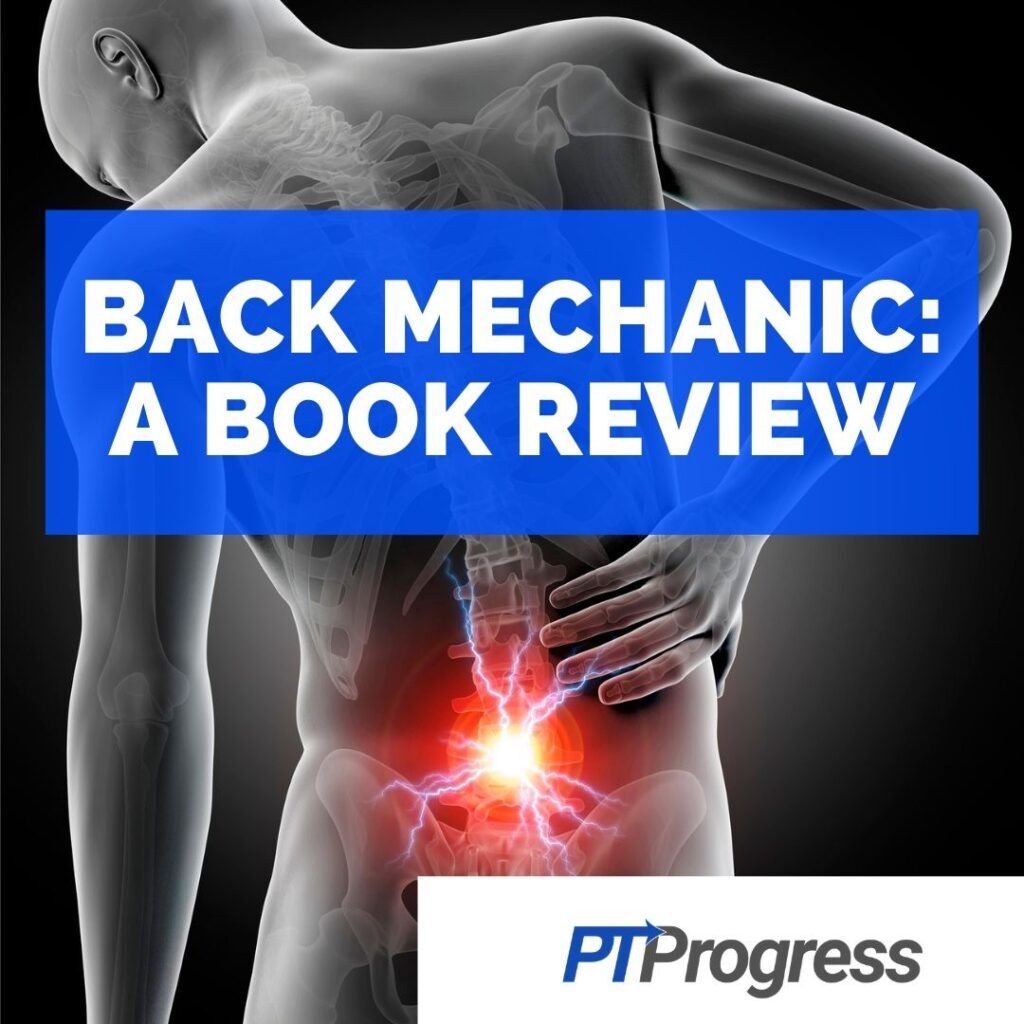 If back pain is a frequent problem in your life, you need to check out a book I recently read. The full title is Back Mechanic: The Secrets to a Healthy Spine Your Doctor Isn't Telling You by Dr. Stuart McGill. Keep reading if you want my physical therapist review of this book and the lessons it teaches.
When You Need a Tune-Up
The premise of Back Mechanic is clever. If your car was acting up or not running well, you'd promptly take it to a mechanic. But you might have trouble finding the right mechanic – one that's trustworthy and not going to bill you for work you don't actually need.
Unfortunately, healthcare isn't much different. Although the problems you bring to your doctor are real, the answers are sometimes unhelpful, needlessly expensive, or just plain wrong. But giving up and ignoring the issue won't solve the problem either.
The point of this book is to equip you to be your own Back Mechanic. You'll learn the mechanics of your back, why it may be out of whack, and what you can do to fix it yourself.
The Original Back Mechanic: Dr. Stuart McGill
Dr. Stuart McGill is a Professor Emeritus at the University of Waterloo in Ontario, Canada, and he specializes in back pain. In fact, this is not his first book on back pain.
McGill has published multiple textbooks and over 240 peer-reviewed scientific articles. A spine specialist, he has given countless lectures on low back function, injury prevention and injury rehabilitation. He's still actively treating patients in his clinic Back Fit Pro.
I say all this to assure you: this guy knows what he's talking about. His book is a distillation of years and years of research, presented in a way that's easy to understand for the everyday person.
Despite McGill's prodigious career, this book is a fairly quick read. Its 150 pages are spread over 17 chapters and peppered with illustrations and pictures.
The structure of the book unfolds in 4 distinct sections, which I'll explain below.
Section 1: Myths About Back Pain
The initial part of the book addresses some common myths about back pain: what helps, what doesn't, and everything in between.
I love that he started with this. You get a sense that he's heard it all: every story in the proverbial book, every supposed reason for back pain or allegedly unsuccessful treatment. If you lament that you'll never be able to get rid of your back pain, trust McGill – you're not alone.
He addresses these issues, myths or not, head-on. There's no fluff or unnecessary intro; he just gets right to the point. And although I don't think he's trying to pick a fight with any doctor, physical therapist or chiropractor, he's certainly unafraid to call them out for prescribing things that really don't help.
For example, some physical therapists treat back pain by performing ultrasound on the back, which does absolutely nothing. A chiropractor may perform a manipulation – and then book you for 3 manipulations a week for the next 6 to 8 weeks. It's a cookie cutter approach that doesn't actually fix what's wrong.
These tactics might placate your pain in the moment, but they won't treat your back pain because they don't address the true cause.
Section 2: How to Identify Causes of Back Pain
But the author doesn't leave you with the problem; he offers a solution, one which none of your providers has likely given. Section 2 explains how you can identify the cause of your back pain, using 8 really easy self-assessment tools.
A self-assessment generally entails some sort of movement. McGill teaches a simplified back assessment, broken down into 8 movement tests any reader could do.
At the core of all of these movement tests is a focus on identifying the movement patterns that contribute to the cause of your back pain. There's always something that's causing your back pain, and almost always a way to correct the movements that are contributing to the problem.
Getting to the Root of the Issue at Home
As a physical therapist, I agree with this approach 100%; it's what I tell my patients as well. You have to take ownership of your back pain at home.
Suppose you're prescribed 30 to 60 minutes with a PT a few times a week. That's not going to do anything for your low back if you go home and continue the horrible movement patterns that caused the pain in the first place.
What do I mean by "horrible movement patterns"? They're simply daily habits that compromise your posture or strain your back.
For instance, not accommodating your back when you reach to put on your shoes; sitting without the right amount of curve in your lumbar spine; or not using proper abdominal bracing to achieve healthy trunk stability. If you have chronic back pain, you are probably guilty of at least one of these movement patterns.
But don't worry; McGill explains all of these issues in a way that's easy to understand. Plus, he provides the reader with helpful techniques for making a true assessment and finding the root of the pain issue.
Section 3: Repairing the Back
The third part of the book is all about addressing the problem. Now that you know what movement patterns are contributing to your pain, you can do something about it – something that will actually make a difference in your everyday life.
There are two goals for repairing back pain: 1) uprooting the cause of pain and 2) building a resilient back. Both of these goals contribute to your overall spine health, which Dr. McGill calls "spine hygiene."
Maintaining Good Spine Hygiene
I really like this phrase, "spine hygiene." McGill defines spine hygiene as "sparing your back" in all activities during the day.
This concept is reiterated throughout the book because, from my experience, back health requires maintenance – daily attention. The concepts in this book are not difficult to understand, but if you don't take them seriously and commit to small, everyday changes, you'll struggle to reduce your back pain.
Although spine hygiene does require a mindset shift, it's not theoretical only. McGill gives the reader "The Big 3": exercises you should perform every day, with deliberate consistency, to rebuild a healthy back. These exercises are explained in careful detail in the book, so I'll review them in a future post.
Section 4: Ensuring Optimal Performance
Finally, the last section of the book covers a myriad of "fine-tuning" topics. Once you've removed pain and established spine hygiene, the next steps are about resuming an active lifestyle. McGill rounds out this chapter with some case studies and exercises for specific back pain issues, such as sciatica and stenosis.
The author is a spine specialist, and he has addressed innumerable cases of back pain in his illustrious career. McGill's program is by no means a one-size-fits-all, and in the final section of the book McGill provides helpful answers to specific questions from real people.
Take Back Ownership of your Health
No one out there cares more about your back pain than you do; nor should they. It's your back, and your quality of life at stake. Take ownership of your back pain, commit to these steps outlined in McGill's book, and get back to doing basic things without that nagging back pain.
In sum, if you're tired of having specialist after specialist prescribe medication and stretches that lead to nowhere, you must read the Back Mechanic.
Back Pain Guru: Some Thoughts
After reading this book, my initial impression was, "This guy is kind of like the Dave Ramsey of back pain." In many ways, this book reminded me of Total Money Makeover by Dave Ramsey. It's easy to understand, it's presented in a well thought-out format, and it's proven to show results.
Most of all, though, both books emphasize the importance of daily commitment to small change. Great information aside, it all comes down to your resolve and discipline. If you want to see results, you must change your behaviors and implement these simple exercises into your daily routine.
Whether you're broke financially or bent over with back pain, your situation won't improve until you resolve to change your daily behavior. When it comes to back pain, that means thinking about even the smallest movements, and the alignment of your spine with those movements.
It's just like the tires on your car. Even the smallest misalignment has a huge impact on the lifespan of that tire and how quickly it will wear out.
So if you've been to chiropractors, doctors and physical therapists and still have back pain, then I believe Back Mechanic will be worth your time and money. And don't merely read it; make an investment in yourself and actually follow through with the step-by-step approach that Dr. McGill recommends.