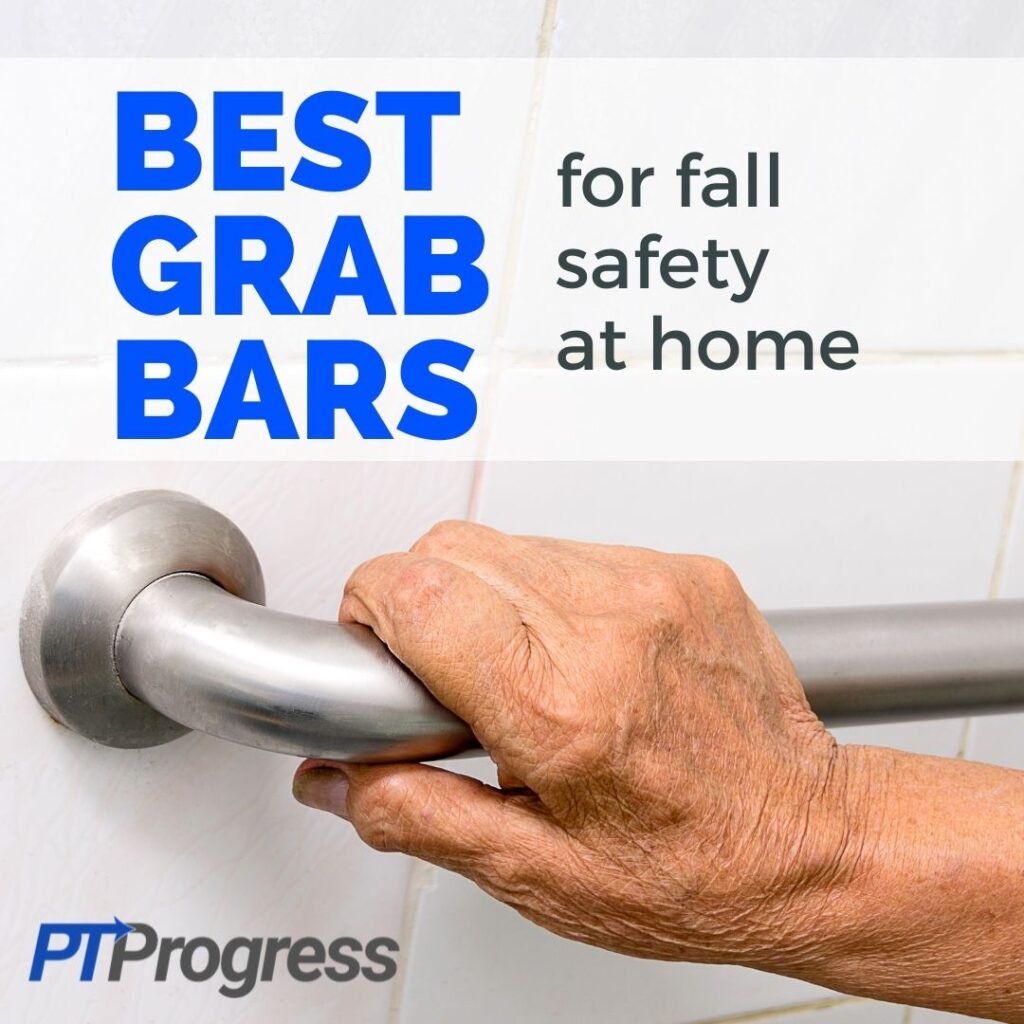 The statistics on house falls are scary – nearly 1 in 4 adults over age 65 fall each year. Most of these falls occur in the bathroom, where slippery surfaces, loose rugs, and a cumbersome tub challenge your balance.
You can stack the odds in your favor by making the bathroom safer. A walk-in shower or tub can greatly reduce the risk of falls. But even smaller upgrades, such as installing grab bars near your shower and toilet, will significantly improve your bathroom safety.
You'll find innumerable grab bars for sale online and in many big-box stores, with a wide range of prices and promises. But don't leave your safety to guesswork. Below I've compiled some of the best-rated bathroom grab bars – ones that guarantee a safer experience at home.
Types of Bathroom Grab Bars
There are two main types of bars: mounted bars or suction-cup bars. The difference between them is extremely important.
Mounted Bathroom Grab Bar
A mounted grab bar is a permanent fixture, drilled into the drywall or through the ceramic tile in your shower. If the grab bar is mounted into a wall stud, it can bear weight, usually up to 500 pounds.
Things of note:
In order to be weight-bearing, grab bars should be mounted directly into wall studs, so make sure you buy grab bars long enough to line up with your studs.
Installation can be tricky – especially if you're mounting them through ceramic or vertically. You may need to hire a technician to ensure a stable installation.
The damage to your tile or wall is permanent, which may not be permissible if you rent, and could be a pain to fix when you move.
But despite these drawbacks, a mounted grab bar is your best bet for bathroom safety. If you need a sturdy handle to help you up out of the tub, or something to lean on to catch a fall, get mounted grab bars.
Suction Cup Grab Bar
For an easier installation experience and a temporary fix, you might decide a suction-cup grab bar is sufficient. This fixture usually requires no hardware, instead using strong suction to adhere to a smooth, clean surface.
One advantage to suction-cup bars is that you can easily remove them, either to adjust the placement as your needs change or to take them with you on vacation. However, suction-cup grab bars are not weight-bearing.
Things of note:
Suction cups will seal only over extremely flat, clean, non-porous surfaces.
Do not place suction cups over a grout line; this will compromise the seal of the suction.
Always check for a good seal on the grab bars before using them.
Suction-cup grab bars are not as reliable as a professionally-installed grab bar secured into the wall. Don't trust your health or the safety of a family member to a piece of plastic and rubber. The cost of installing a secure grab bar is much less than the time and money spent recovering from a fall or hip fracture caused by faulty suction cups.
Although a suction-cup grab bar may be appealing for some reasons, I recommend a wall-mounted grab bar for most cases of bathroom imbalance.
Best Mounted Grab Bars for Safety
The best way to make your bathroom a safer place, permanently, is to install mounted grab bars.
What's nice about a mounted bar is that, as long as it's installed properly, you can just "set it and forget it" – no need to fuss about checking the seal or re-adjusting it. It's not going to budge, and that's precisely what you want.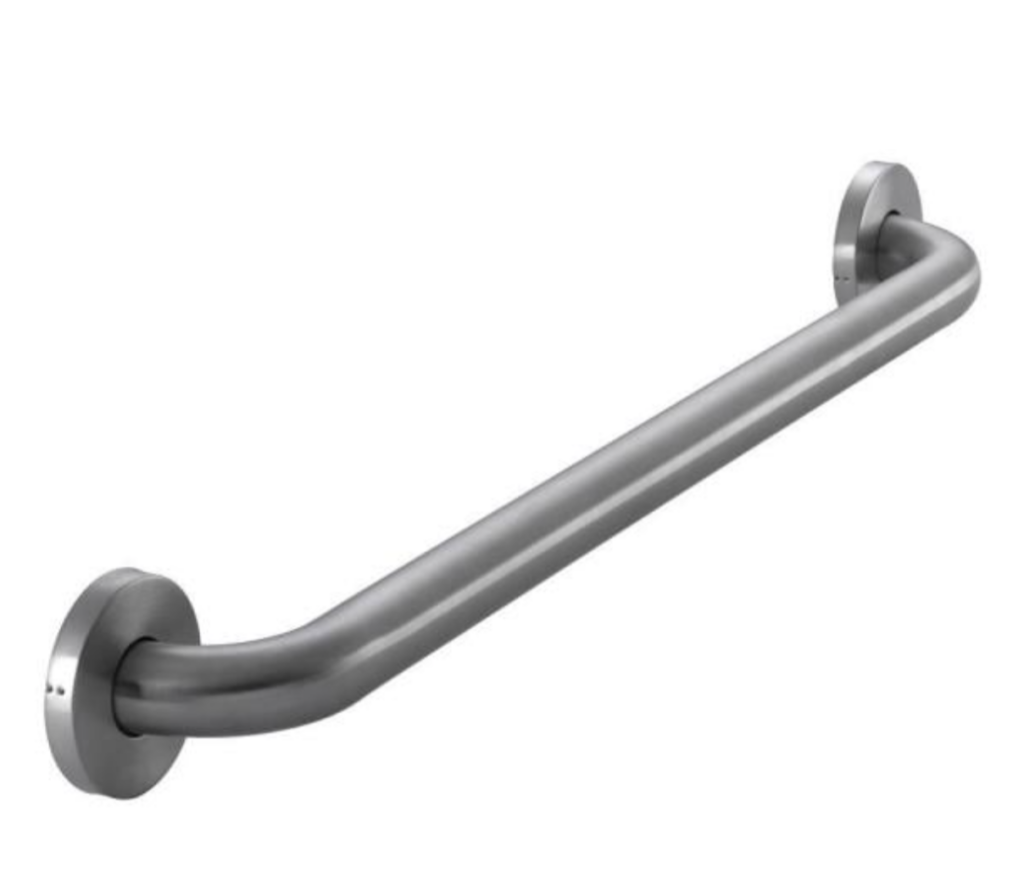 Recommended by 1200+ happy, safe customers, these Glacier Bay grab bars couldn't be more highly reviewed. You can select from two different diameter widths for a larger or smaller grip. Lining up the hardware with your wall studs should be no problem, since these come in a range of lengths.
Although some customers may prefer the smooth, stainless steel finish, Glacier Bay offers a "peened" version. This textured finish prevents a slippery grip, especially if the bar is likely to get wet (in the shower, for instance).
Most importantly, these grab bars exceed ADA compliance and can bear up to 500 pounds of weight if installed properly.
Steel: Stainless or Peened | 1.25" or 1.5" in diameter | 18", 24", 36", or 42" in length | Hardware Included | $25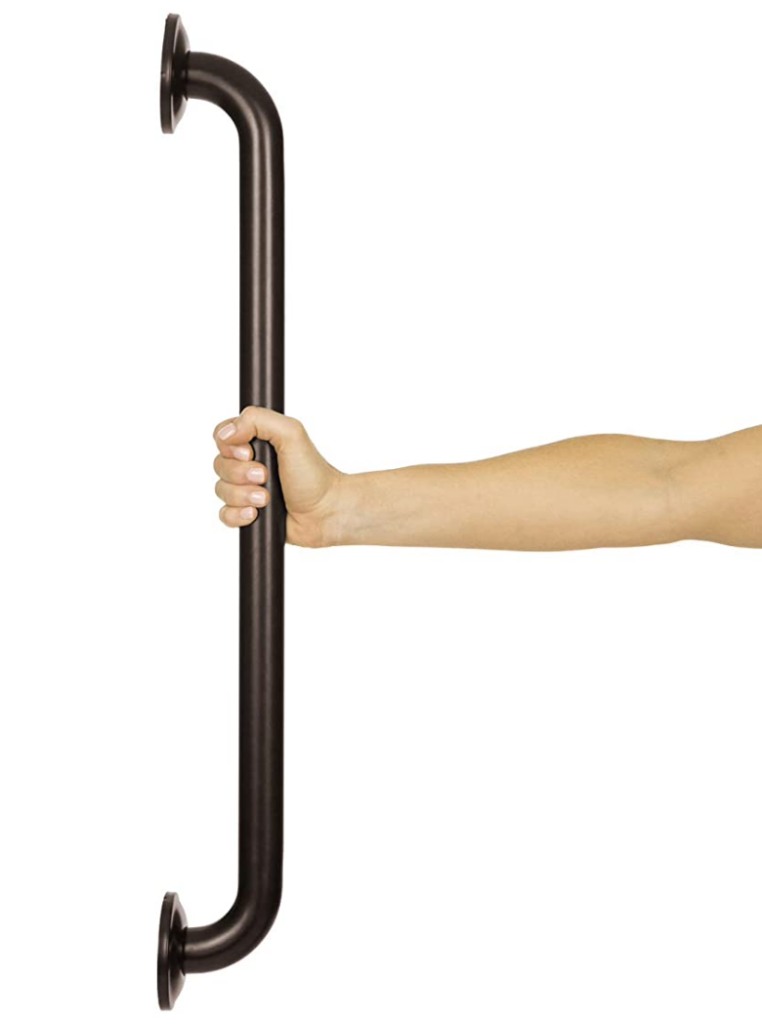 Maybe you like the stability of a grab bar but dislike its steely appearance. Vive's grab bars come in a few different colors, so you can coordinate your new hardware with your bathroom's existing aesthetic. If it's going to be permanent, it might as well be pretty, right?
Reviewers love that the bars are easy to install – in fact, the hardware is included (although you may need additional hardware if installing on ceramic tiles).
Capable of bearing up to 500 pounds of weight, these bars will surely stand up to constant use. And if not, Vive offers a 60-day money back guarantee.
Steel: Brushed Nickel, Black, Black Satin, or White | 1.25" in diameter | 12", 16" or 24" in length | Hardware Included | $32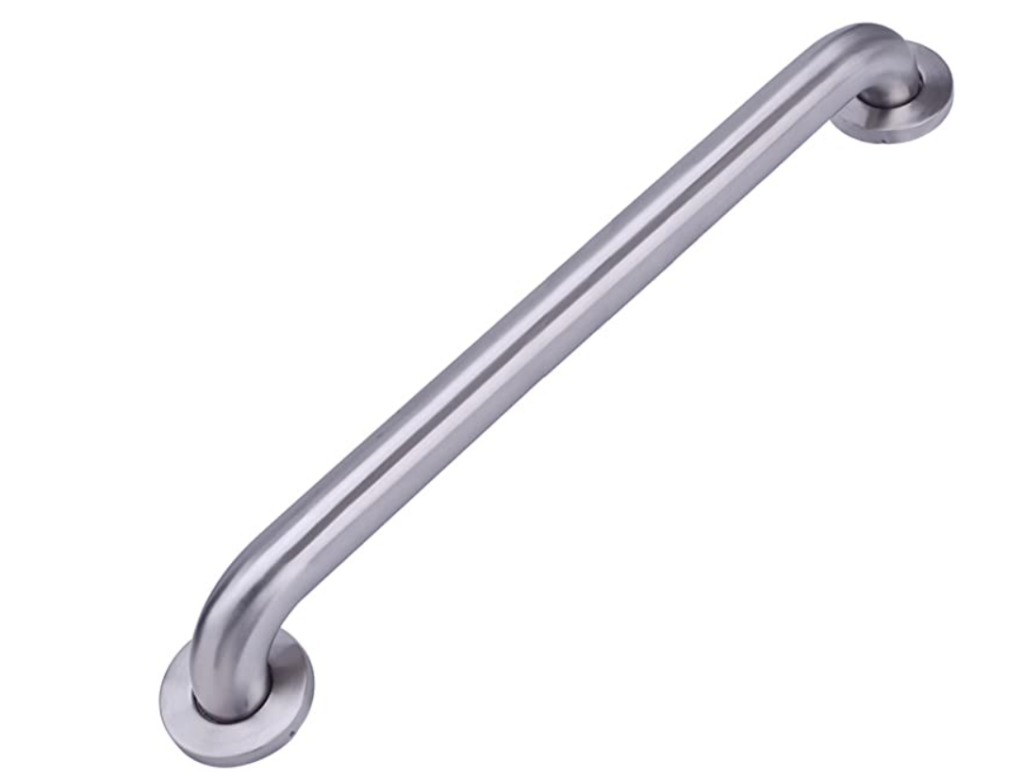 If you're just looking for something basic, Amazon's got you covered. Their bathroom safety grab bar offers the same security as any other – up to 500 pounds of weight-bearing support.
Although this grab bar comes only in simple stainless steel, you'll be able to choose from 5 different lengths, perfect for lining a stand-up shower.
Reviewers mentioned that installation was simple so long as the bars were horizontal. A vertical installation may require professional help and a long drill bit. In general, I recommend hiring a professional to install these safety devices, no matter their direction.
Steel | 1.25" or 1.5" in diameter | 16", 18", 24", 36", or 42" in length | Hardware Included | $29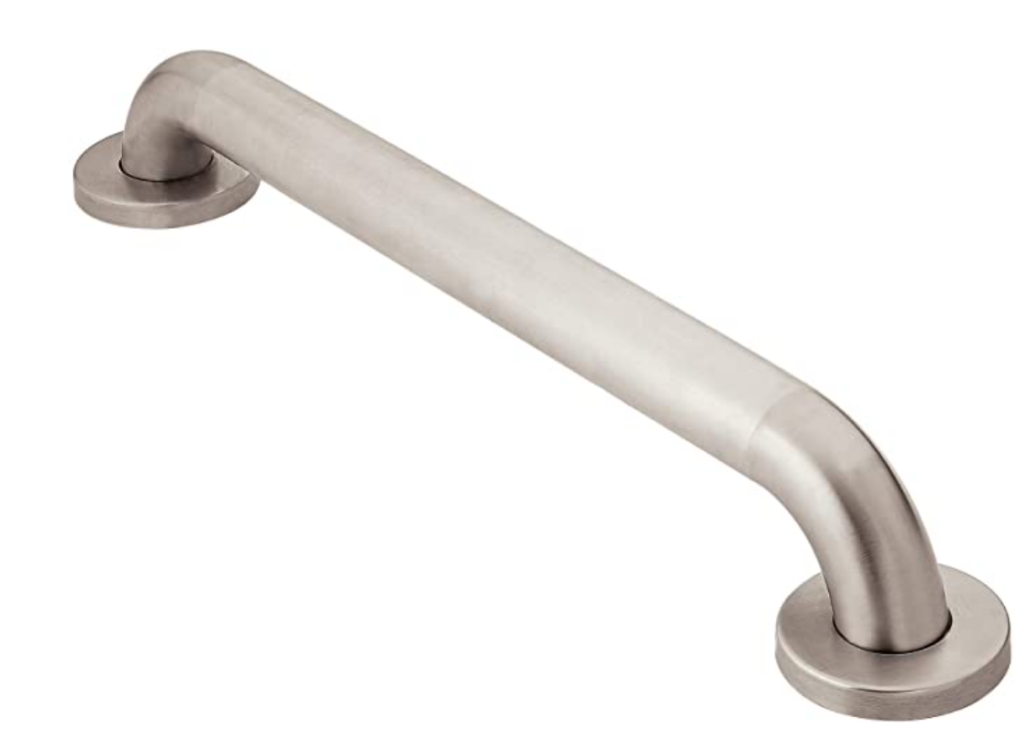 Of the products on this list, the Moen Safety Grab Bar had the highest percentage of 5-star reviews. With over 3,000 recommendations, you can feel safe reaching for this grab bar.
Moen is an outstanding choice not just for its acclaim but also for its variety. Between the 7 lengths, two colors, and two textures, Moen's grab bars will seamlessly support your bathroom's needs, both spatial and aesthetic.
Finally, these grab bars withstand up to 500 pounds of weight when installed on studs. And if for some reason you can't use your wall studs, the separately-sold Secure Mount anchors will help you achieve that same 500-pound peace of mind.
Steel: Polished, White or Peened| 1.5" in diameter | 18", 24", 30", 32", 36", 42" or 48" in length | Hardware Included | $26
If style reigns supreme in your shopping decisions, then you might not mind paying extra for the "bold look of Kohler." This household name in household fixtures also has a grab bar for sale, and it's worth considering.
Besides looking sleek, the Kohler grab bar is remarkably easy to install, according to reviewers. All the necessary hardware is included, so you'll be able to have this safety equipment up in no time.
The only drawback to this grab bar, besides the price, is its lower weight-bearing guarantee – up to 300 pounds only. However, that limit won't pose a problem for most consumers.
Steel: Chrome, Matte Black, or Brushed Nickel | 1.25" in diameter | 24" in length | Hardware Included | $80
What About Those Neat Suction Cup Grab Bars?
If you're still really interested in trying out a suction cup handle grab bar – maybe because a mounted bar is not permitted in your apartment – then make sure you select one with good ratings and clear installation instructions.
Carex Suction Cup Grab Bar
Of all the suction-cup grab bars available online, the Carex option stood out to me. Reviewers praised these grab bars for ease of installation, sturdiness, and design. Although this kind of bar is not meant to support weight, several reviewers recommended it for people who just need something to "steady themselves" when getting in and out of the shower.
All suction-cup grab bars have a tendency to lose suction or even fall off when handled. To address this pitfall, the Carex grab bars use red/green indicators on each end of the handle to show whether the suction cups have a good seal. I don't know if these indicators actually work (you're better off asking someone to physically check them), but most reviewers loved this feature.
Plastic | 12" or 16" in length | No Hardware Needed | $14
Again, do not rely on a suction-cup grab bar to support your weight if you are at risk of falling. These grab bars are designed to help you steady yourself and regain balance, such as when getting in and out of the shower.
How Else Can I Reduce My Fall Risk?
As a Physical Therapist, I know that the secret to fall safety lies not with household fixtures but with better balance. After all, poor balance is the culprit behind most falls. Although updating your bathroom space with grab bars will make a world of difference for your safety, improving your balance will help you feel safer everywhere, in and out of your home.
Balance doesn't improve overnight, but with my balance exercise guide, you could see results in as little as 21 days. Go ahead and order a set of grab bars, but in the meantime, check out this article to begin boosting your balance and improving your safety.