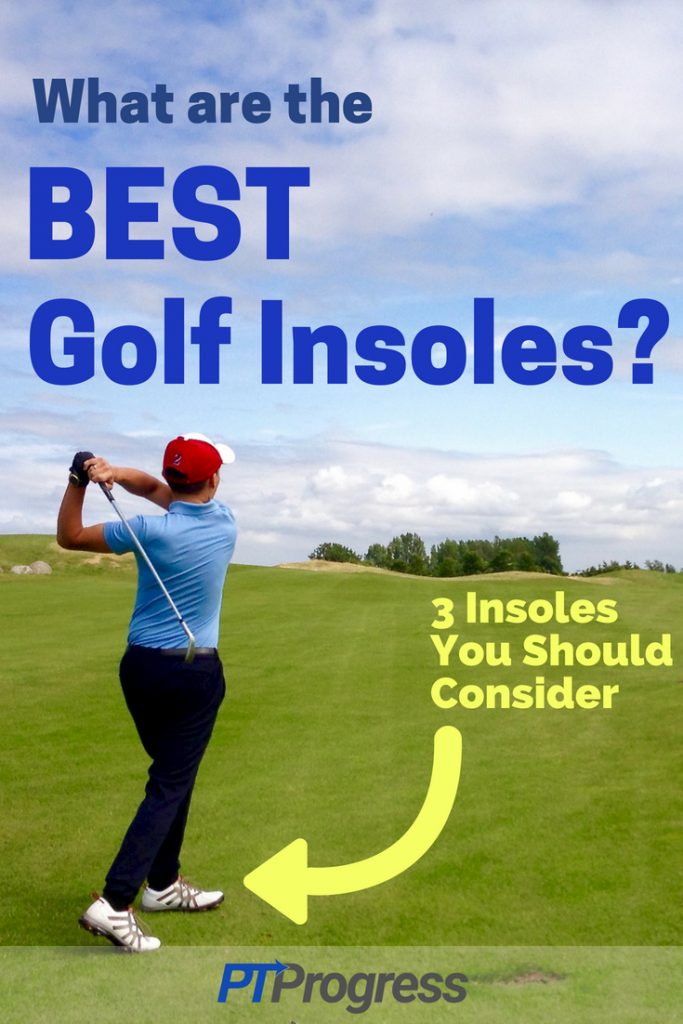 Take a look inside your golf shoes. Do they have poor arch support? Are you using a supportive insole in your daily shoes but don't have any insoles for golf shoes?
When I discuss custom insoles with my patients who enjoy golfing, I like to bring up three points when answering the question "what are the best insoles for golf shoes?" A good insole for any sport should address the following:
Good Arch and Heel Support
With every step, your arch should feel solid and your heel should be supported. A thin, cushy insole isn't the answer. Your foot needs rigidity and structure or it may continue to lead to instability.
Comfort in Walking
Do your feet feel comfortable after walking for 20 minutes? If not, then you need to address the shoe or find a custom insole that is comfortable.
Stability and Consistency
Consistency in feet placement affects consistency in your golf swing. When you begin your swing sequence with a stable footing, you give yourself the best chance for a great shot. Poor alignment can lead to inconsistent movement patterns and decreased balance and stability.
If you're lacking in any one of these three areas, you need to reconsider your current golf shoe insert is providing the right support.
Best Insoles for Golf Shoes
Before you throw out your current golf shoes, consider one of these golf specific insoles.
Aline Golf Insole
I recently started wearing the ALINE Golf insoles and noticed an immediate change in my stability while swinging. You can read my full review here, but here are the biggest takeaways I had when trying these insoles:
Better Stability and Balance – This was most noticeable when I finished my swing.

Comfortable and Supportive – Walking along the course was comfortable and my arch and heel felt supported with each step.

Consistent Feel and Alignment – At every approach, I felt like my stance was consistent and that my entire lower body was in good alignment. This is such an important element of a consistent swing, but it's one that is often neglected.
TreadLabs Golf Insoles
Another popular option for golfers includes the Tread Labs Ramble Insoles. These are removable, semi-custom insoles that provide increased stability for improved biomechanical support.
From the TreadLabs website: "Improve your stance, your swing, and your comfort with Tread Labs arch support insoles. Perfect for golf shoes with removable insoles, Tread Labs golf shoe insoles feature a molded polypropylene arch support and a cushion foam top cover. The arch support provides biomechanical support. This keeps your feet comfortable while improving alignment and stability. The resilient foam top cover puts a spring in your step and adds comfort to any shoe."
ProTalus Golf Insoles
The ProTalus insoles focus on three key elements:
Alignment

Support

Stability
All three are critical for top performance on the golf course. These insoles were designed to improve alignment and positioning of your lower extremity in order to set you up for improved posture. The focus on stability leads into better performance of a consistent weight shift and rotation in order to provide a more powerful golf swing.
Which Golf Insole is Best?
If you're starting your search for the best golf insoles, I would check out these three options. You will likely find a dozen different options for golfers, but your focus should be on finding an insole that provides stability and realigns your feet into better overall posture.
For about $100, these insoles are not cheap, but you think of your feet as cheap? If you put value on your health, then consider the importance of your joint health and comfort by giving your feet the support they need while you're playing 18.