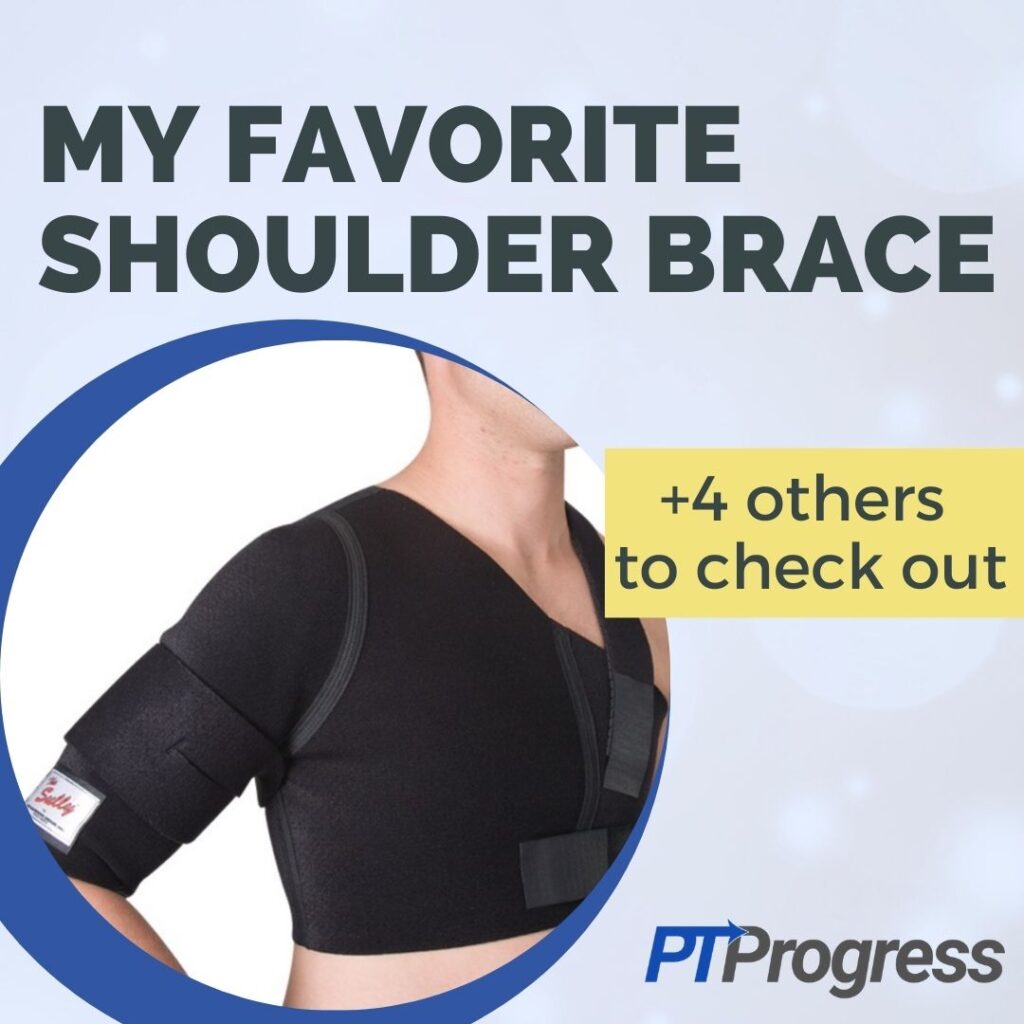 Whether it's a torn rotator cuff or a strained muscle, shoulder injuries are particularly painful. Wearing a shoulder brace can relieve some of the pain and protect the injury as it heals.
Along with ice and heat, compression plays a vital role in treating musculoskeletal injuries (remember RICE?). The best shoulder brace will provide snug compression and ample support to stabilize your shoulder, reduce pain, and speed healing.
As the #1 Brand in Sports Medicine worldwide, DonJoy specializes in high-performing braces, slings and sleeves for all kinds of musculoskeletal needs. You'll likely come across one of their products at some point in your rehabilitation, because they're the preferred brand among orthopedic surgeons, PTs, athletic trainers, and other sports medicine physicians.
All-purpose Shoulder Support
It's easy to see why the DonJoy Sully Shoulder Brace is a top choice for physical therapists like me. A one-sleeved neoprene vest, this brace provides full coverage of the shoulder, upper arm, and upper torso. It also includes an anchor strap, which means you can wear this brace even with a shoulder AC separation. 
In general, however, you can use the Sully brace to treat a variety of shoulder injuries: anterior, multi-directional inferior and posterior instabilities; rotator cuff deceleration; and muscle strains.
Shoulder Brace Function
A good shoulder brace serves two key functions: to support your shoulder and protect it from further injury. The DonJoy Sully shoulder brace fulfills both of these functions exceptionally well.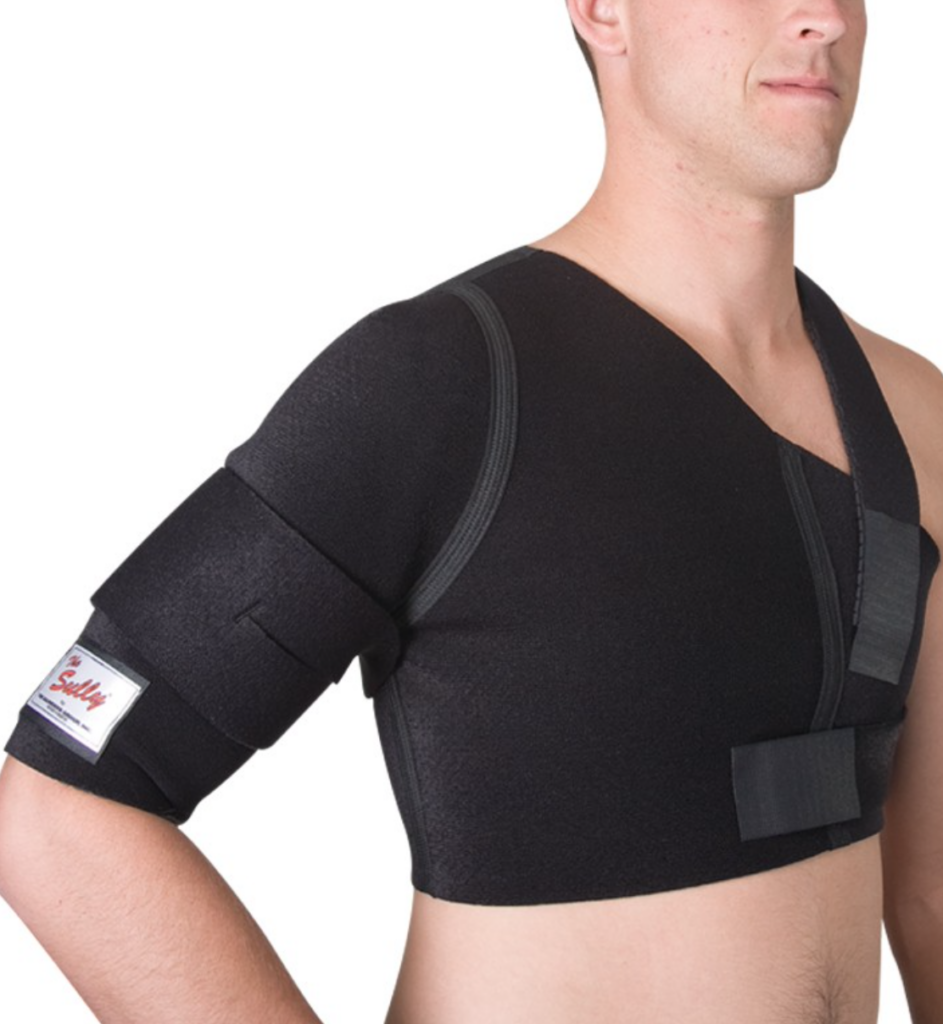 To support your shoulder, the Sully vest includes a donut-shaped foam pad which you'll place over the injured area before securing the brace. This foam pad uses perforated, rubber-like neoprene to simultaneously cushion and support the shoulder joint.
To protect your shoulder, the foam pad sports a hard shell exterior that will deflect accidental knocks and over-eager greetings. Most other shoulder braces lack this hard shell, leaving the injured area vulnerable to pain or further damage.
A supportive, protective vest is no good if it doesn't stay put. The DonJoy Sully Shoulder Brace is made of skin-gripping neoprene, which means it will comfortably hug your skin and move with you, no matter your activity.
Most Comfortable Shoulder Brace
The Sully brace is a best-seller not just for its superior function, but also its supreme comfort. Other shoulder braces are secured over the chest with a tight band, which many women find uncomfortable. The design of the Sully shoulder brace corrects this issue and better suits a variety of chest shapes.
Plus, the lack of thin straps or hard buckles means you won't chafe your underarm or irritate your skin. Instead, a hook-and-eye closure is all you need to secure the vest, and it's nearly undetectable beneath clothing.
Getting your shoulder brace to fit properly can be a struggle, but DonJoy makes it easy by offering 5 sizes for the Sully brace. To find your size, measure the distance around your bicep (when not flexed) and the distance around your chest, beneath your arms and over your nipples. These measurements will help you select the brace that is closest to your size, so you don't have to fuss with extra material or a too-tight brace.

Although it costs just over $150, this medical-grade device is well worth its price. Made with premium material in a PT-approved design from a trusted brand, you won't find a shoulder brace of this quality anywhere else. So if you want to ensure the best rehabilitative process, don't give your shoulder anything less than the best support available.
How to Find a Good Shoulder Brace on Amazon
But not everyone can afford the DonJoy Sully Shoulder Brace, and something's better than nothing. Besides, depending on your injury, a cheaper brace may be all you need.
Hop over to Amazon, and you'll find several dozen shoulder support braces that are a fraction of the price of DonJoy's. Just keep in mind that, with these cheap braces, what you'll gain in affordability you'll lose in fit and support.
Drawbacks to Cheap Shoulder Braces
Fit:
Most shoulder support braces on Amazon are "universal" size, with adjustable bicep and chest bands. In an attempt to please everyone, this design ends up accommodating only a portion of customers.
Small-framed reviewers complain they can't get the brace tight enough, while large reviewers may not be able to wear it at all. So watch out for strap sizes and keep in mind that they might not fit as advertised.
Support:
How a brace fits is extremely important in stabilizing the shoulder, and the strength of the material can either bolster or undermine that support. If your brace isn't supportive enough, you'll essentially be wearing a fancy strap.
While some light compression might benefit someone with tendinitis or bursitis, a true shoulder injury needs a brace with stronger, stabilizing support.
That being said, the four products below are some of the best shoulder braces on Amazon.
Unlike most braces of this price point, the ZenKeys Shoulder Brace comes in 5 sizes to fit both men and women of all shapes. It's easy to figure out which size to buy; just check out their sizing guide and adjustment video to make sure you get a proper fit.
Designed to be worn over and under clothing, you can wear this brace to bed, to the office, and even to the gym. In fact, with each purchase ZenKeyz includes an ebook of shoulder rehabilitation exercises you can perform while wearing the brace.
Stabilizing your shoulder is a great first step towards healing, and applying ice or heat is even better. The ZenKeyz brace features a pocket to accommodate either, but you'll have to buy the ice/heat pack separately.
At $28, this brace won't break your bank, and since it's an eligible HSA/FSA expense, it could make an even smaller dent. (Always check with your benefits provider ahead of time to verify eligibility.)
Product details:
5 sizes
3 colors (black, gray, nude)
Made of 75% Neoprene, 15% Lycra, 10% Nylon
Pros:
FSA/HSA Eligible
Comes in multiple sizes for a closer fit
Includes ebook with rehabilitative exercises
Cons:
Ice/heat pack not included
Not a strong support for severe injury/immobilization needs
Has a strong rubber odor initially
You can buy this shoulder brace on Amazon for $28.
Most shoulder braces rely solely on tight straps to achieve a snug, supportive fit. This unique brace includes a detachable air pump which you can manually inflate to adjust the compression around your shoulder.
Reviewers love this air pump feature. They found that it gave them stronger compression than conventional shoulder braces. Inflating the pad is easy, and to deflate you simply adjust the compression valve. Once you've found the right amount of compression, you can slip the brace on and off without losing the fit.
At first glance, the NatraCure Shoulder Brace seems more expensive than the others on this list. But because it includes its own ice/heat pack, this brace is actually cheaper than the bundle you'd have to buy elsewhere.
Product details:
Pros:
Inflatable component ensures snug compression
Includes a heat/cold pack
Easily adjustable; can slip on and off after fitting
Cons:
Doesn't accommodate very small or very large sizes (up to 50 inch chest size)
Too bulky to wear under clothing
On/off button for compression valve is not centrally located (the newer model corrected this) 
You can buy this shoulder brace on Amazon for $40.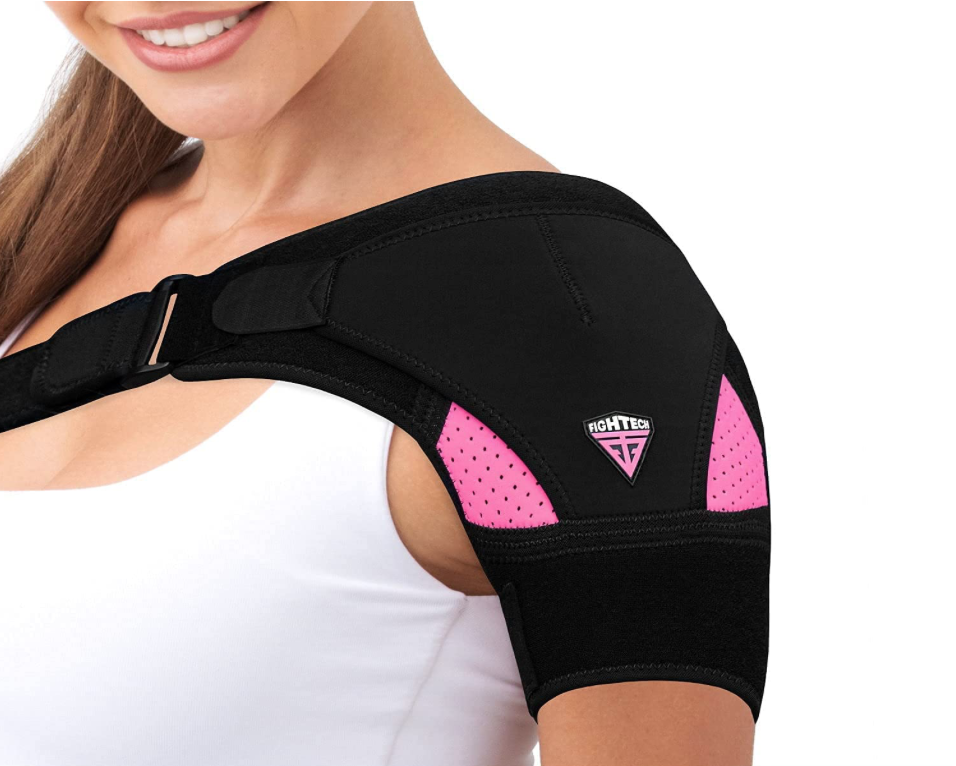 Shoulder surgery is expensive, but your recovery doesn't have to cost an arm and leg. This brace from FIGHTECH is budget-friendly and big on value. What's more, it qualifies as an FSA/HSA purchase, so you may be able to use your health benefits to pay for it.
Designed for either left or right shoulders, this brace comes in 2 sizes. To get the right fit, simply adjust the chest and bicep straps until the pressure pad is comfortably tight. This pad comes in 3 different colors, adding a fun accent to the otherwise black brace.
Although the pocket on this brace can house an ice/heat pack, that accessory is sold separately and ultimately takes away from the low-price advantage. However, you may be able to rig up a cold compress of your own without paying an additional expense.
Product details:
2 sizes
3 pad colors (pink, mint, and gray)
Made of Neoprene
Pros:
FSA/HSA eligible
Breathable, machine washable material
includes video and e-book with stabilization exercises
Cons:
Ice/heat pack is sold separately
Neoprene has a strong odor
May cause underarm chafing
You can buy this shoulder brace on Amazon for $26.
Copper has long been lauded for its conductive properties in pipes, electrical conduit and frying pans. But did you know this malleable metal also enhances compression wear?
Copper is antimicrobial, which means it will wick away your sweat and help keep your shoulder brace odor-free. Additionally, some companies claim their copper compression products increase blood circulation and promote healing (but there isn't much research to unequivocally back this up).
If you're interested in what copper might do for you, try Copper Compression. They guarantee the highest copper content in their products as compared to their competitors. Their shoulder brace is otherwise similar to those of a comparable price; it has minimal bulk, universal sizing, and a pocket for an ice/heat compress (sold separately).
Product details:
One size
One color (black)
Made of 85% copper-infused nylon and 15% spandex
Pros:
For right or left shoulders
Antimicrobial, copper-infused fabric reduces odor
Minimal enough to wear under clothing
Cons:
Ice pack sold separately
Not best for very small or very large wearers
Scant research on the benefits of copper-compression over regular compression
You can buy this shoulder brace on Amazon for $26.
Best Shoulder Support At Home
No matter your budget, buying a supportive, comfortable compression brace is one of the best things you can do to treat your shoulder injury. When you're ready, the next best thing is to perform smart, rehabilitative movement, like the shoulder stabilization exercises we do in the clinic.