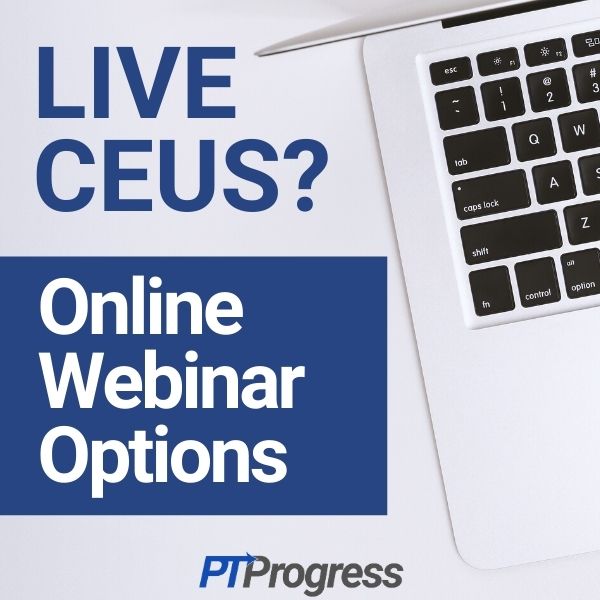 In the midst of conference cancellations and in-person continuing education course changes, live continuing education webinars are a lifesaver for Physical Therapists and Occupational Therapists.
In this article, you'll learn more about live continuing education webinars, the cost of live CEUs online, and my recommendation as a Physical Therapist required to take continuing education for my PT license renewal. 
What are Live Continuing Education Webinars?
Live continuing education webinars are online courses that are conducted at a scheduled time with attendees who may have the opportunity to ask questions during the presentation.  These 'live' online courses differ from recorded webinars or pre-recorded courses because the attendee can participate and ask questions in real-time.  This distinguishing feature is the key element required for many state licensing agencies to accept live continuing education webinars as a replacement for in-person courses.
Do Webinars Count as Live CE for Physical Therapists?
Yes, most states will treat continuing education credits from live webinars the same as continuing education credits from in-person courses.
For Physical Therapy (and many OT) license renewal, most states require the completion of 20 to 30 continuing education hours per renewal cycle. All states will allow a number of online continuing education courses to count towards the renewal of PT licenses at (pre-recorded courses, webinars, and lectures).  However, many states (like my home state of Michigan) will only allow a certain percentage of total CEUs to be attained online (Michigan allows 50% of CEUs to be completed online. 
Physical Therapy CEU Live Seminars
Before signing up for the first Physical Therapy live CEU seminar online, consider the following factors:
Is this live webinar available at multiple times?
Will you have access to the replay?
Are there a limited number of seats available?
Is the live webinar accredited in my state?
Are you able to access the webinar from a mobile device?
Does the provider have a support email or number to contact if you have technical issues during the live webinar?
Occupational Therapy Live Webinar
As a PT, I've attended multiple in-person and online courses that are useful for both Physical Therapists and Occupational Therapists. If you are considering an online live webinar for your Occupational Therapy license renewal, there's a good chance the accreditation will apply for both PTs and OTs. Since the overlap between PT and OT is quite similar for many courses, consider searching for both PT or OT live webinars to expand the options you find online.
MedBridge Live Webinars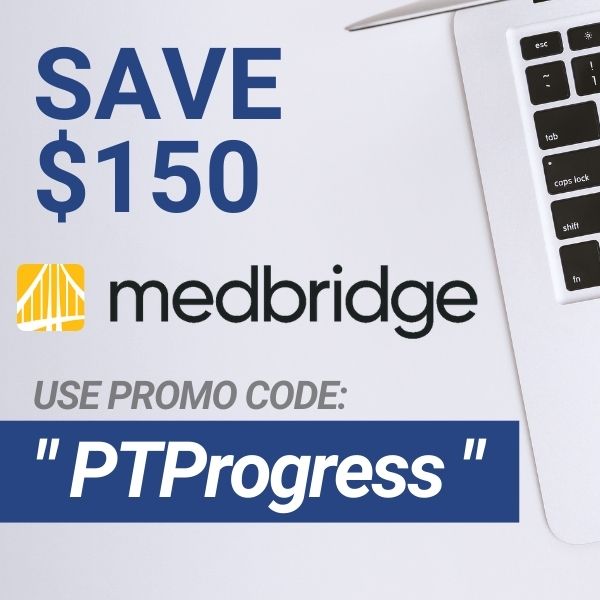 I just completed a MedBridge live webinar this week and it was great. I've been using MedBridge for the past 3 years and love having access to all of their courses and home exercise program.
As a part of the subscription (which is only $200 now if you use the promo code PTProgress), you have access to all of the MedBridge live webinars available.  This has been a huge help this year since all of the live course I planned on going to were canceled or delayed. 
This year, I'll be able to complete all of my continuing education through MedBridge, using their recorded course library as well as the live webinar feature.
With the added expense of travel and the increasing costs of in-person courses, I'm actually quite happy not to travel to live courses this year.
Should You Sign up for a Live Continuing Education Webinar?
With the high number of in person CE courses cancelling and the increased risk of illness from travel, taking a live continuing education webinar may something to consider this year.
If you're interested in the latest MedBridge Live Webinars available, take a look at the upcoming courses and let me know if you plan on attending one of them!
How to Effectively Manage Burnout, Work Stress, and Compassion Fatigue
Social Determinants of Health: Why Do They Matter?
Rehab Management of Multiple Sclerosis: What You Need to Know