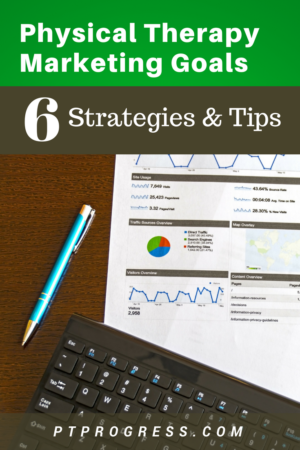 Before we dive into the 6 Physical Therapy marketing goals you should consider this year, here's a quick review of what makes a goal
SMART.
SMART Goals means that you've developed a goal that is specific, measurable, attainable, realistic, and timely.
Specific – You clearly define the targeted data or outcomes you want to achieve.
Measurable – You can track your progress with measurable data.
Attainable – The goal should be challenging, but still achievable.
Realistic – It's good to set your sights high, but don't be unrealistic.
Timely – Or Time-bound; you establish how long it will take to achieve the goal.
1. High Quality Content Rules
When it comes to writing content for your clinic blog, consider creating pillar content with topic clusters. Gone are the days of general advice that barely touches the surface of an issue. You are better off creating a long article (1,000 – 2,000+ words) on a topic that acts as a resource for your readers. Not only is this better for your readers, your search engine ranking should benefit as well.
Let's consider this idea for a pillar article: "How to Improve Balance After Age 50"
Aim to create a top notch resource that patients can reference for tools and tips to improve balance. There isn't a magic number of words that you should write – but if you're covering the topic in depth, you could expect to write a pillar article of 2,000+ words.
Next, write smaller articles that are related to the pillar post, yet cover a more specific aspect of the pillar content topic. These are called topic cluster posts and will make your blog even more of an authority. You don't need to write another pillar article of 2,000+ words. By creating smaller, relevant articles around the same topic (your pillar article's topic was "Improving Balance") you have the opportunity to dig deep into a smaller subset of questions and suggestions.
Here are a few smaller topic cluster article ideas to craft that support your pillar article on Improving Balance:
"How to Choose a Physical Therapy Clinic for Improving Balance"
"Exercises for Balance Training"
"Best Yoga Positions for Balance"
This content strategy a lot more effective and helpful for your patients compared to the sporadic articles and blog posts that don't provide value.
2. Start Capturing Emails
If your clinic doesn't already collect emails if patients, START! You already know that it's much easier to market to an existing patient than it is to get new patients. Stay in front of your patients with a simple chain of emails that can be designed to act as a resource for them while they're in PT. If you are on a really tight budget and need a free resource, check out MailChimp. If you have $29 and want the ability to control the most important aspects of your email list, look at ConvertKit. That's what we use here at PTProgress and love it.
Quick Tip: in most email services you have the option to send an email at a later date. I recommend all my PT clinics to send a 6 month follow up email that asks how they've been doing. Structuring this email as a preemptive PT screen can capture existing patients who may be struggling from a different problem.
3. Improve your Authenticity
One of the most common goals I hear from clinics is that of "improving the patient experience". This is a noble thought, but what are you really going for here?
I want to challenge you to think about ways to demonstrate authenticity with your patients through face to face engagements and storytelling opportunities.
Let's look at improving face to face engagements.
When was the last time you stood back and observed the interaction between your staff and the patients as soon as they entered your clinic. What about with new patients? Any difference with recurring patients? If you don't establish an inviting and friendly atmosphere, you can't expect it to appear out of nowhere. This one should be easy: re-establish a sense of welcoming in your clinic, starting now.
Storytelling opportunities can be found all throughout your clinic! Give people the opportunity to share their victories and ask if they will allow you to use them in your promotions. Share their stories in emails, clinic workshops, and when sharing victories with physicians.
4. Start Creating Consistent Video Content
Getting started with video content for your clinic doesn't require a giant budget. Plan a few videos with staff to highlight your clinic, it's staff, and what you're doing in the community. Your smartphone video is a good start – but I'd recommend investing in a decent microphone. This will make all the difference in your videos, so grab a mic and get started with some video.
5. Understand Your Google Analytics
If you haven't taken your google analytics seriously, you need to take closer look this year. When I look at my analytics, I look for general trends. Is my traffic growing or slowing? Where is it coming from? Where are people clicking? How long are they staying on the site? Do they visit our contact us page or leave after landing on our home page?
You also need to set up webmaster tools and analyze the search traffic for your website. This will be understand how people are landing on your website and find you through Google searches. If you're trying to rank for a certain phrase like "Springfield, MO Physical Therapy, you'll find your ranking in the search console through webmaster tools.
6. Create a Mobile Friendly Site
2018 is the year you need to take your website seriously. Over 50% of traffic to clinic sites I consult with are from mobile devices. I would guess the number is the same for your clinic. You don't necessarily need a complete website overhaul. Though, for some of the clinic sites that I've seen, this is exactly what I would do. If you are looking to get mobile "on the cheap", consider a WordPress plug-in like WPTouch.
If you have no clue about your website, check out our Website Guide for some help.
What goals do you have for your clinic in 2018?