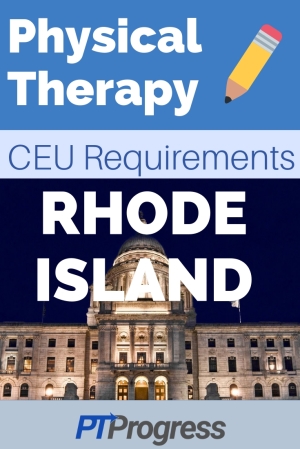 To renew your license as a Physical Therapist in Rhode Island, you must complete 24 continuing education hours every two years by March 31st of even years. Physical Therapist Assistants must also complete 24 continuing education hours for license renewal. The Rhode Island Physical Therapy continuing education requirements are listed in detail below.
Rhode Island – 24 PT CEU hours every 2 years by March 31st in even years.
Rhode Island Physical Therapy CEU Requirements
From the Rhode Island Professional Licensing Website:
"A license to practice physical therapy in this state... shall expire on the first day of May of the next even year following the date of issuance of the original license.
"On application for renewal of license, physical therapists shall attest to completion of twenty- four (24) hours biennially in scope of practice-specific offerings that may include, but not be limited to: formal presentations, conferences, coursework from a regionally accredited college/university and/or self-study courses, such as on-line courses, one (1) continuing education hour awarded for each hour completed. Teaching and/or clinical supervision of student affiliates by licensed physical therapists in APTA approved programs shall be approved for a maximum of three (3) hours per licensure cycle. Such programs or offerings shall be approved or sponsored by a Board-approved organization."
What CEU Courses are Allowed in Rhode Island?
In order to qualify towards the 24 CEU requirement, all continuing education courses must be approved by RIAPTA, the Rhode Island chapter of APTA. They've provided a list of approved organizations here, but you can also search for approved courses through CEU Locker.
However, you can also contact RIAPTA if you are unsure of the eligibility of your CEU coursework. PTs interested in conducting a CEU course in Rhode Island must complete the Physical Therapy Continuing Education Course Application.
Otherwise, the Licensing Board hasn't set requirements for the content of continuing education, so long as it pertains to PT. You could complete your CEUs in person or online through a self-study course. Other activities, such as conferences, presentations, or clinical supervision, may also qualify as CEU hours.
Can I Use MedBridge in Rhode Island?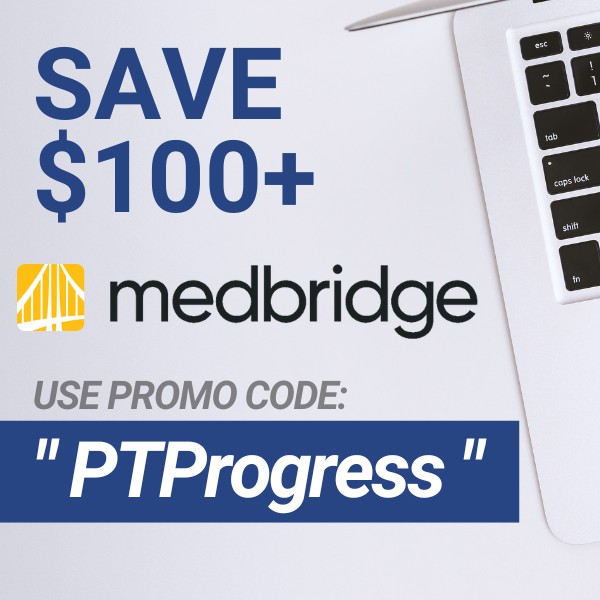 Yes, you can use an online CEU company like MedBridge to complete the CEUs for your Rhode Island Physical Therapy license renewal. A quick check on the MedBridge website shows hundreds of courses for Rhode Island PT license holders looking to renew their license.
Use the MedBridge promo code PTProgress to save 40% on unlimited CEUs.
Do I need to submit proof of my completed CEUs?
Every legitimate CEU provider, including MedBridge, will give you a certificate of completion when you finish a CEU course or activity. The Rhode Island State Board of Physical Therapy requires that you retain this document for at least four years after your renewal period, in case of a formal audit.
How much is a Physical Therapy License in Rhode Island?
It costs $155 to renew a PT license and $50 to renew a PTA license.
When does my Rhode Island PT license expire?
All Physical Therapy licenses expire May 1st every 2 years. To avoid a late fee, be sure to complete all continuing education and submit your renewal form by March 31st.
How long does it take to renew a Rhode Island Physical Therapy license?
It can take 4-8 weeks to process your request, so start the process early!
Compare CEUs by State
Take a look at all of the requirements for CEUs based on your state in this comprehensive article.