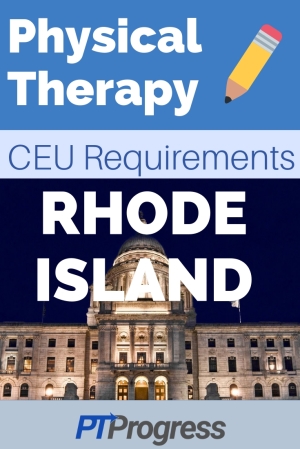 As a Physical Therapist in Rhode Island, you must complete 24 continuing education hours every two years by March 31st of even years.
Physical Therapist Assistants must also complete 24 continuing education hours for license renewal. The Rhode Island Physical Therapy continuing education requirements are listed in detail below.
Rhode Island – 24 PT CEU hours every 2 years by March 31 in even years.
Rhode Island Physical Therapy CEU Requirements
From the Rhode Island American Physical Therapy Association Practice Act Website:
The certificate of every person licensed under the provisions of this chapter shall expire on the first day of May of the next even year following the date of original licensure.
On or before the first day of March of each year, the department shall mail an application for renewal of license to every person to whom a license has been issued or renewed during the current licensure period.
Every licensed person who desires to renew his or her license shall provide satisfactory evidence to the department that in the preceding two (2) years the practitioner has completed the twenty-four (24) required continuing education hours as established by the department through rules and regulations and shall file with department a renewal application executed together with a renewal fee as set forth in § 23-1-54 on or before the thirty-first day of March of each even year.
The department may extend for only one six (6) month period these educational requirements if the department is satisfied that the applicant has suffered hardship, which prevented meeting the educational requirement.
What CEU Courses are Allowed in Rhode Island?
The RIAPTA must approve continuing education courses in order to be eligible for license holders to apply such courses towards the 24 CEU requirement. They've provided a list of approved courses here. If you are in RI, the CEU course should make it clear that it has been approved by the RIAPTA.
However, contacting the RIAPTA to confirm approval is OK to do if you are unsure of the eligibility. If you are interested in conducting a CEU course in Rhode Island, you must complete the Physical Therapy Continuing Education Course Application.
Can I Use MedBridge in Rhode Island?
Yes, you can use an online CEU company like MedBridge to complete required CEUs for your Rhode Island Physical Therapy license renewal. A quick check on the MedBridge website shows hundreds of approved courses for Rhode Island PT license holders looking to renew their license.
Use the MedBridge promo code PTProgress to save 40% on unlimited CEUs
How much is a Physical Therapy License in Rhode Island?
It costs $155 to renew your PT license and $50 to renew your PTA license.
When does my Rhode Island Physical Therapy license expire?
All Physical Therapy license expire March 31 every 2 years.
How long does it take to renew a Rhode Island Physical Therapy license?
It can take 4-8 weeks to process your request, so be sure to start the process early!
Compare CEUs by State
Take a look at all of the requirements for CEUs based on your state in this comprehensive article.