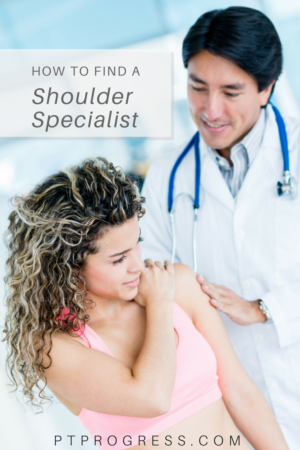 When you have pain in your shoulder, finding a shoulder specialist can be more difficult that it seems. Many people don't know what to look for in a specialist, let alone know what shoulder specialists are called.
Shoulder specials include: Orthopedic Surgeons, Physiatrists, Sports Medicine Physicians, and Orthopedic Physical Therapists.
People in these professions have extensive training in the diagnosis and treatment of shoulder injuries. They should be your first line of defense for managing your shoulder pain.
Depending on your state or insurance plan, you may be required to make an appointment with your Family Medicine Physician before seeing one of the specialists above. Some Family Med Physicians specialize in sports injuries, so it's helpful to ask them what options are available to treat your shoulder.
Finding the Best Shoulder Specialist
The specialists listed above can have extensive training in specific body regions. Many specialists have completed a fellowship in their field of study.
Orthopedic Surgeons
Some have extra training in the form of a Sports Med Orthopedic Fellowship, or even a Sports Med Shoulder and Elbow Fellowship.
Physical Therapists
A PT with an OCS certification means they are an "Orthopedic Clinical Specialist" and have additional training in orthopedic issues such as shoulder injuries.
Sports Medicine Physicians
Some physicians receive additional training in the non-surgical management of sports injuries. Many shoulder injuries fall into this umbrella term 'sports injury' even though you may not have been injured while playing a sport.
The Bottom Line: Do your research and ask your doctor who they recommend for the treatment of your painful shoulder. Personally, I would rely on any of the above healthcare professionals and avoid people who aren't medically trained and licensed. When it comes to an injury or pain in a joint, you're better off going to a professional who treats the shoulder every day.