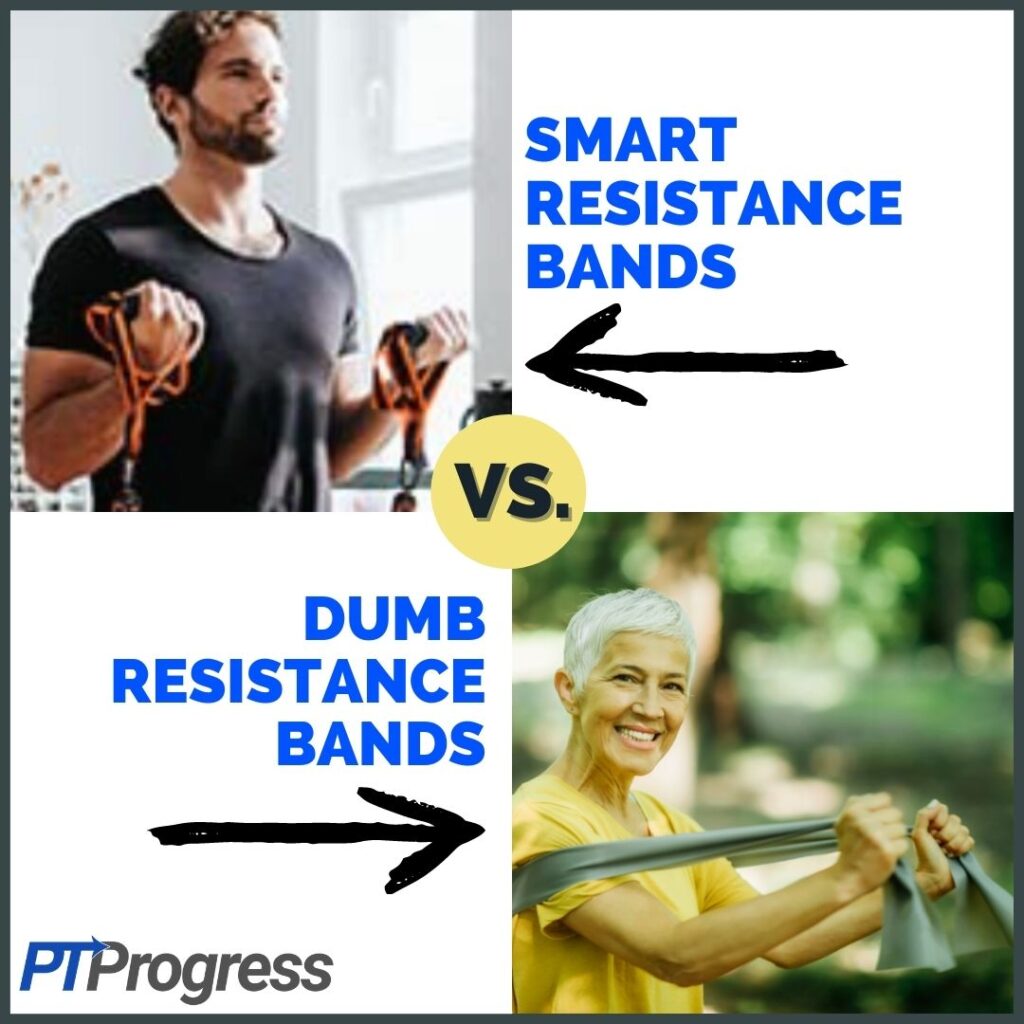 If you've ever done physical therapy, you know that resistance bands are useful for both rehabilitative and strenuous exercise. But what you might not know is that there's a new type of resistance band ready to upgrade your workout: smart resistance bands.
Besides introducing you to this new fitness tool, in this article I'll show you the pros and cons of smart resistance bands versus ordinary resistance bands – or what we'll call "dumb" resistance bands. So let's jump in!
What are resistance bands?
Resistance bands are long, elastic strips of varying thicknesses used in fitness and therapy. Most sets come color-coordinated by strength, such as yellow, red, green, blue and black, with yellow being the least resistant and black the strongest or most resistant.
Physical therapists use resistance bands to introduce progressive resistance into an exercise or movement. An elastic band is increasingly more resistant as it's stretched through the range. So while it may feel like only 3 pounds when stretched at close range, the full length of the band may feel as resistant as a 12-pound weight.
A relatively simple fitness tool, resistance bands are a smart choice on their own. But of course the fitness industry can't leave things simple, which is why we have gadgets like smart resistance bands.
What are smart resistance bands?
Just like a smartphone, smart home, or smart tv, a smart resistance band is equipped with a degree of technological intelligence to track data and improve exercise results.
A smart resistance band offers the same kind of progressive workout as regular 'dumb' bands. You would use the band in the same way – attach it to your ankle, a pole or a door, then proceed with exercise movements. 
The main difference is that, as you exercise, smart bands automatically track your workout: how many repetitions you've made, how far your movements range, and how much resistance you're achieving with each pull.
This data is synced to your smartphone using Bluetooth technology, so you can check on your progress or even monitor your movements during your workout.
Smart resistance bands may sound like something from the future, but I assure you, they're available now on Amazon. Let me introduce you to one set, the Rally X workout system from WeGym.
As a PT, I've used resistance bands for years; I know when exercise equipment is junk and when it's a quality product. These smart resistance bands are not just a neat idea, they're executed remarkably well and make for a compelling product.
Equipment:
Two smart bands with adjusting carabiners
two handles
two ankle straps and two wrist straps
In-door strap and suspension strap
mesh bag, door hanger, manual, and app
Technology: Bluetooth-connected bands, USB-charged
Resistance: Adjustable from 6-40 pounds (orange), 7-55 pounds (hybrid) or 8-61 pounds (black)
Battery life: Sustains 42 hours on a single 2-hour charge, includes sleep mode
With the Rally X bands, not only can you accurately track your resistance workout, you can also adjust it. By sliding the carabiner further or closer to the handle, you can achieve less or more resistance in your range.
Beyond its adjustability, the Rally X system is fully versatile and waterproof, suitable for use both outdoor and indoors – and literally, in doors. The bands come with several attachments, including a loop for securing the band inside a door, at the top, bottom, or midway.
But you don't need to suspend the bands in order to use them. You can achieve a point of resistance anywhere by strapping the ends of the bands to your wrists and ankles.
You'll eventually need an outlet, since the bands have to charge. But with a 42-hour battery life and an automatic sleep mode, this won't happen often. Plus, WeGym made it easy for you by designing a USB cable with two ports, so you can charge the bands simultaneously.
Finally, the Rally X smart bands coordinate with the WeGym app, where you can build your own customizable workout plan based on certain muscle groups or body parts you want to focus on. Not only will the app help you stay on track to meet your goals, it will also demonstrate how to perform specific exercises with your smart bands, all the while tracking your workout progress.
Besides this cool technology, there are both pros and cons to using smart resistance bands. Next I'll contrast the Rally X bands with a regular resistance band set from Bob & Brad, and you can decide for yourself which set you'd prefer.
Mid-post Disclaimer: WeGym sent me these bands to review but did not pay me anything to write it. Everything I say in this article is based on my personal opinion and experience.
The same goes for the set from Bob & Brad, a PT-owned company I've reviewed and endorsed countless times, be it for their massage guns, foot massager, or these resistance bands.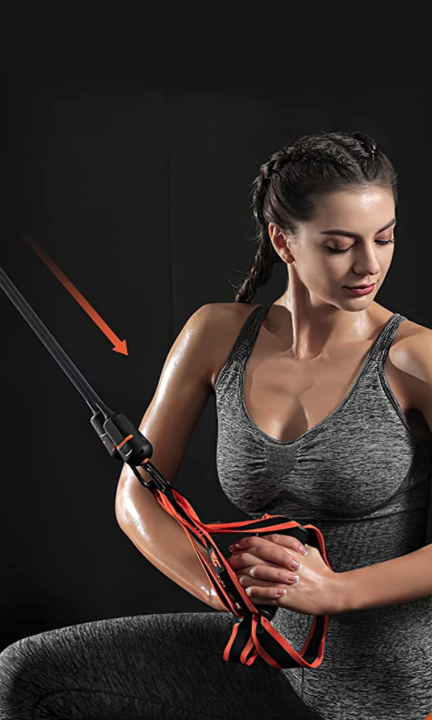 Cost: $200
Pros:
Only two straps needed for the full set
Tracks resistance, repetitions, and range
Customizable workout plans through the app
Cons:
Not stackable for extra weight
Requires a charge and bluetooth connection
Expensive
Let's take a closer look at each of the pros.
Pro #1: Minimal Equipment
The first benefit to choosing Rally X is the number of bands to keep track of. Because it's adjustable, the Rally X system reduces the number of bands that you need, from 5 or more to just 2.
WeGym sells three different "levels" of bands, but the intention is that you only need to buy one set. I recommend the black set, which ranges from 8-61 pounds. It offers heavier resistance for the same price and footprint as the other two sets.
So if you're a minimalist or like the idea of just using two bands, then you'll consider this feature a strong pro. Besides, the entire kit is highly portable, perfect for traveling or storing in tight spaces.
Pro #2: Workout Tracking
Secondly, WeGym's smart technology delivers insightful feedback which an ordinary set of dumb bands cannot measure.
For instance, regular old resistance bands usually include an estimated amount of resistance in terms of pounds. But without a tracking device it's almost impossible to know exactly how much force you're using to stretch a resistance band. 
With Rally X, you can get a clearer picture of how much weight you're pulling or stretching with each movement. You'll consider this selling point a strong pro if you value accuracy in your exercise tracking.
Pro #3: Companion App
Another feature that makes Rally X stand apart is the extensive resources available through the app. There are a myriad of fitness apps out there ready to track your progress, but this is the only one I know of that synchronizes with a resistance bands system.
Personally, however, I didn't find the workout app useful, mainly because I don't like using these types of routines.
You may benefit from the app if you're looking for some guidance. But in my opinion, you're better off following some resistance band routines from trusted trainers on YouTube – or, better yet, getting a personalized plan from a Physical Therapist or Personal Trainer.
Cost: $40
Pros:
Stackable bands achieve up to 125 pounds' resistance
Simple to use and manipulate – no connections required
Cheap
Cons:
Exact resistance amount is unknown
User assumes all tracking responsibility
Multiple bands required for full set
Pro #1: Heavyweights
Although these colorful bands look simple enough, they can achieve particularly stubborn resistance – especially if you stack them. Not every 'non-smart' resistance band has this feature, but with the Bob & Brad set, you can connect multiple bands and double or triple the resistance for your workout. 
This stackability raises the ceiling on where you can take your workouts, a huge perk for those of us who want to bulk up or max out. Notably, the Rally X smart bands reach only 61 pounds, half the resistance of this regular resistance set. 
Pro #2: Easy to use
There are innumerable barriers to working out, especially mentally. If fussing with bluetooth connectivity is enough to deflate your motivation to exercise, smart bands are not a good idea for you. Bob & Brad's plain old resistance bands are ready to go out of the box, with virtually no learning curve.
Pro #3: Cheap
This point needs little elaboration. WeGym's smart resistance bands will set you back about $200. So if paying $150 more for a tracking system and exercise videos gets you to actually use the resistance bands, then go for it. But if you can achieve a similar workout for one-fifth the price, then the affordability of Bob & Brad's set is a huge pro to sticking with traditional bands.
Additional Benefits to Using Regular Resistance Bands
As someone who uses regular resistance bands on a regular basis, I know a few more benefits to the old-fashioned kind. 
Smart technology has a way of turning our brains off. Although it's nice to know how much resistance you're getting from a smart band, I find that it's more worthwhile to just tune in to your body as you workout. All you have to do is stay aware of your form and posture, any symptoms you're feeling, and whether or not the resistance is enough of a challenge for the results you want.
So in my opinion, not relying on smart technology for workout feedback is actually a pro to using regular old 'dumb' resistance bands.
"Smart" Resistance Bands vs. "Dumb "Resistance Bands: My Verdict
Personally, after reviewing the Rally X set, I'm going to stick with the traditional resistance bands. These bands really don't take up that much more room than the set from WeGym, so I don't mind having a few more.
And while the Rally X bands boast innovative adjustability, we PTs have been micro-adjusting regular bands for years. To slightly increase the resistance, you simply need to double up on your bands or "choke" the band to shorten its length. You can also adjust the tension by stepping on it or moving toward or away from the door it's secured into.
It's hard to beat WeGym's tracking feature, but again, the old school pen-and-paper method can get the job done if you're self-motivated. Plus, there are plenty of other apps for tracking progress if you still want to be "smart." That's how I work out, and I don't feel like I would benefit from the WeGym app or its tracking data.
Smart Resistance Bands: The Takeaway
All in all, the WeGym Rally X is a smart choice for more than technological reasons. If you're looking for an all-in-one home gym, complete with customizable workouts and in-app tracking, the Rally X delivers this all in the convenience of a 2-pound tote bag.
But not everyone needs a smart setup. If you already have a good fitness groove going or can track progress yourself, then the Bob & Brad set of stackable bands can take you even further, for a fraction of the price.
Overall, the smartest choice is the setup that works for you. Go for the tech if you know you'll use it and enjoy it. But if you're just looking to get in shape at home, it really doesn't matter how smart your resistance bands are. The only thing that matters is whether you use them!
Resistance Bands Workouts
Are you looking for a way to level up your workout without forking over $200? You can get started with resistance bands by purchasing the Bob & Brad set and checking out some free workouts online, like this one from Nike. You can also find hundreds of safe, effective workouts on the Nike Training Club app.
Finally, there's hardly a better resource for free information than YouTube. Right here on my channel you can access workouts designed by a physical therapist for resistance bands. It's never been easier to get into shape!