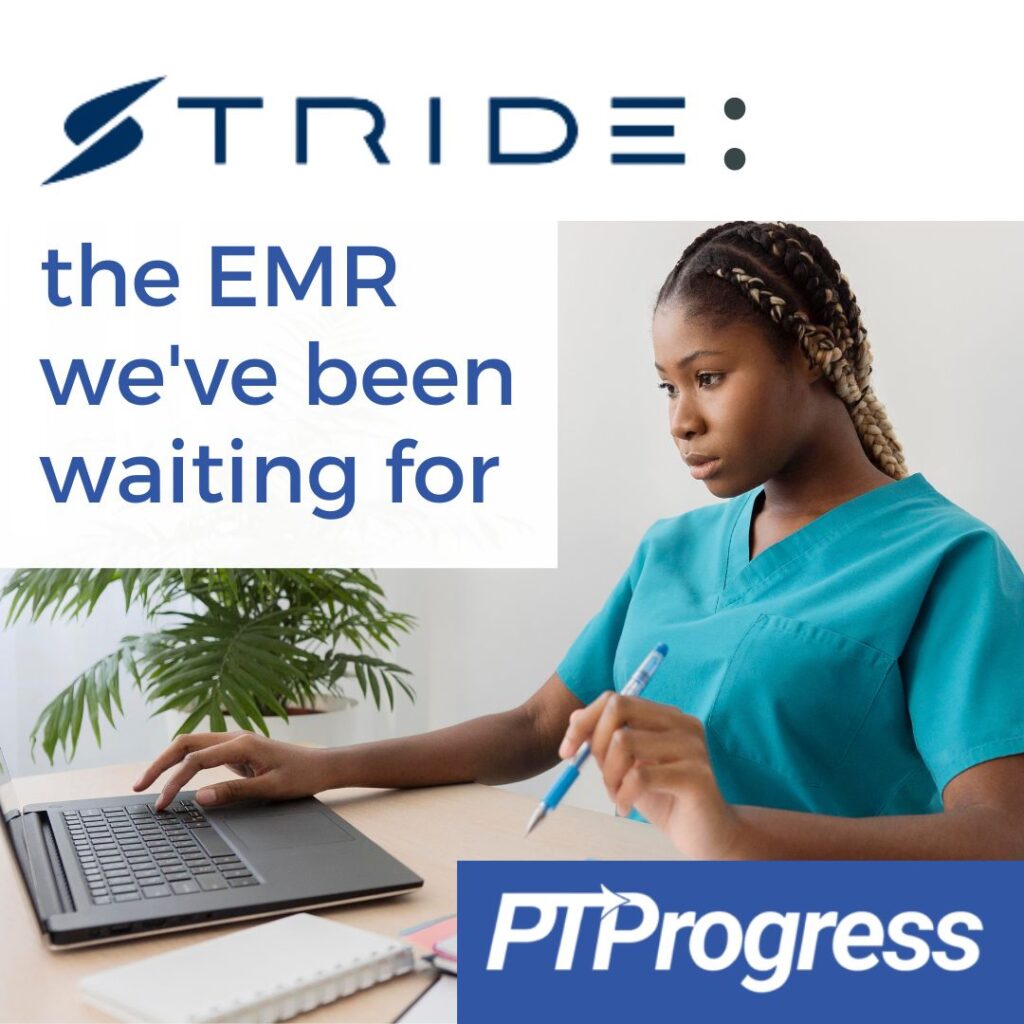 Physical Therapists: if you're like me, you've tried multiple electronic medical record (EMR) systems in your therapy clinic. But even the big-name software programs feel clunky and old, leaving a lot to be desired from a therapy EMR. I used to think, "Wouldn't it be great if the intake form my patient filled out could be integrated into the subjective section of my evaluation?" That would surely keep us therapists from having to retype the same information our patients have already written.
Well, someone must have been listening to all us therapists. Because we now, finally, have an EMR software that actually works the way we've dreamed. It's called Stride, and it's everything you wanted in a therapy EMR—and then some.
(And no, Stride did not sponsor or pay for this article. This review is based on my actual experience using the platform. But the good news is, I did reach out to Stride, and they've offered readers a free month when you mention the promo code "PTProgress".)
In this post, I'll show you all the best features of the Stride software, including its intuitive scheduling calendar. But first, I want to dive right into the system where it matters most: writing notes.
Because as a physical therapist myself, I understand the impact a documentation system can have on productivity. It can make or break your day, affecting not just your time management but also the quality of one-on-one care you provide your patients—not to mention your sanity as you scramble to finish your notes and go home at a reasonable hour.
Writing Evaluations with Stride
Stride makes writing evaluations faster and easier in a few ways. When you open a patient's chart, you can immediately access the note for the day by clicking on the note option within their chart or by clicking on their name within the calendar.
If this is your patient's first visit, you'll be given a prompt to start their evaluation. But Stride can also start the evaluation for you based on information from the patient's intake form. If your patient completed their intake online using Stride's emailable form, then you can select to have the Subjective portion of the evaluation pre-populated with the intake information.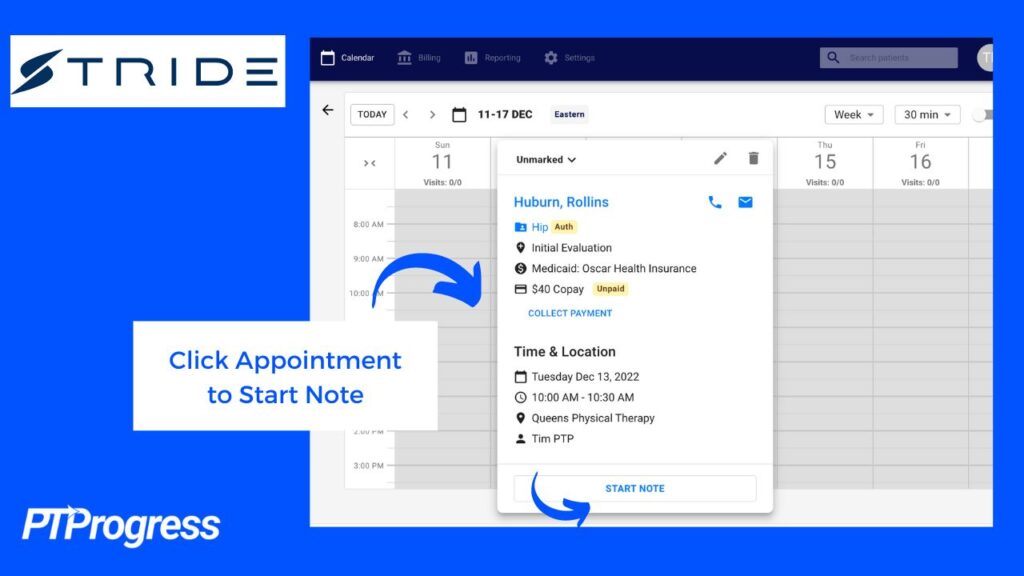 This combination of digital intake forms and pre-populated evaluations will not only save you time but also allow you to stay more engaged with the patient during the first few minutes of the evaluation. Giving them your full attention is key to establishing good rapport and credibility with a new patient.
Intuitive Evaluation Layout
As you work through your evaluation, you'll find two sidebars: one that displays relevant patient information and one that lists the heading of each section of the evaluation. By clicking on the headings, you can quickly jump to each section without scrolling through your entire note.
Like most EMRs, Stride's evaluation includes the standard text boxes and checkboxes. But this time, they're easy to spot, quick to complete, and visible at a glance—not nested in layers and layers of clicks, as you find in other EMRs.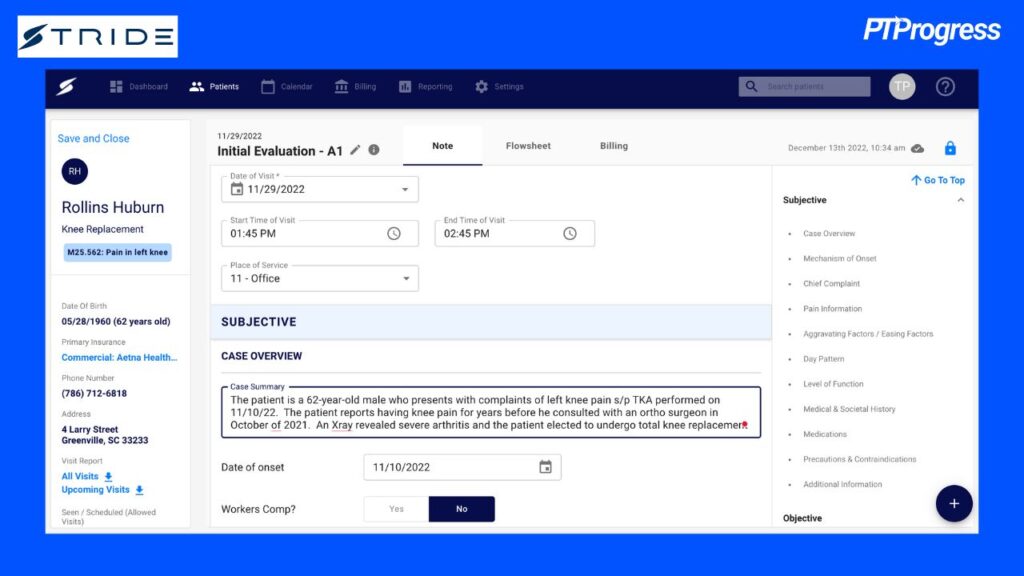 Customization for Clinics
For their first attempt at creating a responsive, easy-to-use therapy EMR, I think Stride pretty much nailed it. And after talking with the founder, I learned that clinics can request to customize the forms and SOAP-note format within Stride, making it the best therapy EMR software possible for outpatient therapists.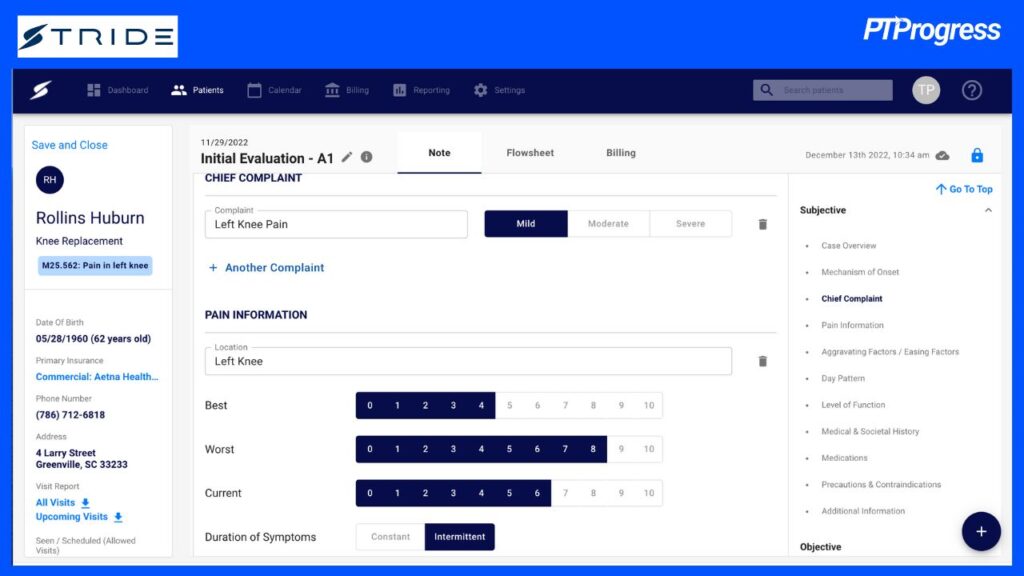 How Fast Can You Write Notes in Stride?
Before going any further into the features that make Stride unique, I know you're probably wondering: how long does it take to write notes in Stride?
First off, you don't have to worry about much of a learning curve. With Stride, everything you need from an EMR is right in front of you and flows as you think it should. The intuitive interface, alone, minimizes the learning curve and allows you to speed up your note-writing as soon as you start using Stride.
The bulk of your time spent writing each note will come from the subjective, assessment, and flowsheet sections—and goals, if you're writing an eval. Since you can practically write the subjective during the evaluation itself, that leaves the assessment, treatment flowsheet, and a few goals to write up after your visit.
Key Phrase Generator
Speaking of goals, one of the unique features of Stride is its key phrase generator. For example, when writing a goal, you can select a pre-populated goal that you've already created. All you have to do is press "control+k" on your keyboard, and a prompt will appear to save or input previously saved key phrases. So instead of retyping a standard goal, such as "The patient will demonstrate independence with the initial home exercise program," you can add that phrase with just a couple of clicks! Saving 20–30 seconds here and there can easily add up to 5–10 minutes saved per note!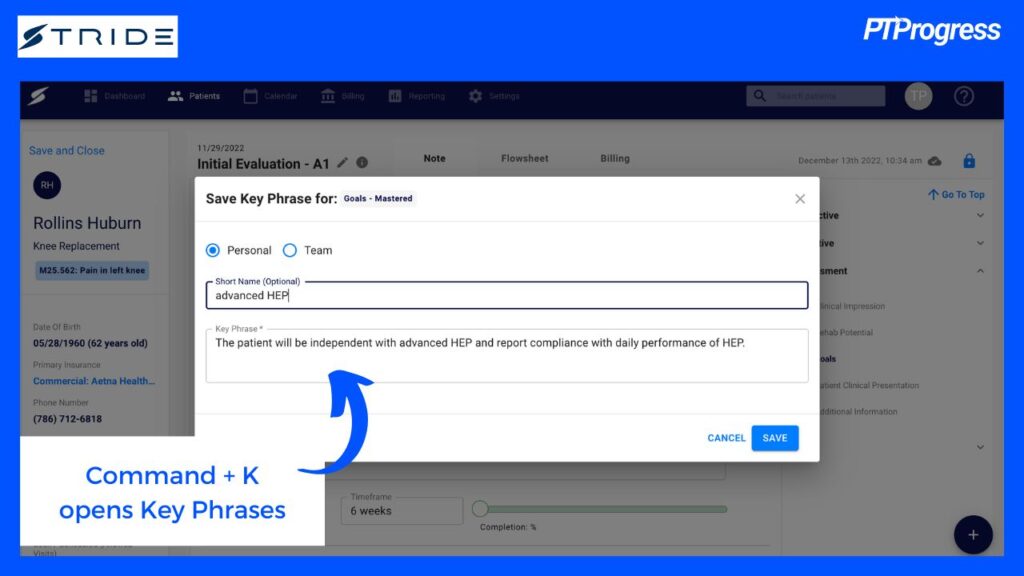 I suggest allocating 5-10 minutes to those three sections in total and maybe another 3–5 minutes afterward to review your treatments, measurements, and charges. That being said, there's no reason why you shouldn't be able to complete your evaluation within 10-15 minutes after the visit. In fact, depending on how efficiently you are typing therapy documentation, you can very well complete the entire evaluation note during the visit itself.
Other Ways Stride Saves You Time
As for the daily notes you'll write for follow-up visits, the process is similarly streamlined.
For example, for the Subjective line you'll write a quick note, such as "The patient reports improved ability to stand for 30 minutes while cooking but still requires a straight cane to ambulate throughout the grocery store due to knee pain." Next, you'll add your treatments using Stride's easily modifiable flowsheet. You'll then include an assessment statement, such as "The patient demonstrates improved stability, as noted by 10-second single-leg stance without upper extremity support, but lacks strength and endurance of the left quad muscle, evidenced by extensor lag and multiple breaks to sit during today's session." Once you've typed a statement for the next visit's Plan, you can edit your charges and lock the note.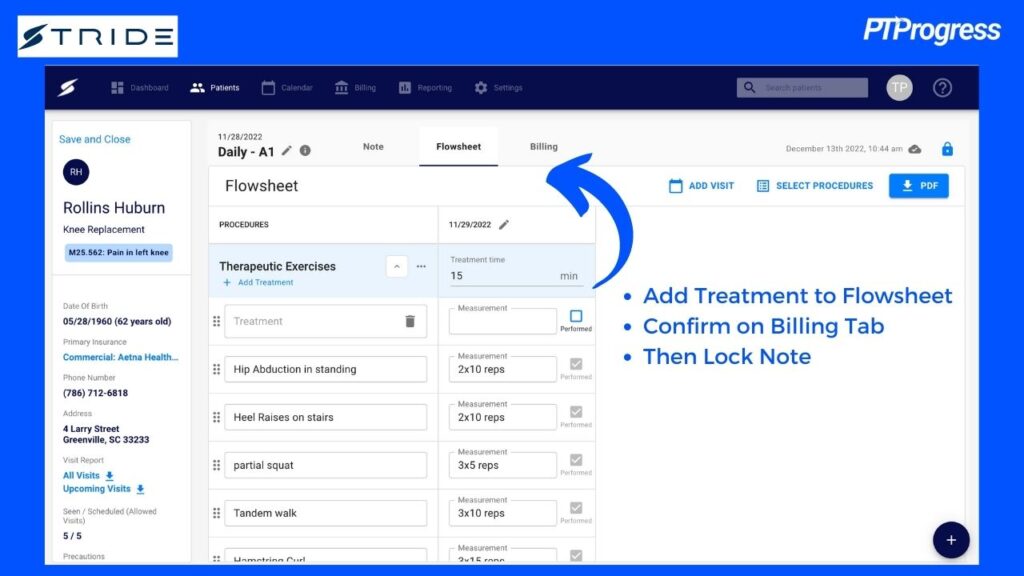 The extra writing took less than 2 minutes, and even with those typed sections above, chances are you'll be able to actually complete your note during the patient's visit. Therefore, with Stride's concise and consistent daily notes, you can spend more one-on-one time with your patient and less time at a screen.
Now, if you've ever worked in a clinic, you know that one of the biggest wastes of time is spent tracking down forms, scripts, signed plans of care and insurance paperwork. All that disorganization can easily cost a therapist an additional 3–5 minutes per patient, adding up to an hour of wasted time each day.
But with Stride, all that filing becomes automated. Therapists can reclaim their wasted time and finish their notes so they don't have to work through a lunch hour or stay late to write documentation.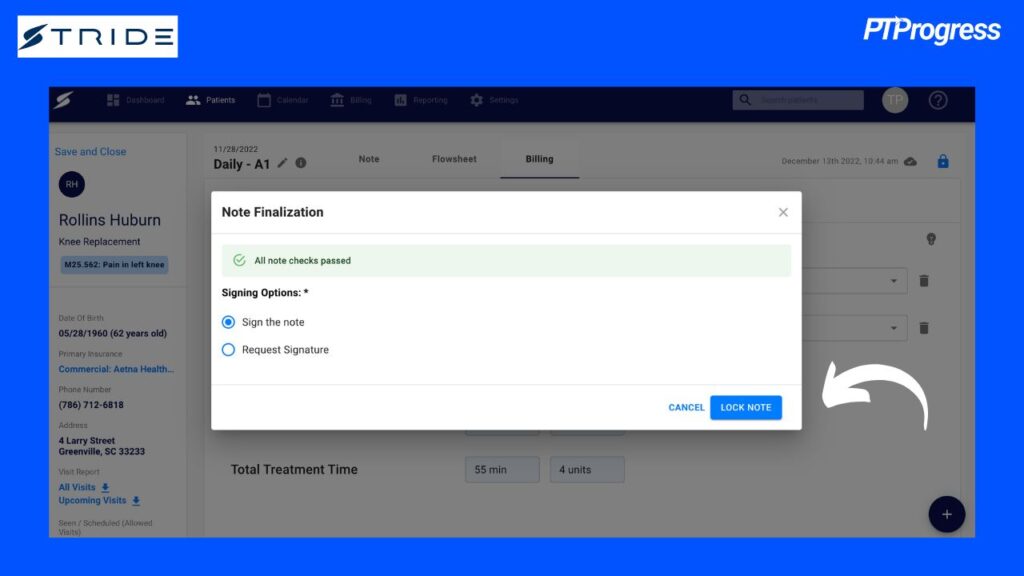 Stride EMR Features
Intuitive Layout
The first thing I noticed about Stride was how each page felt intuitive, as if I already knew where to find what I was looking for.
Start with scheduling, for example. In Stride, you can view your entire calendar for the day or week. Click on the appointment to start the note, or click directly on the calendar to add more appointments to the schedule. You can easily add or change a patient appointment by clicking on the calendar and editing the appointment slot.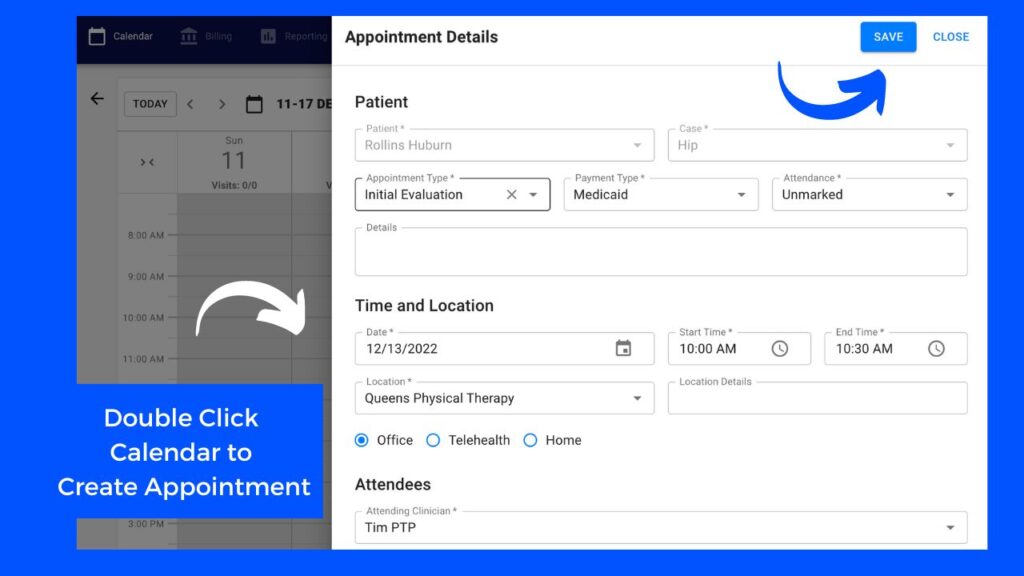 The same simplicity is true for adding a new patient. Stride creates an intuitive workflow for the front desk by seamlessly incorporating all of the patient's paperwork into the chart, in real time, so the therapist can view it immediately.
They've even simplified the diagnosis box by providing you a code search feature that will present all of the relevant codes based on a keyword. So, for example, type the keyword "knee," and all the relevant diagnostic codes will pop up for you to select. You can even narrow the search further with a more specific phrase such as "left knee" or "osteoarthritis."
Stride's navigation bar makes it easy to bounce between items such as your calendar and your patient list, presenting all of the details you need in an organized and intuitive layout.
Become Instantly Organized
My first job as a PT used physical paper documentation, so I had to hand-write SOAP notes and retain the physician script in the patient's paper chart. To say the least, this obsolete method was a pain to use and only added to the clinic's disorganization with a giant stack of papers.
And while many EMR systems can be counterproductive and clumsy to use, especially when locating key documents, Stride's is an exception.
In Stride, you can track key documents within the system and access everything you need with one click from the home page. A double click lets you view and print those documents.
Their document filing system lets you manage your patient's records from one intuitive view instead of having to sort through layers of files just to find the form you uploaded last week.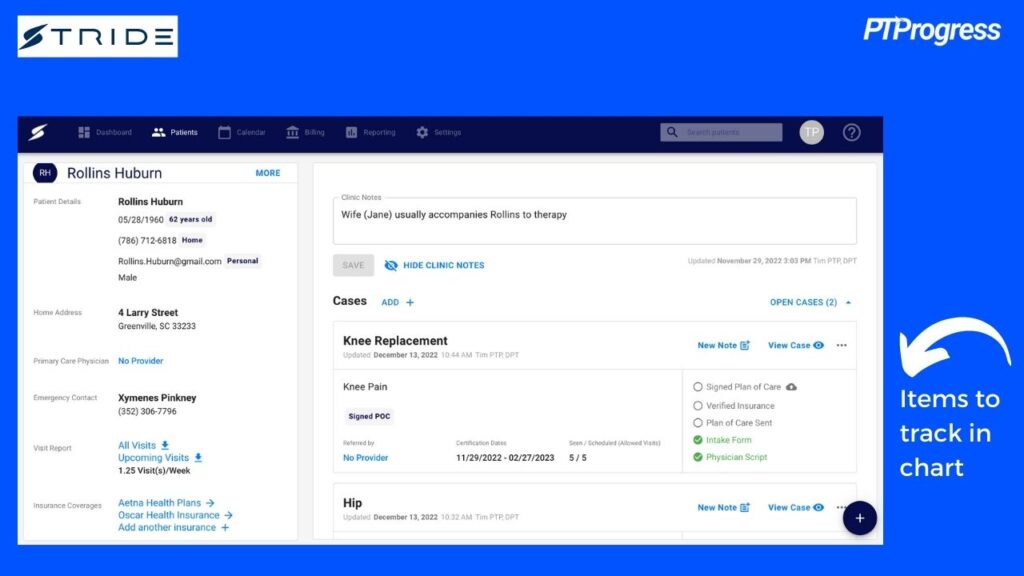 Seamless Workflow for Therapists
I mentioned this earlier, but I love how Stride creates a seamless workflow for therapists to write notes quickly and efficiently. One example of this is the overflow option. When you start a note, you can choose to begin fresh with an empty page or to "overflow" the note from the previous day.
Obviously, your notes should reflect that day's treatment and not just be a carbon copy of yesterday. However, the overflow feature can help save you a lot of time by providing an already tried-and-true template to follow.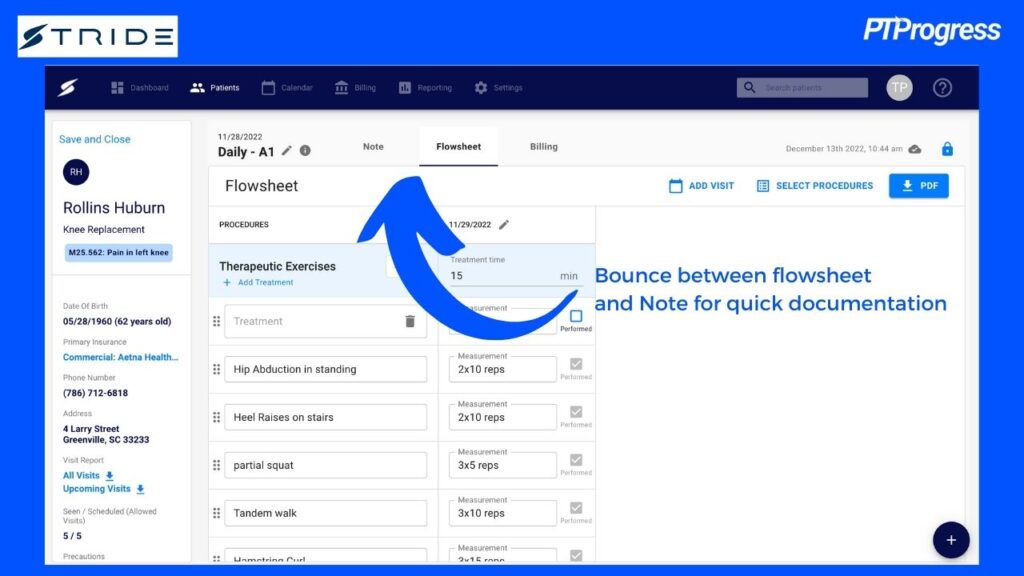 Even while you're working on a note, Stride's navigation bar smooths your workflow by letting you easily bounce between your flowsheet and your SOAP note. And when you're done writing, Stride ensures accuracy by checking your note with its smart-checking billing analyzer. This tool can calculate correct billing units, assign appropriate modifiers, and alert you to disallowed CPT codes automatically.
To top it off, Stride does all of this while running a cloud-based auto-save feature for your notes (kind of like how Google docs automatically saves your documents). You don't ever have to worry about losing and—heaven forbid—rewriting your notes!
Other Convenient Features
To fully appreciate all that Stride has to offer, you almost just have to see for yourself and play around with a demo version. But I'll do my best to list a few more of the features I found make Stride's platform intuitive and helpful:
Emailable intake forms: With this feature, you can send new patients mobile-friendly intake forms, which upload directly to the patient chart in real time. You can have it include ID cards, referral forms, and any other documentation such as outcome measures and medication lists.
Automated compliance: Instead of setting aside time to send compliance reminders to your patients, Stride does it for you, from PoC and authorization renewal to documentation completion.
All-in-one file sharing: Stride lets you fax or email PoC paperwork, all within one system.
Real-time benefits verification: With Stride, you no longer need to call insurance companies and wait on hold. All you need is a payer name and member ID, and within seconds, Stride will pull up PT-specific benefits for copays, visit limits, and KX modifier thresholds.
Payment processing: Collect patient payments immediately at check-in or at check-out using Stride's payment processing feature. It can also help keep your front-desk staff on top of collections by reminding patients of any outstanding balances.
Features Every Therapy EMR Needs
I know other therapy EMRs say they were designed "by therapists for therapists," but even those feel clunky and outdated. Here are a few features integrated within Stride that I wish every therapy EMR included.
Full Picture View
It's so nice to have a "full picture view" of the patient's information within the evaluation. This simple feature keeps me from having to jump back and forth between pages to verify date of birth, insurance information, precautions, and even date of surgery. Stride's quick link to "view all appointments" is another intuitive feature that just makes sense!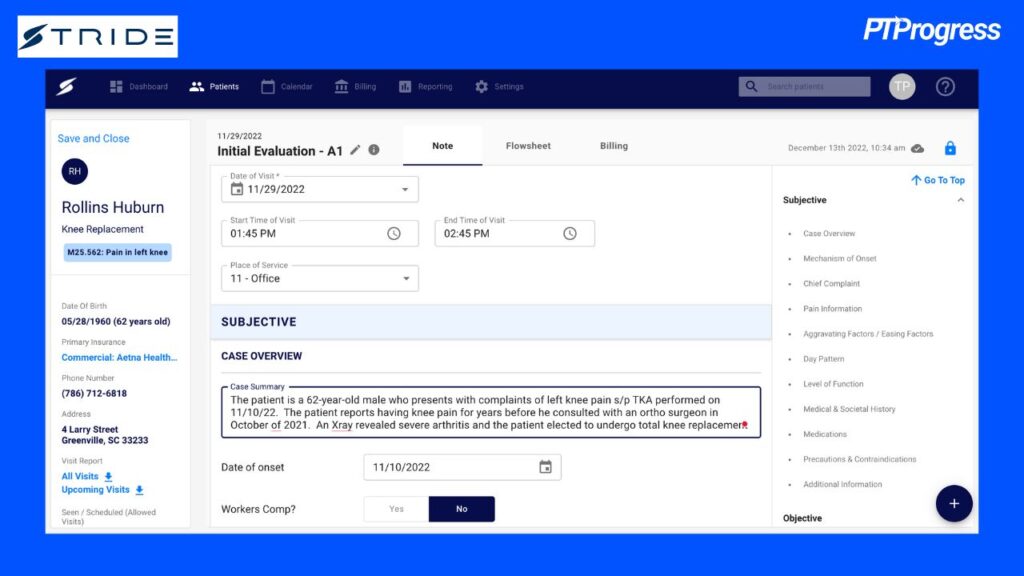 Drag-and-Drop Function
From editing the calendar to modifying the order of the exercises performed, Stride's drag-and-drop function makes last-minute changes efficient and effortless. Being able to just reorder my exercises using drag-and-drop takes the pressure off having to write them in the correct order in the first place.
Save and Close
While Stride auto-saves your notes as you type, you can also opt to quickly save and close a note to return to later if you need to exit a note for any reason. Since Stride is cloud-based, it automatically saves any changes, helping prevent lost data in the dreaded case of equipment failure.
Note Finalization Checker
Before you finish and lock a note, Stride reviews your billing and alerts you to any discrepancies in items such as units billed or insurance on file. If you need to make a change to any of those items, you can quickly return to the note or even save and close the note to edit the patient's file. That means you can add the patient's insurance information or other important data prior to locking the evaluation or any other note you're working on at the moment.
Goal Completion Percentage
I love this slider feature for marking goal completion within Stride. Remarking on goal progress can be very subjective in other platforms, but this slide bar is an intuitive way to designate percentage completed for a specific goal. With goal completion percentage, you can view progress at a glance and quickly identify goals that need more attention.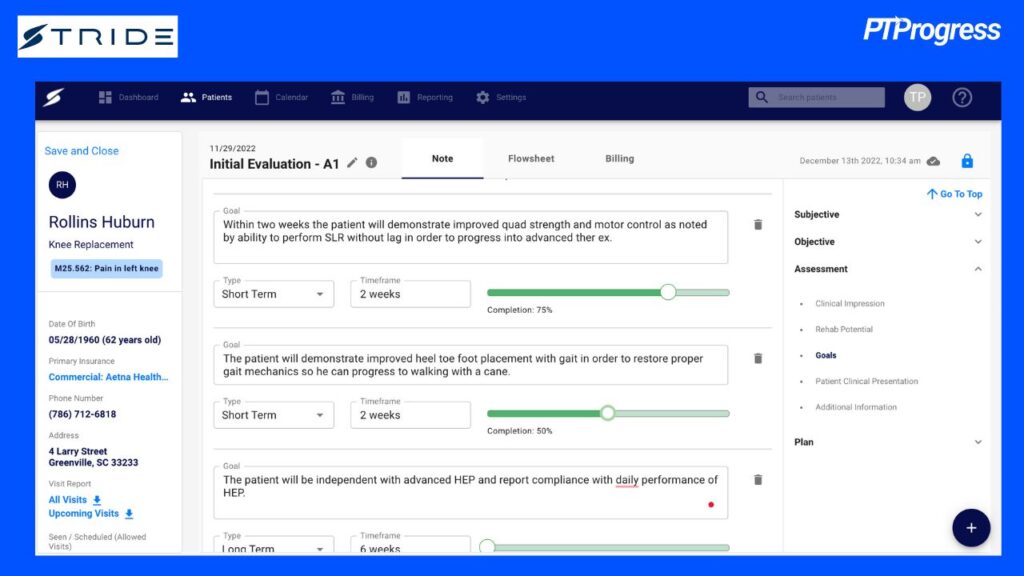 Final Thoughts on Stride
I've used a lot of different therapy EMRs, from handwritten paper notes to clunky hospital-wide EMRs. Even the most popular therapy EMR out there has become outdated and overcrowded.
But Stride, with its intuitive layout and user-friendly features, has changed the game for therapy EMRs. Instead of bogging you down, Stride can boost your productivity, speed up your therapy documentation and improve your organization in the clinic.
Whether you're a solo therapist who wears every hat in the clinic, or you're a part of a team with front desk support and multiple therapists, Stride can save everyone invaluable time.
After using it for the past month, I think it's safe to say Stride is the therapy EMR we wish existed all along—and now it finally does. Check it out at PTProgress.com/Stride and get one month free with the promo code PTProgress.