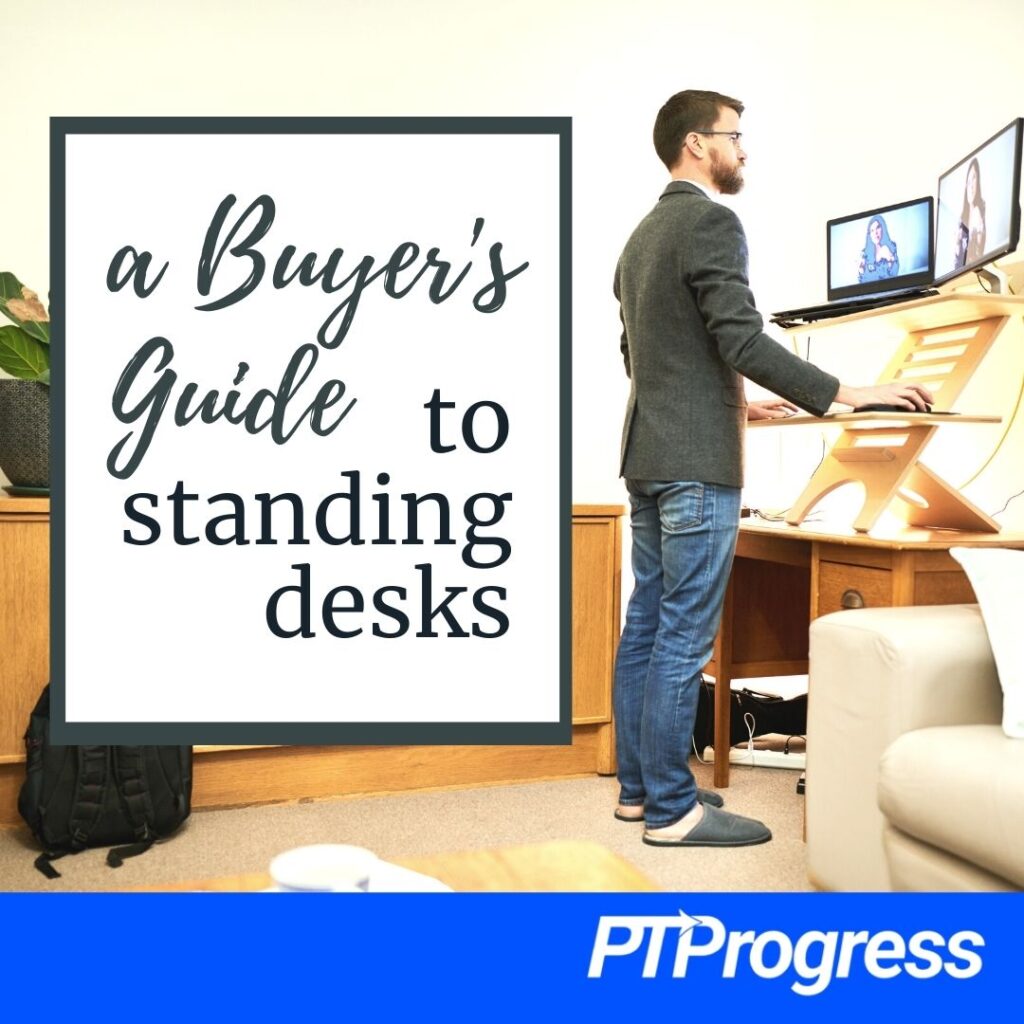 In case you haven't heard, sitting is the new smoking, and standing desks have recently become a popular solution to the sitting epidemic. By elevating your work station, a standing desk promises relief from back pain and a chance to improve your posture.
But before you run off and buy a new-fangled standing desk, however, there are a few things you should know to get the most out of your purchase.
Keep reading for my opinion as a PT, my perspective as a standing desk user, and my recommendations for when you're ready to buy a standing desk of your own.
3 Things to Know about Standing Desks
1. Know what height you need
How tall should your standing desk be? That all depends on how tall you are. A standing desk that doesn't fit you isn't much better for your back than a clunky office chair.
To fit your desk to your height, stand tall and measure the distance from the floor to your elbows. When you raise your desk, you'll want the table top to be level with or just below your elbows when they're bent at 90 degrees. That way, you can easily type while standing upright with good posture.
Body composition and torso length vary from person to person, but your elbow height is a good marker for approximately where your standing desk should hit. For me, a comfortable standing height is about 42" from the ground, and I stand 6 feet tall. If you're over 6 ft tall, you may need a standing desk that can rise to at least 48" high.
If you're on the shorter side but over 4 feet tall, you may not need to worry about how high your desk can go. But how low it goes could determine whether you can comfortably sit at it. So if you want a flexible workspace, look for a desk that lowers to at least 23" in height.
Other ways to fit your standing desk:
Besides keeping your keyboard at elbow height, you'll also want to make sure your monitor or screen is at eye level. If you have a monitor, raise it as high as possible or elevate it with a few books so that you're not looking downward and straining your neck.
Laptop users can simulate this ideal setup by installing a second, detached keyboard and mounting their laptop to eye level.
The next thing to know about getting the most out of your standing desk involves something called Posture Variability.
2. Know that you shouldn't be standing all the time
In the clinic, I assess people's posture every day. Anyone who has worked with me knows I like an upright, strong posture with the shoulders, back, and head in a neutral position.
But frankly, it's impossible to sustain such perfect posture all day. The body isn't designed to hold a single posture interminably; it's meant to be mobile. Posture variability, in addition to proper postural alignment, is key to avoiding back strain. Even taking a few steps down the hall can help your body readjust and avoid stiffness in the hips and back.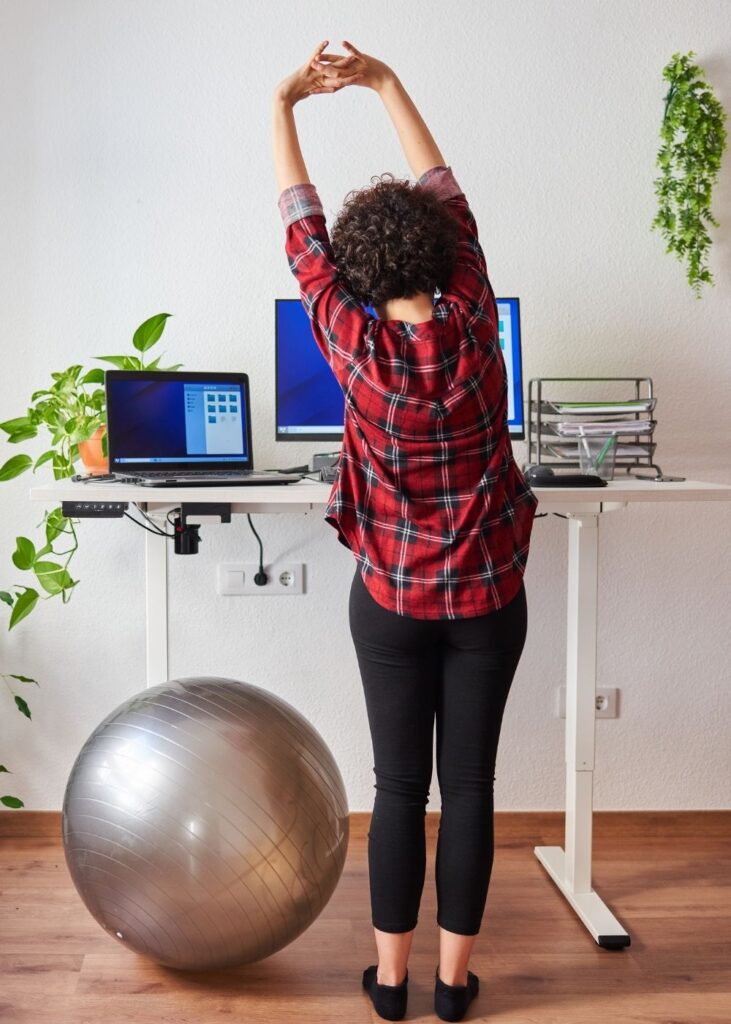 Standing is certainly better than sitting and more conducive to taking mini breaks. But your muscles could fatigue more quickly when you're standing up, leading to compensatory standing positions, poor posture, and additional muscle strains that you never had while sitting.
So my suggestion is simple: mix it up. Incorporate posture variability into your workday by sitting for 20-30 minutes then standing for 20-30 minutes. Besides giving your muscles some respite, this variability will allow you to reset and stretch while staying productive throughout the day.
Mixing it up is a whole lot simpler when your desk is flexible and can move up and down from a sitting height to standing height. Plus, the convenience of a floating desk means you'll change positions more frequently than you would at a stationary desk.
3. Know which features you want—and which you don't
Just like when you're shopping for a new car, it's important to consider ahead of time the features you want in your standing desk. For example, some desks come with a USB charging port, which is a nice feature but not a dealbreaker for me. Some floating desks auto-adjust at the touch of a button, while others include drawers and shelves.
With so many models available, the sky's the limit on customizing a standing desk to suit your workspace. Here are just a few features you may want for your desk.
Surface Design
The first thing you'll notice about your new desk is how it looks. Although appearance has little bearing on function, it often makes a huge difference in price.
For example, my standing desk features a smooth, laminate top resembling black walnut. Although this material looks like wood, it's scratch-resistant and waterproof and, similar to laminate flooring, able to withstand wear and tear better than authentic wood. Granted, you can choose a desk made with legitimate walnut or mahogany, but that upgrade will cost you hundreds of dollars.
Personally, surface design makes no difference to me on how the desk performs. In fact, the desk I keep at work has a standard, flat black top made of chipboard. Maybe it's not as fabulous as a fancy oaken-top table, but it was wildly affordable and has held up wonderfully for the past 2 years of daily use.
Your design priorities are entirely up to you. But for me, it all comes down to durability, appearance and cost.
Footprint
The size of your desk can also make a big difference on its functionality. This time, I'm not talking about the height of the desk, but its footprint. How much space will it take in your home, and how much workspace do you need it to provide?
Most standard desks come in a wide range of sizes, from 48×24" to 78×38", for example. I think the perfect size for a flexible work station is 55×28". That dimension will provide sufficient depth for elevating your laptop and enough space on both sides of the monitor for holding items such as a notebook or tablet.
Floating Desk KeyPad Controls
The third feature to consider for your desk is a keypad you use to raise and lower the desk. Now that you know how important posture variability is, you'll want to find a desk that can accommodate sitting as well as standing. Some desks allow you to adjust the height with a simple press of a button, and with an even nicer one you may be able to program preset heights.
What I like about programmable controls is that it eliminates having to guess or estimate how high you set your desk last time. You just press the button, pull up a chair, and voila—there's a perfectly placed tabletop at your elbows.
If you share your workstation with someone taller or shorter than you, you may be able to program the desk to remember four separate heights for your respective sitting and standing needs.
Stability
One detail that's easy to overlook is how stable the desk is. Besides reading reviews and trying it out yourself, taking a look at the desk's structure is one way to predict its stability.
In general, the larger the frame, the greater the stability. A heftier desk is better equipped to hold heavy weight while still floating up and down smoothly. By contrast, a smaller desk is more likely to wobble back and forth—one of the most common complaints I hear about standing desks. So when weighing your options, consider what your desk will need to support and find one that's sturdy enough for the job.
Looking for a standing desk? Here's what I use.
As a physical therapist, I absolutely love being able to stand at my desk. I have two standing desks, one at work and one at home, because they're that helpful. With the right setup, they have all the features I need to get work done with optimal ergonomics and flexibility.
The standing desk I've been using for the past 2 years is the basic model from FlexiSpot. I paid just under $300 for it and it's been the perfect home desk for the last few years.
Recently, however, FlexiSpot sent me a newer desk to review, the Flexispot E7 Pro Plus. They didn't pay me for my remarks, so everything I write here is my honest opinion.
Let's put this desk to the test using the three points I made above.
First, the height: the E7 Standing desk from FlexiSpot ranges from 22.8" to 48.4" inches high, which makes it suitable for anyone over 4 ft tall. If you're over 6'4", the upper limit of their height range, you may need to elevate your screen or monitor by a couple of inches.
In terms of surface design, the FlexiSpot E7 has several tabletops to choose from. The cheapest option is chipboard, but you can also choose bamboo, fiberboard, wood veneer, and solid wood, the last of which costs an additional $300. If you choose the chipboard top, you'll pay $579 for the desk. While it isn't the cheapest standing desk on the market, the E7 provides exceptional quality at a relatively low price.
And from personal experience, the stability of the E7 is noticeably better than other standing desks, including the one I use at work. Of all the FlexiSpot models, the E7 comes with the largest frame base and provides the greatest stability. Its dual motor set-up can bear 355 pounds and still rise up and down with a smooth and stable motion.
One of the best features of the FlexiSpot E7 is its keypad. Not only does the desk enable you to change elevation at the press of a button, but it can also be programmed to remember multiple height settings. You'll also appreciate its digital height display and child lock button.
Flexispot also includes a 15-year warranty on the E7 model to cover the frame, motor, and the electronics, which should give you peace of mind beyond the hundreds of 4.5 star reviews this desk received.
Summary
When looking for a standing desk, you can't go wrong with the quality and customizability of the FlexiSpot standing desk lineup. But along your shopping journey, make sure the desk you choose fits you properly, accommodates a variety of postures, and provides all the features you want in a flexible workstation.