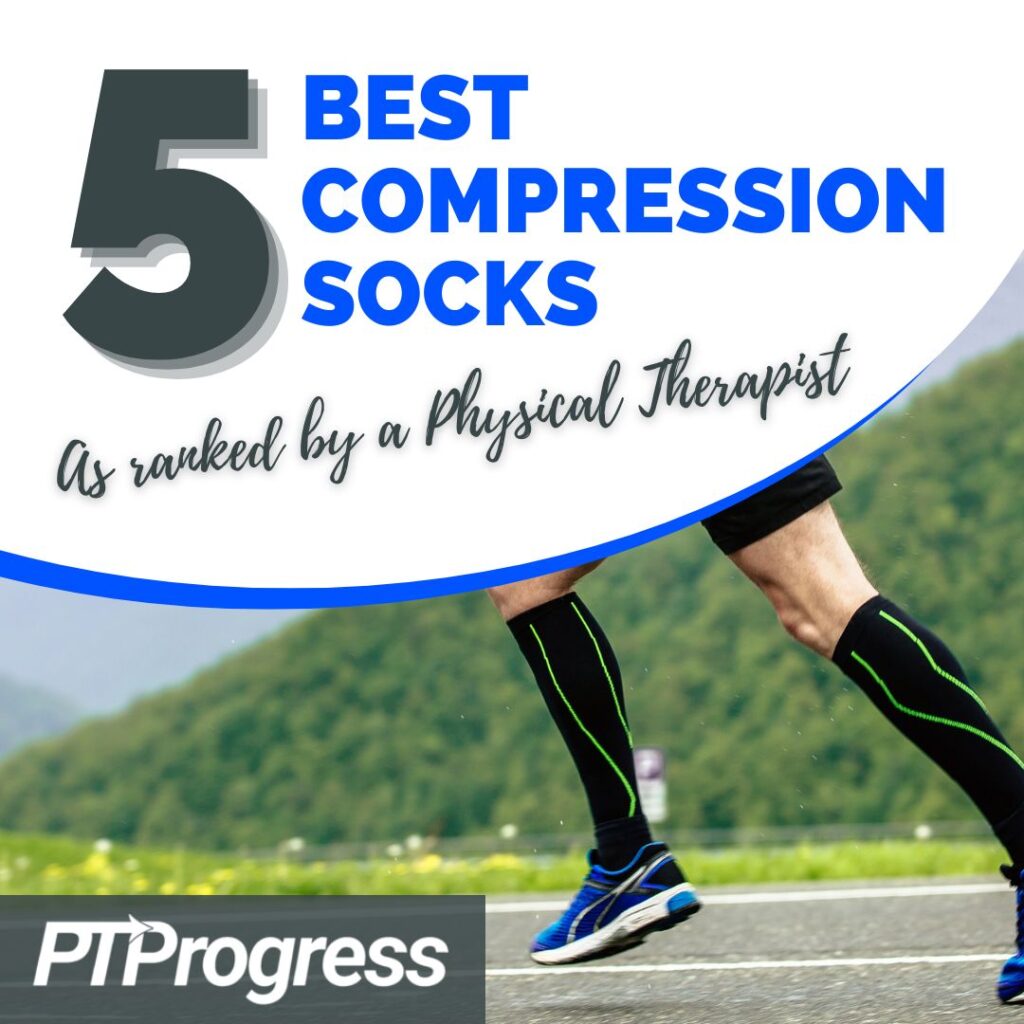 Are you in the market for a pair of compression socks? No longer just for athletes, compression socks can help combat pain and swelling for those who spend a lot of time on their feet. Keep reading for five of the best compression socks you can buy online.
Benefits of Compression Socks on Feet
Compression is a very simple method of constricting fluid to encourage blood flow. Think back to gym 300faster and speed its healing.
While compression socks are not meant to treat an acute injury (an ice pack works much better for that), the same benefits of compression apply to ordinary aches and pains. Long days spent on one's feet – in what we call a "dependent position" – can lead to excess fluid in the feet and cause painful, achy swelling. The only ways to reduce that swelling is to elevate your feet and recirculate the fluid.
But not everyone has time to put their feet up in the middle of the day. So compression socks are a good stand-in for counteracting the pooling effects of excess fluid in the feet. They can also help prevent deep vein thrombosis, blood clots, and other circulation issues. Find yourself a comfortable, thermal pair of compression socks, and you can reap the benefits of increased blood flow and warmer, happier muscles.
Wearing Compression Socks
If you've never slipped on a pair of compression socks before, keep in mind that they are tight. That might seem obvious, but too often I hear people complain that the socks run small. While they certainly shouldn't dig into your skin or cut off the circulation to your feet (that would be counterproductive), the socks should be very snug. Otherwise they would offer paltry compression and produce little benefit.
You don compression socks just like any other stockings, but if you have trouble getting them on, try using a little bit of talcum powder so they slide up smoothly. Always check to make sure the socks aren't bunched anywhere or cutting into your skin.
Although it may take some time for you to get used to them, a well-fitting pair of compression socks should be comfortable enough to wear all day long.
Here are the top 5 best compression socks, in my opinion as a physical therapist.
#1 Best Compression Socks: Sockwell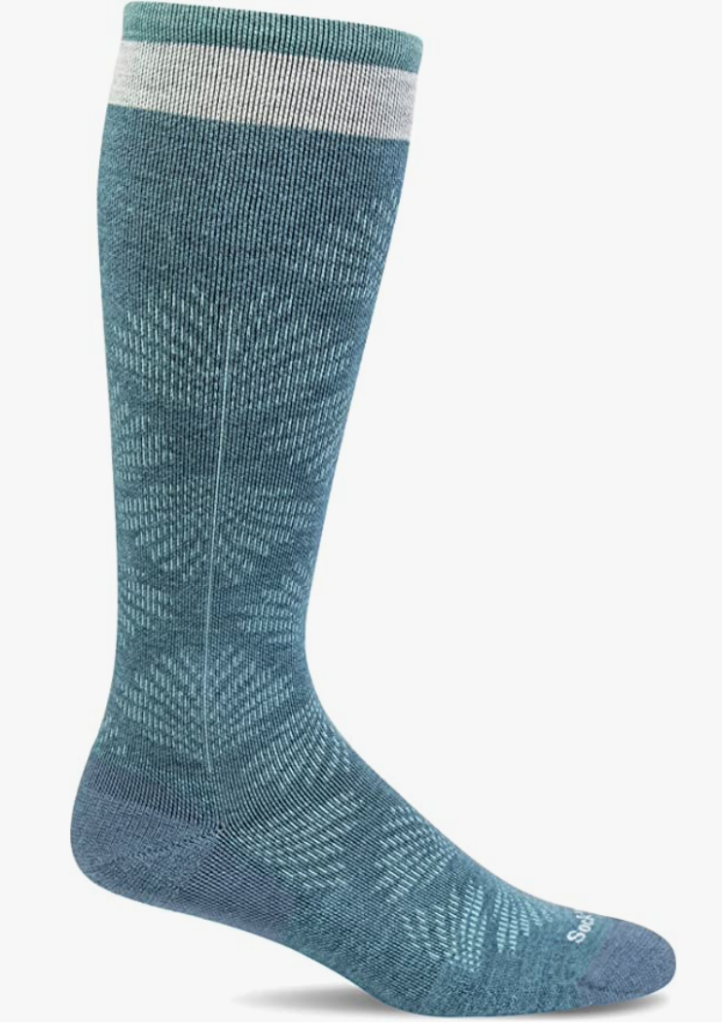 Quick info:
32% merino wool, 32% nylon, 31% rayon, 5% spandex.
Comes in 7 colors.
Machine washable.
Sockwell compression socks are my favorite socks because they're soft and well-made while offering superb, graduated compression that's tightest at the ankles.
Not only is the merino wool cozy, it also wicks away moisture and helps control temperature, key for combating sweaty feet. You can buy these socks in two varieties of compression, moderate and firm, and a range of colors.
The Moderate compression is great for everyday wear. I ordered multiple pairs for my wife, who stands on her feet every day. She loves them! And I can attest that the socks have held up very well after months of uses and washes.
Most reviews share the same positive feedback, with a few complaining that the socks fall down. If you have small legs or calf muscles, you may need to order the Firm compression sock.
Overall, these socks are my #1, based on personal experience and firsthand use.
Quick info:
Firm compression (20-30mmHg)
80% nylon and 20% spandex.
Comes in 19 colors.
Machine washable.
Women's sizes 7-13, men's sizes 6-14.
SB Sox makes several types of compression socks, but these long, knee-high socks are particularly comfortable and highly-rated by thousands of Amazon reviewers.
I purchased a pair and liked them too. Although they aren't made from merino wool like Sockwell's, SB Sox provide plenty of compression and all-day comfort at a lower price. Plus, the knee-high rise means you'll spread compression benefits to your calves as well as your feet, ankles, and lower legs.
These socks are available in an even wider rainbow of colors, including stripe and argyle patterns. But my only complaint is that every option includes visible branding. So if you prefer socks without obnoxious branding, then you may want to keep looking.
Quick info:
Firm compression (20-30mmHg)
70% nylon and 30% spandex.
Comes in 13 colors.
Machine washable.
Women's sizes 5.5-15, men's sizes 5-17.
Over 64,000 positive reviews on Amazon makes Physix Gear one of the highest-rated compression socks for sports performance. That doesn't mean you can't use these socks for everyday performance, but people love to wear them for sports because they're thin, breathable, and provide powerful compression.
Whether or not you play sports, you'll love the design, affordable price, and durable material of the Physix Gear compression socks. Better yet, right now they are on sale—buy 2, get 10% off!
Quick info:
Moderate compression (15-20mmHg)
85% nylon and 15% spandex.
Comes in 38 sets of colors and patterns.
Machine washable.
Women's sizes 5.5-15.5, men's sizes 5-14.
What sets CharmKing apart from its highly-rated competitors is the sheer number of socks you get with each order. Instead of a single pair, CharmKing sends as many as 8 pairs of compression socks for $20. That's a per-unit price of less than $3 a pair!
While the economical savings are enough to people-please, their 60,000+ positive reviews reflect the socks' quality as well as value-for-money. With moderate compression and lightweight material, the CharmKing sock is both comfortable and effective for improving blood circulation.
If you are hard on your socks and wear them out frequently, then the CharmKing compression socks will get you the biggest bang for your buck. At just $3 a pair, it's certainly worth trying them out, especially if you tend to go through socks very quickly.
Quick info:
Moderate compression (15-20mmHg)
85% nylon, 8% spandex, and 7% polyester.
Comes in 2 colors.
Machine washable.
Women's sizes 7-13, men's sizes 6-12.
For a while now, people have been buying copper-infused products under the impression that copper provides additional pain-relieving benefits. Unfortunately, this claim is widely unproven. The only benefit to a copper-infused product is antimicrobial odor prevention.
But keeping your feet odor-free is certainly a valid reason for purchasing copper compression socks. These CopperFit socks provide ample compression through its snug fit and graduated design. You'll notice the benefits of the odor-reducing copper infusion once you've kicked off your shoes at the end of a long day.
Despite a misleading marketing tactic, CopperFit compression socks are a good option for someone who needs compression socks but wants copper infusion. Plus, they're highly reviewed and relatively affordable, compared to some of the pricier brands.
More Compression Products Ranked by a Physical Therapist
There are countless merchandisers out there vying for your hard-earned dollar. My buying guides can help you make an informed decision and find the product that works best for you. Check out the blog for my top 5 compression gloves for arthritis and best back brace!