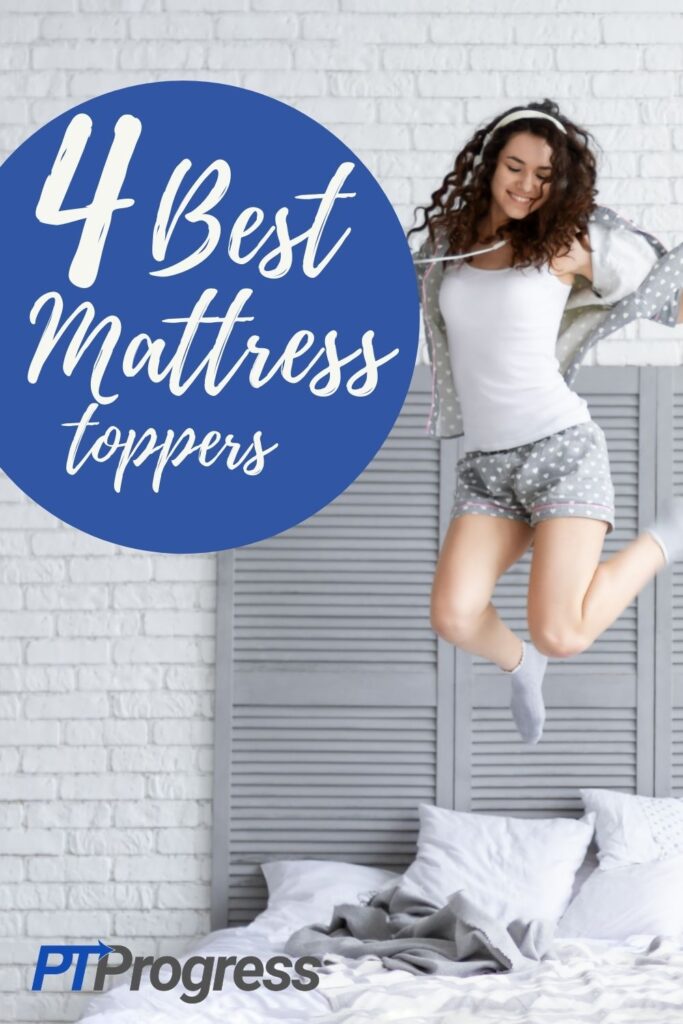 Waking up with back pain? Too often the culprit of poor sleep is an ill-fitting mattress, which can be expensive to replace. Instead, you may benefit from a mattress topper: a thin, structural layer of foam or other materials that can soften a too-firm mattress or firm up one that's unsupportive. In this article, I'll show you how to troubleshoot your own mattress needs and select the best mattress toppers for back pain.
How to Find the Best Mattress Topper for Back Pain
When it comes to mattress toppers, one size does not fit all. And I'm not just talking about the size of the bed (Full, Queen, King, etc.). Mattress toppers come in a variety of depths and measures of softness. In the same way that you purchase clothes to fit your unique body type and needs, so should you carefully select your mattress topper.
Before buying a mattress topper, ask yourself this: what is the topper topping? Is it a futon? The floor? Brand-new memory foam? The condition of your current mattress will inform your choice of a topper as well as your expectations.
No mattress topper is supportive enough to level out a caved-in bed, nor can it make sleeping on cement feel like sleeping on a cloud. As long as your expectations are appropriate to what a topper can do, you'll have a better buying experience.
What can a mattress topper do?
Limitations aside, mattress toppers are popular because they work so well for so many. With the right topper, you can prolong the life of your old mattress, emulate a luxury-mattress experience, or get life-transforming relief from back pain.
Many Kinds of Mattress Toppers
Mattress toppers come in a variety of thicknesses and heights to address a variety of needs. Maybe your current mattress is too firm, and you find yourself waking up with pain around your pressure points – the parts of your body that carry your weight while you sleep (the hips, ankles, shoulders, etc.). If so, you'd benefit from a plush mattress topper that will soften your firm bed.
Other sleepers seek out a mattress topper to do just the opposite: to firm up a too-soft bed. If you carry more body weight, suffer from spinal misalignment, or simply prefer to sleep on top of your mattress (rather than sunken into it), then a firm mattress topper might be right for you.
Finally, your sleep position can influence your choice of topper. In an ideal world, you would already have a mattress that perfectly accommodates your sleep position, but since you live in the real world like everyone else, you've probably had to settle for one that doesn't support how you sleep.
A side sleeper should go for a soft, plush topper that will better cushion the hips and shoulders from a hard mattress. In contrast, a stomach or back sleeper would benefit from a firm topper that better supports a neutral spine.
Soft Mattress Toppers Vs. Firm Mattress Toppers
Finding the ideal mattress topper is only slightly less overwhelming than finding the right mattress, but in general, the rubric is the same. Check out the table below for a breakdown of the pros and cons of a soft vs. firm mattress topper.
| | | |
| --- | --- | --- |
| | Soft Topper | Firm Topper |
| Pros | Cushions side sleepers | Supports back/stomach sleepers |
| | Makes bed cozy | Keeps bed cool |
| | Relieves achy muscles | Encourages spinal alignment |
| | | |
| Cons | Less supportive | Less comfortable |
| | Retains heat | Denser/heavier |
| | Less durable | Generally more expensive |
Depending on your mattress, you may be able to use a topper to attain a medium-firm feel, which is ideal for arthritics.
Mattress Topper Considerations
With every rave 5-star review on Amazon, you'll find a disillusioned 1-star begging you to save your money. Take every mattress topper review with a grain of salt (yes, every review, including this one) and be aware of these typical drawbacks to inexpensive mattress toppers.
1) Mattress Toppers tear easily
If the topper you select is made of lightweight foam, understand that it's not designed with longevity in mind. Always handle a foam topper with care and encase it in a zipper-top protector if it doesn't already come with one.
Some reviewers recommend marking a corner of the foam and rotating it periodically in an effort to distribute wear and tear. Even the highest-rated mattress toppers are susceptible to cracking, flaking, or discoloring, so order your expectations accordingly.
2) Memory Foam runs hot
No matter what the manufacturer promises, if you're sleeping on soft foam, you're going to experience a warmer night's sleep. That's because the contours of a soft mattress topper trap body heat and prevent you from cooling off throughout the night.
Many brands advertise special "cooling beads" in their toppers that supposedly fix this issue, but they have yet to receive consistent reviews. The best way to ensure a cool night's sleep is to select a firmer topper that will keep you elevated on your mattress, not sunken into it.
3) Latex and polyurethane smell
A sensitivity to chemical smells doesn't disqualify you from a mattress topper. You'll just have to be really diligent to air it out thoroughly before sleeping on it.
Most mattress companies are upfront about the strong smell of latex or polyurethane that accompanies a comfortable sleep setup. Be sure to follow their instructions and air out the topper for 24-48 hours (not 1-5, which most reviewers think should be enough).
Keep the space well-ventilated for the first few days and use dryer sheets to absorb the odor. It's tough getting around this drawback on any topper, but for most brands, the issue resolves itself if you're patient.
All that being said, here are the 4 best mattress toppers for back pain.
Best Mattress Toppers for Back Pain
1. Viscosoft 3-inch High-Density Topper
Viscosoft's bestseller, this topper consists of a 3-inch memory foam base with a plush cotton layer on top, providing supple support for all kinds of sleep needs. Plus, the built-in straps keep the heavy topper in place day and night.
Concerning back pain, Mattress Reviews had this to say: "[This topper] provides a Medium Firm feel and responsiveness that can support the spine and help prevent back pain."
The High-Density Mattress Topper is ideal for anyone looking for a firmer, more supportive sleep experience without compromising on comfort.
Key features
Height: 3-inch
Construction: Gel Memory Foam + Bamboo Rayon Cover
Firmness: Medium
Pros
High Density provides good support for back sleepers
Cover is removable and machine washable
Foam is available in a lavender-infused and charcoal-infused variety
Cons
Tends to have a strong chemical smell
Difficult to return
Get it on Amazon for $160 (Queen)
2. Sleep on Latex Pure Green Natural Latex Topper
Sometimes choosing a good brand is not just about finding a good price. If you crave better sleep but care about the environment, Sleep on Latex's Natural Latex Topper might be for you. Instead of synthetic latex or foam, this mattress topper is made with 100% natural latex harvested from organically-grown rubber trees.
Available in three thickness options and three firmness levels, this mattress topper is sure to suit your needs. However, if you suffer from back pain, bite the bullet and select a 3-inch thickness in medium firmness.
Key features
Height: 1-inch, 2-inch, or 3-inch
Construction: 100% Natural Latex
Firmness: Soft, Medium, or Firm
Pros
Made with natural ingredients and GreenGuard Gold Certified
More durable than foam
Less likely than foam to sink; naturally firm
Cons
Expensive
Tends to have a strong chemical smell
Thick toppers may be too firm for lightweight sleepers
Get it on Amazon for $230 (3-inch Queen – Medium)
3. Sleep Innovations 4" Dual-Layer Gel Memory Foam Topper
For sleepers who need to soften up a too-firm mattress, the Sleep Innovations Dual-Layer Topper will fit the bill. Half memory foam, half pillow top, this dual-purpose mattress topper surpassed other toppers in making reviewers feel as if they were "sleeping on a cloud."
If your back pain is due to an unforgiving mattress or arthritic pain, then this 4-inch cushion might be just what you need to ascend to sleep heaven. Just be aware that, although the detachable cover is labeled "machine-washable," reviewers recommend washing it on the delicate cycle and allowing it to air dry.
Key features
Height: 4-inch
Construction: 2-in. Gel Memory Foam + 2 in. Fiber-Fill Cover
Firmness: UltraSoft (soft) to Enhanced (medium)
Pros
Soft cushion is good for side sleepers
Foam comes in a soft or medium firmness
10-year warranty
Cons
Cover tends to disintegrate from machine washing and drying
Flattens out over time
Get it on Amazon for $134 (Queen – Enhanced Support)
4. Linenspa Gel Memory Foam Topper
Linenspa made this list because it's the #1 best-selling mattress topper on Amazon. Buyers should beware, however, that with a low price comes the usual caveats (see "Mattress Topper Considerations" above), such as a short shelf-life and stifling heat retention.
Regardless, this mattress topper is so popular because it works well for so many. With a 3-inch Linenspa topper, you'll be able to relieve back pain and prolong the life of your mattress, all while softening the blow to your wallet.
Key features
Height: 2-inch, 3-inch, 4-inch
Construction: Gel Memory Foam
Firmness: Soft to Medium
Pros
Cheap
#1 Amazon seller
Comes in many varieties, including lavender-infused and 5-zone
Cons
Not durable; cracks and flakes easily
Reviewers complain of overheating
Get it on Amazon for $90 (3-inch Queen)
Body Pillows: A Mattress Topper Alternative
For some sleepers, a mattress topper is either too much of a commitment or too inflexible as a support system. Body pillows provide much of the same benefits of a mattress topper, with the added benefits of better customizability, mobility, and exclusivity (affecting only one side of the bed).
Popular among pregnant women, body pillows encourage side sleeping for health reasons such as apnea. If you're a side sleeper, a body pillow will cushion the space in between your legs and help align your hips when sleeping in the fetal position. Stomach sleepers may also enjoy a body pillow that reduces the angle of their neck by elevating one side of their body.
By supporting the head, back, and legs, a single body pillow will replace multiple pillows and reduce pain in your lower back, neck, and hips.
Here are two of the best-rated brands:
Key features
U-shaped
3 lengths: 55-inch, 60-inch, 65-inch
Fill-adjustable
Machine-washable cover
Get it on Amazon for $50 (55-inch)
Key features
Rectangular
One length: 17 x 9 x 8 inches
Fill-adjustable
Machine-washable cover
GreenGuard Gold Certified
Get it on Amazon for $70
Best Mattress Toppers for Back Pain: Conclusion
Remember, your best night's rest reflects your whole sleep setup: mattress, topper, and personal sleep style. Adding on a topper or body pillow may not be enough to fix the root of your back pain problem, whether that's a deformed mattress, poor posture, or a chronic condition. Check out the blog for more tips on getting a good night's rest as well as exercises you can do to reduce back pain.