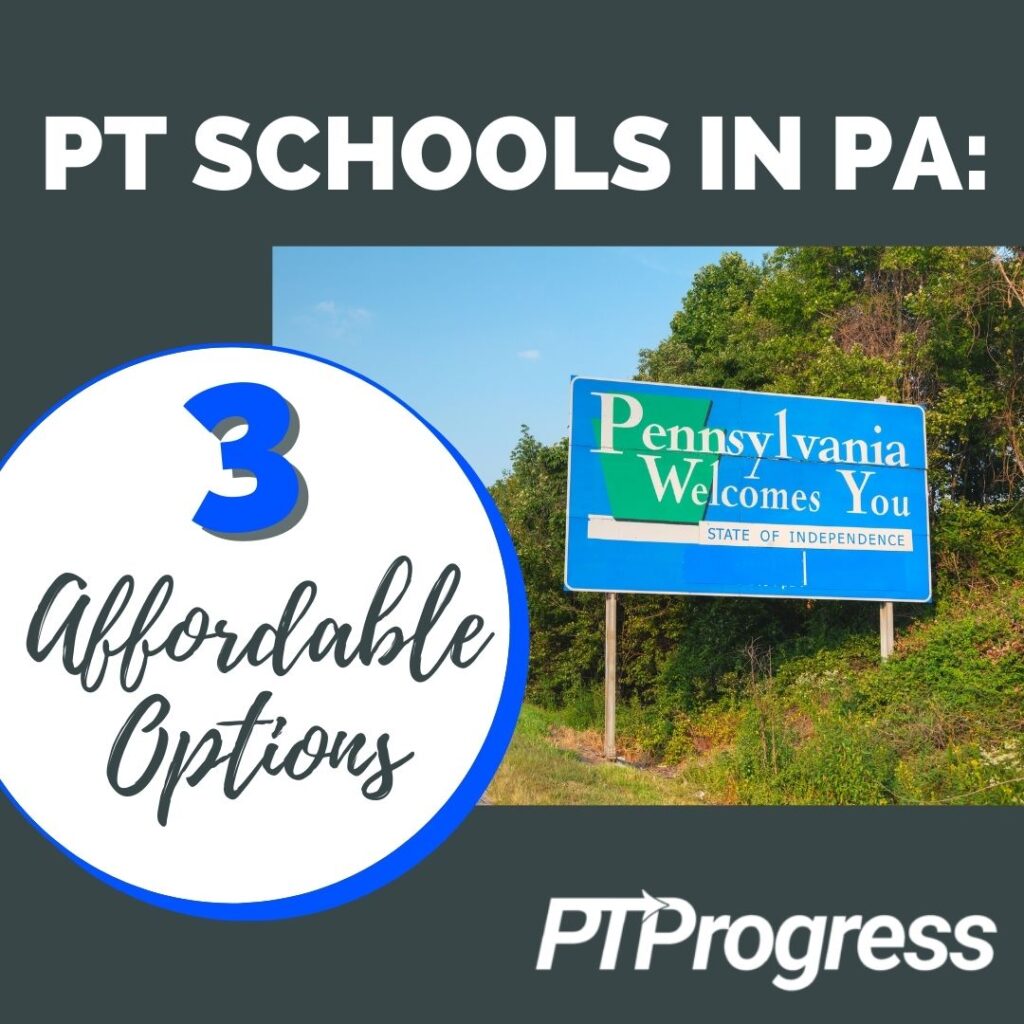 Physical therapy is a rewarding career, but it can be costly to pursue. If you aren't careful, earning a DPT could put you in massive debt! Start your career well by attending one of the 3 affordable PT schools in PA.
Why Seek Cheap PT Schools in PA?  
"You get what you pay for" makes the assumption that a cheaper option means a lower-quality compromise. That may be true for most things in life, but it doesn't always apply to PT career preparation. 
To become a PT, you must earn a Doctorate of Physical Therapy, pass your boards exam, and obtain a state therapy license. A DPT program will give you clinical skills, expert knowledge, and invaluable experience in therapy. But no matter how expensive the program is, your starting salary as a PT will be the same. Your future employer won't be impressed by your grades, your alma mater, or your DPT program's made-up ranking.
Every CAPTE-accredited DPT program adequately prepares you for a physical therapy career. Yet, tuition costs range widely throughout the country. PT schools in PA are particularly expensive, and unlike elsewhere, the state schools charge a higher tuition than some of PA's private schools.
High Tuition + Low Wages = Lots of Debt
To make sure you're getting a good price, weigh not only tuition rates but also the cost of the program against your expected starting salary. Unlike your school's ranking, the debt you take on for your DPT will significantly impact your future. Ideally, strive for a debt-to-income ratio of less than 1; meaning, whatever you'll earn annually as an entry-level PT should determine how much debt you accrue in school.
The average starting salary for Pennsylvanian PTs is $60,050, which is lower than the US average. If you live in east PA near the NYC metropolitan area, you might be able to earn a higher starting wage at $68,800. Even so, it'll be challenging to keep your total costs below $70k, because tuition is only one part of the price. Living expenses also contribute to the cost, and they vary throughout the state, depending on the proximity of metropolitan areas.
These 3 affordable PT schools in PA can help you cut costs on tuition.
3 Affordable PT Schools in PA
Based on 2020-2021 tuition rates. Subject to change.
3 Cheapest PT Schools in PA
Slippery Rock University
The cheapest DPT program in Pennsylvania is located at Slippery Rock, a tiny town in the rolling hills of west PA. Technically a borough, Slippery Rock registers only 3,600 residents, yet hosts 8,500 students at its state university. The location is ideal for a student: one hour from Pittsburgh and two hours from Cleveland, with immediate access to some of PA's most scenic outdoor recreation at Moraine State Park and Allegheny National Forest.
Despite these appealing features, Slippery Rock University is first on this list for its attractive low price: just $79,459 for in-state residents. You'll be hard-pressed to find tuition under $80k anywhere else in the region without changing residency status.
But what you'll get is even more impressive. The three-year DPT program at SRU encompasses eight full-time semesters – 119 credits of coursework and 37 weeks of clinical rotations.
If you're still in high school, you can get a jump start on your PT career by enrolling in SRU's 3+3 program. Instead of finishing your undergrad in 4 years, you'd complete an accelerated version in just 3, then jump right into your DPT. This is a great option because it saves time, saves money, and saves you the hassle of a second round of college admissions. You'd just have to be certain that the PT career is right for you (hint: shadow some PTs!).
Living expenses in SRU's Butler County are lower than the state average. One-bedroom apartments in Slippery Rock and neighboring towns average $500-750/mo. Because the university is in such a small town, you may have to commute to school, so include gas and vehicle maintenance into your monthly budget. For the duration of your DPT program, expect to pay $40k total in living expenses.
Chatham University
For a bigger-city experience, Chatham University offers a DPT program in the heart of Pittsburgh. Although Chatham is a private university, it charges just $88,809 for the DPT program – that's $50k lower than many private universities in PA.
DPT students at Chatham undergo 7 terms of full-time coursework, covering 107 credits and 36 weeks of clinical experience. This is covered in just 28 months, and while that might feel accelerated compared to other programs, Chatham's graduate outcomes exceed the average. Previous graduates demonstrate a 100% employment rate after 6 months of completing the program.
Besides the cost of the program, however, you should factor in living expenses in Pittsburgh, which of course will be higher than sleepy Slippery Rock. Rent in the city center runs $1100-1500/mo. for a 1-bedroom apartment, depending on the location. However, by going a few miles outside of the city, you can save a few hundred dollars each month on rent. Just be sure to factor in commuting costs, including bridge tolls over the Ohio or Monongahela Rivers. If you live in the city, you may be able to use public transit, which is free to ride with a Chatham ID.
Neumann University
Another affordable private DPT program in Pennsylvania is at Neumann University. The 95-credit DPT is earned over a period of three years in a unique, weekend format. Courses occur on Saturdays and Sundays, leaving the week free for clinical rotations. Neumann is affiliated with over 700 clinics around the country, so you'll select from a variety of inpatient and outpatient clinics, settings, and specialties.
The total program cost for Neumann's DPT is $94,050. Although this is higher than the other two schools on this list, it's still cheap compared to other PT schools in PA. Besides, the weekend instructional format allows for part-time work during the week, so you may be able to pay off your degree as you go.
As you price out your potential DPT at Neumann, don't forget to factor living expenses. Neumann is located in the small town of Aston in Delaware County. With Philadelphia just 30 minutes away, the price of rent in the area varies widely, from $750-1400/mo. The Delaware River is just 15 minutes away, with New Jersey and Delaware as close neighbors.
Because Neumann is a private school, you don't need to worry about residency status to secure the low tuition, so find a neighborhood you can afford. On average, Neumann students pay $17k each year for living expenses.
How to Find Cheap PT Schools in PA
No matter where you go for your DPT, you should budget $40k – $55k+ for living expenses. Keep in mind that the tuition estimates in this article only cover the base rate. There are usually $5k – $20k in additional school fees, not to mention mandatory health insurance, which ranges from $1800 – $3000 annually.
Because the tuition rates are exceptionally high in PA, you could save a lot of money on your schooling by relocating. In fact, several of the schools on this list charge out-of-state residents less than the $79k you'd snag at Slippery Rock. But if you want an all-time low in-state tuition rate, consider moving in advance to establish residency. Just be careful to check your university's residency eligibility requirements before you move.
Researching PT schools in PA
It can be a challenge to locate a university's cost of attendance, especially for a small program like a DPT. You'll want to keep a calculator close by to convert credit hours, semesters, and years into the dollar amounts listed on hard-to-find university tuition menus. Many universities charge an additional departmental fee per credit hour for a DPT program, so be careful to track all fees, whether one-time or annual.
University websites are designed to convince you to apply to their school, not to give you the truth about how much it'll cost. As a prospective applicant, you'll need to conduct diligent research to find affordable PT schools in PA. But it's worth the efforts. Your clinical experience, license, and working knowledge of physical therapy is what will bring you career success; not an overpriced alma mater.