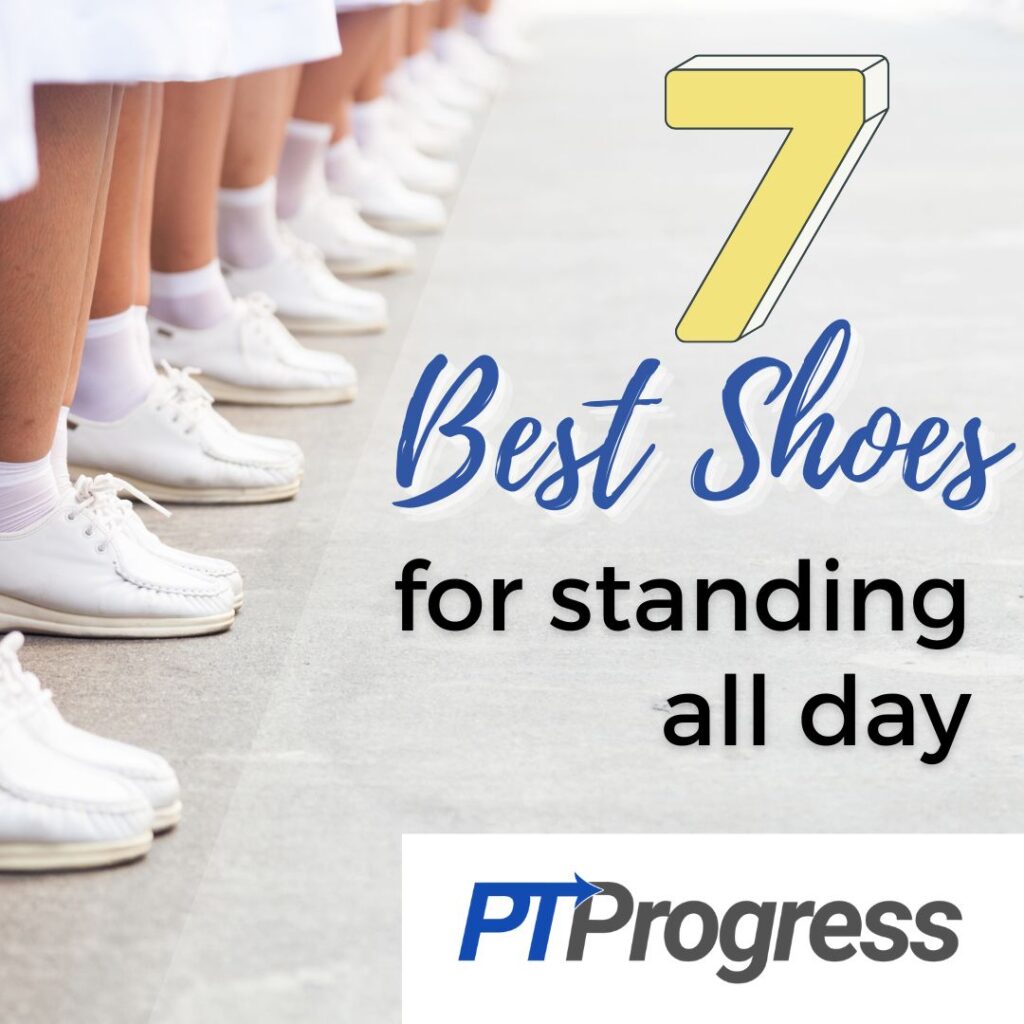 Whether it's for work or recreation, you probably spend a lot of time on your feet. So why not invest in great shoes? Not only will it last longer, a quality pair of shoes can also help promote good posture and prevent foot conditions such as plantar fasciitis or chronic heel pain.
As a physical therapist, I too spend most of the workday on my feet, and I've experienced my fair share of both supportive and flimsy footwear. In this article I'll share some tips on how to find the right pair of shoes, as well as 7 of the best shoes for standing all day.
How to Find the Best Shoes for Standing All Day
When shoe shopping, it's easy to choose a shoe based on outward qualities, such as how it looks or how much it costs. But for optimal musculoskeletal health, your shoes need to offer a bit more than a snazzy design or unbeatable sale.
Here are three qualities that I consider a "must" for everyday shoes:
Comfort
First, your shoes need to feel comfortable, which of course is subjective. Everybody's feet are shaped slightly differently, so just because your friend swears that a particular shoe is the "best ever" doesn't mean it's the best shoe for you.
My advice? Try on at least 5 or 6 pairs before you make a purchase. Set a high bar for comfort. It'll pay off; research suggests there's a connection between footwear comfort and decreased risk of injury in athletes. In other words, the more comfortable the shoe, the less risk of injury, especially in activities such as running.
Fit
Although comfort is important, fit is key! That ultra-comfy shoe may feel like a cloud to your foot, but that doesn't mean it fits well. First, make sure the toe box isn't compressing the front of your foot. Check the heel counter, too—the back of the shoe. It should be firm and supportive, especially if you have a historyof foot or heel pain like plantar fasciitis.
If you're shopping online, then you'll need to take extra steps to ensure the right fit. Ensure your online merchant accepts returns in case you need to change sizes. And before you use their size chart, measure your feet at the end of the day, when they're most swollen. Fitting the shoes to your feet at their largest will ensure the shoes are comfortable the whole day through.
Support
Third, consider adding support, either to your existing shoes or to the new pair if the support wears down quickly. Although you can spend a pretty penny on custom-fit orthotics, there are plenty of high-quality shoe inserts that can accomplish the same effect for much less.
My personal recommendation is TreadLabs. I use their insoles in my work shoes, outdoor shoes, and even dress shoes. The insole provides a consistent feel and guarantees my shoes are comfortable, no matter the style. TreadLabs makes it easy to crop and install the inserts, and their clever two-layer design means you only need to replace the top layer when it wears down, instead of the whole insole.
7 Best Shoes for Standing All Day
Shoe shopping can be tricky—and even more so when you're shopping online. I've taken the guesswork out of it with this lineup of 7 best shoes for standing all day. Each of these treads are highly rated, and I'd recommend any of them to my friends, family, or patients.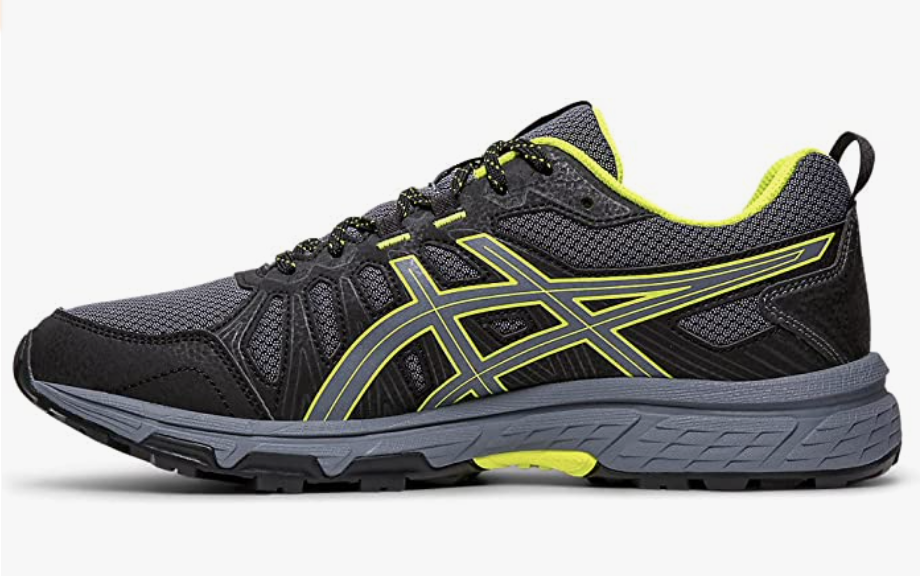 1. Asics Gel-Venture 7
Quick stats:
At the top of the alphabet is Asics, one of the best brands for athletic shoes that'll keep you going all day. Their lightweight Gel-Venture is technically a trail-running shoe, so it's well equipped with shock-absorbing gel in the heel and cushioning throughout. The EVA midsole provides moderate arch support, while the outsole features good tread. For only $50, you'll enjoy all-day comfort without spending a day's wages on shoes.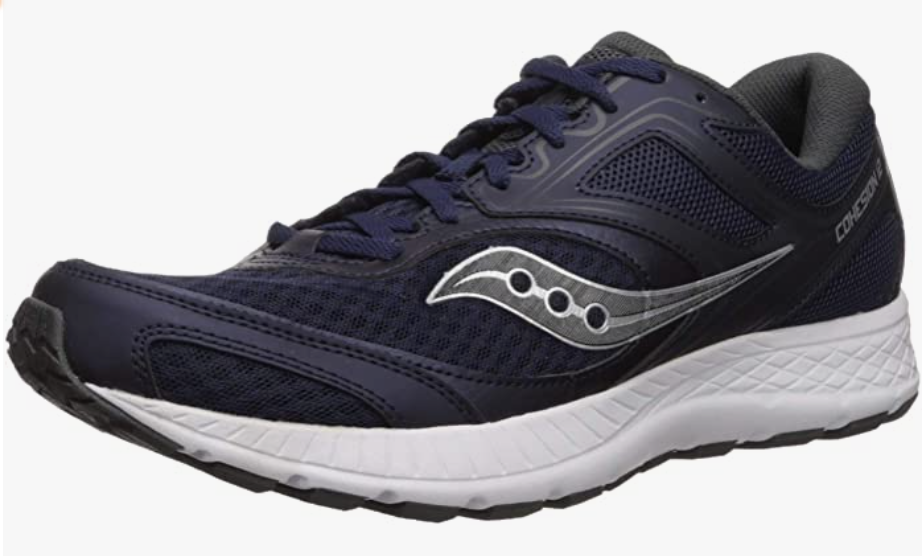 Quick stats:
Another affordable option, the Saucony Cohesion 12 is a running shoe that capitalizes on comfort. Their patented Versafoam cushions every step, while the durable rubber outsole ensures you don't miss a beat. This shoe sports a neutral midsole, so you may opt to insert insoles for more arch support. But thanks to its relatively low price, you may not mind the additional purchase.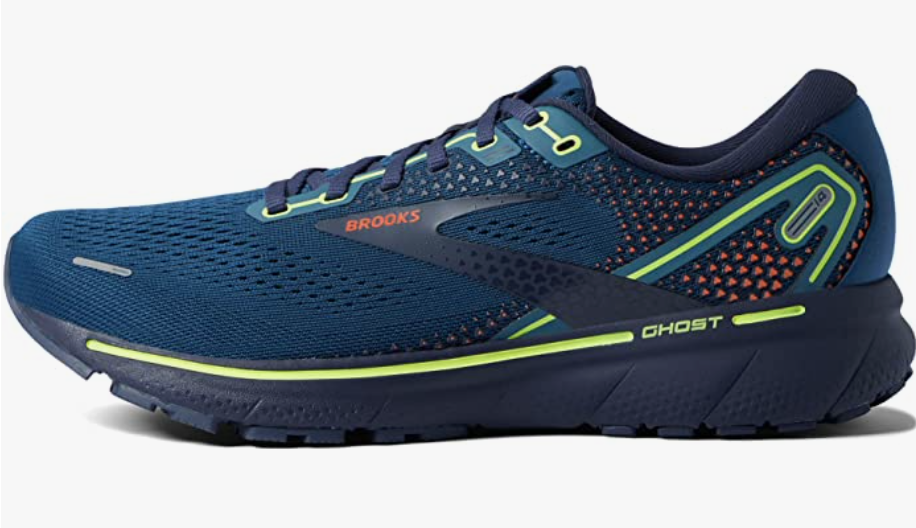 Quick stats:
The Brooks Ghost has it all. This shoe sports breathable mesh and a 3D fit print that stretches to comfortably conform to your foot. Besides its durable construction and heel-to-toe cushioning, you'll love the plethora of color options it offers. Although it's advertised to runners, it's a favorite among many non-runners, including people in healthcare who spend all day on their feet.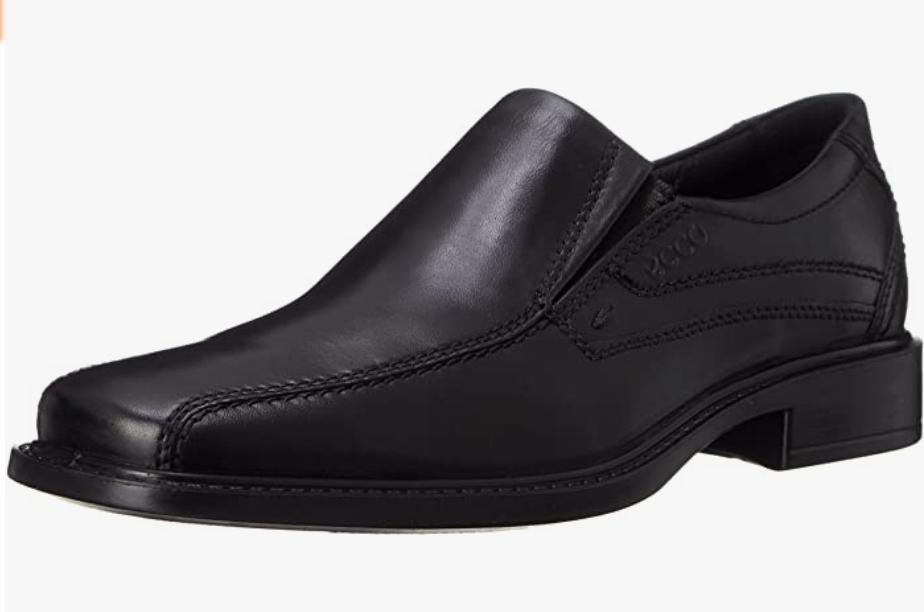 Quick stats:
Men sizes 5-13.5
Black
About $100
For a dressy shoe that won't kill your feet, check out the ECCO loafers. I have two pairs of these, and they let me stand 10 hours in the clinic with no aches and pains! The ECCO Freedom Fit guarantees a comfortable wear, including a spacious toe box, supportive insole and memory foam that cradles your feet. This shoe wins points for style, too, featuring genuine leather and easy slip-on convenience.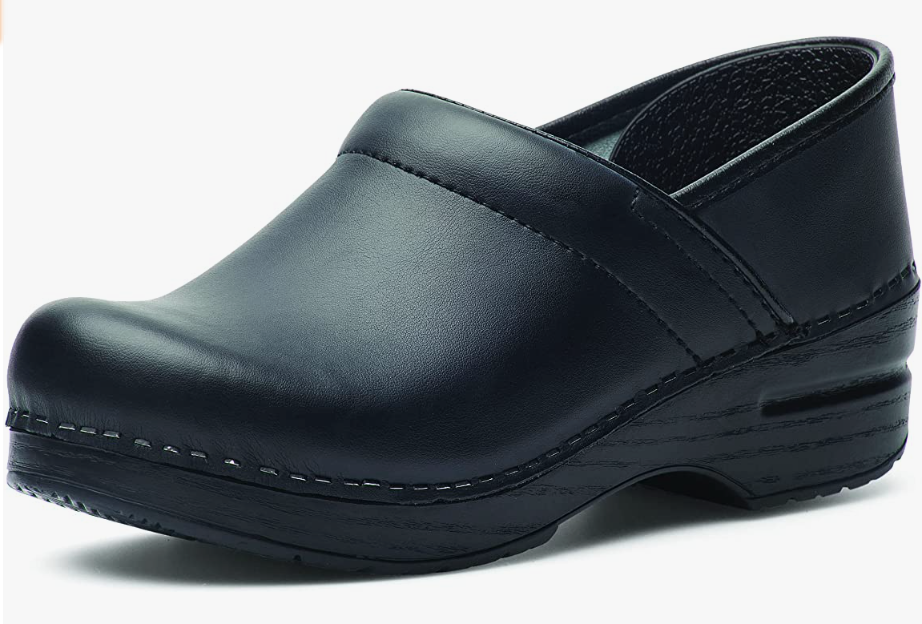 Quick stats:
Women sizes 3-15
Comes in 70+ colors
About $100
For women, you can't get much comfier—while still being classy—than the Dansko clog. It's very popular among healthcare workers, including my wife, who can stand for hours on end when wearing these. Besides its classic style and leather uppers, this shoe offers a roomy toe box, padded heel collar, and shock-absorbing rocker bottom. Available in over 70 colors, this is the kind of shoe you'd want in every color if you had the closet space.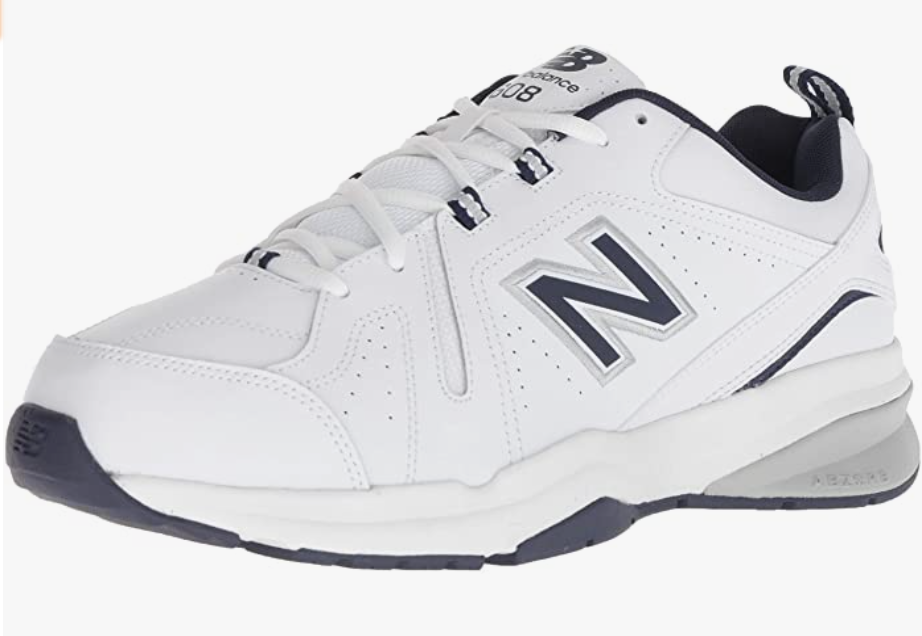 6. New Balance 608 V5 Cross Trainer
Quick stats:
Now, before you write it off as a "dad shoe," hear me out. Rather, hear the 50,000+ positive reviews on Amazon for this model shoe, one I've owned and loved myself. Thanks to its plush EVA foam midsole, supportive heel counter, and lightweight construction, it's one of the rare shoes you can wear all day without any pinching or aching. So while these shoes may instantly put you into the "dad shoe" camp….at least your feet will be comfortable.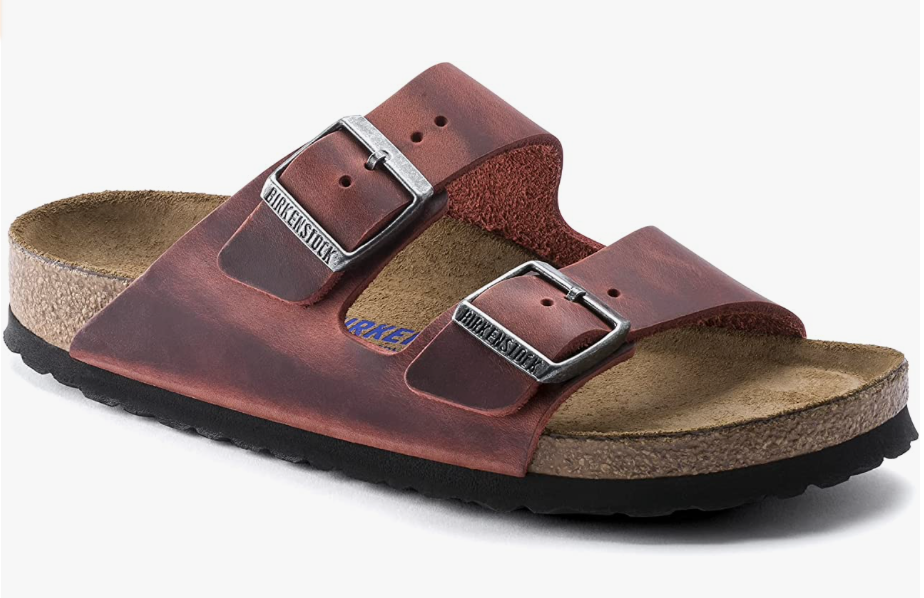 Quick stats:
Sometimes, you just want a nice comfy sandal to slip your feet in. And when that sandal can support a whole day's worth of standing and walking, then you know you've hit the jackpot. Birkenstock's Arizona sandal is one of the most widely loved shoe in the business, and for good reason. Their patented cork footbed provides ample arch support, a deep heel cup, and a contoured fit that gets even better with time. Best of all, this popular sandal is available in a huge range of sizes and more colors than you knew existed in a shoe.
For more comfortable, supportive options like Birkenstock's, consider browsing this list of best sandals for plantar fasciitis.