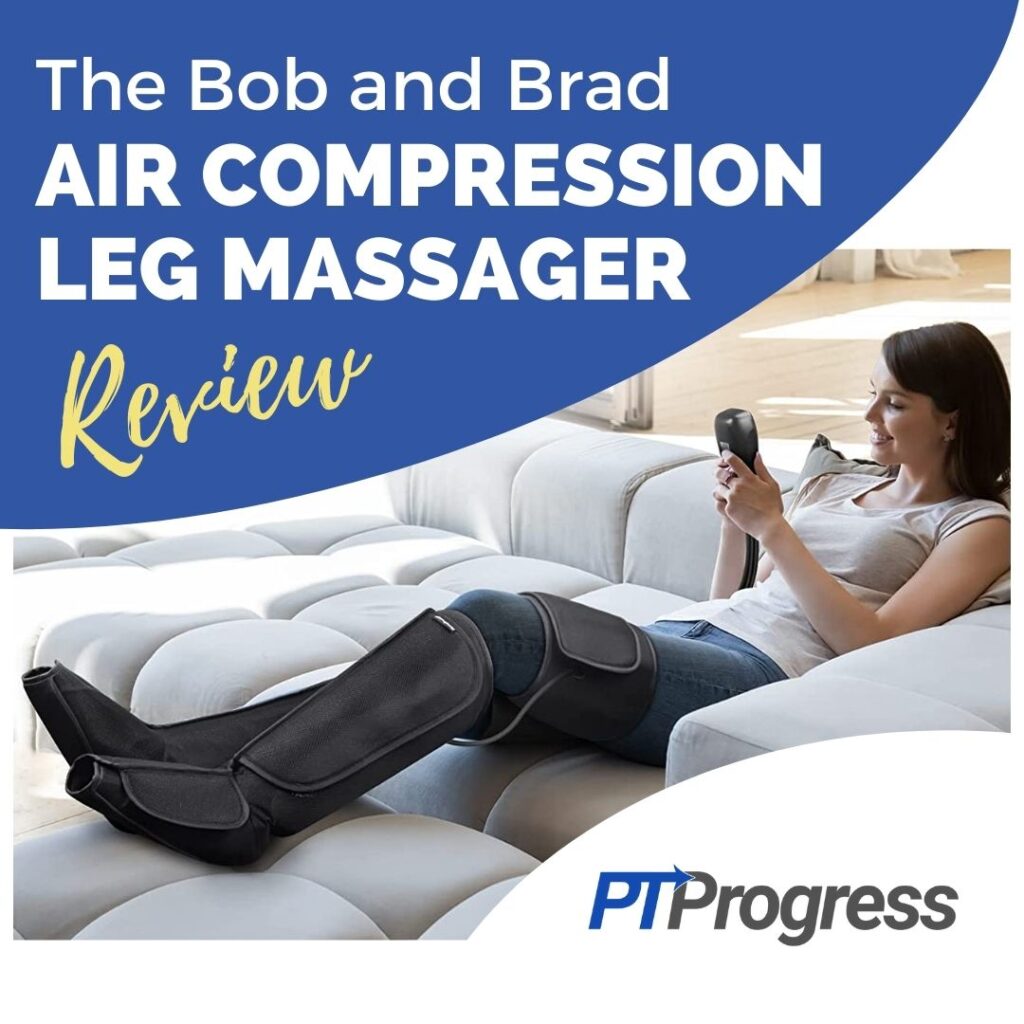 Ever heard of an air compression leg massager? It's like a pair of boots that massages your legs while you wear it. Recently my PT buddies Bob and Brad asked me to review their leg massager, so I thought I'd share with you my general impression of their product as well as an overview of the benefits it may bring.
Leg Massage: a Solution for Sore Feet
If you stand on your feet all day at work, then you understand what it's like to come home with swollen feet and sore muscles. I do too. As a Physical Therapist, I often tire out my legs and feet by standing all day—especially if I've been doing exercises along with my patients.
Sore and achy feet are often swollen as well. That's because fluid pools in your legs and feet whenever you stand for long periods of time, what we call a "dependent" position (as opposed to a horizontal position). An air compression massager can help relieve the swelling you experience in a dependent position by drawing fluid back towards the heart.
However, you can recirculate that fluid without using a massager. One simple, 100% free solution is to elevate your legs and pump your ankles.
See image below:
But there's nothing wrong with using an air compression massager like Bob and Brad's, especially if you enjoy the compressive component on your feet and calves.
Benefits of Air Compression
An air compression massager is a relatively simple device. It fits like a boot onto your foot and over your leg, sometimes as far as your thigh. Tubes run along the inside of the boot to inflate and deflate the internal bolsters, providing an intermittent massage to the legs, calves, and feet.
Now when I say massage, I don't mean a kneading, shiatsu massage. This device simply delivers active compression, which isn't without its benefits.
Some studies show that regularly using a pneumatic compression device like this one for as little as 15 minutes may help reduce an athlete's recovery time and level of perceived pain. Other research suggests that intermittent air compression works better than a continuously-worn compression sleeve in reducing swelling.
But it's not a promise; it's not a guarantee. So think of air compression as just another way to help relieve aches and pains and return to doing what you want to do.
Review: Bob and Brad Air Compression Leg Massager
Just because the benefits of air compression have been studied in medical research doesn't mean you have to go to a lab to experience it. There are dozens of air compression leg massagers available for at-home use, though many sell for hundreds if not thousands of dollars. This one from Bob and Brad costs just 100 bucks on Amazon. 
So let's consider this unit, feature by feature, to determine if it's worth its price.
Design
Like other leg massagers, the Bob and Brad air compression unit comprises two boots wired to a pump and remote control. This one includes a thigh attachment so you can enjoy the benefits of air compression at the tops of your legs without having to confine your knees.
The wearable components are made of a breathable mesh cloth you won't overheat in. The device itself is really simple to put on; you simply slide your legs in it like a boot and secure the hook-and-loop closure. Like a blood pressure cuff, the fit should be snug but not overly tight, since the chambers will fill with air once you turn it on. This unit accommodates thighs up to 27 inches around and calves up to 19 inches around.
Settings
Once you're ready to begin your massage, you'll grab the wired remote and use the touchscreen to customize your settings.
There are three distinct massage zones: feet, calves, and thighs. You can adjust the mode to focus on just one of the zones exclusively, all zones at once, or leave it on "auto mode" so that it progresses from foot to calf to thigh.
Besides these different modes, the device offers 4 graded intensity settings, from light massage to deep compression. There are also two heat settings that can warm up your feet to 104º and 120ºF.
Whenever you change the settings, you'll notice it takes a little while for the bolsters to inflate to your programmed intensity. I found that they inflate faster when the heat setting is turned off. 
Convenience Factor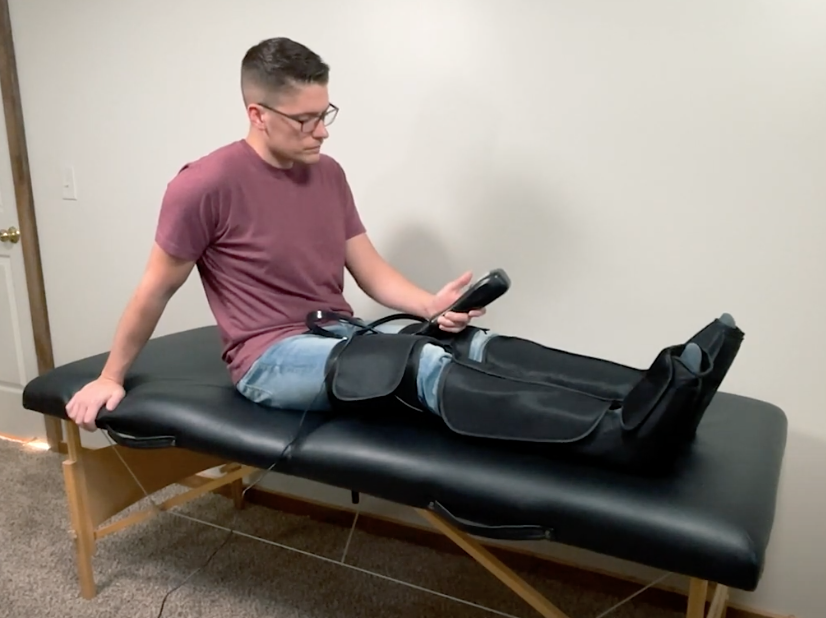 The Bob and Brad air compression leg massager may look bulky, but it's really not that burdensome to wear and use, and it's not as obnoxiously big as other leg compression units I've seen.
Overall, the unit doesn't take up much space, and it even folds into a carry bag so you can take it on the go or store it away.
Using this unit could hardly be more convenient, effective, and efficient: in a matter of 15-20 minutes of air compression massage, your feet and legs will feel refreshed after a long day at work.
A few things to note:
Importantly, the Bob and Brad air compression leg massager is not a substitute for a medical-grade lymphedema machine. Those units, while similar in concept, are specifically designed to treat the symptoms of lymphedema. The Bob and Brad unit is not a medical-grade product, so if that's what you're looking for, check out these units. 
Also keep in mind that if you have neuropathy, deep vein thrombosis, or a blood clotting condition, you should check with your doctor before using pneumatic air compression.
Bob and Brad Air Compression Leg Massager: Summary
Overall, I'm pretty pleased with the Bob and Brad air compression leg massager. Although it's not the only way to improve blood circulation in the legs and feet, it's a well-made product that's both affordable and effective.
If you come home every day with tired feet and sore muscles, and you respond well to compression massage, then this unit may be a great choice for you. At just a hundred bucks, the relief and recirculation it brings will be more than worth it.
You can buy your own air compression massager from Bob and Brad here. To see more product reviews of other leg massagers and foot massagers that I've done, check out the rest of the blog!